Sparks Fly in Auto Country
Critics of new light rail projects claimed that there would be ridership problems with new projects. They've turned out to be right, in a way: many more people are using the systems than had been expected. Rail projects in Denver, Dallas, St. Louis, and Salt Lake City are all experiencing jam-packed trams, overflowing parking lots, and passengers left standing. And this is occurring in cities that were long thought to be bastions of automobility. Denver's new Southwest rail line is carrying 66% more passengers than had been forecast. In Dallas, the figure is 30%, where ridership on a new rail line was three times greater than ridership on an express bus that used the same route.

"I don't think we had any sense of how people would react to the rail line," said Mick Crandall, program director for the Salt Lake City project. Ridership is 43% higher than had been predicted. Said Crandall, "How people respond to rail is different than how they respond to bus. There's a dependability on travel time with rail that there isn't with buses. It has its own tracks and you know where it goes."

"RTD Not Alone in Ridership Problems
Dallas, St. Louis, Salt Lake City Also
Experiencing Growing Pains with Light Rail"
The Denver Business Journal
26 January 2001
As posted at Light Rail News
It's the "sparks effect." People really do like to ride in fast, comfortable, quiet electrically-propelled urban transit systems. "Nobody with a choice ever took a bus anywhere," quoting myself.
Mayors for Rails
More than 300 mayors urged President Bush and the Congress to make passenger rail service a top priority in the transportation agenda. The mayors released the results of a new nationwide poll that shows strong support by residents of center-city and suburban neighborhoods for passenger rail investment.

The poll, conducted in 10 large cities, found that 80% of respondents supported the idea of building light rail and commuter rail systems to give them an alternative to driving. In addition, 66% of respondents do not think that traffic congestion will ease if more roads are built.

"Mayors Rally For National Rail Policy,
Announce Poll Findings on Support for Passenger Rail"
Transfer
22 January 2001
Vol. 7, No. 2
Published by the Surface Transportation Policy Project

Cars on the Skids in Hong Kong
Hong Kong plans to turn parts of its Central commercial district into traffic-free zones in an effort to improve air quality. Several major roads in the center would be closed to vehicles. Two popular nighttime districts plus part of Central's busy Queen's Road may be pedestrianized. Other measures have been tried but did not materially improve the situation.
Air pollution is apparently a serious problem in Hong Kong despite the extremely low levels of vehicle ownership. At very high densities, it seems, you can't afford to have any cars at all. Mayor Giuliani?
Metros for China's Cities
There are 70 Chinese cities with populations exceeding 5 million and 144 cities with populations of between one and 5 million inhabitants; urbanization continues at a blazing pace. The Chinese government estimates that China's urban population will grow to 685 million by 2010. To meet its transit needs, China will invest heavily in the development of subway, light rail, and high-speed railway networks. In the next 5 years, China will invest more than US$15.7 billion in urban transit. The objective is to build 550 kilometers of urban transit lines in major cities by 2025, increasing to 2000 kilometers by 2050.

Beijing alone plans to build add 82.3 kilometers of new subway and LRT lines to the existing 53-kilometer network. Shanghai may build as many as 11 subway lines totaling 384 kilometers.
This is a highly significant event. I believe that it signals the tacit recognition by Chinese authorities that cars are just not a solution for urban transport in China.
Global Warming
"In the most emphatic warning yet about the danger of global warming, a meeting of scientists from 99 nations issued a report Monday that sharply increased projected climate change blamed on air pollution and warned of drought and other disasters." So begins a New York Times article on the recent climate meeting in Shanghai. Global temperatures could rise by nearly 6° Celsius over the next century.

"The rate of climate change this century is expected to be greater than it has been in the past 10,000 years," said Sir John T. Houghton, co-chairman of the Shanghai meeting and former head of Britain's weather agency.

The poor are expected to bear the brunt of the suffering.
Stalled climate talks resume in May in Bonn, Germany. Not a moment too soon. American foot-dragging is holding up an urgently-needed agreement.
Guzzling Gas... Still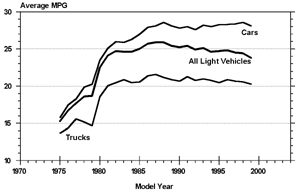 "The average fuel economy for all model year 1999 light vehicles is 23.8 miles per gallon (MPG). Within this category, average fuel economy is 28.1 MPG for passenger cars and 20.3 MPG for light-duty trucks. The 1999 fuel economy average is the lowest value since 1980 and is 2.1 MPG less than the peak value of 25.9 MPG achieved in both 1987 and 1988. Average fuel economy for new light vehicles has dropped 1.0 MPG since 1996.... The increasing market share of light-duty trucks, which have lower average fuel economy than cars, is the primary reason for the decline in fuel economy of the overall new light vehicle fleet."
Good news... for OPEC.
Running Out of the Other Kind of Gas
In the fall of 2000, US natural gas prices tripled. By January, a dekatherm of gas that had sold for $2.25 a year before was selling for $9.80. In the summer of 2000, a number of new gas-fired power plants came on line, further exacerbating an already tight supply situation. (Note also that the new generating capacity that is supposed to ease California's brownouts is almost entirely natural-gas-fired.) The problem has been further compounded by government efforts to induce a switch from coal and oil to clean-burning natural gas. Speculation has also become a factor in volatile prices.
U.S. gas production peaked in 1973 at 19.4 trillion cubic feet (TCF) By 1999, production had fallen to 17.5 TCF despite growing demand, and reserves are starting to dwindle. The US makes up its shortfall primarily by importing gas from Canada, where reserves are also starting to dwindle.
Black as Soot
It turns out that soot may be the second largest contributor to global warming, with CO2 in the pole position, according to a recent article in Nature by Stanford Professor Mark Jacobson. The contribution of soot had been overlooked by climatologists and policy makers trying to stave off global warming. Most soot arises from human activities; diesel engines are one of the leading sources.

The finding is controversial. Jacobson said, "Only a handful of studies have considered the impact of soot on global warming, and most of those were based on the premise that soot never mixes with other particles in the atmosphere." Jacobson noted, however, that scientists have known for many years that floating soot particles do combine with dust and chemicals in the air. This is critical, because it appears that mixtures containing black carbon absorb more sunlight and radiate twice as much heat as do particles of pure black carbon. Within five days of entering the atmosphere, soot particles are likely to end up in mixtures containing dust, sea spray, sulfate and other chemicals. Heated soot particles may also disrupt cloud formation, allowing more sunlight to reach the Earth's surface.
Tubbies Not on Parade
"We are coming to the conclusion that land use, urban design, and the built environment are much larger factors in public health than people have really appreciated," said Richard J. Jackson, director of the CDC's National Center for Environmental Health. "When we were kids, most kids walked or biked to school. Now it's 10%. How do we deal with the obesity epidemic when our kids don't get even that fundamental level of exercise?"

Research has shown that residents of communities built before 1947 traveled on foot or by bike more than three times every two days. People living in areas developed after 1977 got out of the car barely once. What's changed, of course, is the way communities are designed, which, these days in the USA, is based entirely on the assumption that people will drive wherever they are going (saving aside New Urbanism projects).

Some new subdivisions are trying to remedy the problem by providing recreation trails. "The problem is, people aren't using them because they don't take you somewhere you need to go," said Lawrence D. Frank of the Georgia Institute of Technology.

"Suburbia's Road to Weight Gain"
The Washington Post
21 January 2001

I noticed this winter, when I was away from Amsterdam and not doing my daily chores on foot, that I put on quite a lot of weight. Back home, I seem to quickly shed a few pounds.
Ireland Bans Superstores
The Irish government has capped the size of retail stores at 3000 square meters (3500 in Dublin). New retail stores must be located in town centers, or, if no sites are available, within convenient walking distance of the primary shopping area of the town center. (Non-food warehouse stores, such as do-it-yourself home centers, are restricted to 6,000 square meters.)

The policy is intended to foster sustainable development, maintain competition, ensure that retail outlets are readily accessible by public transit, and protect the viability of town centers. The policy is based on the importance of town centers as focal points for community and civic activities, and notes that these functions cannot be replicated by shopping malls.

A study by Goodbody Economic Consultants concluded that the limits of economy of scale are reached at a store size of 2000 square meters. The policy was strongly opposed by chain retailers. Studies show that grocery prices in the Republic are 5% lower than in England and Northern Ireland, where hyperstores are common. The Irish grocery market is highly competitive compared to its European neighbors. Independent grocers enjoy a 45% market share in Ireland, up 10% in the last decade. By comparison, independents have only 8% of the English market.
This seems to be a trend - Norway, France, Denmark, and Argentina have limited the size of stores. Even some US cities have similar restrictions.
Empty Big Boxes (EBB)
The suburbs of the USA are now being afflicted by the same sort of blight once thought to affect only the inner cities of America. Failed jumbo chains such as Hechinger, Caldor, and Service Merchandise left behind a trail of empty stores. Local officials are learning that, just as in the inner city, empty buildings are a pox. Patty Elkis, a senior planner at the Delaware Valley Regional Planning Commission said of the empty stores, "They make the whole area look bad and people stay away."

The townships saddled with defunct stores are having a hard time dealing with these white elephants - nobody seems to want the leavings. Part of the problem is that these are "purpose-built" structures - they are intended only to serve the company that built them. Other retailers have different requirements and insist on building their own stores to their own minute requirements. Donovan Rypkema, an economic development consultant in Washington said, "These are not like old buildings in the middle of Philadelphia that can be reused as condos. They are crappy buildings. There is no logic in reinvesting in them at all."

Smart local officials are starting to demand that retail chains building big boxes in their jurisdiction put money in escrow against the eventual cost of demolishing the new big box. In the nine-county metropolitan Philadelphia area alone there are more than 4.5 million square feet of abandoned superstore space. And that number does not even include this season's casualties: 10 Bradlees, 2 Office Depots, and a Sears are set to close soon.

Wal-Mart is trying to rent or sell 388 vacant sites nationwide, 30 of which went on the market in the last six months. A Wal-Mart web site boasts, "Wal-Mart has buildings for sale all over the country." Wal-Mart spokesman John Bisio said that the vacancies are "the sign of a healthy economy," but critics disagree. "It's extremely wasteful and harmful to quality of life to have all these empty stores sitting around," said Al Norman of Sprawl Busters.
If you're trying to kill an application by one of the big boxes to besmirch a community you care about, I think that demanding the escrow of full demolition costs and site remediation prior to ground-breaking would be a highly effective tool. It also sends a subtle message about the long-term (negative) contribution of these stores to a community. An added fillip would be to demand that the store pay the taxes at the full rate, regardless of whether or not they are empty.
Land Grab
"However we visualize it, the US area devoted to roads and parking lots covers an estimated 16 million hectares (61,000 square miles), an expanse approaching the size of the 21 million hectares that U.S. farmers planted in wheat last year. But this paving of land in industrial countries is slowing as countries approach automobile saturation. In the United States, there are three vehicles for every four people. In Western Europe and Japan, there is typically one for every two people.

"In developing countries, however, where automobile fleets are still small and where cropland is in short supply, the paving is just getting underway. More and more of the 11 million cars added annually to the world's vehicle fleet of 520 million are found in the developing world. This means that the war between cars and crops is being waged over wheat fields and rice paddies in countries where hunger is common. The outcome of this conflict in China and India, two countries that together contain 38% of the world's people, will affect food security everywhere.

"There is not enough land in China, India, and other densely populated countries like Indonesia, Bangladesh, Pakistan, Iran, Egypt, and Mexico to support automobile-centered transportation systems and to feed their people. The competition between cars and crops for land is becoming a competition between the rich and the poor, between those who can afford automobiles and those who struggle to buy enough food.

"In a land-hungry world, the time has come to reassess the future of the automobile, to design transportation systems that provide mobility for entire populations, not just affluent minorities, and that do this without threatening food security. When Beijing announced in 1994 that it planned to make the auto industry one of the growth sectors for the next few decades, a group of eminent scientists - many of them members of the National Academy of Sciences - produced a white paper challenging this decision. They identified several reasons why China should not develop a car-centered transport system, but the first was that the country did not have enough cropland both to feed its people and to provide land for the automobile."

Lester R. Brown
Press release from
Worldwatch Institute

Carfree cities, anyone?
Feature Article
Peddling the Miracle Cure
Mainstream Eco-Groups Boost Hybrid Cars
By D. A. Clarke
In the last year or so, both the Sierra Club and the Union of Concerned Scientists (UCS) - two organizations with a long and positive track record on environmental issues - have published materials strongly promoting the new "hybrid" cars. These are cars that use a combination of petrol- (gasoline-) powered generator and electric propulsion to achieve about 50 MPG. Because the gas engine runs at more or less constant speed, emissions associated with repeated sharp acceleration are reduced.

The Sierra Club gave the Honda Insight an award for "Excellence in Environmental Engineering," the first time in its 108-year history that the NGO had endorsed a commercial product. The Executive Director of UCS effuses in their Fall 2000 Earthwatch newsletter: "At about 50 mpg, my new car will cut my contribution to air pollution and global warming by 40 percent while saving hundreds of dollars a year in gas purchases. Most Americans don't yet realize what a difference driving a green car can make."

A feature article in the same issue quotes happy hybrid drivers: "My wife... feels very virtuous as she drives around town." "I'm excited about the prospect of helping demonstrate to other people in my community that environmentally sound technologies needn't force us to sacrifice safety, comfort, and style."

Sierra Club and UCS are certainly telling their readership what they want to hear: Americans don't have to rethink our relationship to the automobile at all - hybrid cars will solve all our problems.

This optimism is highly unrealistic. The US Energy Information Administration predicts that if current trends continue, "emissions from the transportation sector would be 42% higher in 2015 than in 1991." In other words, if all cars were miraculously transformed overnight into hybrid cars, the claimed 40% reduction in emissions would not quite compensate; we would be just a little worse off than we are today.

Where we are today is not acceptable. Global warming is already in progress and will worsen if we do not do far more than just stabilize at current emissions levels.

In America, with a growing population to feed, we have already paved over 10 percent of our arable land for the convenience of the private automobile. We have significantly disturbed watershed and water runoff systems by overpaving. Road building has disrupted the migration corridors and habitat of countless species; for several North American species, the most immediate extinctive threat is roadkill. Just the process of manufacturing a car releases CO2 emissions comparable to those it will emit in its entire working lifetime. The cast-off products of its use fill thousands of acres of junkyards, and most are toxic.

Nothing about the much-touted "green" cars will address these issues. In fact, their owners are likely to drive them more eagerly, further, and faster, due to their feelings of "virtue". There's no indication that "green" cars will:
be less toxic to produce
consume and discard fewer tires
require fewer changes of engine oil, less antifreeze, fewer filters, etc.
be lighter, slower, or safer for pedestrians and cyclists
be smaller, narrower, or otherwise demand less road space or parking
be more recyclable after planned obsolescence.
Wherever forward-looking city planners and transit experts are meeting, the topic is reduction of automobile use and promotion of cycling, walking, and public transit. These are the only real cures for the damage wrought by excessive and inappropriate automobile use.
Hybrid cars and trucks have a place in the future of rural life, where sparse settlement makes mass transit impractical and long trips with heavy loads are often required. Except for those willing to adopt the Amish lifestyle, if you live and work out in the back country, a motor vehicle of some kind is hard to live without. And it should be a zero-emissions vehicle, or an ultra-low emissions vehicle.
But UCS and Sierra Club members are generally of the urban professional class; UCS' sales pitch is targeting the high-income urban dweller, not the family farmer. Very few people in rural communities can afford the pricey new cars. And in urban areas where the hard sell is happening, hybrid cars offer no real solutions.
In addressing the urban white-collar class, UCS harps on the familiar old carcentric ideas: all other modes of transportation are deficient in "safety, comfort, and style," and "what car we buy is the single most environmentally significant choice we make as consumers." The choice not to buy a car at all is not even considered as a possibility. UCS follows the auto manufacturers' public relations spin by denigrating bike, bus, train and pedestrian transit.
Since receiving this edition of their newsletter I have cancelled my membership in UCS. They have failed their own "sound science" mission by pretending that the problems of the private automobile begin and end at the tailpipe.
Full text of the author's letter to UCS
D. A. Clarke is a software engineer
for UCO/Lick Observatory in California,
a one-time EV driver who now lives car-free.
Guest Editorial
In studies that I have seen that compare automobile commuting with transit, transit always takes longer. However, I have never seen anything deduced from the transit time for the period during which one can do as one pleases, as a passenger. One is free to read the paper, or a book, people watch, or think one's thoughts.

What does it say about us that we would rather undertake an expensive, dangerous, demanding, and I would add exhausting, activity, i.e., driving a car, than have some truly free time alone with ourselves and our thoughts? Driving takes our full attention, transit use doesn't. Why don't we enjoy being with ourselves, able to give ourselves our full attention? I think this is the same phenomenon that causes people to listen to music while jogging or walking.

Are we too boring? Too unpleasant? No fun? What would it take to make us into someone we looked forward to being with each day for several moments during our transit commute?


Cordalie Benoit
is a lawyer in Newtown, Connecticut
now studying environmental management at the
Yale School of Forestry and Environmental Studies