Feature Article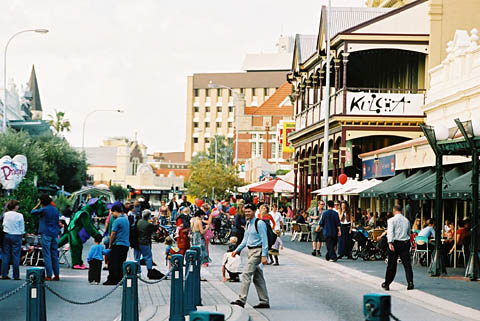 Residents, visitors, and traders enjoying Fremantle's carfree day

2002 by Michael Wearne
United Nations Car Free Day in Fremantle
By John Pinkard
Fremantle, in Western Australia, is an historic working port and with its attractive Cappuccino Strip and Fishing Boat Harbour, the number one tourist destination in the state. Although part of Perth's suburban sprawl, the City of Fremantle retains a unique identity.

It is also the home of Australia's first annual carfree day, known locally as "Shed Your Car Day." The event aims to:
Raise public awareness and debate about levels of car-use in the community
Promote the use of alternative, more sustainable modes of transport on a daily basis
Increase awareness of environmental issues around car use
Highlight the health benefits of walking and cycling
Demonstrate how local business can profit from trade with users of sustainable transport modes
Create a stronger sense of community within the city
Support for the event has been strong. Shed Your Car Day is run with the enthusiastic assistance of an unpaid Community Advisory Group, and support from over 70 local businesses, the City of Fremantle, and the state and federal government. This year's event was Fremantle's third car free day.

This year's event also received international support and recognition from the United Nations' Department of Economic and Social Affairs (DESA) as well as EcoPlan and the Commons. This collaboration allowed Shed Your Car Day to became part of DESA's Car Free Day Series, which promotes car free days as a transport planning and open-dialoguing tool that supports the goals of sustainable development.

As a result, over 20 local government representatives from across Australia and New Zealand came to Fremantle to observe Shed Your Car Day and participate in a three-day seminar on sustainable transport.

Western Australians have the highest rate of car use and car ownership in Australia; this cannot just be put down to the geographic size of the state, as the Northern Territory - another large state with remote towns and communities - has the lowest rate. The fact is that Western Australians are overwhelmingly car-dependent, yet most of the state's residents live in urban areas such as Perth. Perth, with a population of one million people, has more days of smog exceeding health limits than either Melbourne or Sydney.

During Shed Your Car Day several blocks of one street are closed to vehicular traffic between 6.30 AM and 8 PM. The event has traditionally been held on a weekday, and a range of fun activities are held to demonstrate and enjoy the benefits of reduced car use. These include pavement art (cheap and popular: supply lots of chalk for kids - and adults - to draw all over the road), a puppet show in a parked bus, temporary gardens, skateboard and BMX bike demonstrations, sofas for people to lounge on, and community information stalls. One popular event is the cyclists' breakfast, which offers free vouchers for a muffin and coffee to cyclists. The event is run as a joint venture between the State Government's Cycle Instead program and a range of cafes on the Cappuccino Strip.

Another popular event, aimed at commuters, is the Workplace Challenge. In its first year, workers from a variety of Fremantle organizations pledged to walk, ride, catch public transport, or carpool on Shed Your Car Day, thereby saving an estimated 2,900 vehicle kilometers and reducing CO2 emissions by 579 kilograms.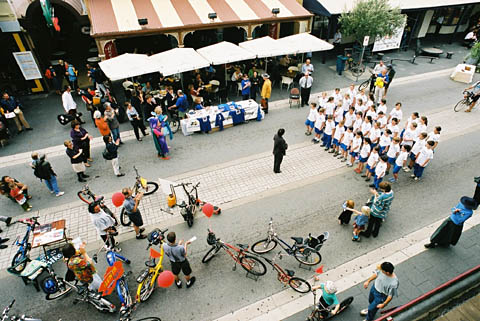 Primary school kids entertain lunch-time crowds
with songs about sustainable transport

2002 by Michael Wearne
Local schools have also been involved and are encouraged to promote the day to their school community. Many choose to organize a "walking bus" for children to walk to and from school on the day. Other school groups visit Fremantle's city center to enjoy the puppet show or to demonstrate their walking school bus by walking down the Café Strip in formation. This year, students from the alternative Lance Holt School monitored air quality in the closed section of road.
The challenging and fun slow bike race has become a Shed Your Car Day feature. During this light-hearted event, the last rider across the finish line wins. Most contestants fall off in the first few meters!
It has become a tradition that the day ends with a vibrant parade. Led by local community drumming troupe Freo Samba, the evening parade brings the day to a close with dancing in the streets.
Since its inception, feedback about Shed Your Car Day (collected through intercept surveys) has been overwhelmingly positive. For example, many people enjoy how "quiet" and "fume-free" the Cappuccino Strip is on the day. Ironically, the "Strip" is normally busy with noisy, polluting car traffic, despite the fact that it is full of al fresco dining outside the many cafés.
Of people surveyed in 2001, 96% thought the event was a good idea. Around 60% of the 300 people interviewed had heard about the day, with 27% of them leaving their cars at home as a direct result. Nearly 100% of respondents said they would like to see Shed Your Car Day repeated, with 29% saying the street closure should be a permanent feature.
Public awareness of and response to Shed Your Car Day was no doubt influenced by the strong support it has received from local media. It also received good coverage through interviews and public service announcements in mainstream media across the metropolitan area.
Feedback from delegates to and sponsors of this year's carfree demonstration and practicum has been overwhelmingly positive:
I write to congratulate not only the organizers of the practicum and of the car free day, but also the far-sighted local councils involved and the communities, which supported them. The event was not only a great success in highlighting the issues surrounding sustainable transport issues, but it also contributed greatly to my enjoyment of the delightful city of Fremantle. It is amazing how much more pleasant it was to visit the Cappuccino Strip without cars around during the car free day theme. Fremantle is a good example for my city to follow, and I have instructed the staff in my council to begin planning a similar event in Christchurch next year.
Practicum delegate Commissioner Denis O'Rourke
Christchurch City Council, New Zealand
Congratulations to all involved in the day including community groups and members, local businesses and your council. I hope similar efforts to promote and celebrate other transport choices such as walking, cycling, public transport or even carpooling will be taken up by other cities in Perth and elsewhere, to create better and healthier urban futures.
Practicum delegate Commissioner Julian Hill
City of Port Phillip, Victoria
In a world increasingly beset by transport related challenges it seems very likely that events like Shed Your Car Day that promote the goals and practices of sustainable transport will gain more and more currency.
Information about and photographs of Shed Your Car Day can be found at www.uncfd.org and www.freonet.net.au/shed-your-car/.

For more information, contact John Pinkard, TravelSmart Officer for the City of Fremantle and the Town of East Fremantle:
Phone: +61 (0)8 9432 9939
E-mail: johnp@fremantle.wa.gov.au.

John Pinkard is the TravelSmart Officer for the City of Fremantle and the Town of East Fremantle.
Feature Article
Young Environmentalists in Stavanger:
We'll Start with a Carfree Weekend
By Kristján Gudlaugsson
If these guys could decide, there would be no cars in central Stavanger. But they don't - not yet. Still, they are fronting a carfree festival one weekend this coming spring.
Inspired by the carfree areas in cities like Freiburg, Lyon, and Venice, the environmental youth-activists in Stavanger, Norway, are determined to fight the growing pollution caused by private cars in downtown Stavanger. It's not the biggest city in Norway, but pollution is a growing problem in this, the oil capital of Northern Europe.
Reclaim, Reclaim
"The idea actually came from the activities of 'Reclaim the Streets,' says Mimir Kristjansson," spokesman of the movement.

Torstein T. Solberg, the youngest Labor candidate in the municipal elections next autumn, is even more enthusiastic in his characterization of the upcoming action. "We'll take control of the central part of our city - Vågen - and replace cars with concerts, dancing people, jugglers, and other happenings."

"Let a hundred flowers bloom in the asphalt jungle," says Kristjansson laughing. Reclaiming the streets of central Stavanger is a controversial issue for downtown merchants. "We fear that business will hit the low notes if traffic is banned from the area," says one local dealer.
Nonsense
That assumption is based on biases, says Solberg. "On the contrary, we believe that business will boom if cars are removed and pedestrians are allowed to move freely in the central parts of the city." Kristjansson characterizes the fear of the local traders as out of touch with reality and modern thoughts on city planning. "We know that other cities have blossomed by restricting cars from vital and central parts; it is nonsense to think that the evolution of a modern city depends upon the number of cars cruising the center," he adds.

Nonsense or not, the young environmentalists are not alone in their attempts to stymie growing traffic and its destructive consequences for the environment. "Indeed, we have calculations that show that less car traffic in center of town will boost trade and make it more attractive to the locals and tourists alike," says Solberg.
Norway - A Major Polluter
In a city that has been the center of the Norwegian oil adventure these last 30 years, environmental arguments have been scarce. Money, and employment, have been the words of the day. But now pollution and other environmental issues are taking over the agenda. "The last 10 years, the emissions of NOx-gasses have doubled five times and the situation is gradually starting to affect the lives of the citizens here," says Kristjansson.

As a matter of fact, more than 400 students are affected by pollution from the intense car-traffic in the center of the city. "The noise from the traffic is also pestering and damaging the very lives of more than one million Norwegians," says Solberg. He stresses that Stavanger is not an exception in the Norwegian environmental situation, but rather the rule. "We have seen major floods in Europe and Asia this summer and we fear that this is a manmade catastrophe," says Kristjansson. "Norway, with all its riches and surplus from the oil-industry, is in fact one of the world's worst polluters in terms of NOx and COx-emissions."
Working for Future
The young environmentalists have been busy organizing the carfree festival next spring. "Making alliances with all who want to secure the future for coming generations is an important task for us," says Solberg. "We don't want to rule out anybody, whether they have particular or general interests in reducing car traffic in the city center."

Stavanger thus follows suit with other European cities in fighting pollution from the ever-increasing use of private cars. "We'll reclaim 'Vågen' between May 30th and June 1st," the youths say. With such self-confidence and enthusiasm, who is going to stop them?
The author a journalist for a local newspaper, a former environmental activist, and member of the city council in Stavanger.
You editor has been invited to attend and hopes to do so.
Editorials
Stopping Bush
Vote for any Democrat you can find in the November elections, even if they're people you don't like. Bush & Co. simply must be derailed in their efforts to destroy 30 years of hard work that has yielded moderate environmental gains. Virtually all Republicans have been bought and paid for by business interests. (Yes, it's probably all technically legal, but so what?) This is especially important following the untimely death of Sen. Paul Wellstone, one of the Senate's few remaining liberals. It's time to send Bush a message that even he can understand. The fate of the planet hangs in the balance. Throw the bums out.
The EU and Subsidized Diesel Fuel
Diesel fuel is heavily subsidized in the EU - the pump price for this fuel is far below that for gasoline. Given the recent revelations about the very high dangers of diesel engines for human health, the EU should remove this price differential as quickly as circumstances permit. This will rapidly diminish the sale of diesel-powered cars, providing measurable relief from this risk within a few years. Any other course of action is irresponsible. There is, in any case, no reason to provide subsidies to any class of highway transport.