Issue Contents
Photo Essay: Rebuilding Bhaktapur, Nepal
Shrawan is the holy month for women. (Men don't get one.) Our Ram Kumar took theses photos during the month, which just ended. Any time women in Nepal get dressed up, the streets are very colorful.

As with most festivals in Nepal, it is celebrated in the streets. The steadily increasing motorcycle traffic in the historic core of Bhaktapur threatens the peaceful continuation of this major, month-long festival.

Click on any image to open a bigger version in a new tab. Ctrl+w will close the new tab and return you to Carfree Times.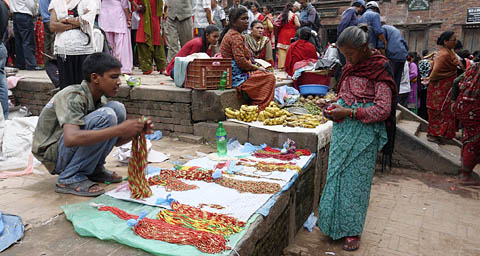 Countless necklaces are sold.



2016 Ram Kumar KC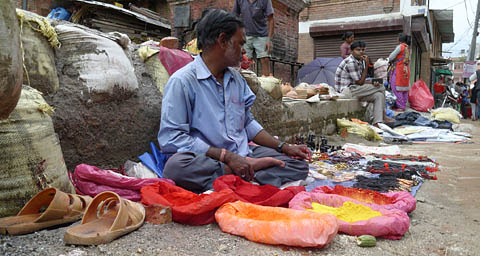 Tika powder is sold in various colors, all bright.



2016 Ram Kumar KC


A priest performs his duties.



2016 Ram Kumar KC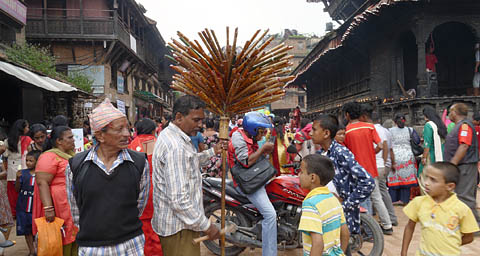 Hundreds of flutes are sold for much less than a dollar each.



2016 Ram Kumar KC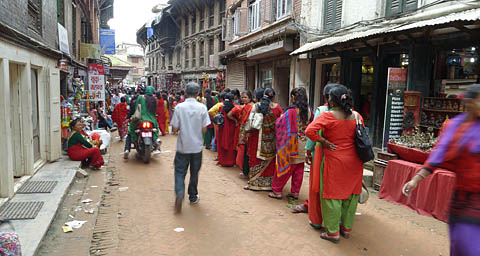 These women will have a long wait for their turn at the temple.



2016 Ram Kumar KC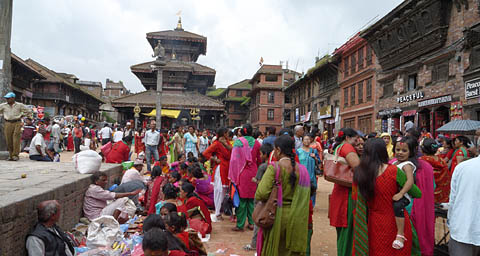 These are also special market days.



2016 Ram Kumar KC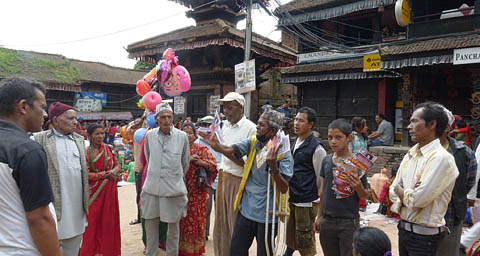 Books are sold to the accompaniment of song.



2016 Ram Kumar KC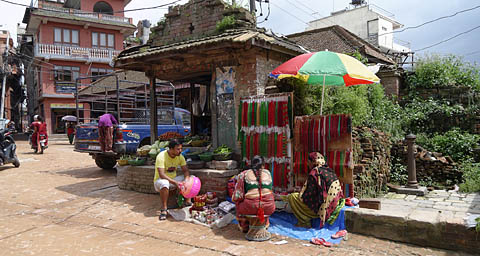 Necklaces and bangles are sold in huge quantities.



2016 Ram Kumar KC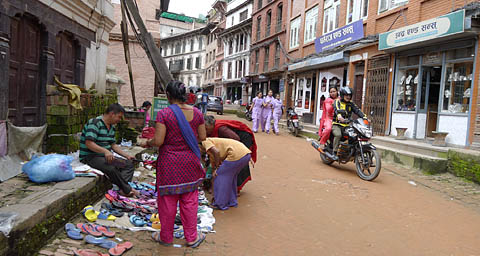 Other goods are also sold.



2016 Ram Kumar KC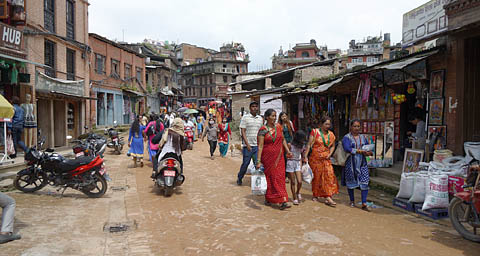 The main street is full of pedestrians, but that doesn't slow down the motorcyclists.



2016 Ram Kumar KC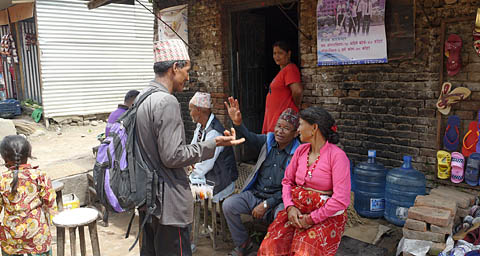 Some itinerant salesmen also appear.



2016 Ram Kumar KC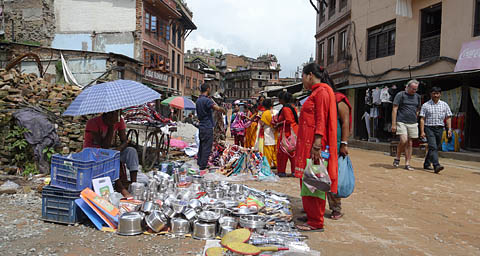 Cheap but good stainless steel wares from India are popular.



2016 Ram Kumar KC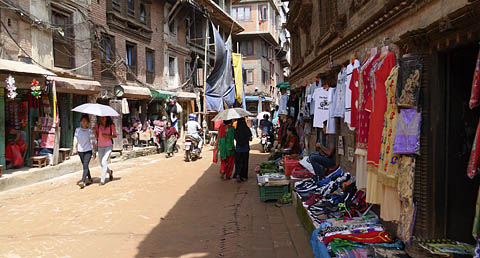 Bright clothing is especially popular during this time.



2016 Ram Kumar KC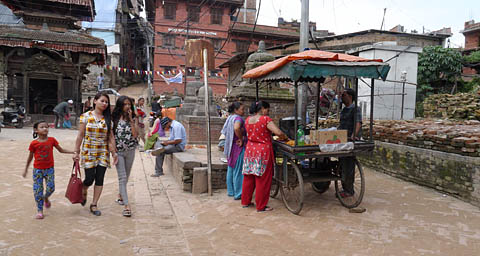 Potato chops, a local delicacy, are always popular.



2016 Ram Kumar KC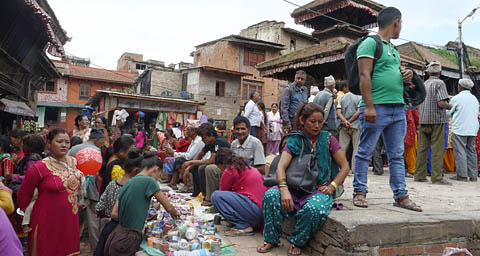 Bangle sellers do a brisk business.



2016 Ram Kumar KC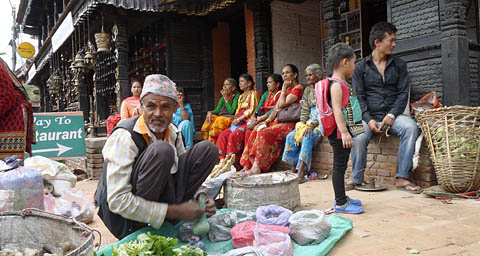 The routine sale of vegetables goes on regardless.



2016 Ram Kumar KC




Announcements
20th Anniversary
Carfree.com (including its predecessor sites) celebrates its 20th anniversary this year.

Web site traffic now runs above 4000 pages/day and about 100 GB/year.

When we started, people didn't even know the meaning of "carfree." Today, cities celebrating carfree days have risen from none a year to a thousand or more. Entire city cores are being made carfree.

We do still have a long way to go, but we have made a good start.
Web Site Update
In honor of our anniversary, the first six pages at Carfree.com, starting with the Introduction, have been extensively updated and improved. You can now click on most illustrations to open a new tab with a high-resolution version of the small, in-line graphic. We hope you like the changes.
The Books
Carfree Cities and Carfree Design Manual are widely available from booksellers in Europe and North America.
Parklets
"Parklet Demonstration, Dhaka, Bangladesh" was recently released by our friends at Work for a Better Bangladesh. It's a 3-minute video that shows what you can do with a car parking space when you give it to people instead.


News Bits
The links below will open in a new browser window or tab, depending on your browser; (Ctrl+click) may behave differently:





Urban Planning and Design
"Ugly by law: Check out how parking requirements shape our cities"

Put on your sunglasses and click through. It's ugly out there in America! (Grist.org)
"Barcelona aims to reduce car use by more than a fifth"

"Barcelona, under its new mobility plan and armed with a $11.2 million budget, is aiming to curtail car use by 21% within two years. The scheme seeks to turn streets into 'citizen spaces' by liberating 60% of roads dominated by cars." (ArchPaper.com)
See also:
"Superblocks to the rescue: Barcelonaís plan to give streets back to residents"
Barcelonaís "radical new strategy will restrict traffic to a number of big roads, drastically reducing pollution and turning secondary streets into 'citizen spaces' for culture, leisure and the community." It will be a large improvement for many streets. (TheGuardian.com)
"Let's Infill a Traditional Neighborhood (and Make a Profit)"

Just click the link for some wonderful eye candy. When can I move in? There's also significant content regarding the subdivision of large blocks, which is a really fine idea. (StrongTowns.org)
"Rescuing Kathmandu from its future"

"An advanced city is not where the poor use cars, itís where even the rich move around in public buses." This wisdom is coming from Bogota to Kathmandu, where it is largely being ignored. (NepaliTimes.com)
"Downtown Manhattan Is the New Frontier of the Car-Free City"

Manhattan prides itself on being at the forefront of everything that matters. Manhattan, however, is playing catchup with other cities, and the recent, brief 60-block car-lite experiment at the tip of Manhattan does finally move New York into the 21st century. It seems to have been a success. (Wired.com)
"Go beyond car-free Sundays to push people out of comfort zone: Expert"

"While enjoyable, car-free Sundays do little to shift people's attitudes enough to make them switch from cars to more environment-friendly modes of transport. This is because such car-free days do not affect people's 'day-to-day' lives and do not compel them to re-organise their routines to be more green-conscious." But it does at least help them understand how attractive the alternative is. (TodayOnline.com)
"10 Cities That Are Starting To Go Car-Free"

This is not so much about carfree cities per se as about moves to reduce the impact of cars and, in some cases, getting them out of downtown areas. What's most significant is that this article is showing up in a mainstream business publication. (BusinessInsider.com)

Climate Change
"'You Canít Handle the Truth!'" [Except readers of Carfree Times]

"The basic outlines of that crisis were traced over 40 years ago in a book titled The Limits to Growth. Today we are hitting the limits of net energy, environmental pollution, and debt, and the experience is uncomfortable for just about everyone." Yeah, "uncomfortable" as in "fatal" for some of us. (PostCarbon.org)
"Scientists: Window for avoiding 1.5°C global warming 'closed'"

Read the headline again. It's not written in the continuing present tense, it's written in the past tense. We blew the one good chance we had. Now we'll really have to scramble, and many people will die because of our folly. (ClimateChangenews.com)
"The climate crisis is already here - but no oneís telling us"

Monbiot is complaining that the press is not making a huge fuss about this year's extreme temperatures. He's right, of course. Nobody wants to hear just how bad it all is, so nobody is describing it with the gravitas it deserves. (TheGuardian.com)
"Historical records miss a fifth of global warming: NASA"

"A new NASA-led study finds that almost one-fifth of the global warming that has occurred in the past 150 years has been missed by historical records due to quirks in how global temperatures were recorded. The study explains why projections of future climate based solely on historical records estimate lower rates of warming than predictions from climate models." In other words, it's even worse than we thought. (ScienceDaily.com)
"April breaks global temperature record, marking seven months of new highs"

It wasn't just April, either. It's been every month so far this year. (TheGuardian.com)
Death spirals, really. The last two years are terrifying. (climate-lab-book.ac.uk)
"This Year's Record Arctic Melt Is a Problem For Everybody"

The extreme melting that characterized the spring and early summer has moderated, and it seems unlikely that we will see a new record low ice minimum in 2016, but we're already well below the average minimum extent for the 2000s. We're probably headed for 2nd or 3rd place. (Gizmodo.com)
"Global Warming Cited as Wildfires Increase in Fragile Boreal Forest"

"Scientists say the near-destruction of Fort McMurray last week by a wildfire is the latest indication that the vital boreal forest is at risk from climate change." This is a much more significant event than it may first appear. If the northern forests burn off even partially, climate change may be out of control. (NY Times)
"Sea Level Rise Swallows 5 Whole Pacific Islands"

"Recently at least five reef islands in the remote Solomon Islands have been lost completely to sea-level rise and coastal erosion, and a further six islands have been severely eroded." There is a limit to how far this can go, but that limit is not reached until most coastal cities are inundated. (Scientific American)

Transport, Pollution, etc.
"Guest Editorial: Driverless Cars Could Wreck Livable Cities"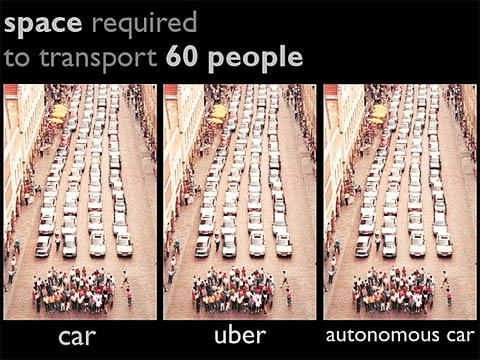 Photo downsized from original post on StreetsBlog.
The photo says it all. This is the latest chimera that promotes business-as-usual as actually being a solution to our troubles. (StreetsBlog.org)
"China's first home-made supercapacitor tram unveiled"

I have envisioned wireless, street-running trams for years. Now the Chinese have developed a prototype that uses supercapacitors to store enough energy to run 3-5 kilometers on a 30-second charge. If stops are made every 750 meters and each stop charges for just 10 seconds, then no wires should be required. Since the right-of-way (streets) not only exists but is owned by the city, these trams can be deployed just by laying rails, adding halts with chargers, and buying trams from Zhuzhou Electric Locomotive Co. They're going to sell a lot of them, I predict. This is a workable alternative to "autonomous cars." The trams can carry 380 passengers, travel at 70 km/hr, and are of low-floor design. (Xinhuanet.com)
"Electric, hybrid and other eco-friendly cars fill the air with as many toxins as dirty diesels say scientists"

There are no "green" cars. Really, none. Go sell your Prius and buy a bike. (DailyMail.col.uk)
"Dieselbusjes gemiddeld zes keer viezer dan voorgeschreven limiet" [Diesel delivery vans six times dirtier than permitted]

The scandal with diesel emissions is not, it seems, limited to cars alone. Of 11 common delivery vehicles, only one complies with standards. (Volkskrant.nl)
"Slim en Schoon" [Smart and Clean]

Electric delivery vehicles were introduced in central Amsterdam two years ago. The small vehicles provide a good way to do last-mile distribution. (SlimEnSchoonDoorDeStad.nl)
"Transforming a motorcycle city: the long wait for Hanoi's metro"

"Vietnamís first metro system continues to be delayed, but in a city with more motorbikes than households - and whose love affair with the car is only increasing - the real obstacle may be shifting public attitudes." A friend of mine recalls Hanoi back when it was a delightful bicycle-based city. No more. Why are the car and the motorcycle so seductive? (TheGuardian.com)
"Tenth Delhi: What The AAP Should Learn From Odd-Even"

"Delhi is far friendlier to cars than it is to people." In Europe, the dominance of the car is slowly declining, but it still prevails in most of the world. (CaravanMagazine.in)

About Carfree Times
Next Issue
The next issue of Carfree Times is scheduled for November/December 2016.
Subscribe to Carfree Times
Carfree Times is published quarterly at Carfree.com. To receive e-mail notices of new issues, please visit the subscription page or send e-mail with the word "Subscribe" in the subject line. We do not share our mailing list.
Write for Carfree Times
Interested in writing for Carfree Times? We welcome articles on a wide variety of subjects and offer an opportunity to publish letters to the editor and guest editorials. Drop us an e-mail.




Back to Carfree.com
Carfree Times Home
Back to Carfree Times Issue 82
Forward to Carfree Times Issue 84

E-mail
carfree.com
Text and illustrations, except for guest content, placed in the public domain