The Lyon Protocol
The Design and Implementation of
Large Car-Free Districts in Existing Cities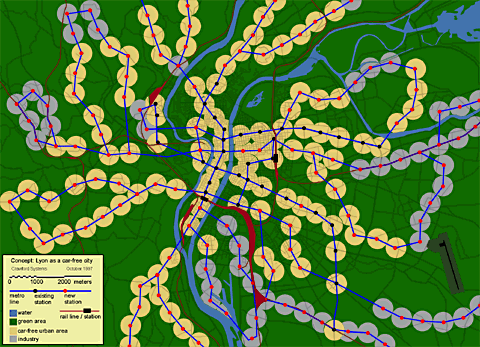 A conceptual plan for improved public transport in Lyon
Click image to view at larger size.



1997 J.Crawford
The following protocol for the design and implementation of car-free cities was first developed and presented during the "Towards Car-Free Cities" conference in Lyon, France, in October 1997 and is known hereafter as the "Lyon Protocol."
BACKGROUND
A reference design for car-free cities was presented at the public day of this week-long conference. A conference work group on the design of car-free cities believes that the reference design for car-free cities could be adapted to the local situation in Lyon. Two possibilities for a car-free area were identified:
A small area, like the existing pedestrian area on the Rue de la Republique, so that delivery vehicles could still approach their final destinations quite closely and center-city parking remains possible.
A fairly large area, so that it becomes economically feasible to build special infrastructure to serve all transport needs without using cars and trucks
Presqu'Ile is a kilometer-wide peninsula running north-south between the Rhône and Saône Rivers. The area of this peninsula between the intercity train station at Perrache, to the south, and the Hotel de la Ville, about two kilometers to the north, is large enough to become a sustainable car-free city center; it would be the largest car-free area in Europe after Venice.

This beautiful area is built very densely and the streets are narrow. Traffic congestion in Presqu'Ile is severe, and there is no real possibility for improving the situation without destroying one of the great city centers of Europe. We propose to develop a plan to gradually convert this entire area to a car-free district, which would become a magnet for the entire region and a symbol of progress for all of Europe.

In order to accomplish this objective, a plan must be developed with the support of all of the many interests which have a stake in this district and in the metropolitan region. We outline below the steps in a process for developing wide public support for implementing a large car-free center in Lyon and building a consensus on to how to achieve this while respecting the needs of everyone.
IDENTIFY INTERESTED PARTIES
It is essential to identify, early in the process, every interest group affected by the changes under consideration. We have identified many groups which must have a voice in developing the plan, but this list is clearly not exhaustive:
Residents
Businesses
Political parties
Local government
City government
Neighboring municipal governments
Regional government
National government
Municipal services
Tourism board
Local media
Transport companies
Handicapped
Property owners
Schools and school partners
Emergency services
Post office
Telecommunications companies
Parking garages
Neighboring areas must receive special consideration in order to mitigate the adverse impacts of decreasing car usage on these adjacent communities. Simply shifting the problem to another area is not a solution.
GATHER NECESSARY DATA
Once all groups have been identified, each group must be contacted to identify its needs and problems and to learn how the members of the group would be affected by changes to the current road-based system.

It is also necessary to gather detailed information on existing conditions in the proposed car-free district and the metropolitan area as a whole. The following is an incomplete list of the data required:
Cartography
Air pollution
Noise pollution
Traffic-related water pollution
Traffic flow
Car registrations
Origin-destination surveys
Demographics
Density information
Land ownership
Commuter traffic (including traffic patterns)
Parking patterns (public, private, street)
Freight deliveries (what, when, where, how much, how fast)
Marine resources
DEVELOP PRELIMINARY CONCEPT
Once all the affected groups have been contacted and the data has been collected, it is time for the working group to develop the first preliminary concept. The group must perform the following work:
Define the boundaries of the car-free area
Propose circulation changes, including jitneys, bike taxis, etc.
Propose traffic management measures for the transition phase
Apply car-free design principles
Develop freight handling measures
Plan to accommodate through traffic
Develop preliminary phasing proposals
MEDIA
Begin to build media attention from the start, but keep a low profile in the beginning. Use the media to document the problems caused by traffic and develop this into support for the necessity of change. Build support for the idea of improving the quality of life by moving out cars. Discuss experiences in other cities which illustrate the improvements that can be expected.

The arguments in favor of the change to a car-free area must be thoroughly developed. Points to include are:
Reduced air pollution
Less noise
Before and after pictures showing attractive a car-free areas
Improved sustainability
Increased tourism
Improved economic competitiveness
Long-term sustainability
It is vital to develop widespread public support for the plan. The advantages of a car-free district need to be expressed, and the difficulties in implementing it require widespread discussion. The sudden presentation of well-developed plans for a car-free district, if not preceded by a long period of discussion about traffic and cars, may shock many people, harden resistance, and damage the chances of success.
POLITICS
Direct engagement in the political process will be necessary. The first task is to become informed about local politics and to get to know all the players. It is then necessary to begin building a coalition to support implementing large car-free areas. Draw local politicians into the process; these people are already aware of the nature of the problem and need help in finding a solution.
PHASING
The transition to a car-free district requires the gradual implementation of a coherent set of measures that work together. These measure employ a carrot-and-stick approach: encourage good practice with attractive offers and discourage bad habits with restrictive measures. Some of the measure can include:
Reduce speed limits for motorized vehicles (enforced by speed restriction bumps)
Improve public transport, pedestrian, and bicycle infrastructures
Implement parking restrictions
Impose right-of-way restrictions on cars
Implement traffic cells to discourage cross-city travel
Require car owners to buy public transport passes
Restrictions on vehicle use are probably best implemented in the following phases:
Private cars of non-residents
Private cars of residents
Buses (once the passenger rail system is operational)
Most trucks (using freight consolidation to increase efficiency and reduce environmental impacts)
All vehicles except emergency services and slow-speed local delivery vehicles (once the rail freight system is operational)
In the early phases, street parking may still be permitted, particularly along the edges. As the implementation progresses, cars are forced to park farther away. On-street parking is removed and the streets are given over to non-vehicular uses. Residents will probably still be allowed to park in their own neighborhoods during early phases, but visitors will encounter increasingly strong incentives to take public transport when their final destination is the emerging car-free district. This will include restrictions on time of day, length of parking, and greatly increased costs of parking.

A well-balanced combination of these and other measures will lead to a reduction of car traffic at a rate that need not threaten to those accustomed to using their cars for urban transport.
ITERATION
When the first preliminary concept is completed, along with the proposed phasing, it is presented one-by-one to all the affected groups for discussion. New needs will emerge, and additional data will have to be gathered. This process of contacting groups, gathering data, developing proposals, and discussing them with all the affected groups is iterated until there is widespread understanding of the issues and a general willingness to consider the car-free alternatives which have been developed.
DESIGN CHARETTE
It is time to hold an intensive week-long community design workshop, known as a charette, when a degree of understanding has been reached regarding the nature of the problem and some of the possible solutions. The city government would host the charette. All interested parties participate in the workshop and contribute to the design process and developing the phasing plan.
IMPLEMENTATION
There should be widespread support for the development of the car-free district because the plan has been reached by consensus among all affected parties. The results of the charette are used by city planning officials to develop final plans and implement the car-free areas in phases. The action group which spearheaded the development of the ideas should work closely with city officials during this phase to ensure that the results of the charette are actually implemented in the form which was adopted. Some changes may be required by circumstances, but a major deviation from the plan should not be adopted without holding another charette to discuss the matter in depth with all affected parties.
SUMMARY
Large car-free districts can only be achieved by working with everyone who is affected to ensure that all ideas are heard and that problems are solved before they arise. Lyon could become a model for all Europe, but a change to a car-free Presqu'Ile will not be accomplished over night.

This text is maintained by Carfree.com.