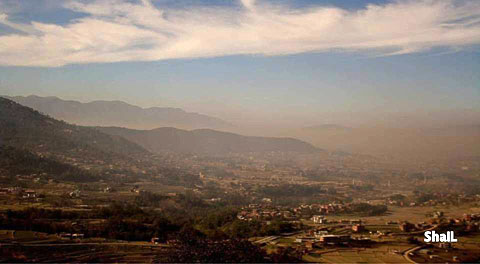 View of the Kathmandu Valley choked in dust and pollution
2014 Shail Shrestha

Feature Article
Before I Leave Kathmandu
By Shail Shrestha
It had been some time since I had breathing problems, although it had once been routine enough. This is, after all, Kathmandu - who doesn't have breathing problems here? Not even the prime minister is spared. But my chest pain and breathing had again become noticeably troubling. Coupled with a recent article and several reports that Kathmandu's air pollution is breaking all-time records, I began to wonder to what degree we have accepted this situation and have become accustomed to the deadly dust that surrounds us all the time.

In fact, the situation has become so ordinary that I had to search for international reports and the results of pollution monitoring stations to once again become aware of the dust around me. I lead an active life, which includes bicycling to fight pollution and the health hazards it causes. For this reason, I am probably more exposed to this danger than most people.

But which city isn't? In fact, cities by their nature are prone to air pollution. The bigger the city grows, the more it tends to generate pollution. And almost all the world's cities seem headed towards the same fate as Kathmandu. I wondered how long it would take for Kathmandu to again become a livable city, especially when there is as yet so little desire among its residents to fix the problems. I asked myself to find the main cause of this situation, and I realized that I was the chief pollutant. People like me, who are drawn to Kathmandu from rural villages, are increasing in numbers year by year. I then asked myself what made me and people like me come to Kathmandu. Finally, I realized that I need to leave Kathmandu as soon as possible, just to save myself.

But then I had to ask if there is any city in Nepal that is better than Kathmandu. I wondered which one would top the list for livability, and one small city not far from where I live topped my list: Bhaktapur. It is so close to a world that is cloaked in dust, with people living in an endless rush-hour. It has somehow preserved itself as it was a hundred years ago. So, Bhaktapur should be the place, my final attempt before giving up and going back home to Dharan, in eastern Nepal.

When I talk about livable and people-friendly towns, where children can move about freely and safely, I always think of some European cities that have adopted the carfree concept, but for some reason Bhaktapur never came to my mind. But Bhaktapur is an exemplary city, not just among other cities of Nepal but all of Asia. It is highly sustainable and people friendly. As a matter of fact, it has already been listed among the world's carefree cities. With traditional houses and a less extravagant, more sustainable way of life, it protected itself from the uncontrolled influences that swept through Kathmandu and Patan (a large city just south of Kathmandu that has retained much of its original neighborhood structure). In fact, we should conduct a comparative livability survey of all the toles (neighborhoods) of Kathmandu and other cities across Nepal. We can use the knowledge from this survey to recognize and promote healthier practices in urban planning and identify good initiatives taking place, such as in access to health care, public transport, and clean air.

But when we talk about the livability of Bhaktapur, what might come to mind is the superhighway built between it and the heart of Kathmandu, which has already killed innocent people who never wanted this highway to cut through their neighborhood in the first place. Superhighways should never have disturbed the city; they should have passed another way, without destroying the markets, the local economy, and the community itself that had existed for years. Did the community want the highway? And is it even important to ask whether the community wanted it or not? Was any survey done by the government regarding the community's views and suggestions before such a major decision was made, or was the decision made in private?

And what about the impacts of air pollution caused by the road construction itself? That had as victims the children and infants of the community. Infants who are born in and will grow up in the highly polluted air caused by road construction will suffer serious respiratory problems, assuming they are not killed by collisions on the highway, which take the lives of many young and old people. Does the government realize its responsibility to compensate those patients and victims whose harm still lies in the future?

Kathmandu will build its first superhighway junction soon. How many people were consulted before this decision was made, and how many studies and how much research have they conducted? Does the state think it is not the business of citizens? Are the people in these communities willing to have this junction built in their neighborhood, or are they simply being forced to accept it? A survey should be conducted by either the government or by the civil society to determine local sentiment. Could it be that these highways and the outer ring road are being forced upon Kathmandu by the commercial and transport interests that find the present road system inadequate for their needs? Environmental NGOs, INGOs, and human rights organizations have a vital role to play. Sadly, most of their decision-makers ride in private 4WDs that are themselves competing for scarce Kathmandu road space and fouling the air with their exhaust.

If these highways get built, will air pollution during and after construction be monitored? Will they compensate for the loss of health and community in nearby areas? Will there be measures taken to make sure no one dies in an accident, or will the government again wait for people to die and only then will the lessons be learned?

Kathmandu will become even less livable than it already is, and perhaps never again return to the high quality of life it enjoyed 50 years ago. It would not be hard to guess how tourists who come to escape from their everyday lives will react to Kathmandu loosing its essence. But if the choices are made in favor of massive road construction, and if Kathmandu becomes completely unlivable, then gradually many residents of Kathmandu will return to their ancestral homes, just as I am tempted to do. But what about those people whose hometown is Kathmandu itself? They should be more concerned about their village than rest of us for whom this city is only a place to work or a junction to pass through.

Despite all the conditions we face every day, Kathmandu is still claimed to be the best city in Nepal, and it is that belief that brings people here, to the city of dreams. With high hopes, people come to Kathmandu from all over Nepal, only to meet with tragedy. With their dreams crushed, they fly abroad to work, dimming the hopes of the entire nation.

Education and the media play a role in creating this view among us. It is easy to wonder why all the national media are situated in Kathmandu and how it is that whatever happens in Kathmandu is portrayed as what is happening in Nepal. Kathmandu, as the capital city, is portrayed as the city of dreams. It has instead become the city of broken dreams for many of those who come here, and this plays a large role in the brain drain this nation suffers from today.

How is it that the government managed to plan ten-lane roads and an outer ring road, said to be essential for the future, but cannot plan to replace simple but aging rural suspension bridges and jeep tracks in areas where people are dying for the lack of transport?

Lack of infrastructures forces us all to Kathmandu. Rather than planning for more people to move here, the government should have planned to build facilities in rural areas to allow people to remain in their home villages. But the government rarely builds universities and hospitals in the places where they are required. Instead, it expects, for years into the future, that people will migrate to Kathmandu. Those politicians who represent the poor and marginalized do still talk at election time about the rights of their constituents.

If environmental organizations and activists really understand the consequences of breathing polluted air, why do all of them have to locate their offices in the core of the city? With Kathmandu being near the top of the list of the most polluted cities of Asia, these organizations should move out of the city, if only to protect the health of their staff.

Bhaktapur should be promoted, and all cities can learn from it. Environmental organizations should shift their operations to Bhaktapur, if only to appreciate and understand its sustainable patterns of living and to understand how it works and what lessons can be learned from it. Villagers of Kathmandu who are losing their precious and limited resources to this mob (job seekers, American dreamers obsessed with "progress," bureaucrats, and politicians) will be the last people standing with nowhere else to go if long-predicted disaster strikes some day. The bureaucrats, too, should leave the city and shift the capital in order to ensure that decentralization happens and that every city gets its share of facility and infrastructure development.

My best wishes to people who will be migrating to Kathmandu with hopes and dreams. I also offer my sincere concern to the villagers of Kathmandu. I wish they would stop and look at things before they lose it all forever.

As Dr. Samlee Plianbangchang, Southeast Asia Regional Director of the World Health Organization mentioned in his message on this year's World Health Day, health is not only the responsibility of the health sector. It requires tangible and sustained actions from beyond that sector. I hope we recognize health as an issue beyond the level of individuals. As we plan for a new and better Nepal, we must consider not only the availability of hospitals but also the health of our cities, towns, and villages.

Shail Shrestha is the founding president of Cycle City Network Nepal,

which promotes cycling culture and lobbies for cycling infrastructure

for cities of Nepal. He earned his bachelors in media studies at

Kathmandu University and is now pursuing his masters degree in

distance education at IGNOU (Indira Gandi National Open University, India).

A shorter version of the article was published in The Kathmandu Post
on 13 April 2014.

News Bits
The links below will open in a new browser window (crtl + left-click to open in a new tab instead):
Thanks to Richard Risemberg, Debra Efroymson, Piper Hollier, and Doug Salzmann for suggesting articles. Thanks also to Piper Hollier for proofreading.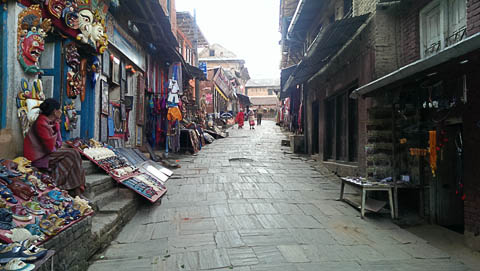 The main street in Changu Narayan
2014 J.H. Crawford

Fixing the I-710 corridor in Los Angeles

Special to Carfree Times
By Rick Risemberg

In eastern Los Angeles County, the I-710/SR-710 freeway looms over neighborhoods, walling neighbor from neighbor, poisoning children, and miring residents in endless congestion. Its raison d'etre has always been truck traffic from the ports of Long Beach and Los Angeles. But are there other ways to move freight through LA?

Now a major article by environmental reporter Justin Gerdes and documentarian Leila Dee Dougan, produced and edited by Richard Risemberg, explores the history of the freeway, the devastation it wreaks on the region's health and happiness, and the renewed vitality of a six-decade battle against making it even bigger, busier, and deadlier.

Read the four-part series online at Sustainable City News

Neighborhoods rich and poor, city administrators, and massive agencies wrestle with a legacy of failure and deceptive dealings, while glimmers of a brighter future struggle into the light as residents and entrepreneurs alike strive to bring new ideas to a reluctant bureaucracy. In a changing America, can we build a healthy and prosperous future for all the region - a future beyond freeways?

J. H. Crawford responded to a late draft of this article: "It's time to move beyond the internal-combustion engine. Even though modern diesel and gasoline engines are far cleaner than old ones, their contribution to air pollution remains significant, and their output of carbon dioxide makes them obsolete. Future transport systems must be powered by electricity, and the logical way to achieve this is with rail-based systems, which are already far more energy-efficient than trucks can ever become.

If the I-710 project is built around rail transport for freight, then there will also be space and money available to build badly needed passenger rail service along the corridor."

Purchase a mobile-friendly iBook version from Apple

Buy various e-book formats from Smashwords

(SustainableCityNews.com)
"In the Pedways of Los Angeles Past, a Vision of a Pedestrian-Friendly Future"

Calvin Hamilton was a visionary, one of the first to recognize that Los Angeles had a problem with cars - and to try to solve that problem. The key to his vision is the word "pedway." It is an urban passage, a pedestrian bridge, of which only a dozen were ever built. He had envisioned hundreds of pedways across the city's 500 square miles. His Los Angeles would have been divided into 29 "centers" (islands of development) connected by pedways, moving sidewalks, monorails, and mass transit. The centers were to have been dense, surrounded by lower-density residential areas with plenty of parks. The key would have been to separate pedestrians from cars. Today's Los Angeles is becoming a more pedestrian-friendly city, one deeply invested in public transit. Hamilton's vision has been lost, but his notion that pedestrians need protection from cars is finally starting to be realized. (CityLab.com)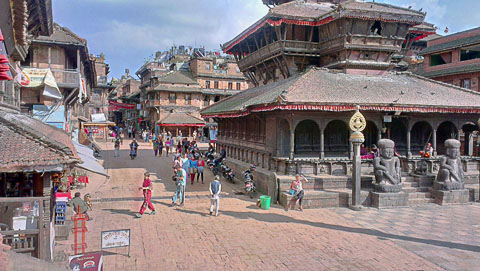 Bhaktapur's Dattatraya Square
2014

"Charles Montgomery's Happy City: Transforming Our Lives Through Urban Design"

Suzanne H. Crowhurst Lennard, director of International Making Cities Livable (IMCL), recently reviewed a new book about cities and how to make their citizens happy. The review is worth a look. (LivableCities.org)
"Spooky cities: the world's strangest underground cities - in pictures"

Takes a look at some of the quirky urban environments that have been built mostly or entirely underground. (TheGuardian.com)
"The golden opportunity our cities are missing"

"Living in the city means you don't often see a whole lot of green - but it doesn't have to be that way." Hollow blocks are common, and they are an excellent opportunity to bring green space to urban areas. (Salon.com)

Bhaktapur's Main Street
2014

"Nationwide 'Epidemic' Of Pedestrian Deaths a Failure of Social Justice: Report"

"New study finds people of color, the old and young dying in disproportionate numbers due to poor social policies." The figures are shocking: "Between 2003 and 2012, one pedestrian in the U.S. was hit by a car every 8 minutes on average. Of those hit, 47,025 were killed - 16 times the number of people killed in natural disasters during the same period - and 676,000 were injured." (CommonDreams.com)
"American communities are poised for a renaissance in walking. We're walking more often, for fun and to get to places in our neighborhood. We turn to WalkScore.com when figuring out where to live and our most walkable places often are among the most economically vibrant in the country. Hundreds of cities have adopted Complete Streets policies to ensure walking is at the forefront of our decisions regarding street design." The full picture is not so rosy, though. Dangerous streets are killing huge numbers of pedestrians. (SmartGrowthAmerica.org)
"New NHTSA Study Shows Motor Vehicle Crashes Have $871 Billion Economic and Societal Impact on U.S. Citizens"

"The price tag for crashes comes at a heavy burden for Americans at $871 billion in economic loss and societal harm. This includes $277 billion in economic costs - nearly $900 for each person living in the United States based on calendar year 2010 data - and $594 billion in harm from the loss of life and the pain and decreased quality of life due to injuries." You can argue endlessly about the exact numbers, but whatever the numbers may be, they are huge. (NHTSA.gov)
"11 Simple Ways to Speed Up Your City's Buses"

What the title says. (StreetsBlog.org)
"Can Kathmandu kick the motorbike habit and become cycle-friendly?"

"City community groups are pushing cycling as a way to cut pollution and improve health in the Nepali capital - but getting on your bike here has implications for your safety and your status." It's an uphill push, no doubt about it. (StreetsBlog.org)
"US shale boom is over, energy revolution needed to avert blackouts"

In 2012, the IEA forecast that by 2020 the USA would outpace Saudi Arabia in oil production thanks to the shale boom. It was even forecast to become a net exporter (!) by 2030. Even The Guardian bought into the notion that "peak oil idea has gone up in flames." However, the IEA's latest World Energy Investment Outlook says that US oil production from tight formations, such as the Bakken in North Dakota and the Eagle Ford in Texas, will peak around 2020 and decline. This new analysis puts an end to the "100 year supply" myth so widely promulgated by industry. Instead, it shows the likelihood of a peak in tight-formation oil within this decade. (TheGuardian.com)
"U.S. officials cut estimate of recoverable Monterey Shale oil by 96%"

"Federal energy authorities have slashed by 96% the estimated amount of recoverable oil buried in California's vast Monterey Shale deposits, deflating its potential as a national 'black gold mine' of petroleum. Just 600 million barrels of oil can be extracted with existing technology, far below the 13.7 billion barrels once thought recoverable." (LATimes.com)
"The Gross Society: We're Entering an Age of Energy Impoverishment"

Fossil fuels are abundant. That much is clear; see the large triangle below: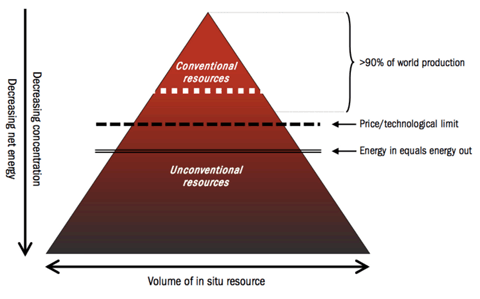 Relationship between energy reserves, extraction costs, and zero-net-energy
Pacific-Standard

The problem is that we have already extracted a lot of the cheap energy. Much of what remains is uneconomic to extract, and furthermore, most of that is also not feasible to extract at any price, as the energy required to extract it exceeds the energy to be extracted. It is true that technological changes may expand both the amount that can be extracted on favorable economic terms and the amount that can practically be extracted at all. Still, we've used the low-hanging fruit. The future of fossil fuels is in any case gloomy, and there is thus no reason to delay a shift to renewables. But then you knew that already. (PSmag.com)
"It's Final - Corn Ethanol Is Of No Use"

This is not really news. Scientists determined some years ago that there was little or no net energy gain from biofuels. Only the tax treatment of them has made it practical for agribiz to produce them at a profit. Now, however, Forbes is backing up the scientists. All that remains is to put a stake through the favorable tax laws to bring an end to this ravage to the planet. And once again, nothing will work as well as a simple but large tax on carbon, levied as it comes out of the ground. This is a surprisingly technical article, considering the source, and worth a read. (Forbes.com)

See also: "Corn biofuels worse than gasoline on global warming in short term - study" (Guardian.com)
"Study: Fracking Emissions Up To 1000x Higher Than EPA Estimates"

Natural gas drilling is releasing far higher levels of methane than regulators at the US EPA had expected. Past EPA studies indicated gas well sites emit as little as 0.04 to 0.30 grams of methane per second. The new study found numbers between 100 and 1,000 times higher than that. As a greenhouse gas, methane has as much as 30 times the effect of carbon dioxide. (Common Dreams)
"Autism, Schizophrenia Linked to Exposure to Air Pollution in Early Life"

Researchers simulated exposure of mice to air pollution. One group breathed filtered air while another group breathed polluted air similar to that of major US cities. In the exposed mice, brain inflammation was evident in nearly all parts of the brain after 1, 40, and 270 days of exposure to pollution. Such inflammation led to enlargement of the lateral ventricles of the brain and poor development of the brain's white matter. Lateral ventricle enlargement was up to as three times larger as in those mice that breathed filtered air. Lateral ventricle enlargement is strongly associated with damage to the corpus callosum, the connection between the right and left hemispheres of the brain. Such damage causes cognitive, social, and behavioral derangements, symptoms found in those with autism and schizophrenia. Rats exposed to pollution also had increased levels of neurotransmitters such as are also found in people with autism and schizophrenia. (ModVive.com)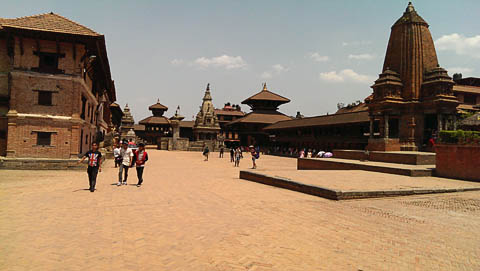 Bhaktapur's Durbar Square
2014 J.H. Crawford

"2 Charts That Put the Chinese Pollution Crisis in Perspective"

Everyone knows that China has serious pollution problems, but the severity is not widely appreciated. The same is true for modern industrialized cities generally, but China is an extreme case. The two charts show that China's standards for air pollution are far more lax than for Europe or the USA, and that pollution in China's 10 worst cities is very roughly 10 times as bad as it is for the 10 worst cities in the USA. It really is an emergency. (TheAtlanticCities.com, now CityLab.com)
"India admits Delhi matches Beijing for air pollution threatening public health"

"Beyond Obama's Plan: A New Economic Vision for Addressing Climate Change"

Obama's plan lacks any real vision. The USA has an opportunity to build a sustainable energy infrastructure that would provide jobs while protecting the environment. A major chance has been missed. (CommonDreams.org)
"The Turning Point: New Hope for the Climate"

Al Gore thinks we're finally at a turning point on climate change. This is a long article, but you may want to take the time to read it. There actually is some light at the end of the tunnel. (RollingStone.com)
"IPCC Findings: Create 'Age of Renewables'. . . Or Pay Higher Price Later"

" 'The longer we wait, the costlier it will be': IPCC's latest climate assessment makes it perfectly clear that solutions to crisis exist, but political atrophy spells doom." (CommonDreams.org)
"Uncontrollable ice-melt? Uncorking East Antarctica could yield unstoppable sea-level rise, simulations show"

"The melting of a rather small ice volume on East Antarctica's shore could trigger a persistent ice discharge into the ocean, resulting in unstoppable sea-level rise for thousands of years to come. These findings are based on computer simulations of the Antarctic ice flow using improved data of the ground profile underneath the ice sheet." (ScienceDaily.com)
"Underground fossil soils are rich in carbon, may account for global warming"

Fossil soils buried well underground are rich in carbon and could be a factor in global warming. These soils formed on the surface and were buried after thousands of years of accumulation. This soil is believed to be 13,500-15,000 years old. It formed on the Great Plains and is now located more than 20 feet underground, which is far deeper than what is examined by most soil studies. Human activities are disrupting surface material, exposing fossil soils to the environment. When re-exposed to oxygen, weathering, and microbes, the material releases the carbon that had been sequestered for 10,000 years or more. (TechTimes.com)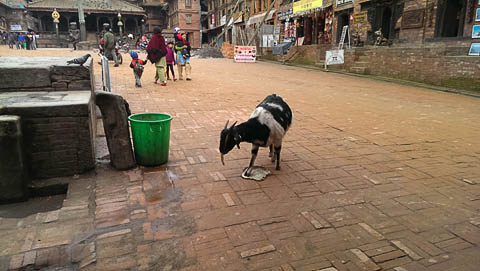 Natural recycling, Dattatraya Square, Bhaktapur
2014 J.H. Crawford

About Carfree Times
Next Issue
The next issue of Carfree Times is scheduled for September 2014.
Subscribe to Carfree Times
Carfree Times is published quarterly at Carfree.com. To receive e-mail notices of new issues, please visit the subscription page or send e-mail with the word "Subscribe" in the subject line. We do not share our mailing list.
Write for Carfree Times
Interested in writing for Carfree Times? We welcome articles on a wide variety of subjects and offer an opportunity to publish letters to the editor and guest editorials. Drop us an e-mail.

Back to Carfree.com
Carfree Times Home
Back to Carfree Times Issue 73
Forward to Carfree Times Issue 75

E-mail
carfree.com
Text and illustrations, except for guest content, placed in the public domain