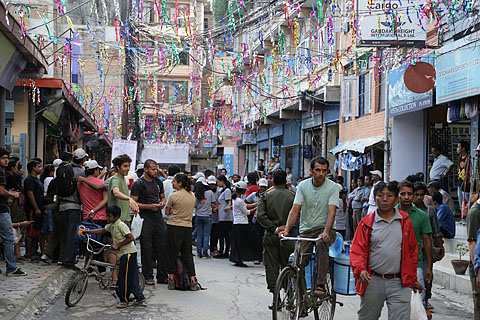 Carfree Day celebration in Kathmandu
2014 Shail Shrestha

Feature Article
Growing a Carfree Day Event
By Dristy Shrestha and Shail Shrestha
The celebration of World Carfree Day in Nepal's Kathmandu Valley, called "Ktm Walks," was initiated by three organizations. Kathmandu Metropolitan City (KMC) office was the lead organization, and two non-governmental organization (NGO) partners, Clean Energy Nepal (CEN) and Resource Center for Primary Health Care (RECPHEC), collaborated to conduct a week-long carfree day celebration in the Valley. Vehicles, especially motorcycles, have increasingly affected the livability of many places in the Kathmandu Valley and especially in the city itself.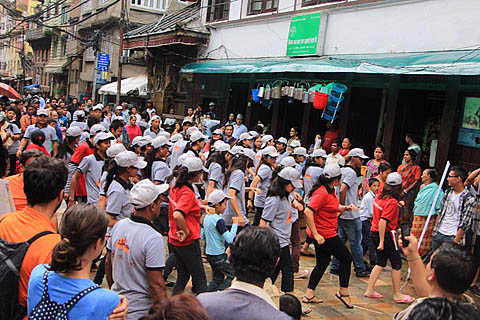 Flash Mob performs at a popular carfree day event, Kathmandu
2014 Nabin

RECPHEC began its work on walkability and pedestrianization in 2007 with emphasis on the community health benefits arising from increased physical activity and reduced pollution. Since 2011 it has been actively involved in field studies and awareness programs focusing on restricting vehicles in the Thamel area (the tourist center in old Kathmandu). The first approach to the core city areas in Thamel involved interaction with local residents and collaboration with the Thamel Tourism Development Committee (TTDC).
Pedestrianization of two major parallel roads in the old center of Kathmandu had been KMC's plan for 40 years, but efforts have failed every time, mostly because of lack of community support. KMC also considers vehicle restriction to be an important part of heritage conservation in the historic core of Kathmandu.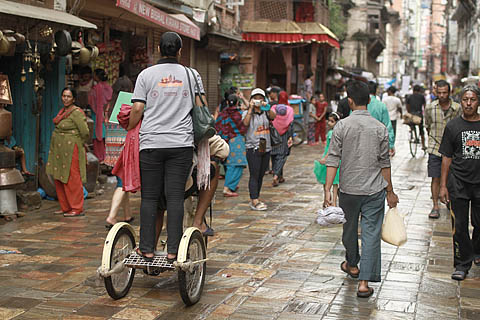 Alternative transport during carfree day, Kathmandu
2014 Shail Shrestha, Carfree.com

Kathmandu Sustainable Urban Transport Project (KSUT) is a project executed by KMC to improve the quality of urban life in Kathmandu by implementing a more efficient, safer, and more sustainable urban transport system favoring local economic growth and addressing climate change and air pollution concerns. One of the four top priorities is walkability, under which the pedestrianization of the core area is included.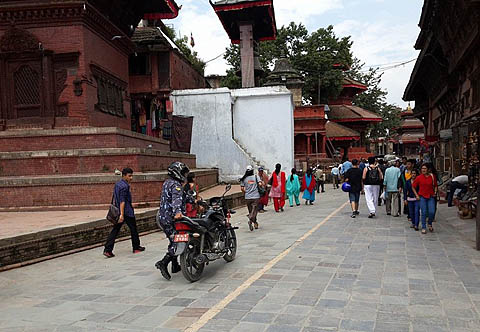 Police officer respecting carfree day by walking his motorcycle, Kathmandu
2014 Suman Udas

Clean Energy Nepal was exposed to the World Carfree Day celebrations in Jakarta, which happen twice every month. Since the government already had a pedestrianization project in place for Kathmandu's core, carfree day was recognized as an important promotional component. In 2012, CEN surveyed tourists in Thamel regarding pedestrianization, and 87% of tourists preferred a carfree Thamel. On the basis of the survey, a pedestrianization project was initiated in the Thamel area in a collaboration between KMC and RECPHEC. Initially it was concentrated in the touristic part of Thamel in coordination with TTDC. From the response of community consultation, it was realized that other areas of Thamel with mainly local residents were also interested in a vehicle restriction program.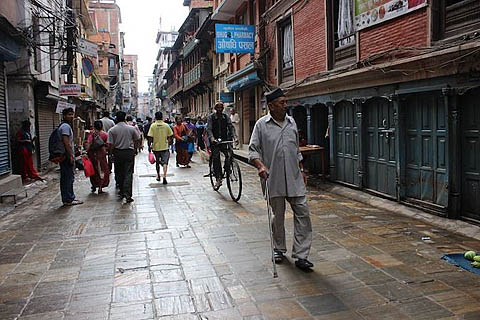 Senior citizen enjoying a safer street in Kilagal, Kathmandu, on carfree day
2014 Rassu Manandhar

A World Carfree Day celebration was attempted in 2013 but was unsuccessful due to lack of preparation time and sufficient community consultation. World Carfree day 2014 was planned to be celebrated in a different section of Thamel. According to local clubs and community participants, breaking the celebration into short periods of vehicle restriction would work better than attempting an entire day. The period between World Carfree Day on September 22 and World Tourism Day on September 27 was chosen for relatively short periods of vehicle restriction in different areas on each day.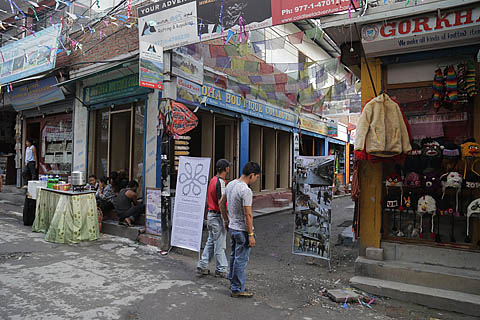 Carfree.com posters at carfree stretch of Saatghumti, Thamel, Kathmandu
2014 Shail Shrestha, Carfree.com

A meeting was held at KMC on 31 July 2014 regarding carfree day event planning. The other participants were CEN, RECPHEC, Carfree.com, and youth representatives of Thamel and KMC. This meeting focused initially on the celebration of carfree day in a few parts of Thamel only. The areas that would be selected would depend on the response from the local community representatives. The structure of the event and the number of days were uncertain, but it was determined that an event should be held on at least one day and more if circumstances permitted.
During a meeting with the local community in the Kilagal area about the car restriction program, community members expressed interest in bringing the carfree day event to Kilagal and suggested cooperation with several local clubs. RECPHEC and Carfree.com communicated with Star Club, a local club in Kilagal, on the idea.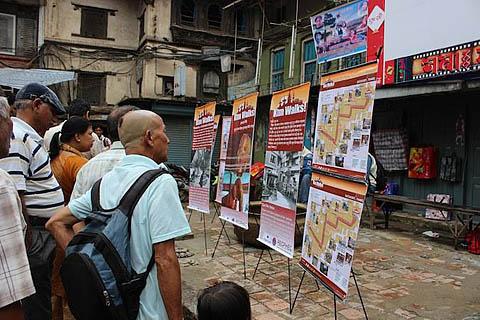 Posters exhibited in the Janabahal area of Kathmandu at the opening ceremony
2014 Rassu Manandhar of CEN

It was then decided that KMC would be the lead organizer of the campaign. The event would be held in a small area that was thought to be manageable, Saatghumti-Kaaldhara. The local representative of Thamel was assigned to explore the possibilities of other areas that are prominent and where the impact would be visible to larger audience. A team was to explore the organization of events in the Jyatha area. Carfree.com and RECPHEC were to explore the possibilities in the Kilagal area. A team was assigned to coordinate with the youth clubs, seeking volunteers from Thamel for the event.
A meeting was scheduled with TTDC, the Hotel Association of Nepal, the Trekking Agencies Association of Nepal, the Restaurant and Bar Association of Nepal, the Nepal Association of Tour and Travel Agents, and the Export Council of Nepal to seek collaboration on the event in Thamel. At this meeting, areas of Thamel were identified where vehicle restriction was feasible and local authorities were identified who needed to be approached for their approval.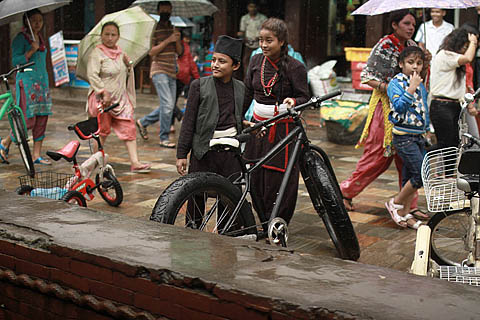 Specialty bike on display during carfree day, Kathmandu
2014 Diwash Pradhan

Different activities were proposed for the event, including a heritage walk following the route Dabali Marga-Bhagwan-Gairidhara-Bailachen, rickshaw promotion activities, a children's street art competition, local food stalls, local music, street acts, art exhibitions; bicycle rally, and an organic vegetable stall.
Local clubs from other parts of Kathmandu also showed their keen interest in vehicle restriction programs for their communities and invited the event into their areas. Local participation and presentation programs were conducted on vehicle restriction zones and programs and on World Carfree Day celebrations around the world. Following their request to conduct the event on a Saturday, the event start was moved forward to 20 September and extended until 27 September. The local clubs and residents responded with great interest to the pedestrianization of their community over the long term and asked to celebrate the event more frequently.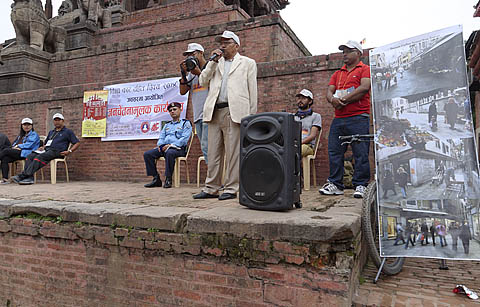 Ram Mani Bhattrai, CEO of Bhaktapur Municipality, speaks at the podium event
2014 Bansidhar Sainju, Carfree.com

In various communities, participation exercises were conducted for planning the event and engaging the community in the process. The communities were briefed on the carfree initiatives and how local business, stakeholders, and local residents would benefit from this program. Its contribution to heritage conservation and increased tourism was also discussed. A local tourism entrepreneur from Bhaktapur showed great interest in the carfree event and the possibility of celebrating a carfree day in Bhaktapur. Carfree.com took the lead in coordinating the Bhaktapur event committee. Other event organizers included Bhaktapur Municipality, Bhaktapur Tourism Development Committee, Bhaktapur Cycle City, and Taumadhi Youth Club.
The local club of Kilagal also coordinated with Machhindra Club of Janabahal, which had also shown interest in celebrating World Carfree Day in their area. With another club joining the team, the stretch that would be carfree had grown to four times what had first been proposed. These clubs responded with their own programs and activities for the day, including photography, arts exhibitions, and performances of traditional music. They also took the lead in conducting heritage walks in their areas, to be led by local experts. It was decided that the opening ceremonies were to be conducted in Janabahal and Kilagal, with participation by community and business leaders in the area. KMC coordinated with the traffic police and the Central District Office for traffic management.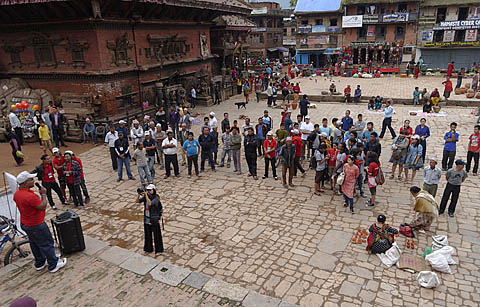 Local businesses exhibiting their products during the carfree day event in
Taumadhi Square, Bhaktapur
2014 Bansidhar Sainju, Carfree.com

In Bhaktapur, a brief vehicle restriction program in Taumadhi Square on Saturday morning was coordinated by the Bhaktapur Municipality, the Bhaktapur Tourism Development Committee, and the Taumadhi Youth Club.
Linking the carfree event with heritage conservation, new areas were identified for inclusion in the week-long carfree program. Kathmandu's Basantapur Durbar Square, already a carfree area in theory but full of vehicles due to lax enforcement, was also added to the program. The Teku-Dobhan route, a new heritage site which was a recently-declared carfree stretch along a riverbank, was also added to the program.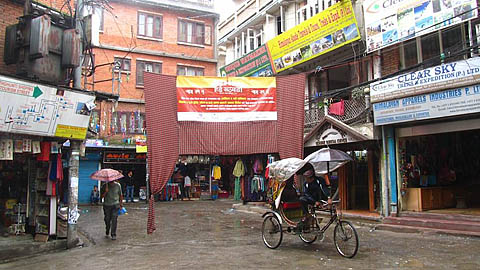 Carfree day traffic control gate, Kathmandu
2014 Prashant Khanal

In the end, World Carfree Day became an eight-day celebration in the Kathmandu Valley. The event began on 20 September at Janabahal and Kilagal (as a result of their enthusiastic response to conducting carfree day). Vehicles were restricted from 7:00 AM to 7:00 PM, and the event opened with a Clean Up Nepal Campaign. Various photo exhibitions and art competitions were conducted on the carfree street. The opening ceremony was followed by musical performances by local youths, a heritage walk, and a flash mob dance by youth volunteers of KMC. Local shops exhibited their products on the streets, and bicycle shops offered free rides in the carfree streets. The program closed with an open-air documentary screening of "Cycle and the City," "Car Trouble and How to Fix It," "How the Dutch Got Their Bike Lanes," among others. There was also a slide show of photos of the Kathmandu Valley before it was overrun by vehicles. The event concluded with interaction and feedback from the local community about future carfree days.
Three days were dedicated to restriction of vehicles in Basantapur Durbar Square. The event was also celebrated in Saatghumti, a stretch of Thamel that has the potential to be permanently carfree in future. Along with regular activities and events, there were musical performances, ethnic ramp walks, and food stalls in the venue.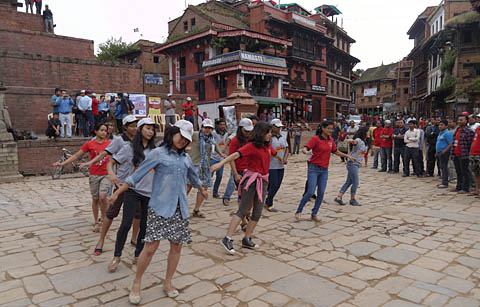 Flash Mob performs at the Bhaktapur event
2014 Bansidhar Sainju, Carfree.com

On 25 September, Bhaktapur celebrated its carfree day event by restricting vehicles from 6:00 AM to 9:00 AM in Taumadhi square. Groups that had never worked together before came together to make the event a success.
On 26 September, Bhagwan Bahal, a stretch in Thamel, celebrated carfree day with treasure hunt programs, street art, an art exhibition, skate board stunts, and other activities. With enthusiastic response and support from local business owners, a larger stretch than had been planned was made carfree on this day.
On the last day, 27 September, World Tourism Day, the program ended in Basantapur with a variety of activities.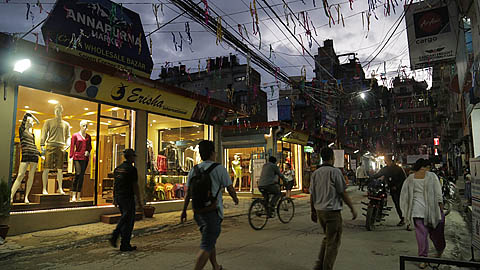 Carfree evening in Saatghumti, Thamel, Kathmandu
2014 Shail Shrestha, Carfree.com

Most local communities showed interest in conducting vehicle-restriction programs more frequently, and Kilagal is planning to conduct another carfree day next month, with a monthly event under discussion.
The experience of planning and organizing the Valley's carfree day events was encouraging and uplifting. Support for the event was considerable and evolved rapidly as the plans advanced, despite short time available to arrange the events. Sometimes, when an area is truly overwhelmed by traffic, as Kathmandu is, people are suddenly ready to consider radical measures to improve their lives. This seems to be what happened in Kathmandu last month. Maybe your city is ready, too.
Dristy Shrestha lives in Kathmandu and is active in the carfree
movement and the design of carfree villages.
Shail Shrestha also lives in Kathmandu and is a cycle campaigner and
videographer making films mainly on environmental issues in Nepal.
Ed. Note: I attended three of the events and found them delightful. The relief from traffic was palpable, as it almost always is. People were enjoying themselves.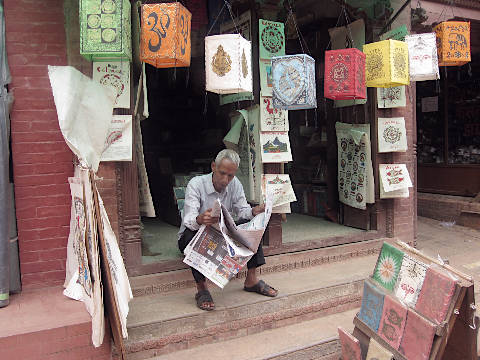 Reading the news in Bhaktapur
2014 Bansidhar Sainju, Carfree.com

News Bits
The links below will open in a new browser window (crtl + left-click to open in a new tab instead):
Thanks to Richard Risemberg, Debra Efroymson, Piper Hollier, and Doug Salzmann for suggesting articles. Thanks also to Piper Hollier for proofreading.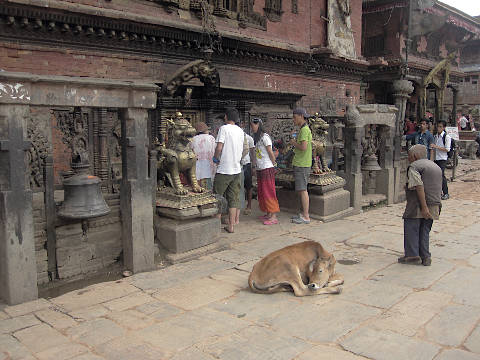 Sacred cow, Bhaktapur Durbar Square
2014 Bansidhar Sainju, Carfree.com

This think piece by Patrick Doherty proposes walkable communities as one leg of a new strategic policy for the USA. It's a long piece, full of things I believe to be true, but the barriers to implementing it seem almost insurmountable in today's America. Set aside some time to read this, as it's long. (ForeignPolicy.com)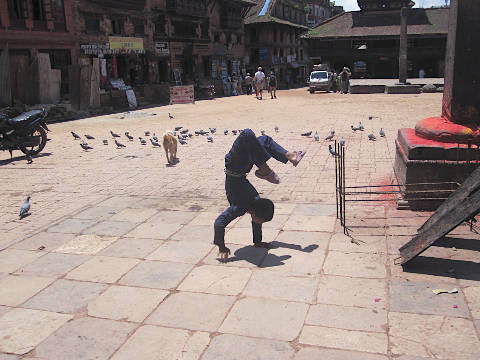 Dattatraya Square, Bhaktapur
2014 Bansidhar Sainju, Carfree.com

"Buenos Aires: Building a People-Friendly City"

Buenos Aires built its MetroBus BRT along the Avenida 9 de Julio in an astonishing seven months. (It's reputed to be the world's widest street.) Four general traffic lanes were converted to bus lanes. The change has yielded huge dividends for the city. More than 650,000 people now ride MetroBus daily, and commutes to the city center have been cut from 50-55 minutes to just 18 minutes. (StreetFilms.org)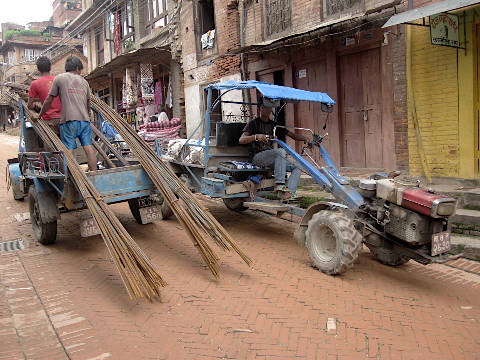 Tractors moving construction materials, Bhaktapur
2014 Bansidhar Sainju, Carfree.com

"Case Study: The Unspoken Rules of Favela Construction"

I have long been interested in informal settlements and the form they take. This article looks at a favela in Rio de Janeiro and the ways in which it is developing over time. (ArchDaily.com)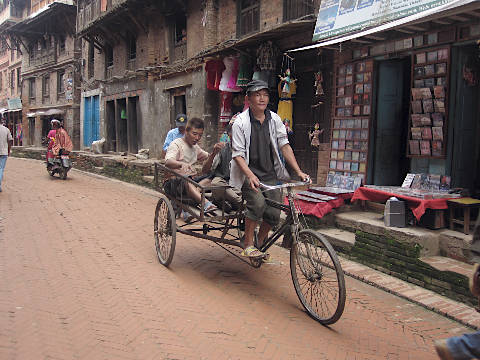 Bicycle rickshaw, Bhaktapur
2014 Bansidhar Sainju, Carfree.com

"From bicycles to cars in Beijing"

A sad piece about how Beijing has abandoned its wonderful urban past for a future choking on automobiles. (Architect This City)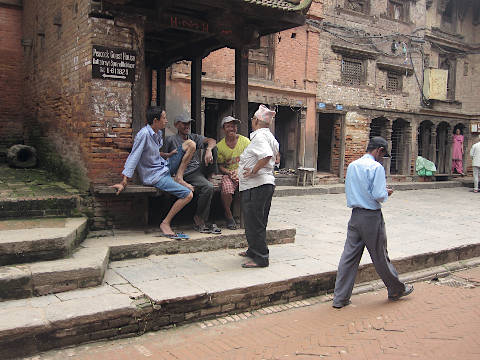 Gabbing with neighbors, Bhaktapur
2014 Bansidhar Sainju, Carfree.com

"The Making of a Livable City: Inspiration for a Sustainable, Healthy Beijing"

"Each year, 440,000 people move to Beijing in search of economic opportunity and better lives. Their rural-to-urban migration is a driver of economic growth, part of a larger plan to catalyze economic development through urbanization across China. However, critics have raised concerns over whether megacities like Beijing can achieve such growth while also creating a livable, sustainable urban environment." (SustainableCitiesCollective.com)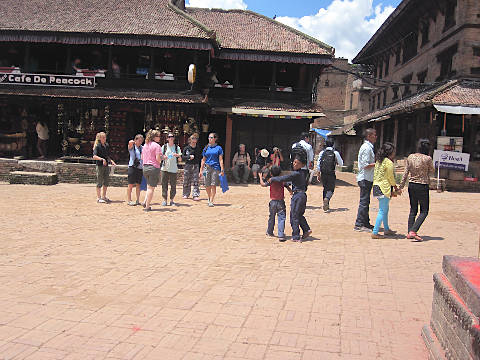 Dattatraya Square, Bhaktapur
2014 Bansidhar Sainju, Carfree.com

"Walkable Metro Areas Are More Productive & Command Higher Rental"

A new report ranks the top 30 US metropolitan areas on the amount of commercial development in walkable urban places. The key findings are:

Top-ranking metros have 38% higher GDP per capita compared to low-ranking metros.
Offices in these areas command 74% higher rent compared to drivable suburban areas.
Walkable urban development is not limited to center cities; it also includes the urbanization of suburbs.

(SustainableCitiesCollective.com)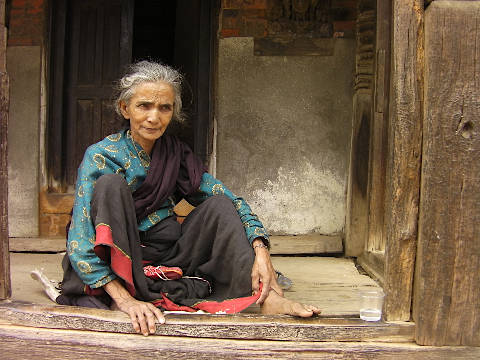 Growing old gracefully in Bhaktapur
2014 Dristy Shrestha, Carfree.com

"Mister Rogers' Heart-Healthy Neighborhood"

Many factors influence the risk of heart attack. Some are obvious, but others are not. A large-scale study of people 50+ found that being comfortable with your neighbors lowers the risk of heart attack. Friendly surroundings can apparently protect you. This should not come as a big surprise. (Psmag.com)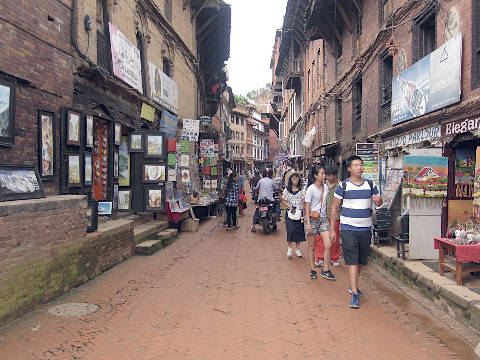 Bhaktapur's main street
2014 Bansidhar Sainju, Carfree.com

"Small Streets advocates for a return of the balanced city, focused on preserving our historic small streets and reintroducing new small streets to our communities." (SmallStreets.org)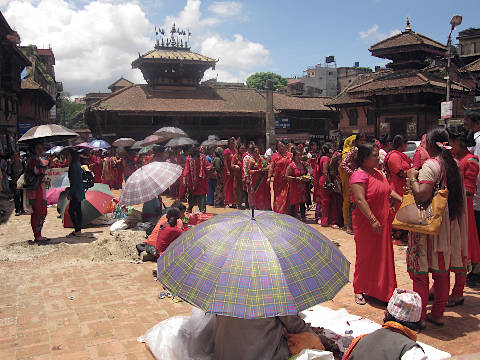 Festival day, Bhaktapur
2014 Bansidhar Sainju, Carfree.com

"Car-Free Households Are Booming in San Francisco "

This one is a shocker. It probably happened because of changes in zoning ordinance parking-space requirements. Between 2000 and 2012, San Francisco saw a net increase of 11,139 households, and 88% of them were carfree. The proportion of San Francisco households who own no cars increased from 28.6% in 2000 to 31.4% in 2012. (sf.StreetsBlog.org)

Vegetable seller, Bhaktapur
2014 Bansidhar Sainju, Carfree.com

"Parking: Searching for the Good Life in the City"

"For too long cities tried to make parking a core feature of the urban fabric, only to discover that yielding to parking demand tears that fabric apart. Parking requirements for new buildings have quietly been changing the landscape, making walking and transit less viable while inducing more traffic. Chipping away at walkable, mixed-use neighborhoods has been a slow process that, over the years, turned the heart of American cities into parking craters and even mired some European cities in parking swamps." (The video is 4:40 long.) (StreetFilms.org)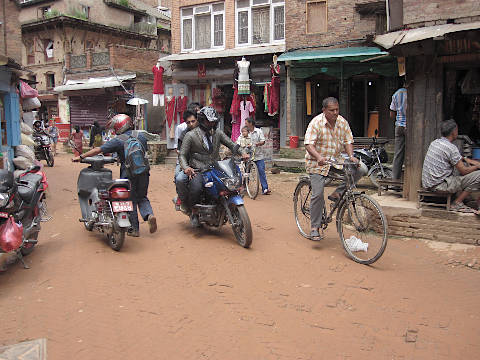 Too many motorcycles, Bhaktapur
2014 Bansidhar Sainju, Carfree.com

"An Analysis of the Relationship Between Highway Expansion and Congestion in Metropolitan Areas"

The Texas Transportation Institute's 1998 annual report on congestion in major metropolitan areas provides considerable insight into the effectiveness of congestion management strategies. This report examines the effect of road expansion to relieve congestion. Lots of numbers here. By analyzing TTI's data for 70 metro areas over 15 years, STPP determined that metro areas that invested the most in road capacity expansion did no better in easing congestion than other metro areas. Areas that exhibited greater growth in lane capacity spent roughly $22 billion more on road construction than those that didn't, yet ended up with slightly higher congestion costs per person, wasted fuel, and travel delay. On average, the cost to relieve the congestion by building roads could be thousands of dollars per family per year. (Surface Transportation Policy Project)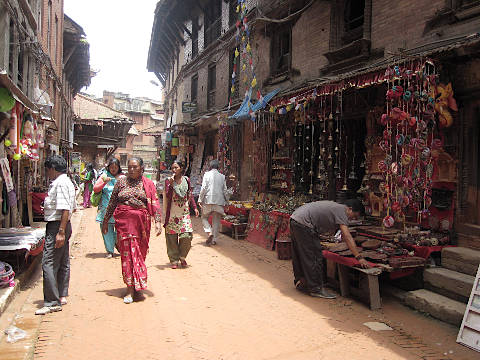 Handicrafts for tourists, Bhaktapur
2014 Bansidhar Sainju, Carfree.com

"Self-Driving Cars Are Still Cars - Which Means They Won't Improve Your Commute"

This is a good article about why self-driving cars really don't help the situation much. We'll be saddled with fighting this battle for years, so it's time to start preparing our arguments. This article is a good start. (NewRepublic.com)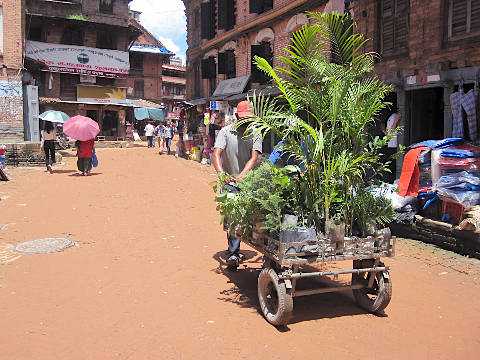 Plant delivery, Bhaktapur
2014 Bansidhar Sainju, Carfree.com

"U.N. Draft Report Lists Unchecked Emissions' Risks "

"Global warming is already cutting grain production by several percentage points, the report found, and that could grow much worse if emissions continue unchecked. Higher seas, devastating heat waves, torrential rain, and other climate extremes are also being felt around the world as a result of human-produced emissions, the draft report said, and those problems are likely to intensify unless the gases are brought under control." Fortunately for us all, it now seems that economics, not politics, may drive the shift to sustainable energy. (NyTimes.com)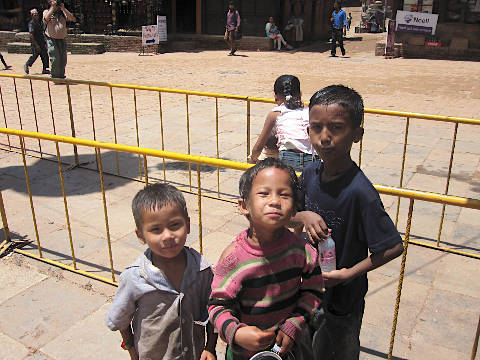 Kids at play in Dattatraya Square, Bhaktapur
2014 Bansidhar Sainju, Carfree.com

"Cutting Carbon Pollution Saves More Money Than It Costs By Making People Healthier "

"A study published by researchers at MIT looked at three different models for reducing carbon emissions in the USA based on policies that have already been proposed there. In one scenario the health care savings (from things such as avoided hospital visits and reduced spending on pollution-related illnesses) were more than 10 times the cost of implementing the policy." (ThinkProgress.org)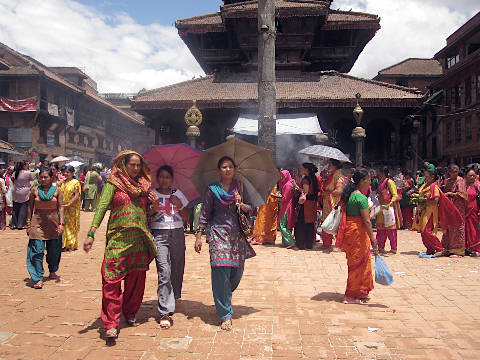 Lining up for a blessing at the temple, Dattatraya Square, Bhaktapur
2014 Bansidhar Sainju, Carfree.com

"Urban heat: Not a myth, and worst where it's wet"

"A new study quantifies for the first time the primary causes of the 'urban heat island' (UHI) effect, a common phenomenon that makes the world's urban areas significantly warmer than surrounding countryside and may increase health risks for city residents." (ScienceDaily.com)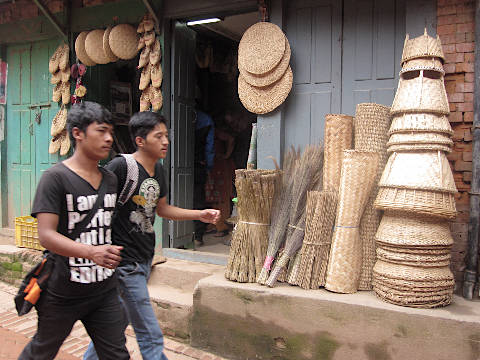 No plastic sold here, Bhaktapur
2014 Bansidhar Sainju, Carfree.com

"Antarctic Sea Ice Hits a Record Max, and That's Not Good "

Climate change deniers have made much of expanding sea ice in Antarctica, but it turns out that this is anything but good news. It's probably driven by increased melting of land-based ice. (CityLab.com)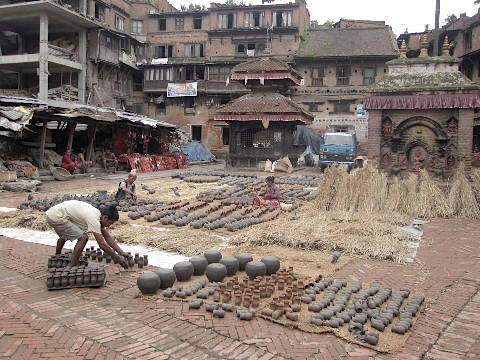 Pottery Square, Bhaktapur
2014 Bansidhar Sainju, Carfree.com

"Record decline of ice sheets: Scientists map elevation changes of Greenlandic and Antarctic glaciers "

Researchers have now extensively mapped Greenland's and Antarctica's ice sheets, using satellites. The ice crusts of both regions are declining at an unprecedented rate. In total the ice sheets are losing 500 cubic kilometers of ice per year. (ScienceDaily.com)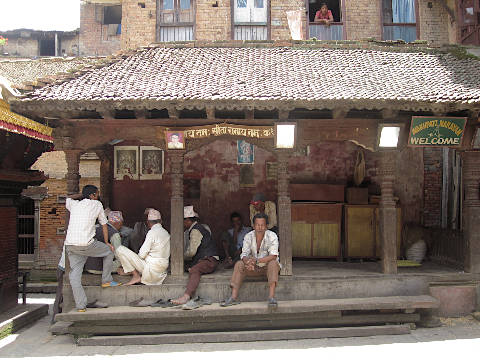 Parti shelter in Bhaktapur
2014 Bansidhar Sainju, Carfree.com

"The Really Scary Thing About Those Jaw-Dropping Siberian Craters"

Russian scientists believe that a massive crater discovered in Siberia was caused by thawing permafrost. It was spotted in mid-July by oil and gas workers flying over the area. Roughly 200 feet wide and seemingly bottomless, the discovery of the first crater was soon followed by others. (ThinkProgress.org)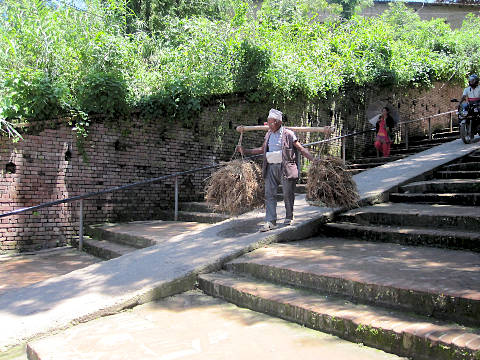 One of the entrances to Bhaktapur
2014 Bansidhar Sainju, Carfree.com

"Rate of Ocean Warming Vastly Underestimated: Study"

"The ocean is getting warmer at a rate that far outpaces previous estimates. . . . Since 1970, the top 700 meters of the ocean have been heating up 24-55% faster than scientists have been estimating. . . ." The error was caused by "poor sampling of the Southern Hemisphere, and limitations of the analysis methods." (CommonDreams.org)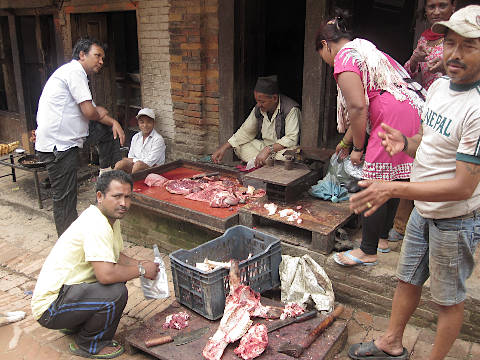 The Newari people in Bhaktapur and elsewhere are meat eaters.
2014 Bansidhar Sainju, Carfree.com

"Climate change may disrupt global food system within a decade, World Bank says"

A senior World Bank official says the world is headed "down a dangerous path," with disruption of the food system possible within a decade. Climate change may undermine the ability of nations to feed themselves. (Smh.com)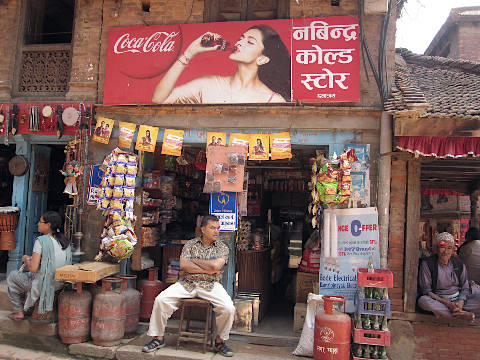 Coke is everywhere, including Bhaktapur.
2014 Bansidhar Sainju, Carfree.com

"Humans Driving Planet's New Mass Extinction, Say Scientists"

Unlike previous mass extinction events, the current one is caused by anthropogenic climate change and habitat loss. More than 320 vertebrates have gone extinct since 1500, and today 16-33% of vertebrates are endangered or threatened. (CommonDreams.org)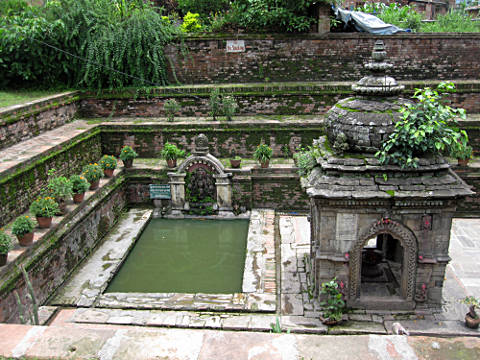 The water supply in Bhaktapur is ancient and carefully arranged.
2014 Bansidhar Sainju, Carfree.com

"'There Will Be No Water' by 2040? Researchers Urge Global Energy Paradigm Shift"

Water resources around the world are strained by economic development, population growth, and climate change. Major shortages are forecast for 2040. The generation of electricity is said to be one of the biggest sources of water consumption throughout the world, using up more water than even the agricultural industry. (CommonDreams.org)

Social life in Bhaktapur is tightly woven.
2014 Bansidhar Sainju, Carfree.com

"The Global Calculator helps you to understand the link between our lifestyle, the energy we use, and the consequences for our climate. It is currently in draft form." I've wanted to see something like this for years. The current version could be improved into an essential tool. (GlobalCalculator.org)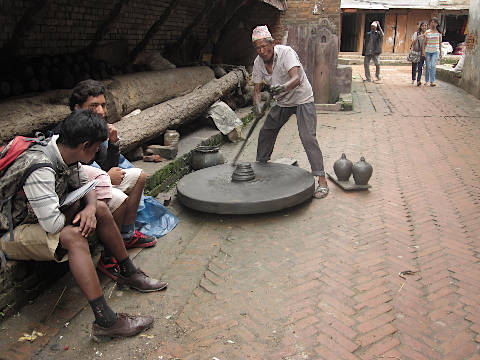 Bhaktapur's clay is used for many local crafts.
2014 Bansidhar Sainju, Carfree.com

"US Spending Billions to 'Dig Ourselves a Bigger Climate Hole'"

"A new report from research and advocacy organization Oil Change International reveals that the United States is pouring $21.6 billion into subsidies for fossil fuel exploration and production each year." (CommonDreams.org)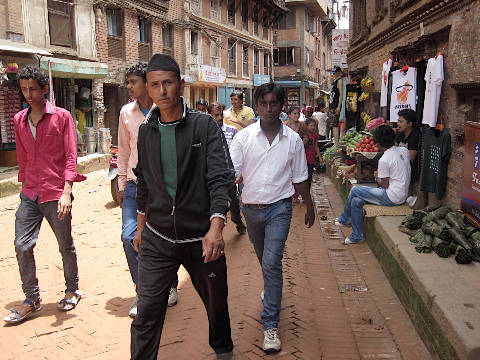 Despite the recent influx of motorcycles, Bhaktapur is still a pedestrian city.
2014 Bansidhar Sainju, Carfree.com

"How to power California with wind, water and sun"

"A new Stanford study finds that it is technically and economically feasible to convert California's all-purpose energy infrastructure to one powered by clean, renewable energy. Published in Energy, the plan shows the way to a sustainable, inexpensive and reliable energy supply in California that could create tens of thousands of jobs and save billions of dollars in pollution-related health costs." This doesn't necessarily mean moving California away from its terrible auto-centric condition, however. (ScienceDaily.com)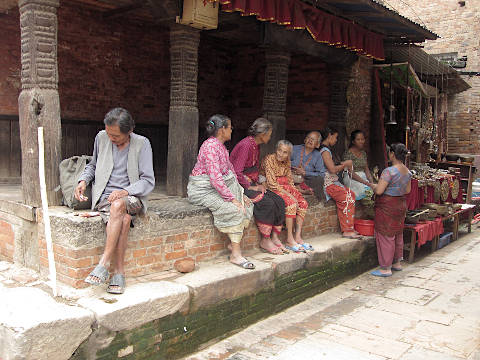 Good pedestrian environments provide places to sit, as here in Bhaktapur.
2014 Bansidhar Sainju, Carfree.com

"Cars Will Cook the Planet Absent Shift to Public Transportation"

"If the world's cities focused their investments on expanding public transportation, walking and cycling, they could save more than $100 trillion in public and private capital and urban transportation operating costs between now and 2050. . . . In a 'high shift' scenario with far greater urban passenger travel by clean public transport and non-motorized vehicles, as compared to a base-line scenario matched to mobility forecasts by the International Energy Agency, roughly 1.7 gigatons of carbon dioxide could be eliminated each year - a 40% reduction in urban passenger transport emissions - by 2050." (ScientificAmerican.com)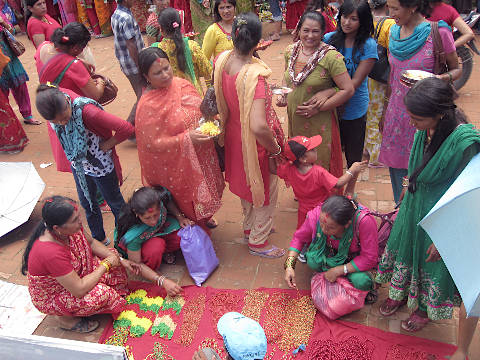 Newari festivals are many, long, and intense.
2014 Bansidhar Sainju, Carfree.com

"Israeli air pollution drops 70-99% on car-free Yom Kippur"

"Air pollution levels this past Yom Kippur, when Israelis customarily stay off the roads, proved once again the decisive role that motor vehicles play in the air pollution problem in Israel's urban areas." Data from the Environmental Protection Ministry's air monitoring stations showed that air pollution in large cities decreased over the holiday by 70-99%. (Haaretz.com)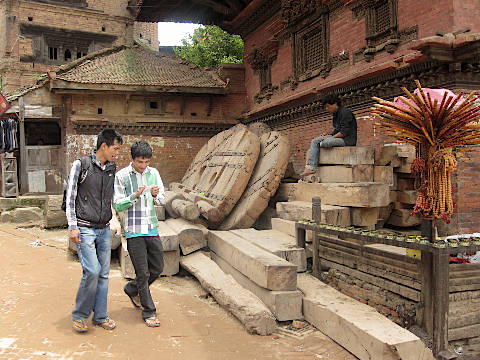 The off-season storage space for Bhaktapur's chariot
2014 Bansidhar Sainju, Carfree.com

"The Atlanta Transit Agency's Big Plan to Convert Parking Lots into Housing"

MARTA is converting some of its parking lots to transit-oriented developments. This follows the long history of financing transit in order to sell real estate, but in reverse - MARTA has been there for years. It's possible that San Francisco's BART could follow the same path. Certainly, the worst use for land around a transit stop is parking. (CityLab.com)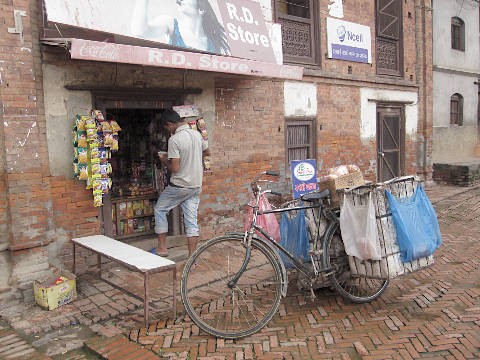 Bicycles are extensively used to make deliveries in Bhaktapur.
2014 Bansidhar Sainju, Carfree.com

"Danish Bike Culture Is Even More Amazing Than You Thought"

A puff piece for a city that deserves one. Full of photos and graphs. Worth at least a quick look. (VirtualWayfarer.com)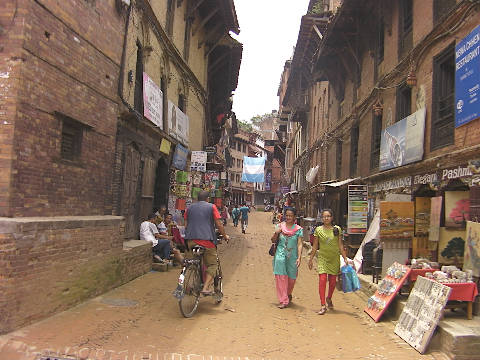 The main street in Bhaktapur
2014 Dristy Shrestha, Carfree.com

"If an Electric Bike Is Ever Going to Hit It Big in the U.S., It's This One"

"The Copenhagen Wheel replaces the rear wheel of almost any bike, turning it into a high-tech electric bike. It was developed in a partnership between MIT's Senseable City Lab and the City of Copenhagen. Thousands will have been shipped by the end of 2014. (CityLab.com)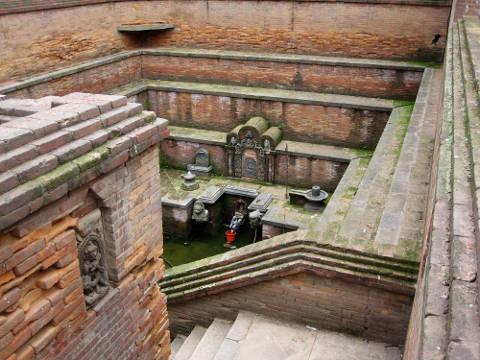 One of many water places in Bhaktapur
2014 Bansidhar Sainju, Carfree.com

"Dutch car sales poised to hit 45-year low"

Dutch car sales are expected to fall to 380,000 this year. That's down from the 1999 peak, when almost 612,000 were sold. (DutchNews.nl)

Briefly Noted


Our Own Day Here
Observations on Community

Richard Risemberg

Crow Tree Publications, 2014

Ebook available from Smashwords for $4.99

71 pages (depending on format)


Rick Risemberg has been a keen observer of the urban scene for many years. In this book he has collected the best of his writings over the past fifteen years. Some of them will probably be familiar to Carfree Times readers, but all of them will engage you.

Briefly Noted


Spot's Parking Lot

B.C. Brown

Espresso Publishing, 2014

32 pages


A cute dog shows children how much space parking lots take up by illustrating the various things that could fit in one parking space. Send a copy to your local planning department, plus the kids on your gift list.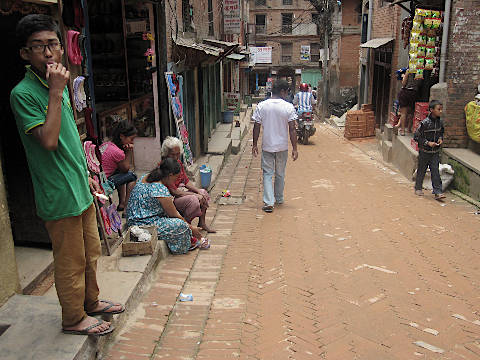 Major street, Bhaktapur
2014 Bansidhar Sainju, Carfree.com

About Carfree Times
Next Issue
The next issue of Carfree Times is scheduled for December 2014.
Subscribe to Carfree Times
Carfree Times is published quarterly at Carfree.com. To receive e-mail notices of new issues, please visit the subscription page or send e-mail with the word "Subscribe" in the subject line. We do not share our mailing list.
Write for Carfree Times
Interested in writing for Carfree Times? We welcome articles on a wide variety of subjects and offer an opportunity to publish letters to the editor and guest editorials. Drop us an e-mail.

Back to Carfree.com
Carfree Times Home
Back to Carfree Times Issue 74
Forward to Carfree Times Issue 76

E-mail
carfree.com
Text and illustrations, except for guest content, placed in the public domain