Feature Article
Local Transport Using Self-Guided Vehicles
by J.H. Crawford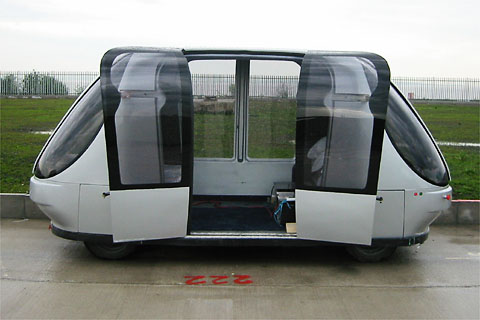 ULTra vehicle
©2003 courtesy ATS

Small transit vehicles, such as the one above and the one that heads this issue of Carfree Times, have a role to play in many carfree implementations. While it would be preferable to use underground rail systems for all public transport, this ideal will not be achievable in many existing urban areas, and we need practical methods for converting these areas into carfree districts. Since few carfree conversions will be feasible without improved public transport, we should welcome any approach that helps to achieve this goal while minimizing the impact on other street users.
In the early 1980s, I was involved in some early container terminal automation projects. The technology was then cutting edge, and problems were rife. The fastest microprocessors of the day were barely up to the task of manipulating the necessary data. Start-up problems were often "challenging." Since that time, a great deal of progress has been made in the development of self-guided vehicles, and obstruction detection has forged ahead. The technology is now mature and is seeing quite wide application.
FROG ("Free Ranging On Grid") Navigation Systems has developed sophisticated vehicle guidance and obstruction detection. While speeds are generally low, passenger vehicles have been in service for some time in various locations, notably long-term parking at Amsterdam's Schiphol Airport, where a first-generation automated shuttle will soon be replaced by the newer, larger ParkShuttle shown at the top of this issue. Frog has been instrumental in the development of a variety of self-guided vehicle projects, including pallet movers (used to shift loads in warehouses), container terminal movers, and the Phileas, a large double-articulated bus now undergoing final test that can operate in fully self-guided mode.
Guidance
Guidance was once the most challenging problem in developing self-guided systems. A variety of techniques was applied to the problem, not always with success. Frog navigates by means of electronic maps used for route planning and object avoidance. As they move, the vehicle measures both distance and direction traveled by counting wheel revolutions and keeping track of the steering angle. External references (often magnets) are used to recalibrate position before small errors can build up. Combined with automated supervisory systems that detect excessive error conditions, the technology appears finally to have become reliable, and failures are detected in time to allow fail-safe shutdown. The availability of high-resolution GPS services will further simplify the task.
Accuracy
As with so many things in computer automation, the accuracy of steering and path-finding of automated vehicles now considerably exceeds that of human operators. In fact, in a recent trial, the mini-buses followed their route so accurately that they wore grooves in the asphalt, which needs to be especially hard to withstand the regular passage of vehicles over exactly the same path.
Safety
The detection and avoidance of fixed obstacles is now commonplace with this technology. The vehicle knows at all times where it is, where it is going, and the route to follow. The locations of fixed obstacles are known to the system, and the vehicle automatically avoids them. What of moving obstacles, especially pedestrians? While the development of computer vision systems has proven stubbornly difficult, other approaches to detecting obstacles have been applied and have so far built a good record. Sonar, laser, and radar are useful in specific circumstances.

It is still too soon to put an automated vehicle into the middle of a busy street, and this may remain a limitation for a long time to come. When there is comparatively little foot traffic and the vehicle can be assigned a relatively broad right-of-way which few pedestrians should cross, the technology is already good enough. Acceptable safety is achieved by keeping speeds low and using sensors to constantly sweep a fairly large area in front of the vehicle for the presence of moving obstructions. This approach probably would result in an excessive number of unplanned stops if the vehicles were set up to operate in a crowded street.
Power
Various power sources can be applied to vehicles of this type. When speeds are low and distances comparatively short, conventional batteries are adequate. The vehicle knows when the battery is getting depleted and will take itself to a charging station. In fact, almost any form of motive power will work with these systems, and the Phileas bus will use hybrid propulsion.

While auto-makers have given up on battery-powered cars, the design parameters for cars are far more demanding than for local-service vehicles. Top speeds of at least 70 MPH (110 km/hr) are required, and a minimum range of 100 miles (160 km) is regarded as essential. While GM's EV-1 could reach these goals (with a new battery), GM determined that the concept did not merit further development and has withdrawn the vehicles from service. In local circulation service, top speeds will typically be in the range of 20 MPH (30 km/hr), and the length of a run will be measured in a few miles (kilometers), with the possibility of recharging after each run. It will thus be seen that battery-powered vehicles are already practical in urban situations (and have, indeed, seen such use for a century).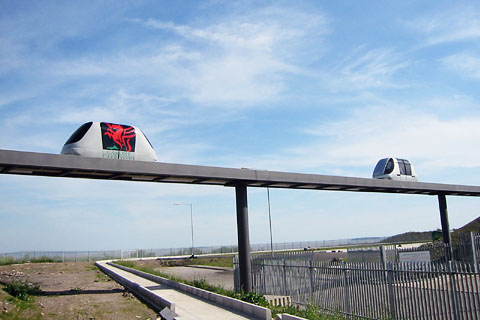 ULTra running on overhead right-of-way
©2003 courtesy ATS
Overhead?
I have long opposed overhead transit systems, mainly on the grounds of visual intrusion and noise. Being a realist, I also have to admit that some of these systems will be built, as the cost is much lower than tunneling. When the vehicles are small and light, the loads the guideway must withstand are low, and a fairly slender structure, such as the ones shown above, is adequate and not terribly intrusive. It is thinkable to put such systems overhead in urban areas, unlike metros and monorails, which are simply too big, too heavy, and too noisy to make overhead locations acceptable.
Conclusion
These systems are not cheap, but their fully-automated operation should bring their total cost of operation, including capital costs, within reach of more prosperous cities. They permit the operation of small-scale public transport service at comparatively low operating costs, principally because there is no driver to pay. Systems like these are comparatively quick to deploy and quite flexible, so that routes can be altered and extended without an enormous investment. Now that this technology has been developed and matured, there is no further reason to delay its implementation in urban areas.
More Information
The following sources offer further details of these systems:

Frog Navigation Systems
Urban Light Transport (ULTra)
Phileas Bus development

Thanks to Robbert Lohmann at Frog for the plant tour and a thorough explanation of Frog's products, present and future.