News Bits
Sustainable Community Near Lisbon
Portuguese green groups are supporting an ambitious project to develop a sustainable community of 30,000 people about 20 km south of Lisbon, complete with housing, work, and leisure activities. The demonstration project, one of five proposed by World Wildlife Federation and BioRegional, is to show that communities can greatly reduce pollution and use renewable energy. The project is being touted as the "world's first-ever integrated sustainable living program." Waste from the community is supposedly to be reduced to 25% of the national average, and 90% of organic wastes are to be composted.

The Mata de Sesimbra project will cost €1 billion and will occupy 5300 hectares when completed, in about 10 years. Most of the site, some 4800 hectares, will be a nature reserve and restored forest. The project will have a heavy slant towards eco-tourism.

The plan calls for all energy to come from renewable sources. Rainwater will be collected on the site and waste water recycled, which should help with a serious water shortage in Portugal. Half of the community's food is to be grown within 50 km of the site, to cut transport energy and aid local farming. Recycled and reused materials will be used where possible.

When he sent me this article, Lloyd Wright said,
I recall a study a few years back comparing the overall environmental impact of highly energy-efficient homes in a suburban area to energy inefficient homes in the city centre. The study took place in San Francisco. The result was that a super-efficient home in a suburban area produced many more emissions than an inefficient home in the city center. Basically, the extra energy consumed in the longer commute blew away any savings from having an energy-efficient home.
This is quite probably true for most projects of this kind. I nevertheless hope that this project will go ahead, as we need demonstration projects as soon as possible. The difficulties of building such a project in existing dense urban areas are currently almost insurmountable, mainly because of strong opposition by existing residents scared of the major changes required. As the problems of global warming and energy shortages begin to bite, people will become more willing to consider these kinds of changes in their own neighborhoods, especially if the pilot projects have shown a high quality of life. Until then, we should support these demonstration projects.
Cybercar Conference Antibes
The Cybercar conference held in Antibes was the culmination of 3 years' research and development by a number of universities and companies, sponsored by EC, into the development of electric robotic vehicles. Firms such as Fiat and Frog Navigation attended, and INRIA organized the conference. Presentations covered many aspects of Cybercars such as safety, user-reaction, cost reduction, and the large potential market - at present untapped.

The 20 person Parkshuttle bus, by Frog Navigation, (2 GETTHERE) ran along a 500 metre stretch of exclusive roadway. Running driverless, using an onboard computer, the bus "read" tiny magnets set at 3 metre intervals allowing it to do precise reverse turns at either end and stop at two points. In an impressive "safety" demonstration a staff member stood in its path and the bus travelling at 10 mph, using its infra-red camera, started to slow at 20 metres, to come to a stop 1 metre from away from its "obstacle." Six Parkshuttles, run by Connexion, the Dutch transport authority, will connect a metro station in Rotterdam with the Rivium business park by next Spring.

The other Cybercars demonstrated were 2 person bubble cars, called Cycabs, or 4-6 person cabins intended for use individually or as taxis in towns. A Cycab could be picked up and the passenger driven to his or her required destination, whereupon it would find its way back automatically to its parking area. The control systems use infra-red and GPS (satellite), sensing the position of pavement kerbs, or following a white painted line. Mixing such tiny vehicles with other road vehicles looked doubtful, the open-sided cabins looked vulnerable, although running them slowly within pedestrian-only areas might work and their use as small goods delivery vehicles would also be worth studying.

Local politicians, the Mayor, and a state senator all made stirring speeches about "L'avenir," which would be car-free, safe and clean. None suggested that anything should be done now about traffic in Antibes, which by mid-summer must be awful. The intention is that Parkshuttles would run around the harbour within 3 years, but must not remove any parking. So whether Cybercars will be the catalyst in the future to change this attitude remains the big question.

First published in Architects' Journal, July 2004
by Brian Richards,
author of Future Transport in Cities
Under the Rug
As if it were needed, more evidence of the harm from atmospheric pollution has seen the light of day, despite efforts by the auto industry and governments alike to bury the reports and ignore their conclusions.

Fossil fuel combustion kills tens of thousands of Europeans a year, according to the new studies. In France alone, automobile emissions kill as many as 10,000 people annually, according to a report by the Agency for Health and Environmental Safety (AFSSE). WHO and independent studies in other European countries reached similar conclusions. It appears that tiny particulates, those smaller than 2.5µ, are especially to blame.

It seems that European governments are hiding information on the risks.

The AFSSE paper had been due for publication in early in May, but the current right-wing government tried to block the report due to "the embarrassment the survey causes to the automobile industry," according to an unnamed source at the French ministry of health. The report suggests drastic measures to cut car use, which goes against the interests of car manufacturers, the source said. The paper was leaked to the press, and then AFSSE released it on its Internet site.

The German BUND (a branch of Friends of the Earth) called last year for the installation of exhaust filters that would trap the smallest particles, especially on diesel engines, which are notorious for their emission of small particulates, but the government rejected the proposal. A Green proposal to tax highly polluting cars was also rejected.

A 2002 report from the US EPA on the health risks from automobile emissions is marked "don't cite, don't quote" on every page. The EPA was afraid of being sued by the US automobile industry. The agency has seen the need for strict emission limits since 1977 but has never prevailed against all-powerful Detroit.
They Could Have Had Metro
It appears that the newly-opened monorail line in Las Vegas is a hit, even though the line is a paltry four miles long. On its first day, the system operated near capacity. And that's at a fare of US$3.00 per trip!

The US$650 million system, with just seven stations, connects 24,000 hotel rooms to 4.4 million square feet of meeting and convention space and the airport.

In case you missed it, the system cost US$150 million/mile. They could have had a high-capacity metro for that price. So much for monorails.
Or Maybe Trams
In Barcelona, trams are running through the streets after a 30-year absence. The two tram lines in the northern part of the city and three in the south do not connect to each other, however. For this reason, they pose no competition for the existing metro. In fact, however, the tram is part of a plan for an integrated system with components sized to meet the demand expected on various parts of the system.

The two systems together cost only €400 million, and may eventually be connected with one another, but the route would be through the rather narrow Avinguda Diagonal. The system uses modern articulated, low-floor trams of 32 meter length capable of negotiating a steep 7% grade. Nearly the entire length of the system is on its own right-of-way, with crossings arranged to give priority to the trams.

The trams run at the same five-minute frequency as the metro and connect with it. The average service speed of the trams is 23 km/hr, which compares surprisingly favorably with the metro's speed of 28 km/hr. The metro network is also being expanded, albeit at a cost of €2.2 billion. This may be a wise investment, the very high price tag notwithstanding.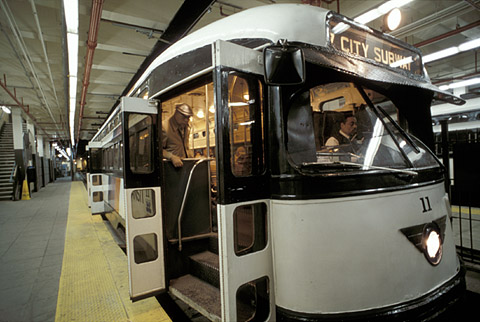 PCC Car, Newark, NJ, 1999

Or Even Antique Trolleys
The new F-line trolley route operated by San Francisco's Municipal Railway (MUNI) is suffering. It's too popular. The line connects Fisherman's Wharf with the old Ferry Building. The service is operated with vintage PCC streetcars, which first hit the streets in 1935. Some even older cars from Milan are also used.

The service is so popular with tourists and residents alike that it's sometimes impossible to board a trolley, and people have occasionally waited while five full trolleys passed them up.

The line is just 4 miles long and cost only $55 million to build It now carries about 20,000 passengers a day, far more during the summer tourist season. In fact, ridership is double the forecast level, and MUNI has been forced to put some buses on the route, as they are short of streetcars.

The SFGate.com article says the restored PCC cars, "which look modern," are "streamlined." Well, not to my eyes. They look just like the brilliant 1930s engineering they are.

MUNI bought old PCC cars recently taken out of service on the Newark Subway, for the bargain-basement price of just $15,000 each.
Does Amtrak Have a Future?
America's trouble-plagued Amtrak intercity rail system is headed for a shutdown in early 2005. Fiscal year 2005 funding for the heavily-subsidized system is about half what is required to keep it rolling, and no easy solution is in sight. Amtrak's management warns that the funding voted by the House of Representatives would force the system to halt all intercity service early in 2005.

While a last-minute reprieve is always possible and has occurred before, I suspect that the system will now close. In fact, this may not be as fearful an event as it appears. I suspect that a new operator will keep the more sensible parts of the system running, in particular the heavily-traveled Northeast Corridor route between Boston and Washington. Some of the long-haul service in the western part of the country simply makes no economic sense and is pulling down the whole system. A closure or bankruptcy would also permit a new operator to resume service without the irrational labor agreements and pork-barrel considerations that have kept costs at very high levels.

Finally, Amtrak's operations have often been so inept that they have interfered with commuter rail systems (not operated by Amtrak) and thus damaged the quality and particularly the reliability of the commuter systems, which are arguably more important than intercity rail service.
The Commons Revisited
Britain is considering a resolution of the tragedy of the highway commons: congestion-based road charges may be imposed nationwide. Charges as high as €2.18/mile could be imposed on the most congested roads. Congestion would be cut by half and avert a looming transport crisis.

Reason to think the plan might actually see implementation can be found in the long list of organizations that contributed to the study proposing these changes. Interested parties were included in developing the plan, even including the motoring lobby. The plan would probably result in rural car travel actually becoming cheaper than it is today, but users of busy roads would pay far more.

Under the scheme, the UK's 30 million cars would be fitted with transponders that would be tracked by satellite. More than €15 billion would be collected annually, although it would cost about €4.5 billion to fit the devices to all vehicles.

Many people are concerned by the Orwellian aspects of the scheme, which would make it simple for authorities to ascertain the location of any car at any time and to plot its route across the nation, but it seems that a majority of Britons are prepared to accept this. (It would also nearly end car theft!)
Beijing: Acts of Defiance
A recent International Herald Tribune article on the escalating conflict between car drivers and other street users in Beijing included this nugget:
The courage of ordinary Beijing citizens never ceases to elicit wonder. Fifteen years ago, the populace stood in the way of tanks and soldiers, desperately trying to preserve a civic space they lived in and loved. Today, pedestrians can still be seen playing chicken with heavy, groaning vehicles in singular, random acts of defiance. They are standing up to the onslaught of sport utility vehicles and black-tinted limousines that herald the arrival of a two-class society in the People's Republic - those with cars and those without
Cars are rapidly destroying centuries of tradition as they foul the air and endanger pedestrians and cyclists. A rich driver ran over and killed a defiant pedestrian with impunity, an all-too-common event. Interest in the case mushroomed when the story received wide play on China's corner of the Internet. The problem centers on the support of the state (i.e., rich, car-owning politicians) for car-owners' claims to right-of-way.

Time for another Cultural Revolution?
Hope for China
China has decided to emphasize public transport improvements during the next five years. Chinese Vice Minister of Construction Qiu Baoxing, speaking at a Beijing conference, cited foreign experience that has shown the benefits of giving priority to urban public transport projects.

The program will include dedicated public transport rights-of-way in urban areas so that public transport vehicles can run without delays. At present, the average speed of buses in Beijing is under 10 km/hr due to the heavy competing traffic from private cars. (Walking speed, let us remember, is 4.5 km/hr, so taking the bus is barely twice as fast as walking, if waiting time is ignored.)

Unfortunately, it appears that there will be a strong emphasis on building park-and-ride facilities (i.e., large garages) at the edge of the city core, with drivers changing to public transport for the trip downtown. A better approach would be urban development patterns that provided door-to-door public transport service, which would mean an end to suburban sprawl development. China really can't afford to waste precious agricultural land adjacent to cities in the highly fertile coastal plains.

The project appears to be a serious commitment, with 3-5% of GNP to be spent on transport infrastructure. The matter will turn on the balance of investments between the needs of car drivers and transit users.
Carfree Day in Shenzhen
Shenzhen, China, population 4.7 million, marked its first carfree day in June, with 100,000 walking, biking, or busing to work instead of driving. The day's theme: "reducing exhaust emission to have more blue sky." It probably sounds better in Cantonese, but I'm sure it's better any way you look at it. Some walked for as long as three hours from home to work. (Is there no public transport in parts of Shenzhen?)

Shenzhen's economy has exploded during the past 20 years, and car ownership has reached the level of 23 cars per 100 families. Air quality has declined precipitously as a result.
Vancouver's Arbutus Corridor
The Society Promoting Environmental Conservation (SPEC) has announced a design contest for the Arbutus Corridor in Vancouver. Students, planners, and the general public are invited to contribute design ideas, the best of which will be presented to the City of Vancouver.

SPEC wants to see the corridor preserved as a transportation link and greenway space. The site is a historic area in central Vancouver. SPEC thinks the corridor can integrate rail transit service and greeways with bike and foot paths plus community gardens. They are working with community groups and politicans to bring this vision to reality.

Preservation of the corridor as a transport right-of-way is supported by 79% of Vancouver residents. Until 2001, Canadian Pacific had operated rail service along the 11 km right-of-way. Full contest details will be posted in early September at www.spec.bc.ca.



Paris May Say Non! to SUVs
Paris is reconsidering the SUV - does it really belong on the traffic-choked streets of the City of Light? These behemoths might be banned in 18 months, the result of a new city council resolution. A Green deputy mayor said that SUVs are "not suited to towns." He went on, "They're polluters, they're space-occupiers, they're dangerous for pedestrians and other road users. They're a caricature of a car." The ban may take effect if it is included as part of a larger project to reduce congestion in the city.

The city council urged Mayor Bertrand Delanoe to consider banning SUVs, which now constitute 5% of the French car market, still low by US standards. Paris has been allocating more road space for buses and bicycles ever since a Socialist/Green coalition came to power in 2001, but the city cannot not legally ban SUVs outright. The best they can do for now is to restrict the amount of driving by the most heavily polluting vehicles, in particular SUVs, which may be banned during high-pollution periods. Residents' parking permits might be denied, and they may be kept out of some of the most sensitive areas.
Ever More Trucks
The Czech Republic joined the EU on May 1st, and truck traffic crossing the Czech-German border has increased 30% at some crossings. Until EU accession, trucks crossing from the Czech Republic into Germany often waited a day for border inspections, so shippers opted to use rail service from Lovosice (north of Prague) all the way to Dresden. Until May, the trains ran at 75% capacity; now it's a scant 9%.

There is no highway between Prague and Dresden, so thousands of extra trucks are roaring through villages and towns along the existing two-lane roads. Worse yet, the rail link is being closed unless lawsuits by German and Czech citizens' groups succeed.
Toyota-ization
The new word for today: Toyota-ization. It refers to the hordes of four-wheel-drive vehicles (in particular the Toyota Land Cruiser) now tearing up deserts around the world. The consequence: unparalleled amounts of dust entering the atmosphere. The problem apparently has global consequences. These vehicles break up the surface of the desert, especially in the Sahel, south of the Sahara Desert. The factured surfaces readily give up dust to storms and thereby increase atmospheric dust around the globe.

Annual dust production in parts of north Africa has increased ten-fold in 50 years. The effects are being see as far away as Britain and result in "blood rain" that deposits rust-colored dust. Other factors, including population growth, deforestation, and overgrazing contribute to the problem, but Toyota-ization appears to be the major cause. The deserts in the US south-west also suffer from the problem.

Desert surfaces have in many places been stable for millenia because a thin layer of lichen or algae binds the surface together. When these surfaces are breached, they leave fine sand free to be swept up by the wind. Typical storms 100 km across can pick up some 30-40 million tons of dust. It is also possible that this increases the transmission of diseases.

Dust particles are also known to affect cloud formation by providing nucleation sites. They may also act as aerosols do, by helping to mask the effects of global warming. Once all that driving in the desert comes to an end, the dust will fall out of the atmosphere fairly quickly and may lead to a small boost in global temperatures.
California Gets That Good Ole' Carfree Religion (Sort Of)
Carfree redevelopment is coming to that ultimate bastion of automobility: California. In downtown Long Beach, apartments are being built in a dense project that includes commercial on the lower floors. Residents will have direct access to a movie theater, cafés, bars, and other small stores. The project is near the Blue Line light rail system, which gives good access to downtown Los Angeles. The project's 142 units have filled up fast, attracting residents across a wide range of ages and incomes.

The project is a tentative response to the anticipated population increase in the six-county LA metro region from today's 17 million to 23 million over the next 25 years. The region simply cannot continue to see population increases based on the current patterns of auto-centric sprawl, a circumstance recognized by the Southern California Association of Governments.

The projects going up are not carfree in the true sense of the word, but their residents can manage fine from day to day without recourse to a car. That's about as much as can be expected for now in this region.