Editorial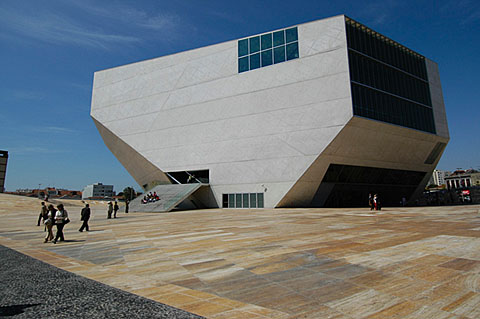 Casa da Música, Porto, 2005
Rem Koolhaas drops a load of "art"

Porto just blew €100 million on this piece of junk. Poor Porto. It will be many years before they will be able to afford to tear down this monstrosity and build something better.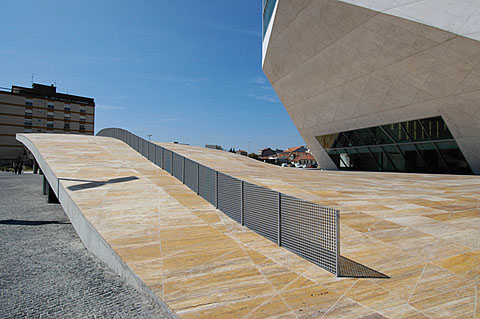 Artificial cliff

I don't doubt but that the contract was awarded in the usual way. Architects are chosen to form a jury to select one of their peers to design an important new building. Since Modernists, Post-Modernists, and Deconstructivists basically have a stranglehold on the architectural institutions, their buildings are very nearly the only kind that get built. The public gets a failed attempt at "art" every time, when all that is needed is a building that works, fits in with its surroundings, comes in on-budget and on time, and threatens no harm to anyone. To add insult to injury, when these buildings run way over budget, as they often do, the architect, commonly working on a percentage fee, gets more money.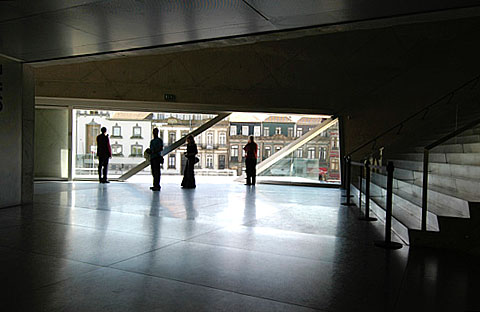 Angled front door

It's too much to expect at the moment for groups of ordinary citizens to replace architects in making these decisions, but could we please at least appoint a citizen jury to come up with its own rankings of the proposals submitted? At the end, we would compare the rankings of architects with those of ordinary people. I expect that in most cases the rankings will be wildly different. This would at least serve to put the politicians on notice that the results of their selection process are not pleasing to their constituents. Eventually, we might see a return to civilized buildings that show some respect for citizens and their cities.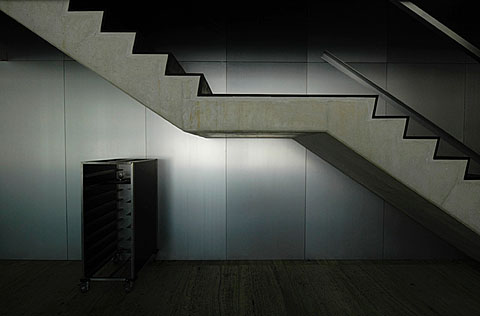 Head-high stair landing

Koolhaas should never design another building like this. Neither should any of his contemporaries, busy "deconstructing" several thousand years of safe, satisfactory, and gratifying architectural practice.

Books



The Nature of Order
Book Three: A Vision of the
Living World

Christopher Alexander

The Center for Environmental Structure, 2002

697 pages
Hardcover
US$ 75.00 but widely discounted
ISBN 0972652930

Book One was reviewed in
Carfree Times #37

Book Two was reviewed in
Carfree Times #38

Book Four is
briefly mentioned below

Numbers in parentheses are page references.
I am glad to be able to say that Book Three is a more accessible and less frustrating book than the first two. If you are going to read only one of the four, I think you should make it this one. I have skimmed Book Four: The Luminous Ground and will not review it - it is too mystical for me to attempt.
The focus of this book is on the creation of centers, and most of the discussion is reasonably practical and specific. However, we still have cases of the post-hoc application of a method that was surely not used in history:
What is vital is that this process of building St Marks square was all made of center-creating actions, all were processes based in one way or another on the fundamental process. Most of the entities that were created there, large and small, were living centers that have unfolded over time to make the whole more and more vibrant, and it is this which gives the place its living character. (7)
It may be true that the processes were center-creating, but Alexander gives no evidence that those designing this square had any awareness, even if in different terms, of the kind of process that Alexander proposes. I find this disturbing, as my own view is simply that our forebears were able to think directly in wholes, the kind of process I have seen unfold in Bali. There is not a lot of rational thought; there is simply perception followed by action, guided by understanding. I would myself love to be able to operate in this mode (and have in a few cases reached this height), but this is not a normal form of awareness in the West.

In fact, even Alexander himself does not normally think in terms of centers:
I may . . . ask what shape of bridge, what shape of span, what shape of tower, is harmonious with the land-forms and water that it passes over. Analytically, I may well be looking for the center (in the space between the bridge towers) which most enhances the water which the bridge is passing over. Am I thinking about it this way when I do it? Generally not. I try to make the bridge in the best way I can, and rarely talk to myself explicitly about the centers - unless I feel I am going off the track. . . . (13)
Mostly, in fact, he is being intuitive. That is the crux of the matter. Within a given society, our intuitions as individuals are no longer congruent: while two people may have an intuitive sense about a particular design question, these notions are not uncommonly at odds with one another today in the West.

Alexander speaks of the "terrible loss of belonging our contemporary process inflicted on society" and continues:
The loss has been inflicted on us and on our fellow human beings. Belonging, although it was common in traditional towns and villages, is missing in far too much of modern society. The forms of the environment we have learned to create in modern times have caused us to lose the sense of true connection to ourselves and our society. That has happened, in large part, because of the nature of the space we have created. It has happened because the public space of our present-day cities, both legally and metaphorically, no longer belongs to us to any deep extent. (31)
A little further on, he says:
All of my life I have been inspired by what happened in traditional society and marveled how much people all over the world knew about essential things. In traditional society, up until the onset of this century, the space that existed between buildings was like the living room of society. It was the place where people did things, got together, felt comfortable. (34)
I have been overwhelmed by this same sense, in Bali, in Venice, in the carfree medinas of Morocco, and I believe that this change, this loss, is profound. The feeling in the few spaces I have encountered where "belonging" is still real and present is stunningly different from the usual run of cities in the West. We need this back, and fast, if we are to save our societies. And, no, I don't think this overstates the seriousness of our predicament.

Five years ago, I had a long conversation with Chris Alexander and gave him a copy of Carfree Cities. I believe that he was gratified that I had adopted so many of his ideas, but then, as now in this work, he did not accept the carfree city as a good solution for society. In think that this arises in part because of his own preference for buildings at densities no greater than one-third of what I propose. He has, however, worked at almost the same density as the Reference Design for Carfree Cities (FAR = 1.5), while still accommodating cars. This is no mean feat, but the sacrifices he had to make to accommodate cars are large. See his discussion of the proposal for a dense apartment project in the Shiratori district of Nagoya, Japan, which reaches a FAR of 1.44 (pages 316-324).

Yet he is acutely aware of the problem of the car:
In our century, the loss of control and loss of belonging started with the car. The car of course is a wonderful thing. I, we, almost none of us, would willingly give up our ability to have cars and get what the car can get us because it creates this phenomenal kind of access to everyone and everything, which is so valuable. But at the same time during the last century, because of the car and trucks, nearly all streets have been taken away from us. And for property reasons, too, . . . even the common space that is provided for pedestrians, emotionally does not belong to us. (35)
We need this space back, and the only way to get it is to take it away from cars. I don't believe that any of the compromise solutions really work, really get us back to owning public spaces. Alexander understands that the most important spaces are carfree:
When living processes are applied systematically to the public space in a human community, they will - because of their emphasis on the formation of strong center - generate a system of articulated, useful, coherent, and mainly pedestrian spaces. (70)
At another point, he says:
The temptation to say - keep the cars out, make it all pedestrian - is far too harsh. In many places, it is just the cars which create the life in a place; the freedom of access that they permit which brings vivacity, energy, imagination. But undoubtedly, the pure pedestrian space in which there are no cars is also vital, allowing us to walk, dream, play, unhurried and uninterrupted. (77)
I think it is becoming increasingly important to demonstrate mathematically that it is impossible to provide the kind of access that brings life to places by using cars, at least above a certain threshold population. (I have always granted that, in rural areas, cars are a great boon to social life.) Yes, we need the people. It is the people who bring places alive; the cars are at best incidental and at worst in the way.

Alexander has devoted much attention to hiding the cars, to keeping them from ruining our spaces. In fact, my own pursuit of the carfree city arose out of the conviction that you can't really apply A Pattern Language at a city level and still allow more than incidental use of cars. The following patterns apply, directly or indirectly, to hiding or mitigating the effects of cars:
11. Local Transport Areas
17. Ring Roads
20. Mini-Buses
22. Nine Per Cent Parking
49. Looped Local Roads
50. T Junctions
51. Green Streets
52. Network Of Paths And Cars
54. Road Crossing
55. Raised Walk
97. Shielded Parking
103. Small Parking Lots
I think Alexander suffers from a common problem: he is simply unable to imagine his life without frequent use of a car. This points up a pressing need in the promotion of carfree cities: we need to show people, on a case-by-case, day-by-day basis how their lives would change if they lived in a large-scale carfree environment. We need to show people that there is life after cars. Much more life, in fact.
Alexander mentions the quality of public spaces that work and says, "The places which have this belonging have a rubbed-in, used quality. This quality is rough and ready, not pristine." (63) Take, for instance, Venice, which has more than a rubbed-in quality - it has a nearly worn-out quality. This wear, however, only infrequently damages the sense of that city as a fabulous place to be alive.
The question of what informs design is, I think, central to the question of achieving great urban areas. There has to be a reason why things are the way they are. Good superficial appearance is not enough. Alexander says that differentiation is the response to a specific site and to a specific place within the site. Buildings right next to each other are in a different situation and should emerge to show this difference. (79)
The unfolding process, in the case of a town, is complex and difficult. It cannot always go on, romantically, "by itself." It needs guidance of a disciplined kind, through which the emerging space is defined, agreed, and visualized in some public and sharable form of a three-dimensional model. Once we have a way of doing this, the whole thing can go forward easily enough. (93)
Yes! Alexander then puts his finger right on the problem:
I have found in all the years of my professional life that the shape of public space needs to be taken as seriously as the shapes of the buildings, but this is very hard to implement, because our present consciousness focuses more easily on building-volumes than on spaces. (95)
Do we actually need a literal change in consciousness to realize this? Did we, in fact, accept a change in consciousness, early in the industrial revolution? Was this the undoing of it all? It is high time to answer this question. Jonathan Hale's The Old Way of Seeing: How Architecture Lost Its Magic (And How to Get It Back) broached this question ten years ago, without really answering it. No one else seems to have taken up the challenge. We must now understand what it was that we gave up for cheap products and whether that was a devil's bargain.

Regarding the process of design, the laying out of built areas, Alexander thinks that it must be done on the site itself:
In my experience, this work must be done on the land itself. One must imagine the building, when standing there, waiting, really for the form and volume and position of the new building to come to the mind's eye, as if it were already there, and as if you can see it, just by standing there. Usually, after seeing it in this way, we also flag it or mark it with flags or poles or strings, so that we see it more clearly. (158)
I am not certain that it is absolutely essential to design on site, but I do believe that this is the best possible approach. (This summer's test in Budapest of the generative sequences that I am developing for carfree districts will use a maquette, not on-site marks, for the simple reason that we have neither the site nor the time to do it that way. I acknowledge the maquette as an inferior process but think it will be adequate to demonstrate the workability of the sequences I will propose.)

Alexander discusses at some length the use of flags to place buildings on a site. His preferred sequence is to stake out the buildings on site, build a maquette based on this layout, adjust the stakes in the field, and, when everything is right, to survey the stakes and use that survey to draw a paper plan. (177-180)

Regarding the vital question of how to elicit people's strongest feelings about their environment, he says:
If you ask me how to get the deepest stuff from people, the stuff which matters most, I would not have them meet all together, under conditions of imagined communality. I would rather talk quietly, to one person at a time, drawing from each individual his, her, their most important feelings, and their most authentic visions. (268)
Then comes the blockbuster: "This kind of stuff, if real, is almost always universal." (268) If he is correct in this, it is a profound realization. It means that we can expect fairly ready consensus among large numbers of people regarding the aspects of design that are most important. I am a little too scared to believe this, especially in the context of today's highly-splintered American society, which is why I am proposing a rather cumbersome process to identify "values clusters" among groups of people who will then, on the basis of their affinity, form neighborhood groups to design and build urban spaces that fit them and their values.

Yodan Rofé, a colleague of Alexander, evaluated the reaction of residents to their neighborhood:
The health or lack of health of various places, meter by meter in a neighborhood, changing every hundred feet or so, throughout the neighborhood, is widely recognized, felt more or less the same by everyone, and is an objective reality. . . . He took an area of several blocks and asked people to mark the good places, the bad places, and the in-between places. The correlations between what different people saw and how they evaluated different places, when making diagnoses, was very high. . . . Yodan was able to prove what I had long suspected: the diagnosis of good and bad, pleasant and unpleasant, life-giving and life-destroying, is firmly established and objectively real, even in something as minor as the way the character changes from place to place along a street. (339)
I am still reluctant to believe that this diagnosis translates into easy agreement on how to change a place to make it good, at least in mixed cultures like the USA. If it is true, this is a wonderfully hopeful finding.

Alexander has developed morphological sequences, which, when correctly followed, lead to the unfolding of a design, specific to the site, that achieves wholeness and beauty while meeting needs:
The answer, the solution to the difficulty, lies in the use of the fundamental process, applied over and over again, focusing on very limited, tiny decisions taken one at a time in sequence. Why is this critical, and why is this different? Because when we lead the group consensus through very small steps and try to reach decisions about these steps one by one, one at a time, the steps can be made so small and so particular that for each step the thirty of us will find it possible to succeed in deciding among the possibilities, what is best, by checking versions, testing them, trying them out. (357-358)
There is a problem here, however: who decides what the sequence is? I think there can be no question but that the sequence exerts a huge influence on the result. (It is possible that if the sequence is defective, it is self-cancelling, as the required rapid attainment of consensus may be foiled, thus flagging the sequence as flawed.)

The idiom that is to be used on a given project greatly affects the final result. The same idiom must be applied throughout a project if real harmony is to arise:
The intense feeling of uniqueness in these houses comes, in part, of course, from the fact that each house was generated, uniquely, by the family who lives there and according to the demands and character of the particular bit of land where they placed the house. But it comes no less - I might say that it comes even more - from the fact that all three houses were built the same way, with the same rules of the game, the same construction details, the same approach or feeling in the way that they were built. (381)
This is a vital point, and one that wanted further development in this book. It seems that certain aspects of design are common within any given culture: "But in any case, what is sure is that in almost every traditional culture, patterns evolved for elaborating the latent center of the eave [of a roof]." (457)

I worry about the applicability of some of Alexander's practices in the real world. He seems to be free to spend days fiddling with quite minor details in the design of a building:
John Hewitt and I spent days looking at the way to make those bricks work for that particular corner. If there had been a standard post at the corner, we could not have achieved this specificity you see at the corner. (489)
This, I think, is where "styles" produce real efficiencies, providing that the styles are good. You can simply look up how to design a building in, say, the Ionic style. The rules are all there in Adam's Classical Architecture or Fletcher's A History of Architecture. It is only necessary to scale them for a specific building. I really don't think we as a society can afford to have people of Alexander's talent spending days wresting with the arrangement of a few bricks in a corner, unless that solution is going to be generalizable to a style.

On the other hand, I am very sure that Alexander is exactly on the money with this statement:
During the course of their work with me, the one thing which all my apprentices have to do is to make judgments in real things - while these things are being made. And the one thing which astonishes them all is the extent to which life - the deep field of centers - is created, or destroyed, by minute subtleties of dimension, shape and color. (496)
I have seen this over and over in my own work. Even in the exact example that he gives, of the design of an arch being spoiled by an error of half an inch. I have seen this in a group of finished buildings, where someone forgot to specify the exact springing of an arch (or got it wrong). Exquisite sensitivity to details is essential to good design.

Alexander contends that we may have to accept a certain rough-and-ready character in the finished product if we wish that it be precisely adapted to its circumstances:
To get exactness of adaptation, there is a price to pay. The price is roughness. To get the perfect adaptation which is required by the unfolding of a field of centers, you cannot avoid a certain roughness in the results. This is because, to make each center come to life, there needs to be give and take that permits the needed complex superposition of relationships: hence uneven, unequal spaces, lines, straightness, curvature and so on. It is not possible to get perfection in the field of centers - true life - and also have the shallow mechanical perfection which 20th-century people often seemed to demand of buildings. (508-509)
It may even be that mechanical perfection is the enemy of real liveliness.

The last part of the book concerns itself mainly with materials and techniques that "re-establish building as an art." (518) He is not adverse to applying the power of computers and modern manufacturing processes to achieve the results he seeks and gives interesting and convincing examples of this method in practice. He wants methods that allow direct response to the emerging building. The details are not all "cast in concrete" in the drawings; they are allowed to emerge on the site as the building develops. He discusses at some length the changes in the contracting process that are required to allow this to happen. I am not convinced that these methods are realistic, but I am quite sure that they would give us better buildings if they could be implemented. Alexander has apparently had some success in this.

Alexander closes with this moving plea:
. . . the most frightening thing of all is the loss that people have of their own feeling.

They no longer know what is inside them, they no longer know what they do know. That is the birthright I refer to, that is the birthright which is being lost.

The birthright being lost is not only the beautiful Earth, the lovely buildings people made in ancient times, the possibility of beauty and living structure all around. The birthright I speak of is something far more terrible; it is the fact that people have become inured to ugliness, that they accept the ravages of developers without even knowing that anything is wrong. In short, it is their own minds they have lost, the core, that core of them, from which judgment can be made, the inner knowledge of what it is to be a person, the knowledge of right and wrong, of beautiful and ugliness, of life and deadness. (682)
This is a truly fearful assessment. I think it is exactly correct.



The Nature of Order
Book Four: The Luminous Ground

Christopher Alexander

The Center for Environmental Structure, 2004

356 pages
Hardcover
US$ 75.00 but widely discounted
ISBN 0972652949
This is the final volume in The Nature of Order. I have only skimmed this one and will not review it.



The Long Emergency:
Surviving the Converging Catastrophes of the Twenty-first Century

James Howard Kunstler

Atlantic Monthly Press, 2005

307 pages
Hardcover
US$ 23.00
ISBN 0871138883
From the publisher's blurb:
With his classics of social commentary The Geography of Nowhere and Home from Nowhere, James Howard Kunstler has established himself as one of the great commentators on American space and place. Now, with The Long Emergency, he offers a shocking vision of a post-oil future.
The last two hundred years have seen the greatest explosion of progress and wealth in the history of mankind. But the oil age is at an end. The depletion of nonrenewable fossil fuels is about to radically change life as we know it, and much sooner than we think. As a result of artificially cheap fossil-fuel energy we have developed global models of industry, commerce, food production, and finance that will collapse. The Long Emergency tells us just what to expect after we pass the tipping point of global peak oil production and the honeymoon of affordable energy is over, preparing us for economic, political, and social changes of an unimaginable scale.
Are we laboring under a Jiminy Cricket syndrome when we tell ourselves that alternative means of energy are just a few years away? Even once they are developed, will they ever be able to sustain us in the way that fossil fuels once did? What will happen when our current plagues of global warming, epidemic disease, and overpopulation collide to exacerbate the end of the oil age? Will the new global economy be able to persevere, or will we be forced to revert to the more agrarian, localized economy we once knew? Could corporations like Wal-Mart and McDonald's, built on the premise of cheap transportation, become a thing of the past? Will the misguided experiment of suburbia—considered a birthright and a reality by millions of Americans—collapse when the car culture becomes obsolete?
You can also read Kunstler's article with the same title: "The Long Emergency: What's going to happen as we start running out of cheap gas to guzzle?"


Reisen zu autofreien
Orten in der Schweiz


Andreas Schwander

Friedrich Reinhardt Verlag, 2005

161 pages
Softcover
About 30 Swiss Fr.
ISBN 372451283x
I've been thinking that it was about time for guidebooks with a carfree focus to appear, and here one is. There are more carfree towns in Switzerland than you might think, and some of them have devised quite innovative methods that allow you to reach them.
It's a small book, to fit in your pocket. Given its Swiss origins, it's not surprising that it's beautifully printed and full of excellent color photographs.


The Risks We Run
Mining, Communities and Political Risk Insurance

Roger Moody

International Books, 2005

322 pages
Softcover
€20.00
ISBN 9057270064
This book was received from my publisher right at press time. It's off the carfree topic but probably of considerable interest to many greens. (The topic is one of which I was almost entirely unaware.) If someone would like to review this work for the next Carfree Times, please send mail. The following text is excerpted from the publisher's blurb:
The new, extremely large mining projects of the 21st century will be financed by global private capital, rather than the world's citizenry through public funding. The political, as well as geographic and financial control of resources is moving inexorably into private hands. A major consequence of this political-economic transformation is the enormous growth in Political Risk Insurance, intended to cover foreign investors for losses due to nationalization, restriction on financial transfers, breach of contract, war or "revolution." It is made available predominantly out of public funds by a handful of institutions.
Mining and the Politics of Risk is a key campaign tool for the communities at the receiving end of these mega projects. Roger Moody is a leading authority on the impacts of mining and the mining industry.