News Bits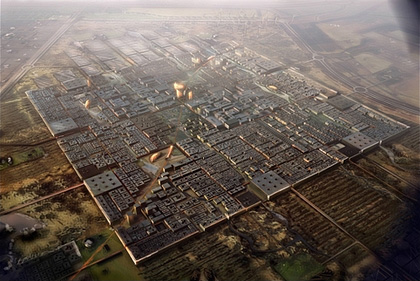 Masdar, overview (artist's conception)
©2007 Foster + Partners
Oil Emirate to Build First New Carfree City
The UK architecture firm of Foster + Partners has announced that the walled city of Masdar in Abu Dhabi, being designed by the firm, will be the world's first zero-carbon, zero-waste city. Masdar is a 6 sq-km (1500 acre) carfree walled city. Abu Dhabi's Future Energy Company is the project sponsor and will locate its headquarters in the city, which will also include a new university, special economic zones, and an Innovation Center.

Norman Foster said, "The environmental ambitions of the Masdar Initiative - zero carbon and waste free - are a world first. They have provided us with a challenging design brief that promises to question conventional urban wisdom at a fundamental level. Masdar promises to set new benchmarks for the sustainable city of the future." The plans were unveiled 8 May 2007 at the Cityscape conference in Abu Dhabi. Masdar will be a dense, walled development built in two phases. Wind parks, photovoltaic farms, research fields, and plantations will be sited outside the walls, enabling the city to be fully self-sustaining, according to Foster. The development is set to open in late 2009.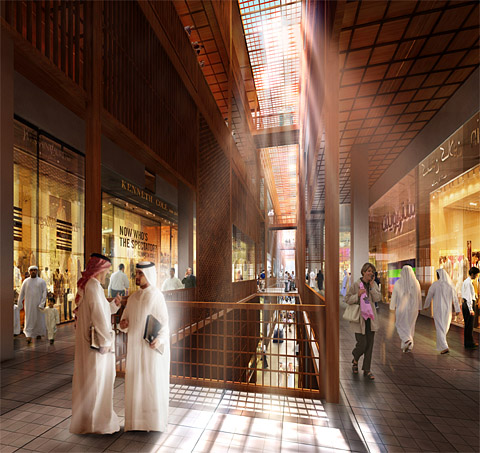 Masdar, street (artist's conception)
©2007 Foster + Partners
Most interestingly, the project will be based on the traditional planning principles of walled cities, united with new technologies, to achieve the sustainability target. The city will be linked by a network of existing road and new rail and public transport routes to surrounding communities, the center of Abu Dhabi, and the international airport.
The maximum distance to public transport will be 200 meters (about 220 yards), and a compact network of streets will encourages walking. A personal rapid transport system will be constructed. Shaded walkways and narrow streets are expected to create a pedestrian-friendly environment, no mean feat in Abu Dhabi's scorching climate.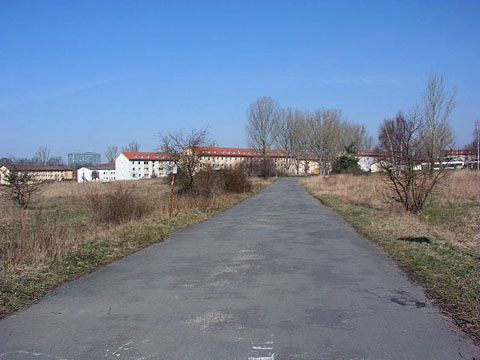 Röthelheimpark: Original US army housing in the south-west corner
©2007 Ulrich Nehls
Peak Soil
Pricking the Ethanol Bubble
The nation that destroys its soil destroys itself.


Franklin Delano Roosevelt
Alice Friedemann recently published the source article for this story on Culture Change. Those seriously interested in the topic simply must take the time to read it. I'll only attempt a very brief summary, but, like so many techo-fix solutions to our gluttony, ethanol from crops is probably a mirage. From the summary:
Biofuels have yet to be proven viable, and mechanization may not be a great strategy in a world of declining energy.

. . . only a small amount of biomass [is] unspoken for.

Crop production is reduced when residues are removed from the soil. Why would farmers want to sell their residues?

As prices of fertilizer inexorably rise due to natural gas depletion, it will be cheaper to return residues to the soil than to buy fertilizer.

It's time to start increasing horse and oxen numbers, which will leave even less biomass for biorefineries.
A few more points are summarized or quoted here.

Agri-biz giant ADM makes a fortune from ethanol production, but the business depends on massive subsidies to prosper. Does the business model still work without subsidies? Probably not. The Department of Energy hopes to replace 30% of petroleum consumption with bio-fuels by 2030, so the question is of great importance.
Biomass fuels have obvious and predictable reasons for failure. Odum says that time explains why renewable energy provides such low energy yields compared to non-renewable fossil fuels. The more work left to nature, the higher the energy yield, but the longer the time required. Although coal and oil took millions of years to form into dense, concentrated solar power, all we had to do was extract and transport them.
Every processing step needed has associated energy costs, reducing the net yield of the process. Bio-fuels are processing intensive.

Fertile soil will be destroyed if crops and other wastes are removed to make cellulosic ethanol.
We stand, in most places on earth, only six inches from desolation, for that is the thickness of the topsoil layer upon which the entire life of the planet depends.
Fuels from biomass are not sustainable, are ecologically destructive, have a net energy loss, and there isn't enough biomass in America to make significant amounts of energy because essential inputs like water, land, fossil fuels, and phosphate ores are limited.
The "net energy loss" part is the clincher.

I hope that "bio-fuels" will prove to be an even shorter-lived fad than the "hydrogen economy" (have you noticed how that's dropped out of the limelight?). Pretty soon, we might find ourselves dealing with unvarnished reality. This will be difficult, but carfree cities offer a very palatable solution.

"Peak Soil:"
Why Cellulosic Ethanol and other Biofuels are Not Sustainable
and are a Threat to America's National Security"
Culture Change
10 April 2007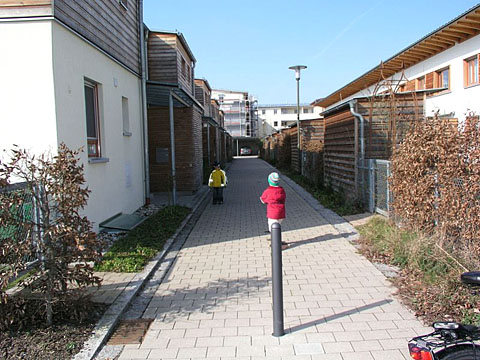 Röthelheimpark: A great environment for children
©2007 Ulrich Nehls
Neighborhoods That Fit
Frans de Waal, author of six popular books and the leading authority on primate social behavior, provides support for walkable neighborhoods. De Waal compares the similarities and differences between the social behavior of humans, bonobos, and common chimpanzees. He argues that when we behave contrary to our biological heritage, we incur stress and reduced health. To quote:
City planners can and must do a better job at approximating the community life of old, in which everyone knew every child's name and home address. . . . Older neighborhoods in cities like Chicago, New York, London, and Paris do produce such social capital, but only because they were designed for people to live, work, do their shopping, and go to school in. . . . We can design our life any way we want, but whether we will thrive depends on how well the life fits human predispositions.
"The Bipolar Ape" in
Our Inner Ape
Frans de Waal
Riverhead Books, 2005
as excerpted by Don Swaner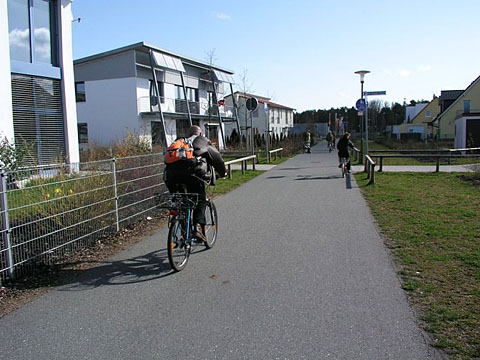 Röthelheimpark: Unmotorized traffic takes the lead
©2007 Ulrich Nehls
Is 50,000 Critical Mass Yet?
Budapest astounded cycling advocates a year ago when 25,000 turned out for a Critical Mass ride, overwhelming by an order of magnitude the largest previous ride anywhere. Not to be outdone, this year some 50,000 cyclists participated in the Critical Mass demonstration in Budapest. They were joined by the president of Hungary and the mayor of Budapest.

This was the first Critical Mass in Budapest that did not draw negative comments from the media. A pro-car demonstration, following the same route, drew 7 participants. Pretty soon, somebody somewhere is going to start taking cycling seriously.

András Lukács and Justin Hyatt contributed to this article.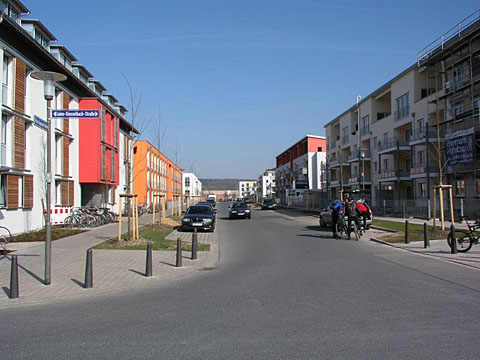 Röthelheimpark: One of the major roads in Röthelheimpark
©2007 Ulrich Nehls
Congestion Charging in New York?
New York mayor Bloomberg, not a noted friend of pedestrians or bicyclists, is, to my great surprise, proposing a peak-hour congestion charge for cars and trucks entering Manhattan, not unlike the highly successful example in London. The Republican mayor said, "Let's face up to the fact that our population growth is putting our city on a collision course with the environment, which itself is growing more unstable and uncertain." One major objective is to reduce greenhouse gas emissions by 30% by 2030, by which time another million people are expected to live in the city.

An $8 fee would be imposed on car drivers, and $21 on trucks, to drive in Manhattan south of 86th Street. The fee would only be imposed on weekdays between 06:00 and 18:00. Motorists driving on major highways along Manhattan's east and west shores would not be charged. Transit service improvements are to be implemented before the scheme comes into operation.

"We're not interested in preaching to others," the mayor said. "We're doing what's best for our city. And when we reap the benefits, perhaps others will continue to follow."

Bloomberg, it should be noted, takes the subway to work most days.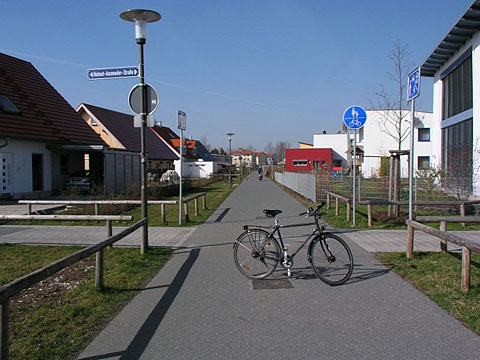 Röthelheimpark: You may drive a car here - but you won't, unless really necessary!
©2007 Ulrich Nehls
No Hope
Dutch traffic experts have announced that there is no hope for traffic jams. The massive traffic jams that occur in most of the country cannot be relieved by traffic management or road construction. Even a per-kilometer charge for driving will not reduce the problem. This is a real political football in the Netherlands, especially given that the previous government had promised to reduce the length of jams by a third. In fact, they increased by a quarter.

Facts notwithstanding, the Christian Democrat minister of traffic, still expects to reduce congestion by 40% in the year 2020 compared with 2000. The minister hopes that a combination of measures, including new roads, better use of existing roads, and a per-kilometer charge can achieve this result.

The experts, however, say the problem is impossible to solve because more total distance is being driven every year. Between 1990 and 2005, total kilometers increased by 26%. Experts say that any reduction in congestion would be immediately absorbed by new traffic.

A per-kilometer charge will probably be inaugurated in 2011, but the expectation is only that it would slightly retard the rate of growth in driving.

The country, once noted for the Swiss-like quality of its rail system, now seems to be unable to get the trains to run on time despite 15 years of massive investment in rail infrastructure. Only 5% of trips are taken by public transport, compared to 62% by car. I should note that during the 14 years I lived in Amsterdam, I never drove a car and never felt the need for one. I think what happened is that the Dutch took over the American happy-motoring model, lock, stock, and barrel. It didn't work in the USA and it isn't working for the Dutch, either. It's too bad they could not learn from the American failure, in this as in so many other things.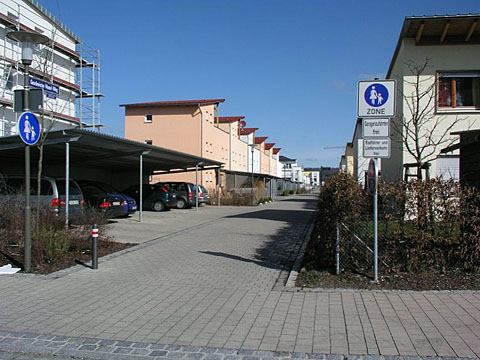 Röthelheimpark: Access permitted for bikes, delivery service, and garage owners
©2007 Ulrich Nehls
Hope, After All
City Cargo in Amsterdam says that its freight trams could reduce heavy truck traffic in the inner city by half. This would require that the loads of 2500 trucks a day be carried by tram. Only construction materials pose a problem. The empty trams could even carry waste out of the city.

The company had ordinary passenger trams rebuilt as freight trams, which actually required little work. A single freight tram can carry the load of four medium-sized trucks. Stores may benefit, as they could receive goods throughout the day, rather than just in the narrow morning window during which truck deliveries are now allowed.

During a recent test, the trams were loaded at the end halt of one of the major tram lines. Freight trams run between 07:00 and 23:00 along existing track to two unloading spots where the trams can be shunted onto sidings. There the goods are loaded onto small electric trucks for final delivery.

If the plan is introduced, air quality targets for the period 2007-2011 might actually be reached. One other important effect would be a significant reduction in deadly truck-bicycle collisions.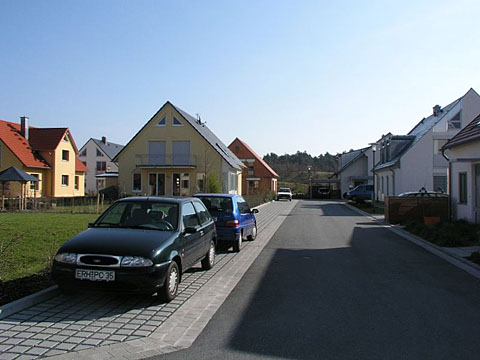 Röthelheimpark: Only a few cars in the south east corner
©2007 Ulrich Nehls
Free in San Francisco
San Francisco Mayor Gavin Newsom has directed the municipal transit agency that runs the city's cable cars, buses, and streetcars to consider eliminating all fares. This would apparently be the largest free-fare experiment in the USA. The mayor hopes that free transit will lure people out of their cars and reduce traffic.

No US city now has a system-wide free-fare policy, but more than a dozen large cities have no transit fares within their downtown areas. The mayor said that the no-fare policy may not be a large financial burden on the city, when the total cost of collecting fares is taken into consideration. This year's project fare-box revenue is just $138 million, a paltry 22% of the agency's annual budget. A fare-free system would operate considerably faster, saving riders' time and reducing operating costs.

If the idea is adopted, it will probably begin as a pilot project on just a few lines or certain days.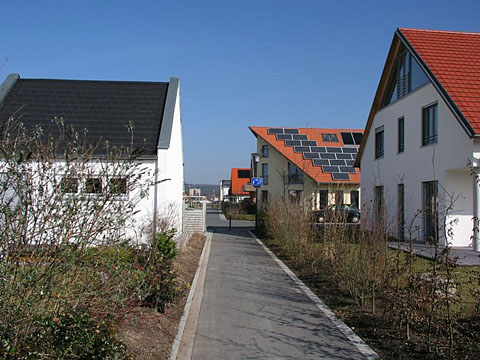 Röthelheimpark: Many houses in Röthelheimpark have solar installations
©2007 Ulrich Nehls
Trams for Toronto
Toronto's public-transit agency has proposed a $6-billion, 120-kilometer (75 mile) light-rail network that would link the city's suburbs to each other and downtown over the next 15 years. Almost 70 million new annual riders are anticipated, and Toronto would, in this vision, be transformed into a transit city. Seven new light-rail lines would be constructed in reserved lanes along major avenues.

If funding is approved, the plan would bring rapid transit to the suburbs. Downtown Toronto already has an excellent, if small, metro network. Similar levels of service are needed in the suburbs.

Street-running light-rail vehicles, or streetcars, in their own dedicated lanes, are relatively common in Europe but have been controversial in Toronto. Plans for tracks in dedicated lanes on St. Clair Avenue – now under construction – were mired in a long battle with residents and business interests who opposed them on the grounds that they would cause traffic chaos and reduce parking.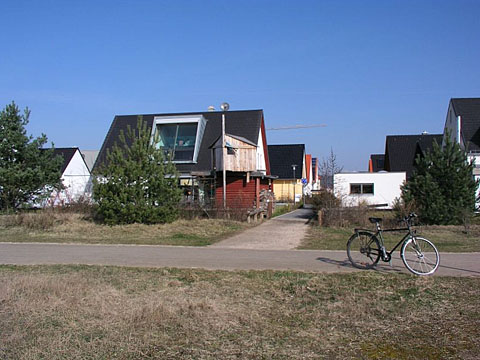 Röthelheimpark: Family houses on the southern edge
©2007 Ulrich Nehls
European Mobility Week
From 16 to 22 September 2007, European citizens will enjoy a week of events dedicated to sustainable mobility. The objective is to foster debate on the necessity for changes in transport behavior, especially use of private cars. The Carfree Day will be, as usual, the highlight of the week.

This is the sixth edition of European Mobility Week. This year's theme is "Streets for People," which is intended to make clear that increasing road space for cars is no solution to transport challenges. Reducing road capacity for cars is a sustainable solution that also improves health for all citizens without reducing mobility. Local governments are encouraged to reallocate some road space to non-motorized traffic.

Many Europeans are concerned about the poor quality of their air. Most favor increasing the amount of greenway and pedestrian area in order to rebuild local communities while solving air quality and noise pollution problems.

As is now well known, capacity reductions for road transport do not actually increase traffic congestion. Instead, traffic simply "evaporates."
Greenwashing Wal-Mart
Wal-Mart is on a green offensive, and several major environmental groups that should know better, such as NRDC and EDF, have endorsed its initiatives. It's true that some of the initiatives are substantial. One is a promise to make its stores 20% more energy efficient by 2013. Another is a plan to double the fuel economy of its truck fleet by 2015 (which I doubt can be achieved; a shift to rail might do the trick).

The company has estimated that its US operations released 15.3 million metric tons of CO2 in 2005, most of it from generation of electricity used by the stores.

As Stacy Mitchell, writing for Grist, said:
This cannot be dismissed as greenwashing. It's actually far more dangerous than that. Wal-Mart's initiatives have just enough meat to have distracted much of the environmental movement, along with most journalists and many ordinary people, from the fundamental fact that, as a system of distributing goods to people, big-box retailing is as intrinsically unsustainable as clear-cut logging is as a method of harvesting trees.
The real problem is that its basic business model requires enormous stores that serve huge catchment areas, with many people driving long distances to reach the stores and their everyday low prices. That, of course, releases far more CO2 than bringing the goods to small stores much closer to the average customer. Wal-Mart isn't doing anything about this part of the problem because the only way to solve it is for them to go out of business. US mileage for shopping trips rose by more than 40% between 1990 and 2001. And it's not more trips, it's longer trips. Big-box retail is directly to blame, because it has killed tens of thousands of local businesses.

In 2001, Americans drove over 330 billion miles to and from stores, releasing more than 140 million metric tons of CO2. Wal-Mart accounts for 10% of US retail sales, so the company's share of these emissions is, by 2007, over 15 million metric tons. This is the elephant in the bedroom. No matter what else Wal-Mart may do, they can't exert any real effect on total CO2 emissions except by shrinking their operations. Even a major improvement in car fuel efficiency cannot reverse the rapidly rising annual shopping mileage.

Wal-Mart continues to build, consuming land, inducing more driving, and wrecking local businesses close to customers. Don't be fooled by the green window dressing.