News Bits
All the photographs below are from the Kathmandu Valley. Most are from the city of Bhaktapur, soon to be the home of the Carfree Institute.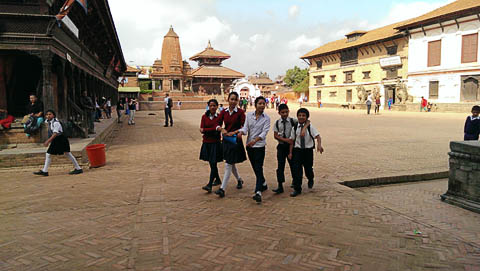 School children crossing Durbar Square in Bhaktapur
2013 J.H. Crawford

"Amsterdam children fighting cars in 1972"

Boy, is this ever an inspiring little gem! It describes the early anti-car movement in the Netherlands, led by twelve-year-olds. Where are these kids today? (Yeah, I know, they're all grown up. But where are their kids?) (Bicycle Dutch on WordPress.com)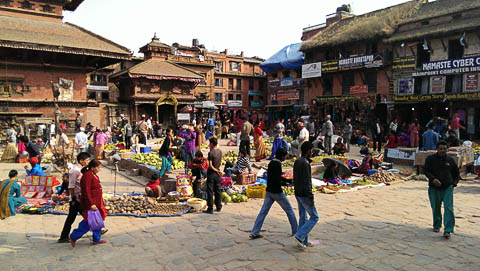 Taumadhi Square in Bhaktapur
2013 J.H. Crawford

"Examining Street Life Before the Automobile"

"When scrutinizing these street scenes, a few things jump out right away. Of course there are no traffic signals, there's clearly no need for them. Streetcars, bicycles, and horse drawn carriages are everywhere. Where there is high traffic, those on foot still enjoy sidewalks upwards of forty feet wide along store fronts nestled into human-scaled buildings rarely more than 5 stories high." Sounds like my idea of paradise. Click through the photographs to see very high resolution versions with remarkable detail. (RebelMetropolis.org)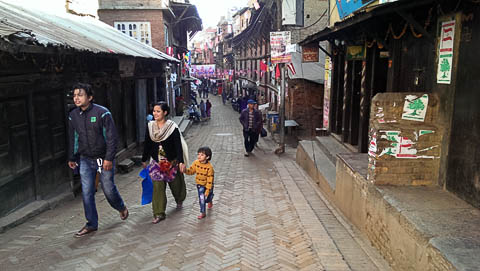 A family strolls down a narrow street in Bhaktapur.
2013 J.H. Crawford

"The Triad of City Design Failure"

Don't let the odd title or the very basic design and formatting throw you. This is an interesting site with great illustrations of city streets, traditional (narrow) and wide (modern). Worth scrolling through at the least. (NewWorldEconomics.com)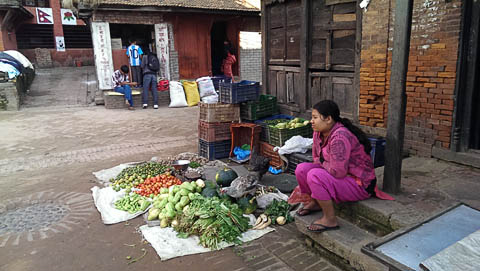 Vegetables being sold on a street corner in Bhaktapur
2013 J.H. Crawford

"For Second-Tier European Cities, It's a Race to Go Greener, Faster"

"They do not like cars now in Nantes." Smaller European cities are seeing their future, and the color is green. (Atlantic Cities)

A main street in Bhaktapur
2013 J.H. Crawford

"Locals applaud car-free month in Korean city"

"Residents in the South Korean city of Suwon have just spent a month without cars. Organizers and participants say the project could be a model for city life in the future." (dw.de)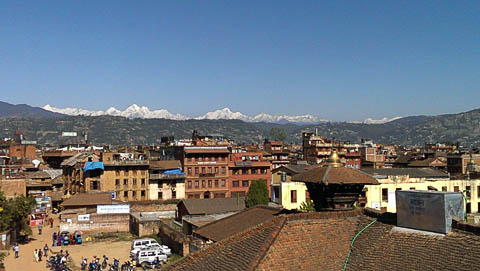 The Himalaya Mountains seen from a rooftop in Bhaktapur
2013 J.H. Crawford

"Urgent New Time Frame for Climate Change Revealed by Massive Analysis"

"[W]ithin 35 years, even the lowest monthly dips in temperatures will be hotter than we've experienced in the past 150 years, according to a new and massive analysis of all climate models." Still we dither. (ScienceDaily.com)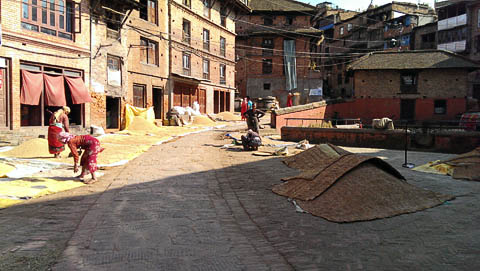 Rice drying in the sun on the streets of Bhaktapur
2013 J.H. Crawford

"Unavoidable Answer for the Problem of Climate Change"

This comes to us from the now-nearly-useless New York Times. The answer to all our problems is. . . wait for it. . . nuclear power. Sigh. Please rebut this wherever you can. (NY Times)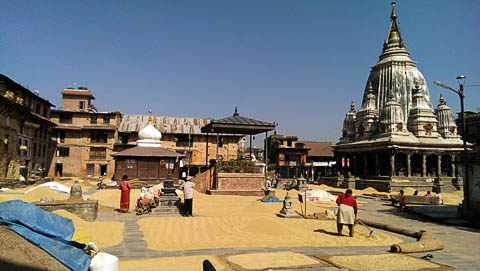 Rice drying on the main square in Bungamati, Nepal
2013 J.H. Crawford

"Utility-Scale Solar Power To Be Cost Competitive With Natural Gas By 2025"

Or ten years ago, if the cost of CO2 emitted into the atmosphere is included. This article comes to you from "the capitalist tool": (Forbes)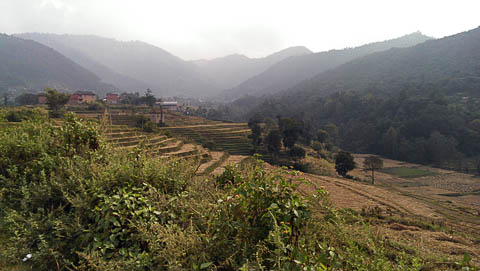 Terraced fields just south of Bhaktapur
2013 J.H. Crawford

"To Expand Offshore Power, Japan Builds Floating Windmills"

The first ones are just off the coast from Fukushima, a suitable irony. (NY Times)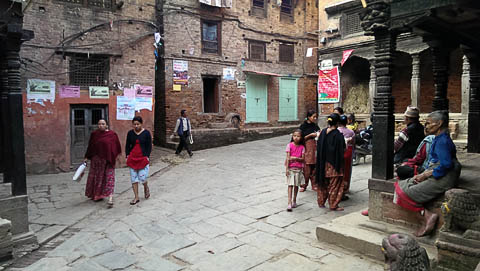 Social life in the streets of Bhaktapur
2013 J.H. Crawford

An interesting examination of the street grid, block size, and street width. A must-visit for planning wonks. (AndrewAlexanderPrice.com)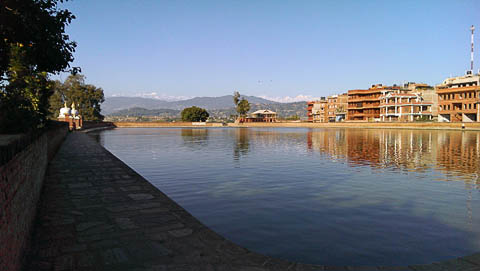 One of many artificial ponds in the Kathmandu Valley
2013 J.H. Crawford

"Reclaiming Paris's River Seine quayside"

"The quays alongside the River Seine in Paris were once used by boats unloading deliveries but 50 years ago they began to be taken over by the motor car. Now the process has been put into reverse, with a mile-and-a-half (2.4km) of quayside reclaimed this year for fun-seekers and pedestrians." (BBC)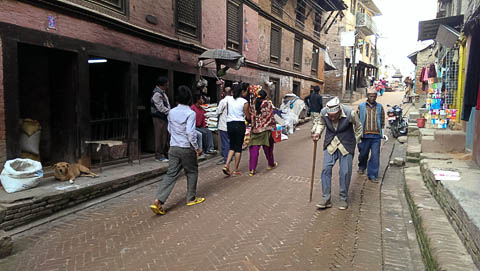 Even very old people in Bhaktapur still get around on foot.
2013 J.H. Crawford

"Walking is turning into a health movement, with profound implications for the built environment. Urbanists need to pay attention, because a coalition is forming." It's a pretty good read. (BetterCities.net)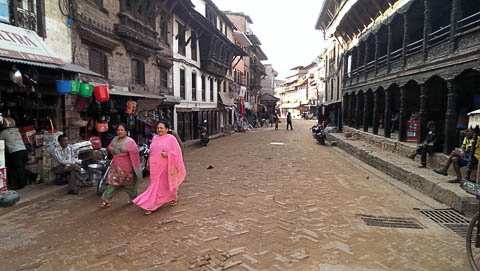 During a general strike, there were few people on Bhaktapur's streets.
2013 J.H. Crawford

"Transport: Freed from the wheel"

The most interesting thing about this article, which echoes what has been published many other places, is the title: "Freed from the wheel." Our sentiments exactly, and this coming from the Financial Times. (ft.com)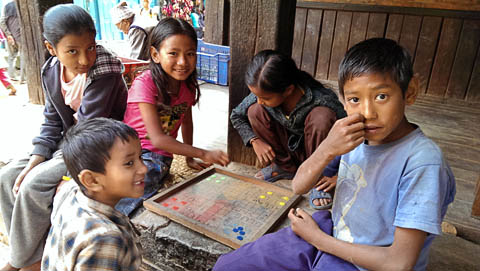 Kids playing pachisi on a Bhaktapur street corner
2013 J.H. Crawford

"Cities need to improve bike lanes before reducing car traffic: report"

"Dutch cities have to do more to make cycle lanes safe before they start trying to reduce car usage, according to research by the transport ministry and Groningen University. . . ." Well, no. The Netherlands used to get many things right, but the recent conservative governments have made a mess of things. The way to make cycling safer is to get rid of the cars. The rest will take care of itself. (DutchNews.nl)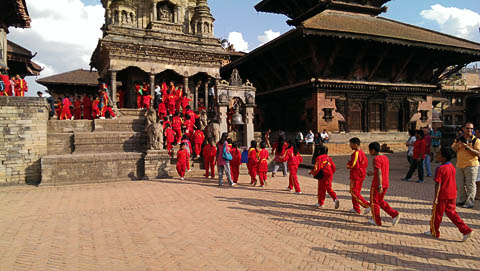 A school visit to a temple in Bhaktapur
2013 J.H. Crawford

"Use of parking garages falls"

Oh dear. The Dutch have spent a fortune on new parking garages in cities, many of them located under water. Now people don't seem to be very interested in using these giant white elephants. ("Gebruik parkeergarages daalt" in NOS.nl)

Just hanging out on the street, Bhaktapur
2013 J.H. Crawford

"Carfree Times: The complete collection of Carfree Times from carfree.com."

This is a flipboard archive of Carfree Times from the beginning until 2003. (at flipboard.com)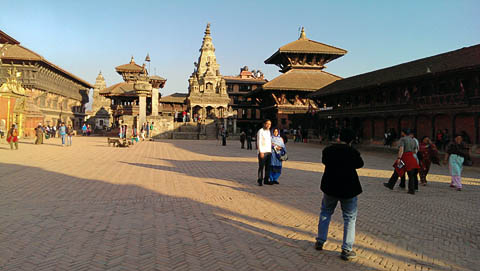 Newly-weds in Bhaktapur's Durbar Square.
All the photographs in this issue were taken with the camera
in my HTC One phone. No, I can't believe it either, but it's true.
2013 J.H. Crawford

About Carfree Times
Next Issue
The next issue of Carfree Times is scheduled for March 2014.
Subscribe to Carfree Times
Carfree Times is published quarterly at Carfree.com. To receive e-mail notices of new issues, please visit the subscription page or send e-mail with the word "Subscribe" in the subject line. We do not share our mailing list.
Write for Carfree Times
Interested in writing for Carfree Times? We welcome articles on a wide variety of subjects and offer an opportunity to publish letters to the editor and guest editorials. Drop us an e-mail.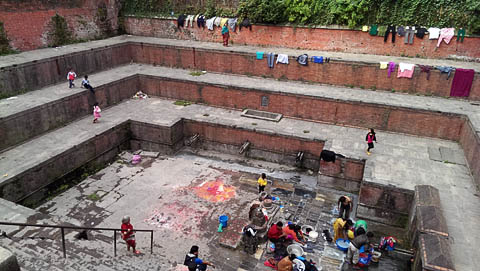 The local equivalent of a laundromat in Kathmandu, Nepal
2013 J.H. Crawford

Statement of Ownership
In this day of corporate-influenced media, it is perhaps incumbent upon Carfree.com to declare its ownership and sources of support.

Carfree.com is wholly owned by Joel Crawford, the legal name of author J.H. Crawford. Its operation is financed by J.H. Crawford, with the help of some generous donors between 2004 and 2008. It generates no revenues directly but does help support book and photograph sales. Carfree.com accepts review copies of books but makes no commitment to review them. J.H. Crawford receives no commissions from the sale of books mentioned on Carfree.com.

The views expressed at Carfree.com are those of J.H. Crawford, except for articles, letters, editorials, photographs, and films that carry the names of other authors. The inclusion of these signed texts is at the sole discretion of J.H. Crawford, who does not necessarily agree with the views expressed. All other content, except quoted material, is written by J.H. Crawford.

E-mail announcements of new issues of Carfree Times are mailed to approximately 850 subscribers. A rough estimate of first-year circulation for each new issue is 5000. All the issues ever published are still being read. Carfree.com as a whole will have served 1.2 million pages and 100 GB of files in 2013.

Back to Carfree.com
Carfree Times Home
Back to Carfree Times Issue 71
Forward to Carfree Times Issue 73

E-mail
carfree.com
Text and illustrations, except for guest content, is placed in the public domain