Issue Contents

A Note on Our Photo Essays
Since the adoption of the new two-column layout, the left-hand column of Carfree Times has featured photo essays on various subjects. Our Ram Kumar KC has largely taken over still photography for Carfree.com.

After decades of Nikons, I sold the last one two years ago, and we now use exclusively Panasonic Lumix Micro-Four-Thirds cameras. These are much cheaper and lighter than the Nikons and are better suited for video work. Stills are shot with a G3 and a kit zoom lens. A GH3 has been used with a variety of excellent lenses for all video work during the past three years. This camera is a large improvement on the Sony VG-10 video camera that I used in 2011 and 2012.

We shoot stills exclusively in the .RW2 raw format, and all photographs are extensively processed in our digital darkroom. We use Fast Picture Viewer to make selections and discard most images. The best shots are processed through DxO, one of the best raw image converters. One unusual feature of DxO is that it almost completely removes lens distortion and color aberrations and also allows shadow detail to be enhanced. Once high-resolution TIFFs are produced in DxO, Photoshop is used to make final corrections and to output the 480-pixel-wide images for Carfree Times and the 900-pixel-high click-through images (try a few - the image quality is stunning).

We're quite pleased with this work flow, which is fairly fast and efficient. We hope you'll enjoy the two photo essays below.

Click on any image to open a bigger version in a new tab. Ctrl+w will close the new tab and return you to Carfree Times.

Street Vendors in Bhaktapur, Nepal
Street vendors are often a contentious issue in cities. They can block sidewalks, siphon off trade from storefront businesses, and contribute to litter. Nevertheless, many cities understand their importance to the economy and social life of the city and have wisely permitted them to continue their trade, although sometimes with taxation and rather stringent regulation. It is also not uncommon for shops to extend their selling area into the street during fine weather, with similar social and economic benefits.

Lively cities are safer and more enjoyable places to live, and street vendors are a nearly essential element in the mix that creates great places. Most experts in place-making agree with this, I believe.

This photo essay presents about 25 photographs of street vendors plying their trade here in Bhaktapur. Aside from offering goods that are usually inexpensive, they contribute much to the vigorous street life that characterizes this city. This has been especially important in the aftermath of the great earthquake of 2015, which has sorely taxed the residents of this hard-hit city.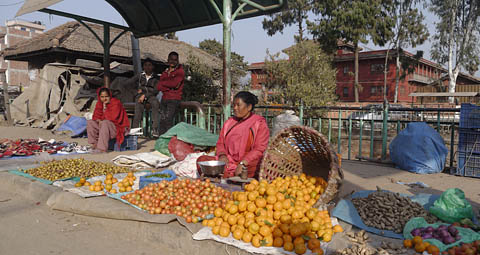 It's the peak of the orange season, and plenty are for sale on the outskirts of town.



2015 Ram Kumar KC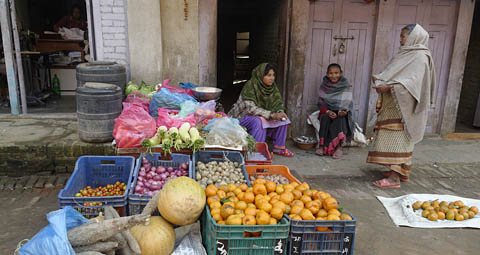 In the historic part of Bhaktapur, many fruit and vegetable stands can be found.



2015 Ram Kumar KC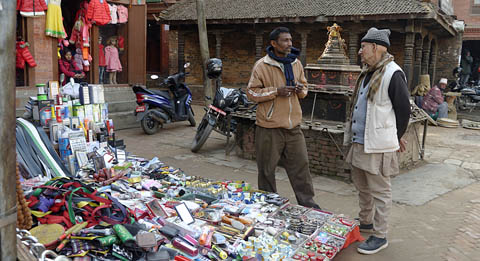 This vendor sells a large variety of inexpensive wares alongside the main street.



2015 Ram Kumar KC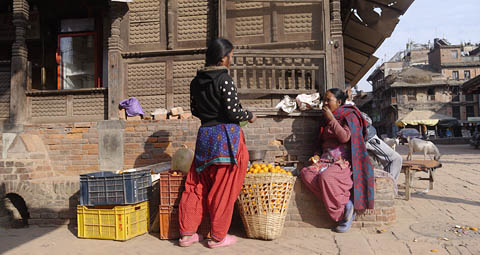 Selling in front of civic and religious buildings is permitted.



2015 Ram Kumar KC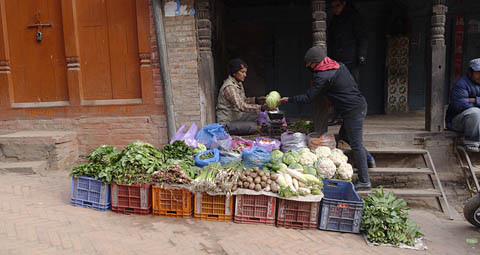 Bhaktapur is the center of a productive agriculture, and good produce is available year-round.



2015 Ram Kumar KC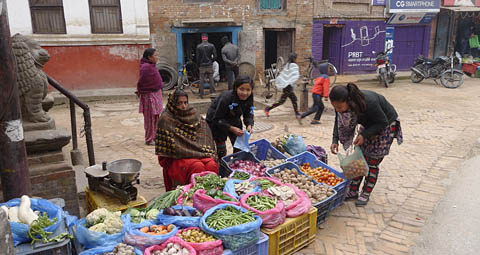 This vendor is established in front of a small temple.



2015 Ram Kumar KC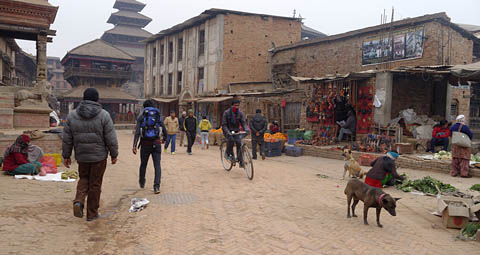 Taumadhi Square is one of the city's most important, and vendors like to sell in the main streets leading to it. Nayatapola Temple rises in the background.



2015 Ram Kumar KC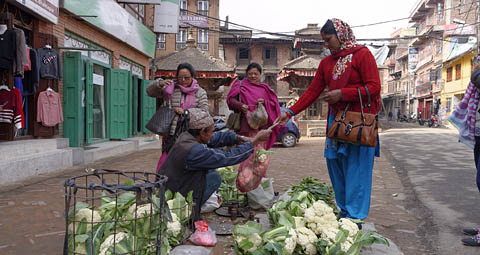 Cauliflower, anyone?



2015 Ram Kumar KC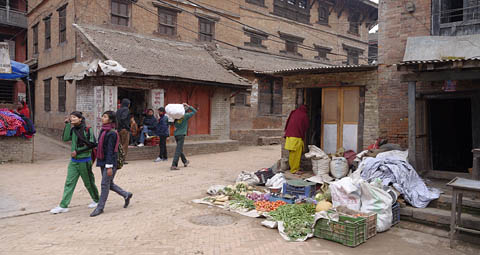 Some of these vendors were absent for a month or so after the earthquake, but most quickly returned. Food was available again within a few days.



2015 Ram Kumar KC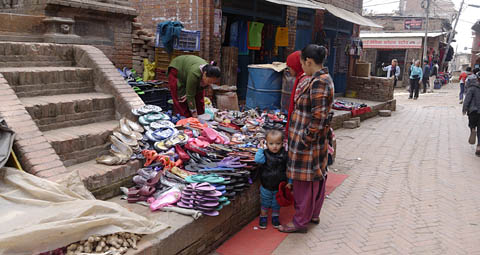 Locations along the main street are greatly to be preferred, but the street is narrow, and vendor locations are limited to wider sections.



2015 Ram Kumar KC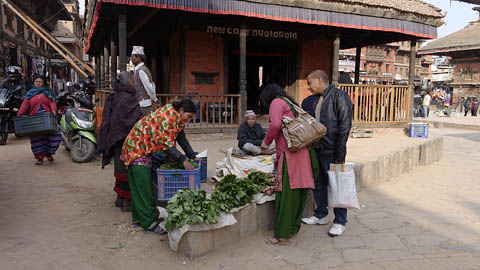 These fresh greens were probably cut just hours before.



2015 Ram Kumar KC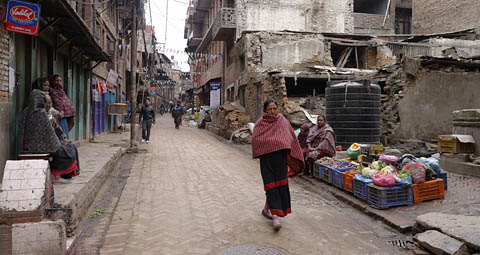 Vendors keep their wares out of the street, although their customers may often be standing in it.



2015 Ram Kumar KC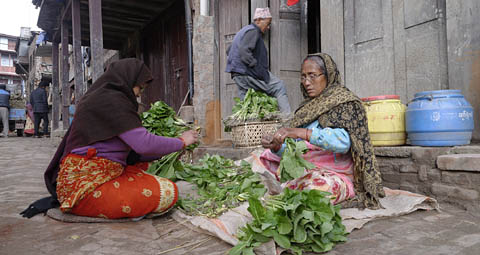 Fresh spinach



2015 Ram Kumar KC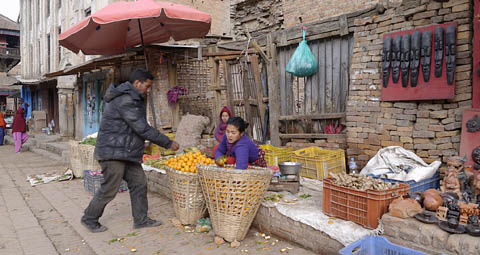 These oranges have been carried to market in the wicker baskets from which they are sold.



2015 Ram Kumar KC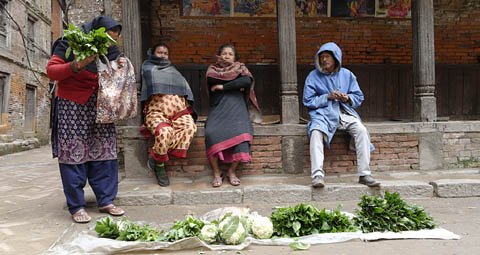 Many vendors only come when their farm produces more than the family needs itself.



2015 Ram Kumar KC


This vendor has established herself a neat stall next to two Buddhist stupas.



2015 Ram Kumar KC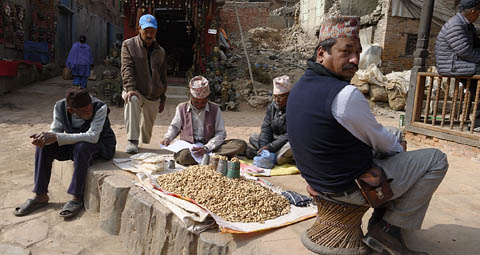 Peanuts for sale; the conversation is free.



2015 Ram Kumar KC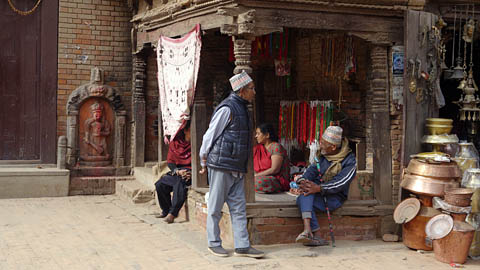 A woman sells necklaces from a parti (outdoor shelter).



2015 Ram Kumar KC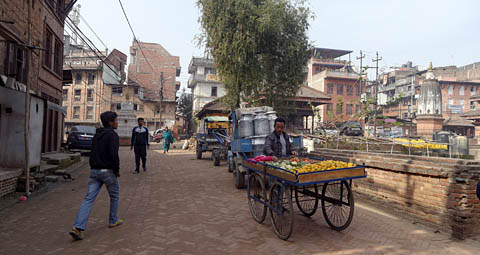 Bicycle wheels are used to make a vegetable cart.



2015 Ram Kumar KC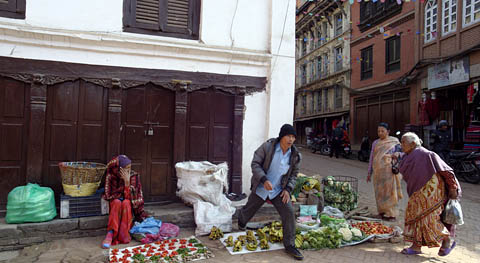 Produce sellers have set up adjacent to the main street.



2015 Ram Kumar KC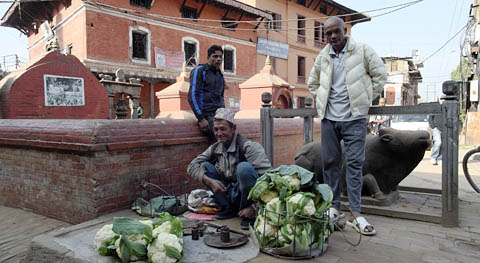 A man sells cauliflower near a temple to Shiva.



2015 Ram Kumar KC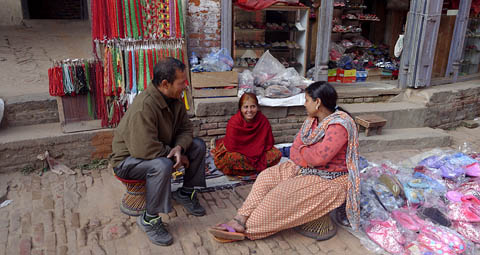 A necklace seller chats with friends.



2015 Ram Kumar KC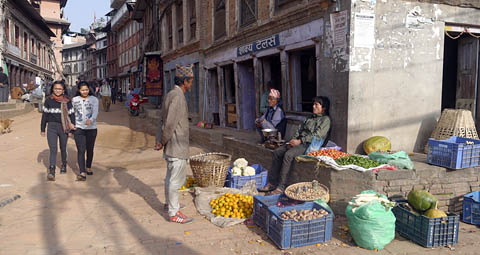 A man sells fruits and vegetables in a wider place along the main street.



2015 Ram Kumar KC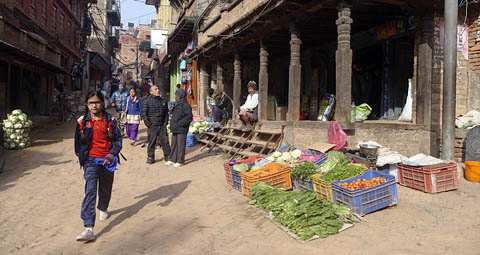 Vegetables offered for sale next to a parti on the main street.



2015 Ram Kumar KC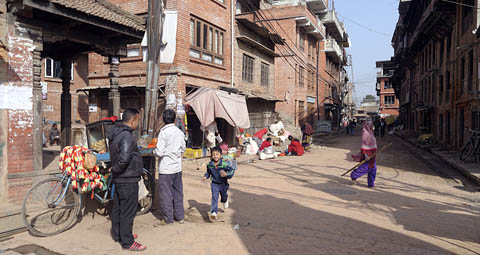 A man sells pani poori, a local treat, from a bicycle cart.



2015 Ram Kumar KC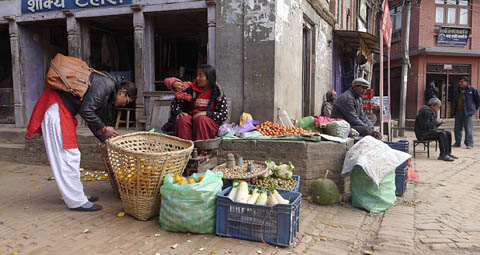 A customer checks the produce on offer.



2015 Ram Kumar KC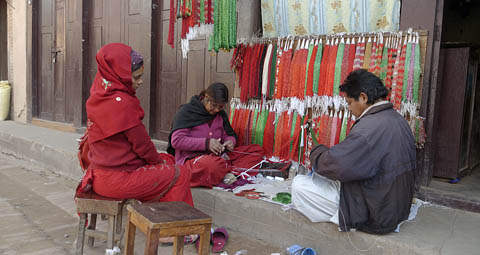 Necklaces seem to come mainly in red or green.



2015 Ram Kumar KC


Street Life in Bhaktapur, Nepal
The streets of Bhaktapur serve as the city's public living room, and this is especially the case since last year's earthquake, which damaged or destroyed a great many buildings. Some families are living in improvised shelters that occupy part of the street, and even more people than usual are spending their free time along the margins of the street or in the many partis that have long characterized this city.

It is noteworthy that there was no looting in Bhaktapur following the earthquakes. This is probably a consequence of the strong social bonds that unify this city's people. In other cities with weaker social ties, disasters have often been occasions for looting, which is generally a symptom of a failing society. Social bonds require mindful nurturing. The provision of suitable spaces for people to socialize in public is a nearly essential element of a vigorous social system.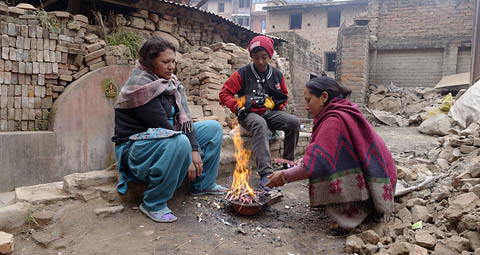 This has been a cold winter, and small fires are often set outdoors for warmth and cooking. People naturally gather around them.



2015 Ram Kumar KC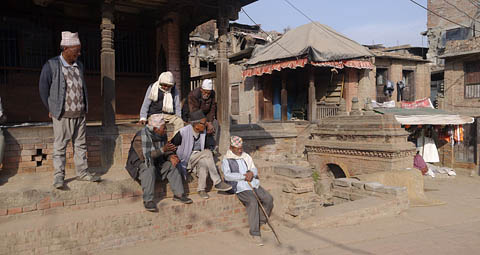 Partis are often built near temples. The sunny ones are popular in winter.



2015 Ram Kumar KC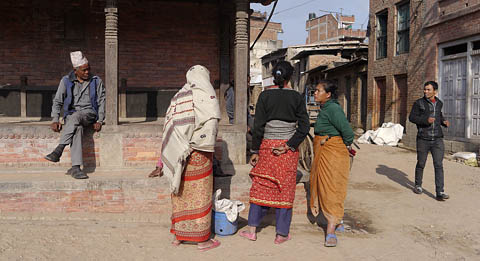 Women converse with a man sitting in a parti.



2015 Ram Kumar KC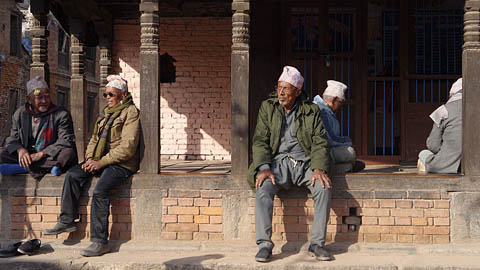 Men gather in a sunny parti to chat.



2015 Ram Kumar KC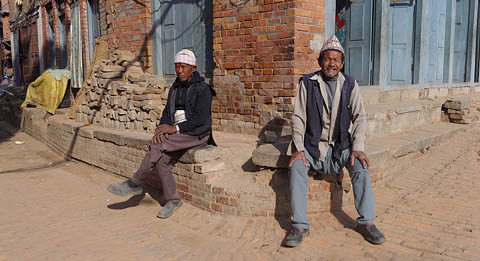 A sunny streetcorner with a place to sit tempts two men to sit for a while.



2015 Ram Kumar KC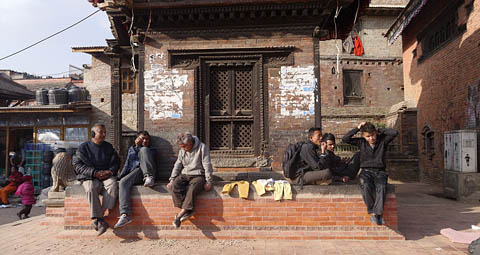 A temple in Dattatraya Square is furnished with a ledge where people linger.



2015 Ram Kumar KC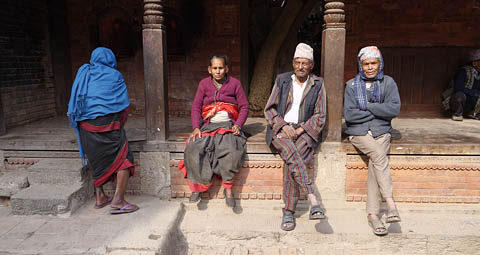 With the sun about to go off it, this parti will soon be less attractive, but for now people sit to chat.



2015 Ram Kumar KC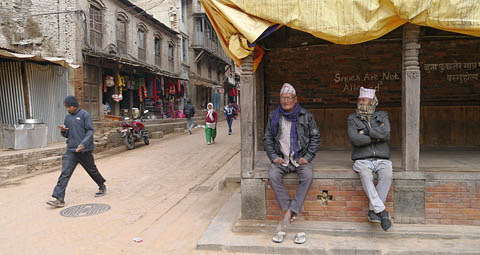 A quiet parti stands near a busy street. Poorly situated partis are often not maintained or used.



2015 Ram Kumar KC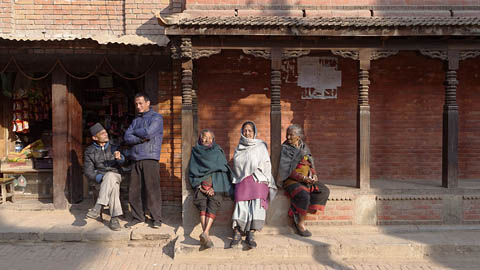 This lovely parti has a loyal following.



2015 Ram Kumar KC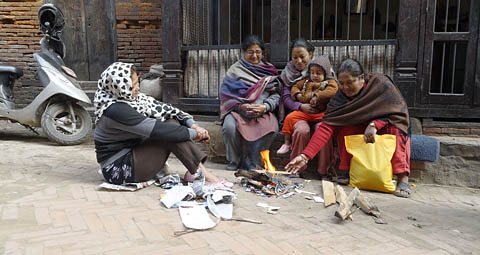 Women and a child warm themselves around a small fire. The stone ledge is the right height for sitting but mighty chilly.



2015 Ram Kumar KC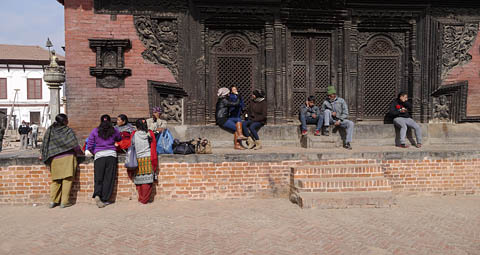 This is one of the main temples in Durbar Square. The south side is popular in the winter; the north side is favored in hot weather.



2015 Ram Kumar KC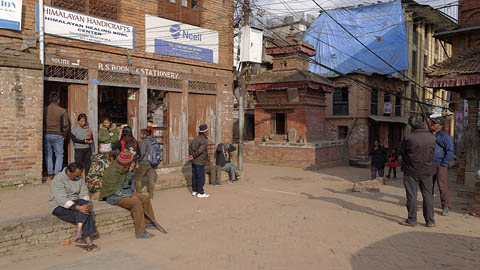 The relative lack of traffic in most of Bhaktapur makes it reasonable simply to stand in the middle of the street and talk.



2015 Ram Kumar KC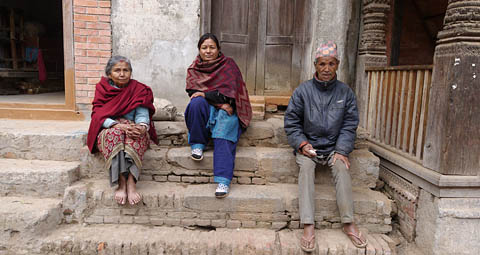 As in so many cities, people often sit on their front steps.



2015 Ram Kumar KC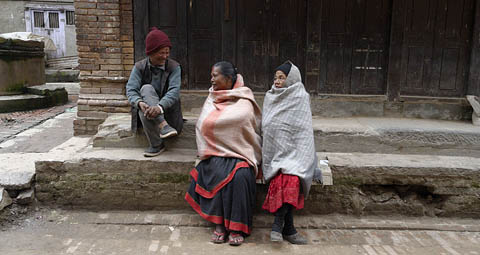 These people have probably known each other for most of their lives. These regular encounters help to keep people's connections alive.



2015 Ram Kumar KC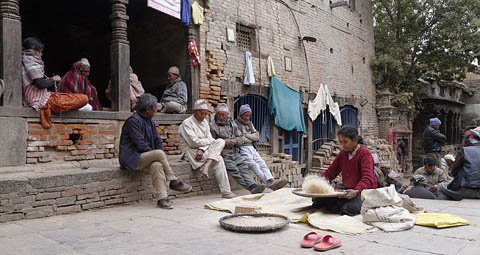 It is quite common for people to work in a street or square, where they can chat with neighbors as they finish their chores.



2015 Ram Kumar KC


Social life goes on in Bhaktapur despite the constant reminders of the damage done by the earthquake.



2015 Ram Kumar KC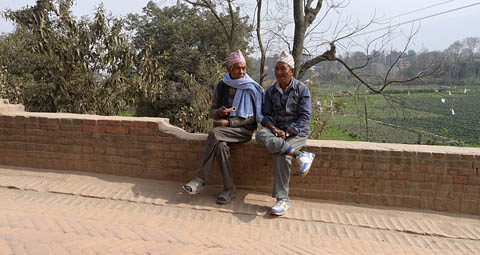 This is not as pleasant a place as it might be to sit and talk. There is a pretty constant stream of motorcycles passing back and forth.



2015 Ram Kumar KC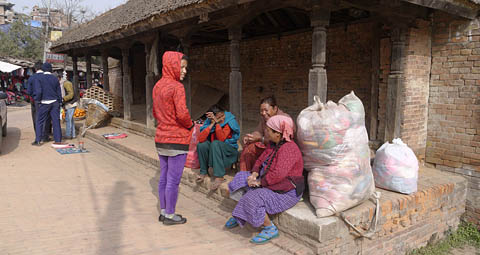 Nepalis are generally a cheerful people despite the many difficulties they face.



2015 Ram Kumar KC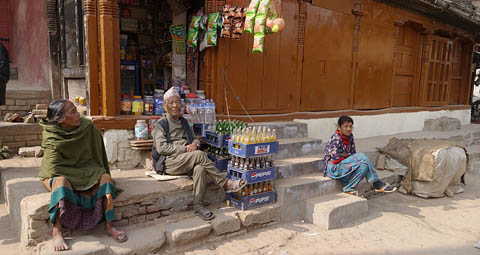 This shop spills out onto its steps during nice weather.



2015 Ram Kumar KC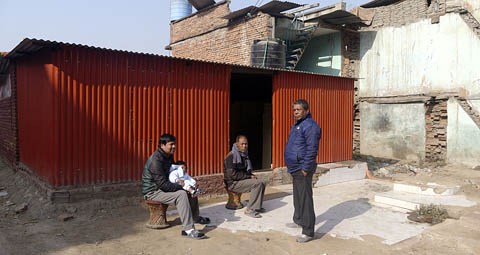 Ugly temporary shelters and scarred buildings are all too common in Bhaktapur today. People still socialize in the streets despite the less-attractive surroundings.



2015 Ram Kumar KC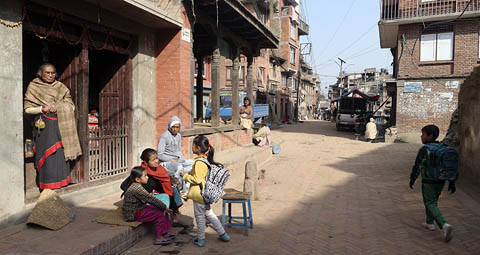 The generations are often mixed in street spaces.



2015 Ram Kumar KC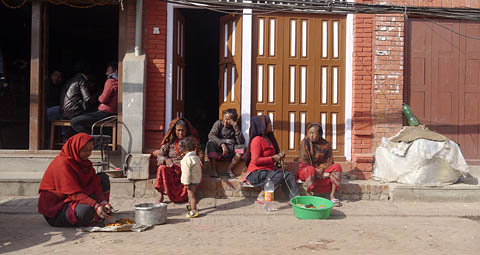 Knitting is a common pastime in public locations, especially later in the year, as winter approaches.



2015 Ram Kumar KC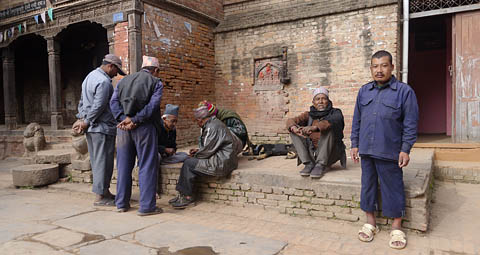 Men often gather in public spots to play card games or traditional board games.



2015 Ram Kumar KC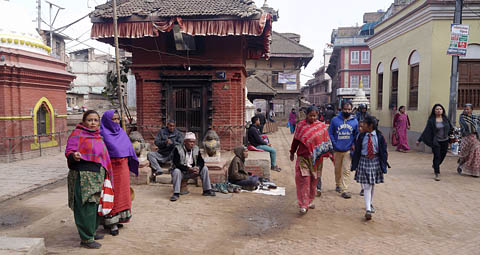 The man in the center offers shoe repair services to passers-by.



2015 Ram Kumar KC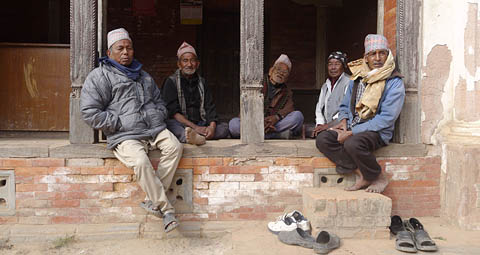 Shoes are never worn inside a parti.



2015 Ram Kumar KC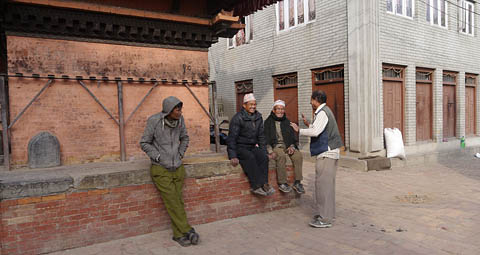 Here on the back side of a temple, men gather to talk in the sun.



2015 Ram Kumar KC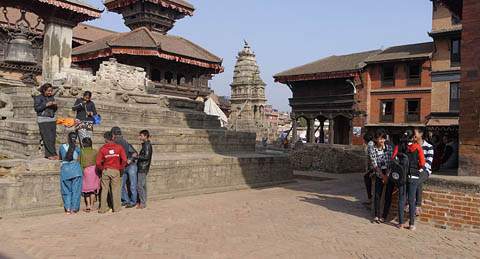 This is Durbar Square. The temple in the left foreground collapsed during the earthquake, but people still use the ruins as a stage for social activity.



2015 Ram Kumar KC




Announcements
Twentieth Anniversary of Carfree.com
This issue marks the 20th anniversary of Carfree.com, although it was hosted on my personal page at xs4all.nl in the beginning. Soon thereafter it moved to Mokum.com (which I no longer own). In 1998 I bought Carfree.com, where the site has been located ever since.

The first issue of Carfree Times appeared a year after the web site was first published. It was rather brief and a bit crude, but the content has remained similar in the 19 years since then.

So, hoist a glass to Carfree Times in your favorite carfree space. I think that the next 20 years will bring major progress in implementing carfree cities around the globe.
Film Status Update:
Recovering from Disruption: A Comprehensive Approach to Building a Better, More Sustainable World
This 54-minute film was released in August of last year. The film proposes solutions to the challenges to achieving a sustainable society. The film proceeds from the carfree city as a cornerstone for the solution of many problems we face.

A slightly recut version, a bit slower paced, was recently released. Total viewership has reached about 7000 at press time. The film was released under a Creative Commons non-commercial, attribution-only license, and anyone can make a localized version. We can furnish all the materials that went into making the initial version.

The film can be viewed or downloaded online for free. It may be shown to anyone as long as no admission fee is charged. The film is available at:

Carfree channel at Vimeo, which gives access to another 30 videos on carfree cities and related issues.
Status Update for Bhaktapur
2015 was a very difficult year for Nepal. In addition to the two major earthquakes in the spring, Nepal was subject to a five-month blockade on its Indian border. Very little fuel, medicine, or other supplies reached the Kathmandu Valley during the early part of this blockade. A thriving black market in motor fuels developed, and traffic remained heavy in Kathmandu. The shortage of cooking gas was the worst consequence of the blockade, and wood from demolished buildings was often used for cooking fires, which caused such dense smog that we rarely saw the Himalayas this winter.

The blockade arose when Nepal adopted a new constitution that is not to the liking of some groups in the Terai region (a lowland area along the border with India). India has tacitly supported the Nepali protesters. The blockade officially ended a month ago, but supplies have still not returned to normal. Schools were closed for much of the school year due to both the earthquake and the blockade.

The demolition phase of disaster recovery is essentially over, and a small amount of reconstruction has begun in Bhaktapur. It will take years to complete, and it can only be hoped that the unique character of this city will be preserved in the process. Certainly, a lot of local attention has been paid to the need for buildings that respect local traditions but have improved earthquake resistance.
The Books
Carfree Cities and Carfree Design Manual are widely available from booksellers in Europe and North America.

News from Our Friends
Carfree.com supports World Carfree Network (WCN). Alas, due to lack of funds, WCN has been inactive for several years now.

Some of the earliest promoters of the carfree idea later founded the Degrowth movement. The 5th International Degrowth Conference will be held in Budapest from 30 August to 3 September.

Feature Article
COP 21: Inside and Outside Views
By Shail Shrestha
This was my first experience attending COP (or any international negotiation). I wanted to attend in order to perceive how it worked and to participate in any discussions on urban planning with the goal of encouraging the adoption of carfree cities as a foundation in efforts to address the climate crisis. I had many realizations during the course of the two weeks I spent in Paris last December.

The approach to solving any very large, complex problem begins with the question of who will be allowed access to the process and how various barriers such as language, working methods, time limitations, and the economic cost of the process itself will be managed. I saw how difficult it was for even the official party delegates to achieve fruitful participation in the negotiations. For most delegations, this was further complicated by staffing and time limitations.

The conference was structured in such a way that there was actually little time and space for any discussion of ideas and solutions that were not already on the agenda.

There were three different platforms in and around COP21. The Blue Zone was where the real negotiations were held. Only official delegates with a UN permit, such as government representatives, were allowed entry. Though COP was committed to allowing broad participation, non-party representatives (those from civil society, NGOs, and INGOs) were not allowed into these discussion, thus restricting opportunities to influence the negotiations. I doubt that Nepal's participation really amounted to more than a struggle to understand and follow the discussion, with little actual influence.

Even within the Blue Zone, there were many discussion forums and debates hosted by various platforms including country pavilions and organizational pavilions, which tended to be more issue based. These discussions were largely based on works in progress and had very little space for discussions beyond what the organization was already doing, thus resembling an exhibition more than a discussion. There were various discussions on cities and climate change which arose from the fact that cities contribute greatly to the climate crisis.

Unfortunately, these organizations had already developed definite answers to most of the questions, so these discussions had almost no room to consider urban concepts beyond the commonly-accepted standards (which have gotten us into so much trouble). There was, therefore, no space for a consideration of the contribution that carfree cities could make, despite this concept having been introduced decades ago. This was because it would have challenged currently-accepted "wisdom" regarding cities.

The other official space was the Green Zone, which anyone could enter. This was a less formal event with real discussion of issues and attended by diverse participants. It was more satisfying to participate in this section as it provided opportunities for genuine participation, and many of these discussions allowed room to consider the need for fundamental change. The need for changes in basic values was a valid subject of discussion in the Green Zone events. One of the most memorable discussions was on the relationship between religion, faith groups, and climate change.

Outside of the official COP21 zone were many events spread all across Paris. These were held under a variety of names, but most had in common a presumption that the official, UN-based negotiations would fail to deliver the change we need. One of the largest organizers I joined with was the Climate Action Zones that organized on-the-ground actions and encouraged the adoption of solutions based on justice. These proceeded from the assumption that fundamental change in large-scale systems is essential, as the status quo has brought us to today's crisis.

The farther I moved away from the UN-sanctioned negotiations, the more comfortable I was. The discussions seemed much more based on realistic assessments of the danger we face. That means that they tended to be considerably more radical than the "official" discussions.

Of the different experiences and understandings I brought back to Nepal, some were sufficiently alarming to guide me in my continued activism for justice and climate change. This affects virtually every aspect of development and field of human endeavor.

What I found most alarming was the widespread expectation of and reliance on foreign donations for climate change adaptation. This, I believe, is the single most likely cause of a failure to implement the measures we need to prepare ourselves for climate change. Leaders of the climate justice campaigns demand funds for Least Developed Countries (LDCs) that would ensure the continuation of existing social and economic systems. This is in the interests of rich people who do not want fundamental change. However, fundamental change is actually essential to achieve a sustainable and more just world.

There are predefined roles for nations, determined by their status as Developed Nations, Developing Nations, and LDCs, that are based on culturally-biased definitions of development that essentially presume industrialization as fundamental to development. These roles do not allow for historic contributions by LDCs to the conservation of resources and natural areas and are therefore not considered to have economic value. The fundamental focus on Western-style economic development drives most of what is really going to happen at UN climate conferences.

The USA and other developed nations are the potential funding source for some of the changes the LDCs must make to adapt to climate change. This makes the LDCs even more dependent on the developed nations than they already are. It leaves no room for ideas from the LDCs to percolate up into the developed nations. As hat-in-hand nations, the LDCs are constrained in their criticism of the policies of the donor nations.

When measured against sustainable development goals, most LDCs are close to a sustainable way of life. This, however, takes exception to the presumption that GDP growth is essential. LDCs are being forced into the industrial paradigm, like it or not.

The UN definitions of "Developed" and "LDC" are mostly based on resource intensity, and this is a fundamental problem in itself. We need new terms to categorize nations by their level of sustainability, in which resource extraction and consumption stop being "goods" and become "costs." GDP-based evaluations encourage ever-greater consumption of natural resources, but newer economic concepts, such as Gross National Happiness, evaluate nations on the basis of the actual well-being of their citizens. Alas, concepts such as this were all but invisible at COP21.
Trust and Climate Change
The negotiations through which the climate agreements are drawn up are characterized by an absence of faith among the parties. The negotiations are based on distrust, thus focusing on the language of an agreement that is likely to be ignored by many of the signatories. Some parties to the agreement, most notably the USA, refuse to be bound by the terms of the agreement. None of the nations is eager to take action that might, even temporarily, damage its economy.

The structure of the COP agreements themselves and the mechanisms by which the agreements are drafted stands in the way of the changes we must soon make. The process begins as soon as the last conference ends and takes five years to complete. There is little real cooperation; the negotiating positions arise from the narrow interests of each of the nations.

The agreements and the process by which they are reached stem from the notion that nobody can be trusted. This relationship in itself is incapable of addressing the threats we are facing, for we are heading into a period of uncertainty where quick response to a sudden crisis might become an ordinary event. This requires relationships based on trust and mutual dependence, a situation far from the current reality.

The focus on addressing sources of energy keeps us from recognizing the effects of the energy-intensive, resource-exploiting economy that stem from the current approach to bringing prosperity. The discussions take little account of the gains to be made by reducing consumption. It doesn't matter what your source of energy for the washing machine is when you are still using the washing machine to wash your clothes while at the same time exercising for hours and sitting in the sauna to get your sweat out. The energy intensity of our everyday lives is the biggest problem that is driving excessive energy consumption and leading to huge releases of greenhouse gases.
The Scope of Technology Transfer to the South vs. Cultural Transfer to the North
All nations, especially those in the South, see increasing energy consumption as the only road to prosperity. This implies abandoning traditional sustainable ways of life that developed through centuries of wisdom handed down from generation to generation. This accumulated wisdom is now ignored and disparaged as "undeveloped ways" or "the ways of the poor."

Technology transfer from the North to the South has long been regarded as the path to a better life in the less-developed regions of the world. But even the best and the most sustainable technology currently being proposed in Paris would make Nepal less sustainable than it is today, thus leading us in the wrong direction. Indeed, cultural transfer from the South to the North would lead us in a more sustainable direction. In traditional societies, energy efficiency is highly valued, and conservation is considered more important than comfort and ease.
Growing Gap Between the Local Government and the Central States
Attending discussions at different levels in Paris, I felt a sense of division between the objectives of local governments, which are better connected with the movements happening around them, and national governments, which are increasingly focused on international trade and other economic agreements.

Citizen movements around the world that advocate consuming less are thwarted by the international system. They are trying to change the system at the same time that the central government, which depends on these systems to function, refuses to accept that systemic change has become essential. This is especially true in the global South, which depends on ever-increasing levels of international funding and trade. The quest for viable solutions will need to be strategically addressed, and will need greater citizen participation. Government officials won't be able to move the carpet they are standing on.

At meetings conducted at the mayors' level, the discussion was more positive and called for collaboration with civil movements and campaigns for action. It was said that it was more important to coordinate with civil movements than to coordinate with national and international governments. At the discussion hosted by UN Habitat, it was said that mayors coming to the central government for project funding were facing shrinking national budgets and a lack of willingness by the central government to fund local initiatives.

This conflict threatens the balance of power between local governments and national governments. Local governments believe they need more authority and funding to adopt local measures that are best suited to the problems faced by individual cities. This conflict even rises to the level of international agencies. There was a huge presence of grassroot movements that are more solution-oriented than central government. They focus on local self-determination rather than on the power and resources of the central government.

I realized that the need for a change in our way of life is greater in the North than in the South. This shift towards more sustainable ways of life, in which development and growth become less important than conservation and sustainability, will not be achieved without a change in aspirations and a redefinition of the model for development around the world.

Although much of the focus today is on preparing for and avoiding the natural disasters that will occur with increasing regularity, it is equally important to observe and prepare for the social, political, and cultural changes that will come. These challenges will come at different levels, but it seems that the most effective efforts to meet these challenges will occur at the local level.
The Impact of Climate Change on National Borders and the Definition of "Nation"
Humanitarian crises caused by rising sea levels, the depletion of water resources, and the loss of arable land will force international migrations. Under such circumstances, the use of geographic maps rather than political maps will be more useful. Suppose, for example, that all the land of the Maldives sinks below the waves. If all people of the Maldives migrate somewhere else, will the Maldives as a nation still exist? What is the Maldives - its people or its land? The instability and uncertainty that arise in an era of unpredictable climate will have an impact on strategic national and international planning.

The opportunity for humanity to unite beyond local identities is threatened by the competitive fund-based support system. This support still tends to contribute to greater energy consumption and will divert us from analyzing the real roots of the crisis.

While attending the discussions and analyzing the roles of the players in the negotiations, I felt that the underlying debate was really about "saving people" vs "saving investments." I felt that the division between the governments and the people was clearer than the supposed division between North and South. The scale at which we at COP21 were attempting to stop climate change was so large that I felt that the real agenda was trying to stop climate change while preserving the existing systems.

My original purpose at COP21 was to promote, at an international level, carfree cities as a solution to the climate crisis and to bring this concept to the attention of the delegates. But the complexity of the carfree city concept and the conflict that it causes by questioning conventional city planning, conventional systems of development, and conventional notions of society essentially made it a subject that was impossible to discuss, even at discussions of urban planning. What I learned was that the issue can really only be taken up at the level of communities and cities. The carfree movement is advancing, and it is precisely at the local level that effective advocacy is occurring and will continue to occur.

Climate change requires a major change in value systems and calls into question the very meaning of "prosperity." These kinds of changes are nearly impossible to organize at an international scale. Instead, they must occur through the participation of all groups of people in rigorous discussions at local, regional, and national levels.

Nations such as Nepal, that have for decades been the recipients of advice and economic assistance, will have to determine their own pathways to sustainability. Just as China has recently done, LDCs must prepare for a discussion of the major changes that will be required to establish an ecological civilization based on justice, modest standards of living, inherited wisdom, and local traditions.

Feature Article
Towards Carfree Cities in Nepal
By Dristy Shrestha and Shail Shrestha
The government of Nepal, under the New Town Project, plans to built 10 model cities along the Mid-Hill Highway (MHH), which runs across the country from east to west at intermediate altitudes. The project calls for each of the five development regions to receive two new cities or major city expansions. The concept of the project is to decentralize development that is at present centered on the capital region and in the lowland plains. This had led to large population declines in the hilly regions (at altitudes of between 500 and 2000 meters). The objective of the plan is "Balanced Urban Development" coupled with environmental sustainability.

The 10 cities selected are located along the MHH, which is now under construction. The cities will be located where the MHH intersects with north-south roads that rise from the plains into the hills. The project aims to build 10 model cities, each with a population of 100,000, by 2035. These cities are intended to be service centers for their region. The economic foundation of these cities will be agriculture, tourism, education, and medical care.

We came to know of the project late in 2015 and began to cooperate with the New Town Development Authority (NTDA), under the auspices of the Urban Ministry. As soon as we learned of this project, which was still in a very early phase, we were excited by the prospect of bringing carfree urban planning to these cities.

The project has been assigned for research and design recommendations to five consultancies, each working on two cities in one region. We had several meetings with these consultants, some of whom invited us to attend the Vision Statement Program for three of these cities. This was a community consultation program to identify the aspirations of the community and analyze the potentials of the region in order to establish development priorities. We went to some of the proposed city sites, which are already inhabited places, where we participated in the planning process with the local communities.

The policies the government proposes for these model cities are still grid-based and would encourages car-centric development, high-rise buildings, separation of uses, and large-scale vehicle use.

Our experience with the community representatives was different from what most city dwellers had led us to expect, which was that rural people would be furious about taking away their opportunity to own a car some day. The 10 selected settlements are still small towns with little traffic. Most of them are located in quite rural areas.

Many of the residents have had bad experiences with visiting larger, traffic-choked towns, particularly Kathmandu. The community representatives were more concerned and sensitive than their local government representatives about the potential negative effects of the upcoming development, and many did not like the prospect of abandoning a simple way of life, close to nature.

Community members spontaneously raised the issues of vehicle crashes and the environmental and health consequences of becoming a "modern" city. The matter of sociocultural benefits and the ecotourism that a vehicle-free city could induce was of interest.

These sites are mostly located in very hilly areas with severe limitations on the availability of land for development. Suitable land is already in agricultural use, and loss of any of this land was already a concern. The benefit of a carfree design with respect to land conservation, especially when combined with the potential for a large population increase, made the advantages of a carfree approach almost immediately apparent.

Some of the consultants to these cities are also urban planning professors at the Institute of Engineering, Pulchowk, Kathmandu, and were already familiar with the recent government efforts to make city centers in Europe vehicle-free and more livable.

In Dumre (a small city roughly in the middle of Nepal), the limited land available for development and the necessity to conserve agricultural land make high-density land use and mixed uses an almost self-evidently preferred plan for this town. The situation of the other nine towns is largely similar.

The potential of the tourism industry also makes carfree design relevant for these cities, as examples from Europe have proven that vehicle-free zones are the most popular urban areas.

Historically, the hilly terrain has always made access to these areas slow, difficult, and expensive, which has limited their economic growth. The improved access from the highway would need to be coupled with energy and resource efficiency for these cities to prosper, which is another reason to avoid vehicle-centric design.

Particularly for Dumre, the open areas that are yet to be built upon can have carfree settlements and commercial areas as their center of attraction. This also leads to lower total development costs, making the area economically efficient, safer, and healthier.

The example of Bandipur, a nearby popular carfree destination with a safe and pleasant environment, compares favorably to settlements alongside the highway, where the impacts of heavy traffic affect the market area and settlements, leading to a very unpleasant, unsafe environment for the inhabitants and the vehicles passing by as well. The potential to conserve agricultural land and protect forest and natural land areas, leading to increased economic activity and better living conditions, was of great interest to the community.

The vision statement for Dumre focused on health, safety, and environment, and the idea of planning a vehicle-free zone was received with great interest.

In Burtibang, located in western Nepal in an area of steep, rocky hills, there is very limited land for anything to be built. Any expansion will be at the cost of the limited cultivable land in the area. The present city already suffers from land constraints and from problems with road expansion and increased vehicular traffic.

The adoption of a vehicle-free design can conserve limited land because so little land is consumed by streets. When combined with the construction of settlements at higher density, it is possible to create a safe and desirable environment within the city.

The streets can be narrow enough that durable, attractive stone paving can relace broad asphalt streets. This will help with ground water recharge and better rainwater and sewage management. The narrower streets are also at a human scale. Residents can save a lot of expense by avoiding the need to own a vehicle.

The design to be proposed for this city will include a recommendation to remove the bus terminal from the city center. It will propose some parking lots on the outskirts of the city. There is also some potential for the construction of cable cars or trams to connect the city with outlying settlements in the hills. There would thus be no need to construct roads or to own private vehicles in these settlements. The existing footpaths would be all that is needed to complete provisions for local transport.

There was a discussion about avoiding market areas that suffer under heavy vehicle traffic, as do many market streets in Kathmandu. Instead, it was proposed to adopt the example of the energy- and resource-efficient market called Ason in Kathmandu, which is one of the most vibrant market streets in the historic core of Kathmandu. Ason has so much pedestrian traffic that the passage of vehicles is greatly hindered.

The recognition of climate change as a great threat, and the contribution of transport and urban areas to this threat, has led cities and nations to commit to plans and policies that reduce carbon emissions as rapidly as possible. This makes the establishment of cities based on renewable energy and less intensive use of energy a priority for adapting to the future. Furthermore, the possible availability of climate-compensation funds to less-developed nations from rich nations holds out the potential for advanced public transport services to these cities.

The vision of carfree cities along the MHH is far from being realized, and much intervention on policies of the national government will be required. It is encouraging to know that the affected communities have already expressed support for carfree development. It is thus not difficult to imagine beautiful, livable, sustainable carfree cities in Nepal.

News Bits
Thanks to Mario Alves, Robin Bassett, Debra Efroymson, Tracy Gayton, Manju George, Fanis Grammenos, Piper Hollier, Justin Hyatt, Dexter Jeannotte, Christopher Miller, Rick Risemberg, Doug Salzmann, Anthony Stone, Clyde Verner, and Jay Walljasper for suggesting articles
The links below will open in a new browser window or tab, depending on your browser; (Ctrl+click) may behave differently:
Urban Planning and Design
"Our Old Planning Rules of Thumb Are All Thumbs"

Neatly demolishes many long-held beliefs about urban planning. (StrongTowns.org)
"How to build a city from scratch: the handy step-by-step DIY guide"

"Step 8: Consider banning cars" Enough said? (TheGuardian.com)
"Ban Cars"

"There is a way we can reach our climate goals. It's not a pledge. It's not a tax. It's easier than that. We ban cars." The article makes a convincing case that a switch to electric cars simply won't get the job done. (Gizmodo.com)
"Pedestrian deaths are much more common in poor neighborhoods in urban America than in wealthier ones, a disparity Governing Magazine covered in depth back in 2014. That result stems from a brutal collision of bad infrastructure and limited choices: the poor and minorities are more likely to get around by foot, but they also often live in places where doing that is particularly hard." (WashingtonPost.com)
"The Future of Brussels, the Car-Choked Home to Europe's Worst Traffic"

"Brussels has some of the worst traffic in Europe. A 2013 survey estimated that drivers in the Belgian capital spent about 85.4 hours in traffic throughout the year - enough to snag the top slot in the entire world. The No. 2 city on the list is Antwerp, helping make Belgium the most congested country in the world. Third on the list? Los Angeles, with 64 hours - a living hell, true, but just 75 percent of Brussels' mess." (Inverse.com)
"Europe's most liveable city? The secret of Odense's post-industrial revolution"

"Thomas B Thriges Street was built in the 1960s as a solution to growing car congestion: a fast-moving, four-lane road laid like a curved ribbon across the middle of the city. That ribbon was first trimmed 18 months ago when a central section of the street was closed to vehicles. More is to come in the next few years, as the rest of the road is transformed into a new heart for Odense, reserved for bikes and pedestrians, and lined with shops, cafes and homes." A glimpse of the future for us all, I hope. (TheGuardian.com)
"How Ljubljana Turned Itself Into Europe's 'Green Capital'"

"Ljubljana's successful fight against traffic is one reason the European Commission named the city European Green Capital for 2016. That's a title that has frequently gone to acknowledged leaders of the debate on urban sustainability, wealthy cities such as Copenhagen, Stockholm or Hamburg. The choice of Slovenia's small capital shows that cities of modest size and means have lessons to offer, too. It also shows that smaller cities can make a staggering amount of change happen in a short period of time." (CityLab.com)
"Making Better Places to Fail: Take those jobs and . ."

"Fortunately what Smart Growth and New Urbanist planners and designers already know - and what new era entrepreneurial types like those reworking the physical environment of the RTP are putting into practice - goes a long way toward making better places to tolerate failed enterprises." (PlaceMakers.com)
"Why companies are saying farewell to the 'burbs, and hello to the big city"

"After decades of abandoning the big bad city for pastoral suburban settings, more employers are moving back." General Electric is leaving suburban Fairfield, CT for Boston 40 years after it left New York City. (Fortune.com)
"Mayor de Blasio to Propose Streetcar Line Linking Brooklyn and Queens"

"The streetcar system is expected to cost the city about $2.5 billion, significantly less than a new underground subway line, city officials said on Wednesday. This is still absurdly expensive." Yeah, and someone needs to investigate why nearly all public infrastructure projects in the USA are turning out to be absurdly expensive. Whatever the answer may be, you can bet it won't make for pleasant reading. (NYTimes.com)
Car Trouble
"The car century was a mistake. It's time to move on."

This is my recent piece in the Washington Post's web-only content. There will be nothing new here for regular readers of Carfree Times, but the piece did draw a fair amount of attention, not all of it favorable. ("In Theory" at WashingtonPost.com)
"How jaywalking became a crime"

"The city as a playground for cars reflects a deliberate and troubling aspect of contemporary society: the commercialization of public space." (WashingtonPost.com)
"The Strongest Case Yet That Excessive Parking Causes More Driving"

"In the urban planning world, a parallel to the smoking-cancer connection is the tie between parking and driving. Cheap, excessive parking has been linked to more drive-alone commutes, worse traffic congestion, higher rents, and all the other social costs of over-reliance on cars for urban mobility. But the fact that so many U.S. cities cling to minimum parking policies suggests that officials don't see parking as a key cause of increased driving - instead, perhaps, just a natural response to it." (CityLab.com)
"Lobbyist Holds Up Spectacular Example of the Futility of Widening Highways"

"Obviously, when a highway is too congested, you need to add capacity: make it wider! Add more lanes! So the state of Texas pumped more than $2.8 billion into widening the Katy; by the end, it had 23 lanes, good enough for widest freeway in the world." And traffic on that freeway is now slower than it was before the expansion. (Usa.StreetsBlog.org)
"Houston's health crisis: by 2040, one in five residents will be diabetic"

"The prevalence of type 2 diabetes in the city is 9.1% - with an estimated one in four of these being undiagnosed. Almost a third of adult Houstonians self-describe as obese, according to a 2010-11 survey. Without action, the number of people with diabetes is projected to nearly treble by 2040 to 1.1 million people, with diabetes-related costs soaring from $4.1bn in 2015 to $11.4bn by 2040." (TheGuardian.com)
"Have we fallen out of love with the car permanently?"

"For decades, the richer Britain got, the more people drove. But somewhere in the 1990s things changed. The economy was bouncing along nicely, but our car mileage stayed flat. In fact, if you singled out young people, especially young men, we were driving a lot less." (Bbc.com)
Climate Change
"Carbon budget is only half as big as thought"

"Fossil fuel use will have to fall twice as fast as predicted if global warming is to be kept within the 2°C limit agreed internationally as being the point of no return, researchers say." More and more we're seeing studies that show that real action on the climate is now urgently needed. (ClimateNewsNetwork.net)
"2 C Coming On Faster Than We Feared - Atmospheric Methane Spikes to Record 3096 Parts Per Billion"

"It's when we start looking at what are called amplifying feedbacks - the Earth System Sensitivity responses to human-forced warming - that things really start to get dicey. And wrapped up in the Earth System Sensitivity equation is methane - a greenhouse gas with the ability to strongly influence global temperatures over rather short time-frames." (RobertScribbler.com)
"US 'likely culprit' of global spike in methane emissions over last decade"

"There was a huge global spike in one of the most potent greenhouse gases driving climate change over the last decade, and the U.S. may be the biggest culprit, according a new Harvard University study." (TheGuardian.com)
"Greenland's ice melt accelerating as surface darkens, raising sea levels"

These kinds of feedback loops are what keep me awake nights. We keep finding new ones, and, of course, they all show that the problem is even worse than we thought. (TheGuardian.com)
"Record high Arctic temperatures in 2015 having 'profound effects' on region"

"More than 50% of Greenland's huge ice sheet experienced melting in 2015, with 22 of the 45 widest and fastest-flowing glaciers shrinking in comparison to their 2014 extent." (TheGuardian.com)
"Climate change: Greenland Ice Sheet is shrinking at high rate"

More bad news on the climate: Greenland's ice is melting much faster than had been thought. This helps to explain the unexpectedly high rate of sea level rise. (LATimes.com)
"Antarctic ice sheet is more vulnerable to carbon dioxide than expected"

"Results from a new climate reconstruction of how Antarctica's ice sheets responded during the last period when atmospheric CO2 reached levels like those expected to occur in about 30 years, plus sediment core findings reported in a companion paper, suggest that the ice sheets are more vulnerable to rising atmospheric CO2 than previously thought." The deniers are pointing to increases in Antarctic ice extent as if that's some sort of good news. The total mass is actually declining. (ScienceDaily.com)
"Study Reveals Stunning Acceleration of Sea Level Rise"

Until the 20th century, sea levels had jittered around a roughly constant level. Then in the century recently ended, sea levels suddenly rose nearly 6 inches. Sea levels are forecast to rise 9-24 inches in this century. The threats to coastal cities are very serious. (ClimateCentral.org)
"Coalition of business leaders challenges 2C climate change target"

"As ministers arrived in Paris, the chief executives of companies such as Virgin, Marks & Spencer, L'Oreal and Unilever said it was critical for governments to reach for stronger targets that would free the world's economy from carbon emissions by 2050 and avoid dangerous warming." When I read the headline, I assumed that the "business leaders" were wanting a softer target, so I was pleasantly surprised. (TheGuardian.com)
"The social cost of atmospheric release"

Transport, Pollution, etc.
"Shock figures to reveal deadly toll of global air pollution"

"The World Health Organisation has issued a stark new warning about deadly levels of pollution in many of the world's biggest cities, claiming poor air quality is killing millions and threatening to overwhelm health services across the globe." (TheGuardian.com)
"How Uruguay Shifted from Fossil Fuels to 95% Clean Electricity in 10 Years"

"Over the last decade, Uruguay has transitioned over from total reliance on dirty fossil fuels and is now getting more than 94 percent of their electricity from renewable energy sources. What's more amazing is that Uruguay made the switch without any government subsidies and is now providing citizens with lower monthly energy bills than before." (Usuncut.com)
"Here's what it would take for the US to run on 100% renewable energy"

A new study "contains 50 such road maps, one for every state, with detailed modeling on how to get to a US energy system entirely powered by wind, water, and solar. That means no oil and coal. It also means no natural gas, no nuclear power, no carbon capture and sequestration, and no biofuels." And, we hope, no bullshit. The total US energy production rate is only expected to decline moderately, which I believe is a mistake; large cuts are necessary and not so difficult. (Vox.com)
"Why The Renewables Revolution Is Now Unstoppable"

"It is turning out to be less challenging than expected to incorporate more and more renewables into the electric grid - and to handle periods of time when demand is high but the wind isn't blowing and/or the sun isn't shining." It isn't expensive, either. (ThinkProgress.org)
"Rapid, Affordable Energy Revolution is Possible, Says New Report"

"Within 15 years, the United States could slash greenhouse gas emissions from power production by nearly 80 percent below 1990 levels without increasing cost and, at the same time, meeting increased demand." (CommonDreams.org)
"After 60 years of nuclear power, the industry survives only on stupendous subsidies"

"Almost 60 years since the world's first commercial nuclear power station began to deliver power to the UK's grid, the industry remains as far from being able to cover its costs as ever, writes Pete Dolack. But while unfunded liabilities increase year by year, governments are still willing to commit their taxpayers' billions to new nuclear plants with no hope of ever being viable." This is a fairly good definition of "suicidal." (TheEcologist.org)
"Earth has lost a third of arable land in past 40 years, scientists say"

"New research has calculated that nearly 33% of the world's adequate or high-quality food-producing land has been lost at a rate that far outstrips the pace of natural processes to replace diminished soil." Who would ever have guessed that it was this bad? (TheGuardian.com)
"Organic agriculture key to feeding the world sustainably"

"Researchers have concluded that feeding a growing global population with sustainability goals in mind is possible. Their review of hundreds of published studies provides evidence that organic farming can produce sufficient yields, be profitable for farmers, protect and improve the environment and be safer for farm workers." This is basically what we claimed in Recovering from Disruption. (ScienceDaily.com)
"There's A Way to Save Our Future. So Why Aren't More People Talking About It?"

"Transitioning to organic regenerative agriculture practices 'offers the best, and perhaps our only, hope for averting a global warming disaster.'" (CommonDreams.org)
"Mumbai proposes a ban on all new car and bike registrations"

Mumbai is struggling with terrible air pollution. The city is adopting a number of measures to help the situation, including limits on car and motorcycle registrations. Even this won't do the job, but it should help. (CatchNews.com)
"Dutch city installs traffic lights that give cyclists priority when it's raining"

"Generally regarded as the most bike-friendly country in the world, the Netherlands has long been praised for its impressive cycling infrastructure. But now the city of Rotterdam is embracing new traffic light technology to help cyclists spend as little time in the rain as possible." (CyclingWeekly.co.uk)
"A Tale of Twenty-Two Million Citi Bike Rides: Analyzing the NYC Bike Share System"

"The Citi Bike system topped 10 million rides in 2015, making it one of the world's largest bike shares." Watch the animation - it's fascinating. (ToddWSchneider.com)

About Carfree Times
Next Issue
The next issue of Carfree Times is scheduled for May 2016.
Subscribe to Carfree Times
Carfree Times is published quarterly at Carfree.com. To receive e-mail notices of new issues, please visit the subscription page or send e-mail with the word "Subscribe" in the subject line. We do not share our mailing list.
Write for Carfree Times
Interested in writing for Carfree Times? We welcome articles on a wide variety of subjects and offer an opportunity to publish letters to the editor and guest editorials. Drop us an e-mail.




Back to Carfree.com
Carfree Times Home
Back to Carfree Times Issue 80
Forward to Carfree Times Issue 82

E-mail
carfree.com
Text and illustrations, except for guest content, placed in the public domain