Issue Contents

Click on any image to open a bigger version in a new tab. Ctrl+w will close the new tab and return you to Carfree Times.
Carfree Day in Kilagal, Kathmandu, Nepal
The photographs below are a selection from the Carfree Day events in the Kilagal neighborhood of central Kathmandu. See the Feature Article, below right, for a description of the event and its preparations.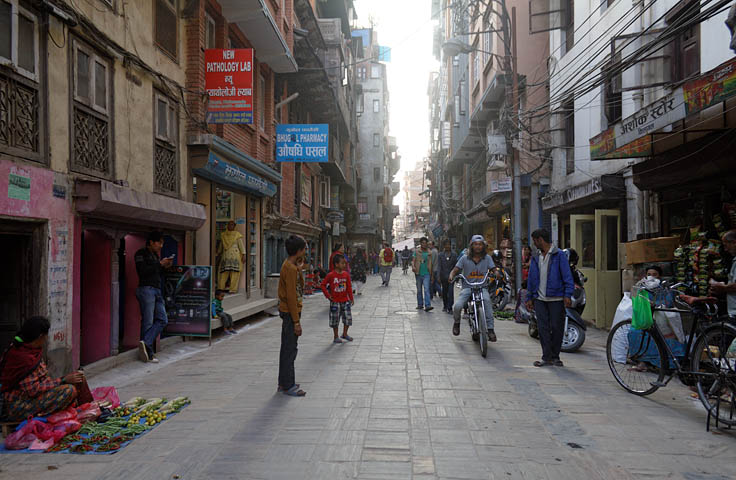 People enjoying the carfree street in Kilagal



2015 Dristy Shrestha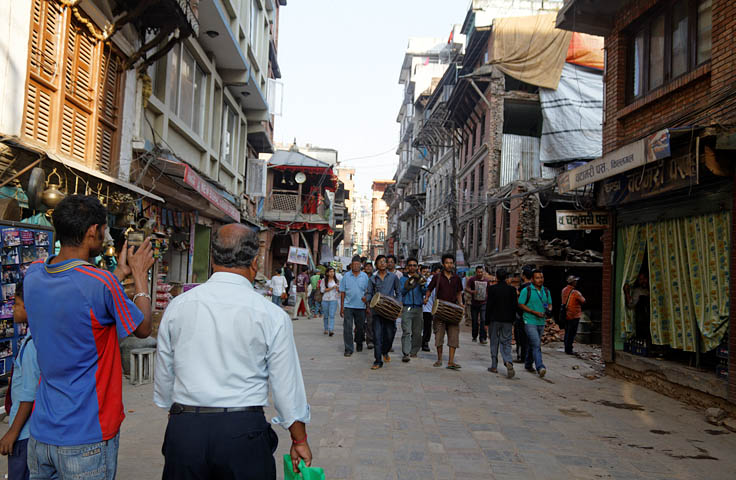 Traditional music performed by a local youth group in carfree street



2015 Dristy Shrestha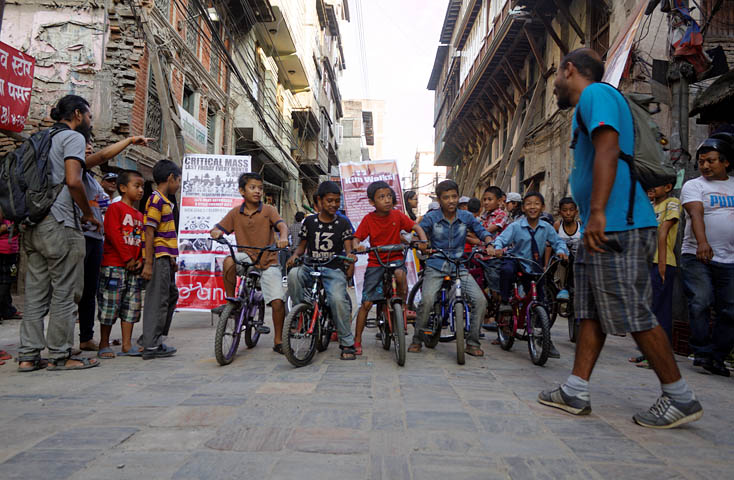 Slow cycling race at Kilagal



2015 Dristy Shrestha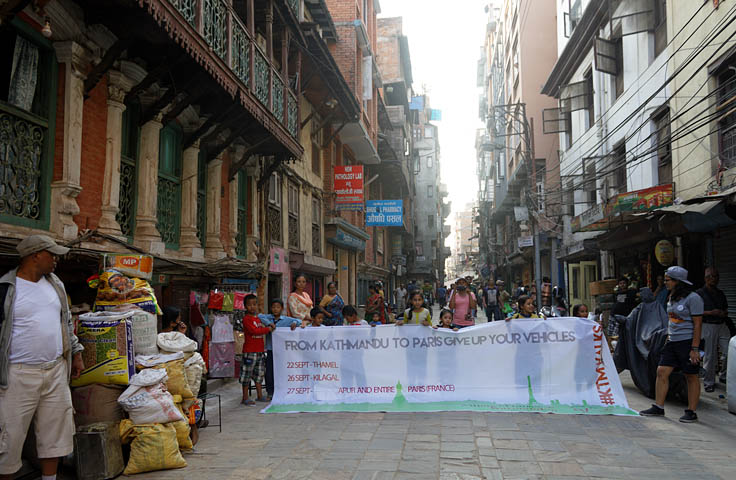 Children holding an Alliance Française banner at the finish line for
the slow cycling race



2015 Dristy Shrestha


Hula hoop competition among the children of Kilagal



2015 Dristy Shrestha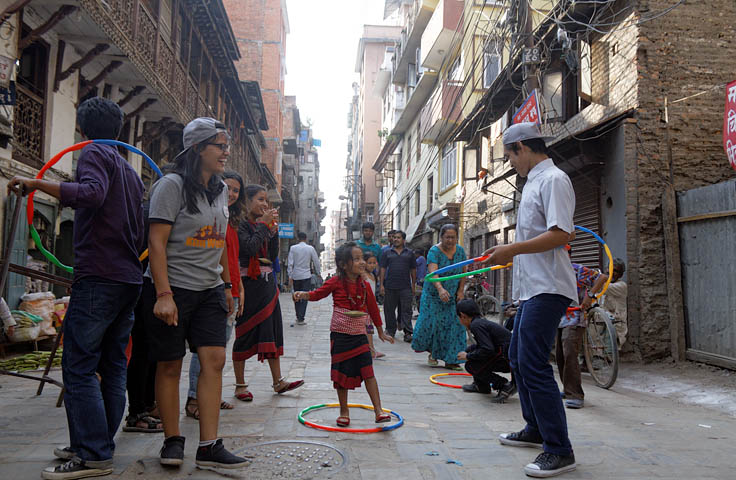 Children and youths enjoying hula hoop in the streets of Kilagal



2015 Dristy Shrestha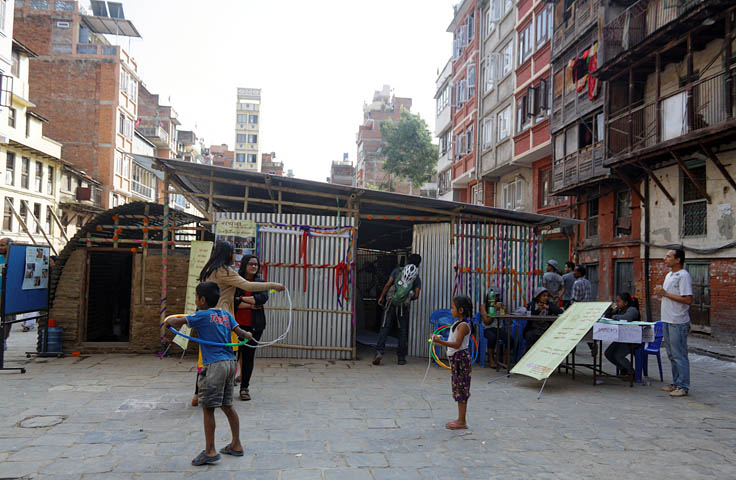 Shelter at Itumbahal Square for the collection and restoration of
historical artifacts from buildings damaged in the earthquake



2015 Dristy Shrestha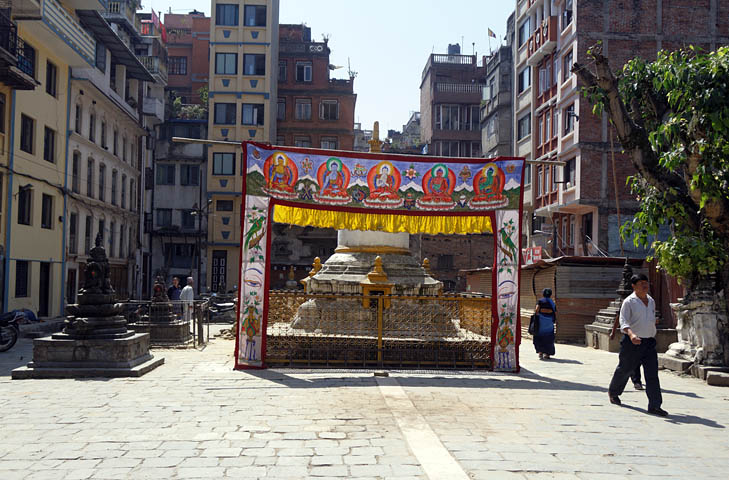 Itumbahal Square at Kilagal



2015 Dristy Shrestha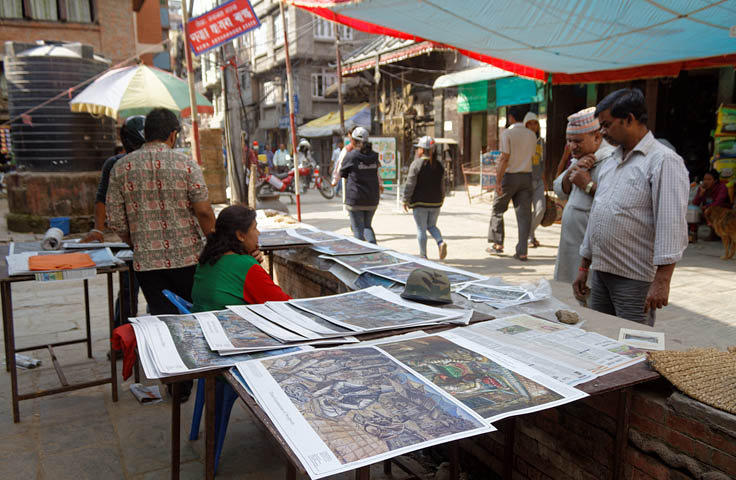 Exhibition of paintings in the streets of Kilagal



2015 Dristy Shrestha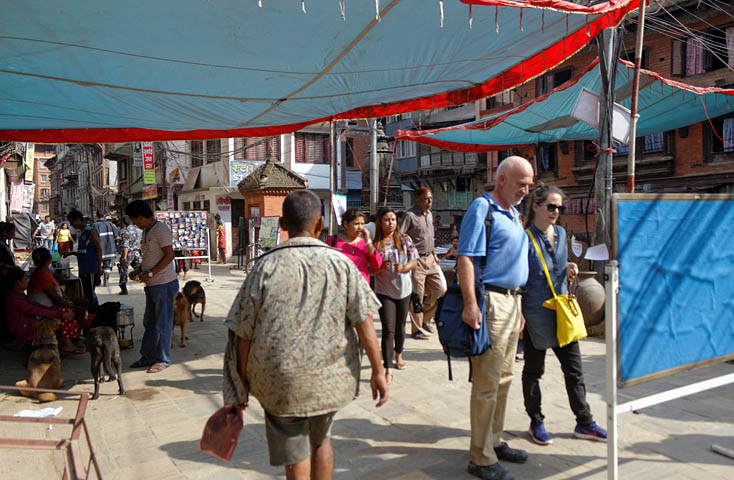 Photo exhibition in the streets of Kilagal



2015 Dristy Shrestha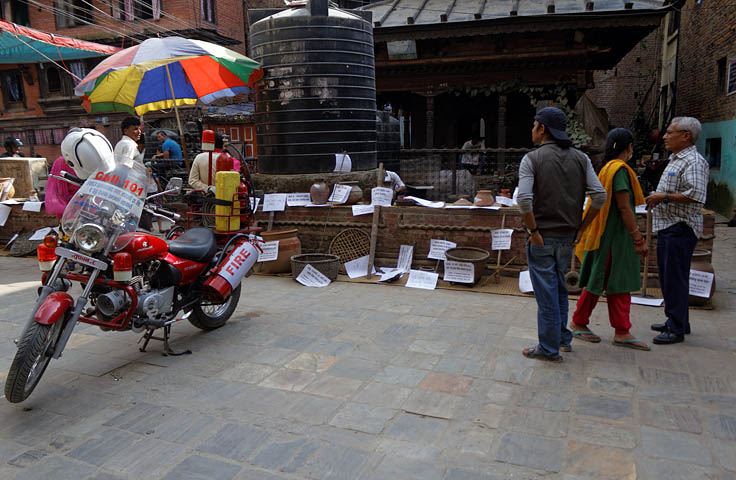 Exhibition of two-wheel fire brigade along with cultural tools in daily use
by Newari people



2015 Dristy Shrestha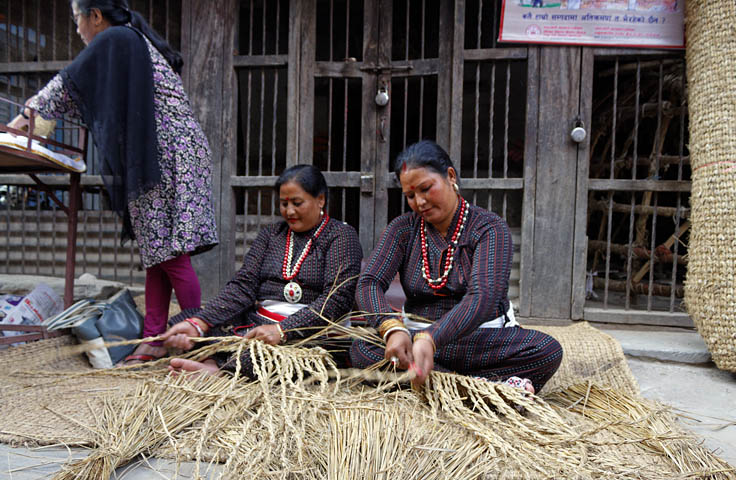 Newari women weaving the traditional carpet (known as sukul) in the streets



2015 Dristy Shrestha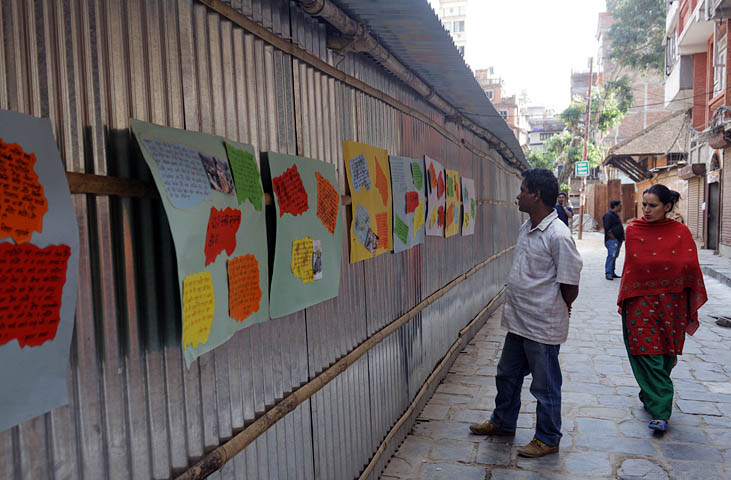 Feedback from the community residents about the Carfree Day at Itumbahal Square



2015 Dristy Shrestha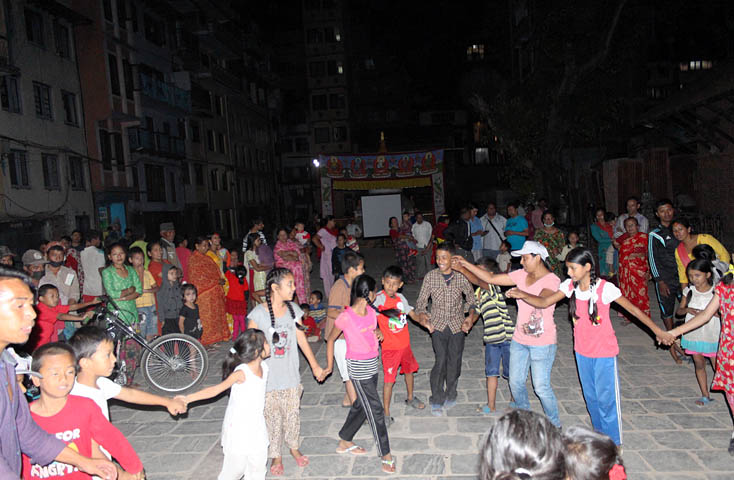 Local children enjoying an evening dance



2015 Sajib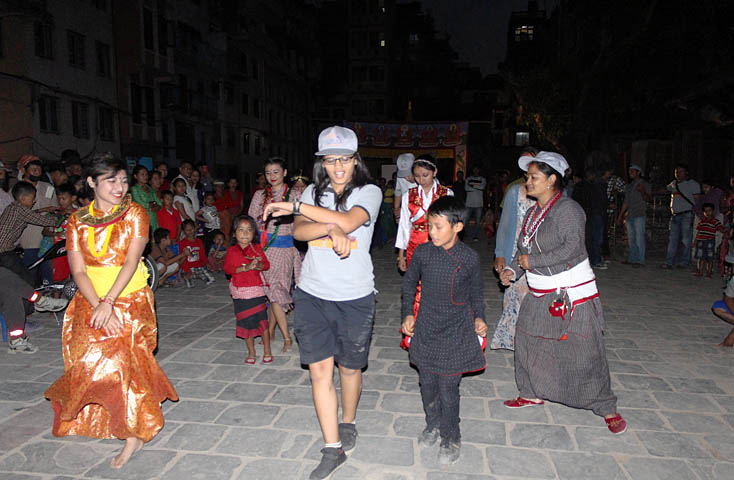 KtmWalks volunteers dancing in Itumbahal, Kilagal



2015 Sajib

Click on any image to open a bigger version in a new tab. Ctrl+w will close the new tab and return you to Carfree Times.
Earthquake Damage in Bhaktapur, Nepal
Bhaktapur was quite hard hit by the recent twin earthquakes. Some other cities in the Kathmandu Valley were even worse hit, but historic Bhaktapur had significant damage. Some parts of the city were hit even harder than what is shown below. Demolition and debris removal are essentially complete, but only temporary buildings have so far been erected.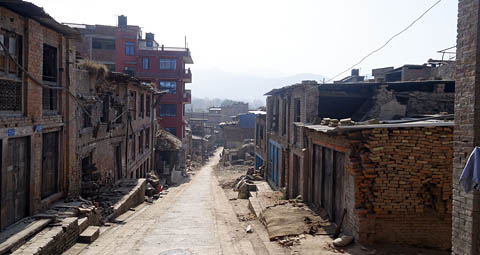 Looking down from Golmadhi, an area that was especially hard hit



2015 Ram Kumar KC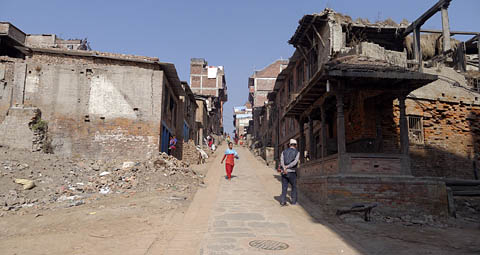 Looking back up the same street in Golmadhi



2015 Ram Kumar KC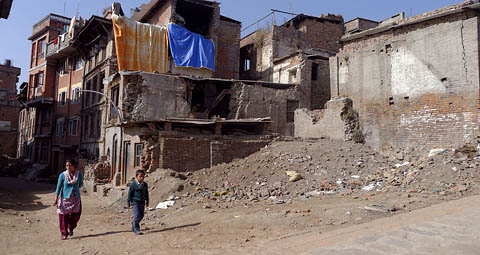 More from Golmadhi



2015 Ram Kumar KC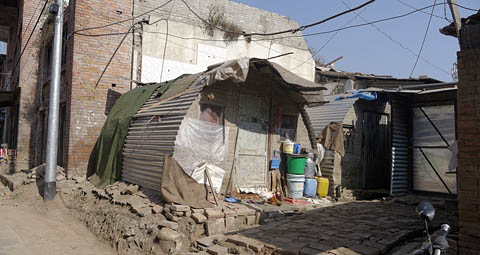 Temporary housing in Golmadhi



2015 Ram Kumar KC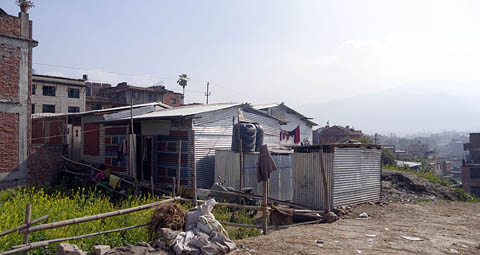 Temporary tin-roofed shacks near Inacho



2015 Ram Kumar KC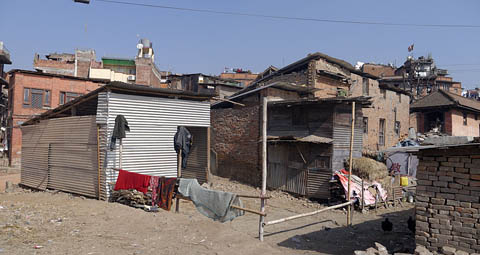 More temporary housing near Inacho



2015 Ram Kumar KC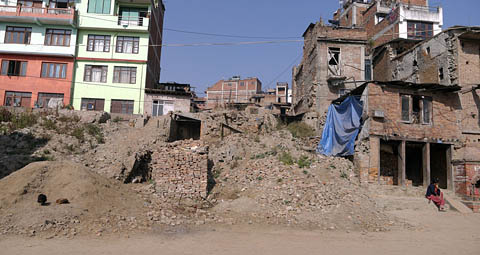 Rubble and stacked bricks in the Kwachhen neighborhood



2015 Ram Kumar KC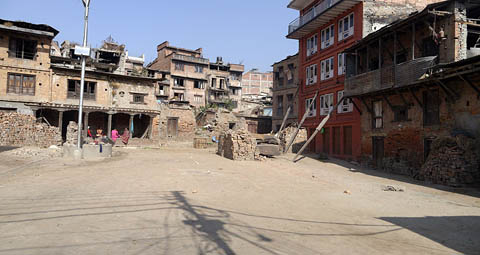 This open space in Kwachhen was always a square



2015 Ram Kumar KC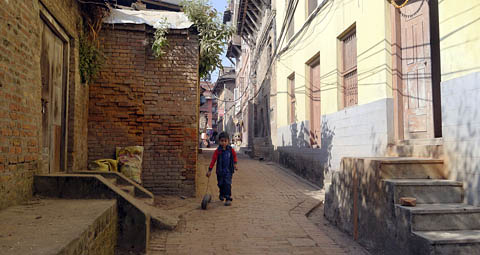 A boy playing in a less-damaged part of Kwachhen



2015 Ram Kumar KC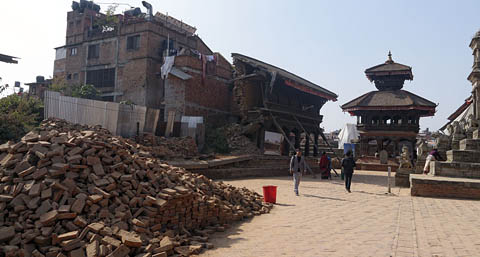 One of the most heavily damaged parts of Durbar Square



2015 Ram Kumar KC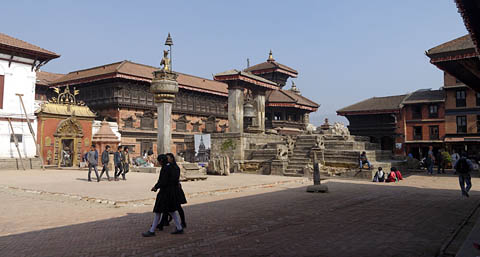 The fallen temple, center right, was an unusual stone structure in Durbar Square



2015 Ram Kumar KC


A closeup of the fallen temple shown above



2015 Ram Kumar KC


Looking down into the eastern part of Durbar Square, which has became a
parking lot after the earthquakes



2015 Ram Kumar KC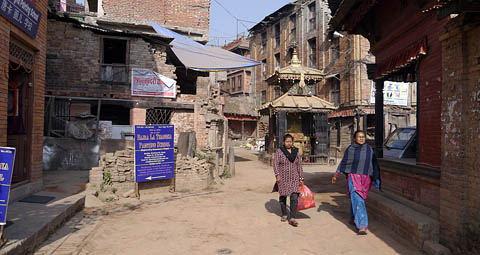 Tripura Sundari temple and its vicinity, which suffered quite a lot more damage
than is apparent



2015 Ram Kumar KC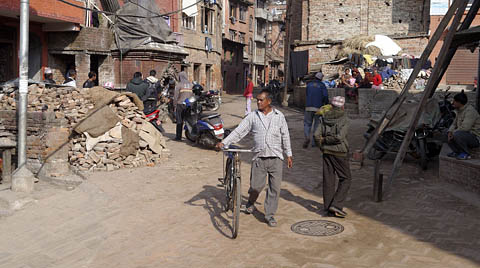 Near Chuma Ganesh temple



2015 Ram Kumar KC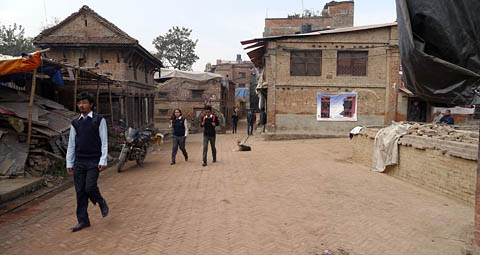 Near Salan Ganesh Pokhari



2015 Ram Kumar KC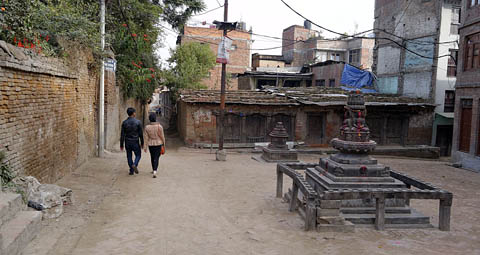 Approaching Salan Ganesh Pokhari, once one of the most beautiful scenes
in Bhaktapur



2015 Ram Kumar KC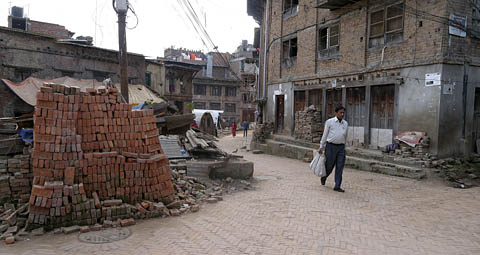 Near Nag Pokhari, an area that had heavy damage,
whereas buildings nearby escaped almost undamaged



2015 Ram Kumar KC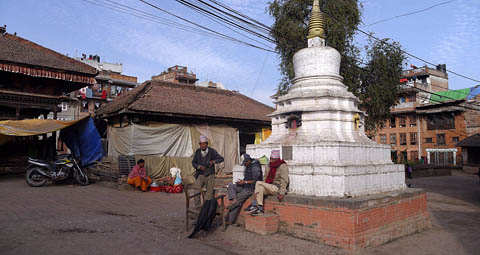 Parti next to Nag Pokhari now used as emergency shelter



2015 Ram Kumar KC



Announcements
Film Status Update:
Recovering from Disruption: A Comprehensive Approach to Building a Better, More Sustainable World
Carfree.com, HealthBridge Canada, and Work for a Better Bangladesh released this 53-minute film in August. The film proposes solutions to the challenges on the way to a sustainable society. The film proceeds from the carfree city as a point of reference and essential step in solving many of the problems we face.

A slightly recut version, with a few more pauses for air, has just been posted at the Vimeo link above. Some other minor improvements were also made.

I am sad to say that, although the film was enthusiastically received by live audiences, online viewership of the film has been modest. I urge supporters of the carfree agenda to view the film and, assuming you like it, to arrange a local showing followed by a discussion program. Long films rarely get large followings online - people click away after a minute if there have been no cute cats or live murders.

The film has been subject to somewhat contradictory criticisms. It's too long, but there's too much material presented. I don't know how to respond to this. There is an immense amount of material in a relatively short film. We were convinced of the need for a wide-ranging look at responses to climate change. At the same time, we are certain that current approaches simply do not go far enough.

The film was released under a Creative Commons non-commercial, attribution-only license, and anyone can make a localized version. We can furnish all the materials that went into making the initial version.

The film can be viewed or downloaded on line for free. It may be shown to anyone as long as an admission fee is not charged. The film is available at:

Carfree channel at Vimeo, which gives access to another 30 videos on carfree cities and related issues.

If you watch a video, please Like it by clicking the Heart icon in the top-right of the video frame (Vimeo) or clicking the Thumbs Up icon below the video (YouTube). Posting to Twitter and Facebook will also help get the message out to a broader audience.
Links Pages Updated
Carfree.com tries to maintain a long list of links, and our Ram Kumar has just gone through them and eliminated the dead ones. The links pages are organized by category, with each site appearing in all relevant categories. The order of the links is an indication of our assessment of their importance and usefulness. Feel free to suggest new links by sending mail.
Revisiting Two Monographs
Ten years ago this month, I published "A Brief History of Urban Form: Street Layout Through the Ages" in the Papers section of Carfree.com. This was the result of a year's intensive study of the history of urban form. This paper became part of the foundation of Carfree Design Manual, and a shortened version is included in the book. I recently read it again after a long lapse and would like to recommend it to readers of Carfree Times. It's a fairly long read and will not yield much from a quick browse.

This is also a good time to recall a brilliant thesis by Robert S. Matthews, MUP, that was also written ten years ago. Rob had done an internship at Carfree.com and did much of the work on his thesis during that period. It is a fascinating comparison of the carfree Reference Design with the Wallingford neighborhood, a highly-prized, near-in suburb of Seattle. Rob compared the two districts on many different measures. Even I was surprised by how favorably the Reference Design compares to what can be regarded as best practice in suburban design. This paper is over 100 pages long, but a lot can be gleaned in 15 minutes. It, too, is available on our web site: "The Production of Sustainable Urban Space: A Comparative Analysis of Wallingford and the Carfree Reference District."
Earthquake Status Update for Bhaktapur
2015 has been a very difficult year for Nepal. As if the damage from the two major earthquakes this spring were not enough, Nepal has now been subject to a blockade on its Indian border for more than two months. Very little fuel, medicine, or other supplies are reaching the Kathmandu Valley. There is a thriving black market in motor fuels at exorbitant prices. Despite this, there are still traffic jams in Kathmandu.

The blockade arose when Nepal adopted a new constitution that is not to the liking of some groups in the Terai region (a lowland area along the border with India). India has tacitly supported the Nepali protesters. Progress towards resolving this dispute has so far been very slow, and it may continue through the winter, which will bring hardship to most people, as cooking gas is all but unavailable.

The demolition phase of disaster recovery is essentially over, but very little reconstruction has begun. Many families are facing a winter in tents and temporary shelters. The schools have been closed for a lot of the school year due to both the earthquake and the blockade.

Notwithstanding these challenges, the people of Nepal remain cheerful and optimistic. Travel here is more difficult and expensive than usual due to the fuel shortage, but intrepid travelers are still coming in significant numbers. (The package tour business has been very hard hit.)
The Books
Carfree Cities and Carfree Design Manual are widely available from booksellers in Europe and North America.

World Carfree Network
Carfree.com supports World Carfree Network (WCN). Anyone who could provide significant seed money for the Network to resume operations would attain instant Guardian Angel status.

Feature Article
Celebration of World Carfree Day 2015 in Thamel and Kilagal, Kathmandu, Nepal
By Dristy Shrestha
Carfree Times #75 reported on the celebration of World Carfree Day 2014 in Kathmandu, Nepal. Last year, KtmWalks celebrated a week-long carfree event in several parts of the city on different days. Bhaktapur also celebrated Carfree Day for a few hours in Taumadhi Square, a first for Bhaktapur.

On October 2nd and 5th of this year, Kathmandu again celebrated World Carfree Day with events that were scaled down from last year. Bhaktapur was unable to celebrate Carfree Day at all. These scaled-backs events were a consequence of crisis caused by the ongoing Indian blockade of Nepal as well as the earthquake, which was especially severe in Bhaktapur.
Background
Every year on or about 22 September, people all around the world get together to reclaim their streets and neighborhoods as a way to remind us that the world does not have to accept a car-dominated society. This event promotes priority for walking, cycling, public transit, and public spaces. The development of communities with local job opportunities and shopping within walking distance are stressed. Reducing the adverse effects of car culture in our society is also a central theme. Carfree Day also illustrates the advantages of reduced pollution, more sustainable living, greater community engagement, and enjoyment of a healthier way of life.
World Carfree Day Events Around the World:
This year, 330 cities and towns around the world celebrated World Carfree Day. Paris celebrated World Carfree Day on 27 September 2015 by banning motor vehicles in the center city and reducing the speed limit in other districts. Dhaka, Bangladesh, celebrated its first-ever Carfree Day on 21 September. Guragaon, India, rather than simply observing a carfree day once a year, is holding a carfree day every Tuesday.
Carfree Day in Kathmandu
The date originally proposed for the carfree celebration was 22 September, the official day for observing World Carfree Day. However, it was actually observed two weeks later here because Nepal had just adopted a new constitution and because that date conflicted with the observance of Indrajatra, a major local festival.
Obstacles and benefits resulting from the Indian blockade
On 23 September, India imposed an unofficial blockade on all supplies to Nepal including fuel, virtually all of which comes through India.

This presented both obstacles and opportunities for the Carfree Day events. On the one hand, community members were reluctant to organize an event during the crisis. There were doubts about how local residents and the business community would respond to the event, and questions about media coverage at a time when political matters were the top priority. The number of participants at the event would also be affected because transport to the event would be difficult even if advance promotion of the event succeeded.

On the other hand, the reduced vehicular traffic would simplify traffic control in the temporarily carfree areas. The fuel crisis also raised the issue of a way of life so dependent on supplies of fossil fuel and made Carfree Day events more relevant and immediate. The issue of city planning would also be brought into sharp focus.
Organizing Carfree Day in Thamel
As a result of the earthquakes, the planning for Carfree Day celebrations only began in early September. On 30 September, we held a press conference at Mandala Street, the first street in Kathmandu free of private vehicles. Following the earthquakes, local businesses in Thamel (the center of tourism in Kathmandu) wanted to promote Thamel as a safe place for foreigners.

Thamel Tourism Development Council (TTDC) is a group of tourism-related businessmen and local householders devoted to development of tourism in Thamel.

The event started with the traditional Dhime Baja (traditional band), peacock dance, and ribbon cutting ceremony by the chief guest. There were street activities on each stretch of the road. There was street dancing, a street concert, street art, an ethnic ramp walk, a slow-cycle race, various games, and a showing of a new, short documentary on Mandala Street, the first carfree street in Thamel.

Many people from local businesses in the Satghumti area joined in the street dancing. Last year, we did not see many kids enjoying life on the carfree street, but this year the street was filled with children and young people enjoying the games. Unlike last year, we did not have to explain to people what the event was about, as they were already familiar with it from last year.

As a consequence of the blockade, people also began to realize the importance of local urban conditions and the consequences of depending on foreign supplies of fuel. There was also increased awareness of the importance of public transport and improved walking and cycling conditions. Despite the struggle to find bottled gas to run the stoves in their homes and hotels, people were positive about the coming changes in the political situation as a result of adopting a constitution.

The event was considerably more effective than the KtmWalks team had anticipated. TTDC also proposed to plan Carfree Day as a quarterly event and indicated a willingness to include it on their yearly calendar.
Organizing Carfree Day in Kilagal
During the earthquakes, the core of Kathmandu was more heavily damaged than the newer concrete buildings in the city expansion districts. Kilagal, being one of the oldest parts of the city, suffered considerable damage, and the community was in no mood to celebrate Carfree Day or restrict vehicle movement.

Even now, demolition of damaged buildings in the area is ongoing. Recovery of artefacts from damaged monuments was continuing. Almost no reconstruction has begun.

After a few meetings and discussions with the community people, it was nonetheless concluded that Kilagal should not miss celebrating Carfree Day. The proposed date for the event was 26 September, but it was postponed to 5 October, as already noted. This year the theme for UN-Habitat on World Habitat Day was Public Spaces for All. The date of World Habitat Day coincided with that of World Carfree Day, so the local UN-Habitat office also took part in the carfree event.

Heritage conservation work began soon after the earthquake. Among other activities, a heritage conservation shelter was built in Kilagal's Itumbahal Square, where ancient artifacts such as carved wooden windows were being collected for restoration. This event also increased awareness about conservation of open space and streets with cultural significance that are now threatened by traffic.

Local community groups and business stakeholders seemed to be familiar with the concept of the carfree day and accepted the idea more readily this year than last. In previous events, the community had not been clearly introduced to the concept and purpose of the event, and so they took the role of observer, not participant, and had more critical views regarding the event. This time the community participated in managing the event.
Local community reactions to this year's event
There were fewer street activities this year due to the short time available to prepare for the event, but local business people took advantage of the event by extending their shops into the street, which improved the festive atmosphere of the event.

Some representatives from the community expressed interest in holding a regular carfree day, probably on a Saturday. This also indicates that the community is beginning to take ownership of the event. The event was largely self-organizing.

The day was distinctly cleaner, more peaceful, and more pleasant in the area of the event.
Conclusions
The concept and relevance of a carfree street has been well observed among the communities where the event had been conducted previously, thus indicating the success of last year's Carfree Day.

Differences between this year's event and last year's:
This year there was self-ownership within the community groups, so they took a lead in arranging the event to make it successful.
The locals participated enthusiastically in the various activities held during the event.
There was a rise in awareness about celebrating carfree days in future for both increased tourism and a more peaceful environment.
There was greater awareness of the importance of the street activities and shops in developing local businesses; the opening of new night markets was also considered.
There was greater support for the event and the carfree concept from local stakeholders and the community.
Prospects of Carfree Days
The post-event discussion also called attention to the identification and division of core area streets into distinct sections, with the idea of extending future events to other areas in central Kathmandu.

The KtmWalks team discussed the possibility of a promotional community presentation to explore the prospects for extending future events to other cities and towns in the Kathmandu Valley, such as Patan and Kirtipur, and possibly even outside the Valley.

The possibility of making core areas carfree during major festivals and cultural events was also discussed.

The community's desire for a repeat event sooner than the next World Carfree Day was a highly favorable outcome and indicates that local people are taking ownership of the event and the concept. The event has become locally relevant, which helps to ensure its continuity.

In a country like Nepal, World Carfree Day can be a good way to introduce the discussion about motor vehicles in cities and to show how our cities might look, feel, and sound without cars and motorcycles.

News Bits
The links below will open in a new browser window or tab, depending on your browser; (Ctrl+click may behave differently):
Urban Planning and Design
This site gives before-and-after photos of various areas that have undergone recent modifications. The changes shown are not always from auto-centric to carfree, but in all cases the pedestrian is treated much better than before. There are a great many examples given. Useful resource. (Urb-i.com)
"China Is Building A Huge Eco-City Where No One Will Need To Drive"

Chengdu is building a new satellite city of 80,000. It's being billed as "carfree," but the plans show an awful lot of car parking. It's also based on skyscrapers, which are not a sustainable form and which are ultimately anti-human. Just as with Masdar, it's a hyper-technology solution to a problem that was solved by the ancient Greeks. (BusinessInsider.com)
"Carless cities are Europeís future"

"There's another way for cities to go green in the meantime, and itís not expensive. Cities that restrict car traffic, tax fossil-fuel burners, slash public transportation costs, phase out diesel and revamp their avenues in favor of bikes and pedestrians can shrink their carbon footprints dramatically - in the way Copenhagen, Amsterdam, Zurich and Barcelona have already done. (Aljazeera.com)
"Africa's cleanest city is officially a car-free zone"

Kigali in Rawanda is probably Africa's cleanest city. Its central business district is about to become carfree, with even minibuses banned. The new, large buses will be able to run without traffic congestion. It's really a remarkable change on a continent not known for livable cities. (Designindaba.com)
"Boring cityscapes increase sadness, addiction and disease-related stress. Is urban design a matter of public health?"

Obviously, yes, but we still need this matter demonstrated scientifically. Here's part of the evidence: "One of the sites in the study was midway along the long, blank facade of Whole Foods Market. A second site was a few steps away, in front of a small but lively strip of restaurants and stores with lots of open doors and windows, a happy hubbub of eating and drinking and a pleasantly meandering mob of pedestrians." The Modernists really are killing us. (Aeon.co)
"The Long-Term Impact of a Month Without Cars"

"For a month in 2013, the 4,300 residents of a historic neighborhood called Haenggung-dong left their cars parked in vacant lots elsewhere. Instead of driving to get around, they took buses, walked or rode bicycles." The result? "Kids played in streets once clogged with traffic. The areaís many elderly and disabled residents had no trouble crossing intersections. People walked. And they talked to each other, rather than blaring their car horns." Anyone surprised? (CityLab.com)
"What a Bike-Crazy California Town Can Teach Us About Car-Free Cities"

"Several weeks ago, Philadelphia and Paris each closed part of their downtowns to cars. Soon afterward, a Change.org petition calling for more 'open streets' weekends in Philadelphia launched and a Slate article urged more cities to try going car free. And Davis did just that - in 1967. For 48 years, 800 acres of the University of California, Davis central campus has been closed to cars." (NextCity.org)
Car Trouble
"Car-free Europe? Paris, Brussels, Stockholm try it for a day"

"Other European cities planning events include Madrid; Budapest; Wuerzburg, Germany; and Nottingham, England. But Europe's arguably biggest biking nations - the Netherlands and Denmark - aren't participating, according to a tally by Juan Caballero, project support officer at Eurocities. The countries with the most governmental units that have registered plans for a car-free event with European Mobility Week are Austria (with 167), Hungary (159) and Spain (128)." Spain is the sleeper here. Most people don't know that nearly all Spanish cities have significant, permanent carfree areas in their old centers. (MarketWatch.com)
"Will the Pope's Visit Lead to Massive Car-Free Days in Philly?"

"Since Pope Francis's visit this weekend, #pOpenstreets has become a rallying cry in Philadelphia. The hashtag has turned into a collective record of photos and insights about the surprising amount of fun and freedom that city residents enjoyed when 4.7 square miles of the city center went car-free." Imagine: it could be like this every day. (Usa.StreetsBlog.org)
"6 Big European Cities With Plans to Go Car-Free"

"Plans to ban private cars in parts of a downtown area have become so common among big European cities that it's getting hard to keep track of them all. Since the start of 2014 alone at least six metros have announced ambitions to convert parts of their central districts into pedestrian havens with less automobile congestion and air pollution." (CityLab.com)
"Scenes From the Big Car-Free Day in Paris "

"About a third of Paris was free of motorized vehicles from 11 a.m. to 6 p.m., except for buses and taxis. Car speeds were capped at 20 kilometers per hour in the rest of the city." This is a big deal in Paris, which has never acted on such a scale before. The city is wrestling with severe air pollution episodes. (Usa.StreetsBlog.org)
"Why Oslo is banning cars from the city center"

"City authorities hope that by 2020, the new plan will cut Oslo's pollution to 50 percent of 1990 levels, and reduce car traffic in all of Oslo by 20 percent by 2019 and 30 percent by 2030." Already, the center of Oslo is fairly calm and quiet. (CsMonitor.com)
"Swedish capital goes car free for the first time"

"Cars are being banned from large parts of Stockholm city centre on Saturday as the Swedish capital for the first time takes part in a Europe-wide initiative to encourage greener travel." (TheLocal.se)
"Entire Delhi will go car-free on Jan 22, we will cycle to work, says Kejriwal"

"The national capital will go car-free on January 22, Chief Minister Arvind Kejriwal said on Sunday at an event to mark the cityís second car-free day in West Delhiís Dwarka. The event is an initiative by the Delhi government to encourage people to give up using private vehicles and use alternative modes of transport such as buses, cycles or the Metro instead." It's Delhi we're talking about here, which has the distinction of the world's worst air. (IndianExpress.com)
"It's easier for Americans to live without a car today than during any time over the past 60 years. In fact, it's becoming eminently practical and increasingly common for some people to live either car-free or 'car-lite' (defined as one car per household rather than two or three)." Well, one car per household is not car-lite by my definition, but it's an improvement. (Aarp.org)
"Why I'm giving up on car-free living"

This is a sad tale from New Zealand. It's nasty car drivers who forced her off her bike. (Stuff.co.nz)
Climate Change
"Why we need a politics of the far future"

A new study suggests that many people think that we are taking extreme risks with the future of civilization. Most Australians (53%) believe "there is a 50% or greater chance our way of life will end within the next 100 years, and a quarter (24%) that humans will be wiped out." Yet we stagger into the future without a plan. (ClimateCodered.org)
"Consume more, conserve more: sorry, but we just can't do both"

"Economic growth is tearing the planet apart, and new research suggests that it canít be reconciled with sustainability." This is George Monbiot talking, respected Guardian economist. This is the dark, ugly secret of "modern" economics. We can pretend things will be fine if we carry on, but the reality is that only "degrowth" in rich nations (combined with very modest growth in poor nations) can save the world. It's what our film, "Recovering from Disruption," is all about. (Guardian.com)
"New studies deepen concerns about a climate-change 'wild card'"

"One study, by three scientists from Germany's Alfred Wegener Institute, uses computers to model how Greenland's rapid thawing could affect the Atlantic meridional overturning circulation, the system that pushes cold, dense saltwater into the deep ocean and helps transport warm water northward, helping to warm Europe's climate." (WashingtonPost.com)
"The math on staying below 2° of global warming looks increasingly brutal"

A new paper in Environmental Research Letters shows clearly how far the world is from limiting global warming to 2°C. It shows that the USA, Europe, China, and even India must drastically rethink their climate policies. Time for carfree cities. (Vox.com)
"World on track for warming 'far above' 2°C target: analysts"

"Instead of the UN-targeted ceiling of 2° Celsius (3.6°F) of average warming over pre-Industrial Revolution levels, the world was on track for 2.9-3.1°C by 2100, according to the Climate Action Tracker (CAT), a tool developed by a consortium of four research organisations." And the much-touted 2°C ceiling is not safe. (News.Yahoo.com)
"World Set to Exhaust 75% of 'Carbon Budget' by 2030, UN Says"

"The pledges will be included in a deal that 195 nations aim to seal in Paris in December, for the first time binding all countries to limit their emissions. While the aggregate falls short of the targeted 2-degree cap on temperatures, the UN said it provides a foundation to build from." Well, that's a pleasant way to look at it, but 2030 is only 15 years away. What are we going to do? Just stop all fossil fuel consumption one day in 2035? We need a better plan and much quicker emission cuts. (BloomBerg.com)
"UN Report Shows World's Pledges for Paris Are Recipe for Climate 'Disaster'"

"In fact, if emissions continue to go unchecked, current trends indicate that the global temperature rise could be by as much as 4.5°C by 2100, the UN reported - well above the threshold climate experts say would bring catastrophic floods, droughts, and other extreme weather events." (CommonDreams.org)
"Most Comprehensive Paleoclimate Reconstruction Confirms Hockey Stick"

"The past 2000 years of climate change have now been reconstructed in more detail than ever before by the PAGES 2k project. The results reveal interesting regional differences between the different continents, but also important common trends. The global average of the new reconstruction looks like a twin of the original 'hockey stick,' the first such reconstruction published fifteen years ago." (ThinkProgress.org)
"'Exxons of Agriculture' Wielding Power to Block Real Climate Solutions: Report"

"The publication by GRAIN, an international nonprofit organization that advocates for locally-controlled, biodiversity-based food systems, describes how the fertilizer industry, whose products the group says are responsible for up to 10% of global greenhouse gas emissions, has joined forces with major corporations like Walmart in order to cast itself as a purveyor of 'climate smart' policies while protecting its interests." Folks, we've got a real struggle on our hands. Fixing the mess is not going to be easy, and a lot of the big money is arrayed against us. (CommonDreams.org)
"World set to use more energy for cooling than heating"

"The world faces a looming and potentially calamitous 'cold crunch,' with demand for air conditioning and refrigeration growing so fast that it threatens to smash pledges and targets for global warming." This is no surprise, but it's really bad news. Of course, the hotter it gets, the more demand there will be for air conditioning. (Guardian.co.uk)
"With Renewables on the Rise, Dirty Fuels Losing Competitive Edge"

Research company Bloomberg New Energy Finance reports that "wind power is now the cheapest electricity to produce in both Germany and the U.K., even without government subsidies. Though Denmark passed the same milestone last year, this is the first time that threshold has been crossed by a G7 economy." This is actually highly significant. If we can just knock out subsidies for fossil fuels, production of them should decline rapidly. (CommonDreams.org)
"Cities Could Save $17 Trillion Just By Reducing Their Greenhouse Gas Emissions"

"The report looked at actions such as 'aggressively' deploying high-efficiency lighting, 'ambitiously' installing solar on buildings, increasing the fraction of methane captured from landfills, and expanding public transit. It found that, if all of the measures were implemented, cities would reduce their combined greenhouse gas emissions by 3.7 metric gigatons of carbon dioxide equivalent by 2030. That's more, the report notes, than the annual emissions of India." These are nice reductions but still nowhere near enough. (ThinkProgress.org)
Transport, Pollution, etc.
"The innovative delivery system transforming Gothenburg's roads"

"Itís a simple idea. The Swedish cityís Stadsleveransen system pools deliveries for 500 shops and businesses - drastically reducing shopping centre traffic and freeing up once-congested streets for pedestrians and cyclists." Oh, yes! (Guardian.com)
"New Study Shows Just How Deadly Air Pollution Really Is"

A new study in Nature found that "outdoor air pollution kills 3.3 million people around the world every year. And that number is set to rise in the next 35 years - if worldwide emissions continue unabated, the number of deaths caused by air pollution each year could double to 6.6 million by 2050." My cardiologist friend in Montreal, Dr. Reeves, has a simple prescription for heart health: stop burning fossil fuels. (ThinkProgress.org)
"The Best Ways to Get to Work, According to Science"

"Driving is stressful. Traffic is stressful. Being late is stressful. These aren't groundbreaking observations, but researchers are finding that specific types of commuting produce very different levels of stress. In August, a team of researchers from McGill University published a paper in Transportation Research that asked a seemingly simple question: Which type of commuter endures the most stress: walkers, transit riders, or drivers?" Driving is, of course, the most stressful and worst for your health. (Gizmodo.com)
"Beijing banned cars for 2 weeks and the sky turned perfectly blue. Guess what happened the next day?"

"A parade this size takes months, sometimes even years, of preparation. And in the case of Beijing's Victory Day parade, numerous restrictions were put in place leading up to the festivities. Hundreds of factories were shuttered, and half of the 5 million registered cars in the city were banned from driving in the main urban hub." The day after the parade, it was business as usual, and air pollution levels rocketed. (UpWorthy.com)
"Volkswagen Diesel Scandal 2015: Emissions Likely Killed Up To 94 People In The US, Analysis Shows"

"Volkswagen's pollution-control deception wasn't victimless trickery; it likely killed from 5 to 20 people a year in the United States in recent years, according to a statistical analysis by the Associated Press." This is a terrible outrage. Along with corporate personhood goes corporate responsibility. I have argued that, having committed murder, VW should itself be executed in America, the land of capital punishment. (IbTimes.com)
"Scientists Discovered High Levels Of Radioactivity In A Common Form Of Waste"

"Radioactive elements are present in both coal and coal ash from all three major coal basins - the Illinois, Appalachian, and Powder River basins. The levels of radioactivity in the coal ash were also up to 5 times higher than levels in normal soil and up to 10 times higher than in the parent coal itself." (ThinkProgress.org)
"By 2018, Dutch rail will be fully powered by wind"

"By 2018, all electric trains in the Netherlands, which carry an estimated 1.2 million passengers per day, will be wind-powered." There are a very few diesel-hauled passenger trains, but the overwhelming majority of traffic is electrically hauled. (Mnn.com)

About Carfree Times
Next Issue
The next issue of Carfree Times is scheduled for March 2016.
Subscribe to Carfree Times
Carfree Times is published quarterly at Carfree.com. To receive e-mail notices of new issues, please visit the subscription page or send e-mail with the word "Subscribe" in the subject line. We do not share our mailing list.
Write for Carfree Times
Interested in writing for Carfree Times? We welcome articles on a wide variety of subjects and offer an opportunity to publish letters to the editor and guest editorials. Drop us an e-mail.
Statement of Ownership
In this day of corporate-influenced media, Carfree.com declares its ownership and sources of support at the end of each year.

Carfree.com is wholly owned by Joel Crawford, the legal name of author J.H. Crawford. Its operation is financed by J.H. Crawford. It generates no revenues directly but does help support book sales. Carfree.com accepts review copies of books but makes no commitment to review them. J.H. Crawford receives no commissions from the sale of books mentioned on Carfree.com.

The views expressed at Carfree.com are those of J.H. Crawford, except for articles, letters, editorials, photographs, and films that carry the names of other authors. The inclusion of these signed texts is at the sole discretion of J.H. Crawford, who does not necessarily agree with the views expressed. All other content, except quoted material, is written by J.H. Crawford.

E-mail announcements of new issues of Carfree Times are mailed to approximately 750 subscribers. A rough estimate of first-year circulation for each new issue is 5000. All the issues ever published are still being read. Carfree.com as a whole will have served approximately 1.3 million pages and 95 GB of files in 2015.




Back to Carfree.com
Carfree Times Home
Back to Carfree Times Issue 79
Forward to Carfree Times Issue 81

E-mail
carfree.com
Text and illustrations, except for guest content, placed in the public domain