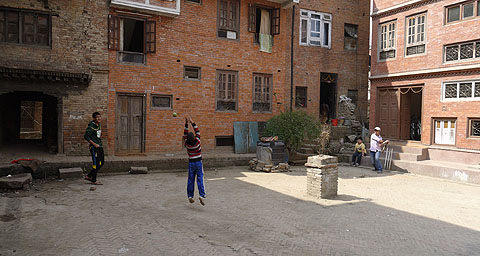 Cricket in the courtyard



Bhaktapur 2016, Ram Kumar K.C.


Announcements
Slimming Down
Now that I no longer have staff to help with Carfree Times, I have decided to go back to the old, one-column layout that has only a few photographs per issue. I am very busy at the moment with a move to Haarlem, the Netherlands, and can't take as much time as required to shoot and process dozens of photographs. It also happens that I have no Feature Articles ready to run, so this issue is just links to interesting articles since the last issue.
The Books
Carfree Cities and Carfree Design Manual are widely available from booksellers in Europe and North America.

News Bits
The links below will open in a new browser window or tab, depending on your browser; (Ctrl+click) may behave differently:

"Car Sick"

George Monbiot recently wrote this and released it into the public domain. I thought it was useful enough to reproduce here. (Monbiot.com)
What Traffic Fumes Do to Our Children

Every year, we discover more about the harm being done to our children by the fumes that cars and other vehicles produce.

The more we learn, the worse it looks. In polluted places, the damage to their health can be very serious.

Here is what we now know about the harm that traffic pollution can do to children:

It can damage the growth of their lungs. This means that the lungs of children who have been affected don't work so well. The damage can last for the rest of their lives.

It raises the risk of asthma and allergies. For children who already have asthma, pollution can make it worse.

It can damage the development of their brains. Air pollution can reduce children's intelligence, making it harder for them to learn.

It can change their behaviour and reduce their happiness. Air pollution has been linked to anxiety, depression and Attention Deficit Disorder.

It raises the risk of heart disease later in their lives.

It can cause cancer, both in children and when they become adults.

Unborn children can also be affected by the pollution their mothers breathe. Air pollution is linked to babies being born prematurely and small.

Pollution inside your car can be much worse than pollution outside, because the fumes are concentrated in the small space.

By driving them to school and by sitting in our cars with the engines idling, we are helping to poison our own children.

We don't mean to do this to our children. But once we know how much we are hurting them, we can stop it, by changing the way we travel. Walking and cycling are ideal.

Groups like Living Streets can help schools to turn this around. Together we can protect our children from harm.
"Millions of premature births could be linked to air pollution, study finds"

"Premature births across 183 countries may be associated with fine particulate matter, a common air pollutant, with Africa and Asia especially affected" (Guardian.com)
"Where the wind blows: how China's dirty air becomes Hong Kong's problem"

"Last month there were 300,000 doctor's visits in Hong Kong linked to smog - much of which wafts over from mainland China." That sludge eventually finds its way into your lungs, too. (Guardian.com)
"Utrecht's cyclists save the city a quarter of a billion Euros [Translated from Dutch]"

The results are from a study funded by the city. (NOS)
"Driverless cars could change urban landscape"

Driverless cars will not, of course, solve our traffic problems. They could actually make things worse. We should consider the adoption of this technology before it's too late to stop it. (ChicagoTribune.com)
"Electrification: overhead lines for freight trains, not HGVs"

There are proposals to electrify highways for heavy trucks. This article argues that the money should be spent electrifying railroads, many of which are still diesel hauled. Rubber tires are not the best medium for rolling our freight along. Rail freight is much more energy efficient. (allianz-pro-schiene.de)
"Municipal Transport Amsterdam: 'Amsterdammers need to get used to standing in the tram' [Translated from Dutch]"

So, just how often do you have to stand in your car? Will the manager of this organization be leaving his car at home to stand in the bus? No, I didn't think so. (AT5.nl)
"Amsterdam wants to move more freight over the canals [Translated from Dutch]"

After reaching a low point around 1970, freight is once again being moved on the canals. DHL has been using the canals for years because of delays with street traffic. (Logistiek.nl)
"Why Are Little Kids in Japan So Independent?"

"In Japan, small children take the subway and run errands alone, no parent in sight. The reason why has more to do with social trust than self-reliance." (CityLab.com)
"California Sea Level Could Rise 10 Feet By End Of This Century"

"A California government council is warning that climate change could cause ocean waters off the coast to rise far higher than previously anticipated - an increase in sea-level by as much as 10 feet by the end of the century." That should get somebody's attention. (HuffingtonPost.com)
"Arctic meltdown: Sea and land ice are cracking up at a record pace"

"The images from the Arctic ice death spiral are haunting. The impacts will be terrifying." Basically, the end-of-winter Arctic ice volume is down by more than one-third in less than 40 years. (ThinkProgress.org)
"Watch Oslo transform into a car-free utopia"

I'm not sure about the "utopia" part, but Oslo, already a nice city, should be delightful in just a few years. (Curbed.com)
"The death of diesel: has the one-time wonder fuel become the new asbestos?"

The whole dieselgate thing is truly disgusting. I hope the people responsible do at least token jail time. As the cardiologist Dr. Reeves told me some years back, the cure for heart disease is to stop burning fossil fuels. Now more than ever. (TheGuardian.com)
"Scientists made a detailed "road map" for meeting the Paris climate goals. It's eye-opening."

The only way to stop global warming in time is to make dramatic cuts in fossil fuel consumption starting today and progressing much faster than anyone thought was necessary. (Vox.com)
"Extreme weather events linked to climate change impact on the jet stream"

"Unprecedented summer warmth and flooding, forest fires, drought and torrential rain - extreme weather events are occurring more and more often, but now an international team of climate scientists has found a connection between many extreme weather events and the impact climate change is having on the jet stream." (ScienceDaily.com)
"Study: Natural Gas Power Plants Emit up to 120 Times More Methane Than Previously Estimated"

"Researchers at Purdue University and the Environmental Defense Fund have concluded in a recent study that natural gas power plants release 21-120 times more methane than earlier estimates." This is extremely bad news. Maybe Trump is right for all the wrong reasons - burning coal to generate electricity may actually be better for the climate than burning natural gas. Or we could just fix the leaks. (DesmogBlog.com)
"Grab and go: the bike sharing app that's transforming Chinese travel"

"The bike-sharing companies that are powering a transportation revolution in China's urban centers are not like those in the rest of the world. Their bikes have no docking ports or designated zones for parking. Instead, riders open their smartphone apps, hop on, and start pedaling." This is getting very close to the drag-and-drop bike as I proposed it years ago. (WEForum.org)
"WHO report: Polluted, unhealthy environment causes 1.7 million deaths of children globally each year"

"Over one in four or an estimated 1.7 million global deaths of children under five years of age each year are due to polluted or unhealthy environments, the World Health Organisation said in a new report on 6 March, 2017." This really is taking on epidemic proportions. Does anybody care? (Yahoo.com)
"How We're Destroying Our Kids' Brains"

"As many as one in six children has a neurodevelopmental disability, and scientists are finding links to pollution." Somewhere out there is a smoking gun, and air pollution is the prime suspect. (MotherJones.com)
"Cars don't just choke our children - they tear a hole in our communities"

"The government's defeat in the high court last week was devastating - but I'm not talking about the Brexit judgment. The environmental lawyers ClientEarth sued it over air pollution for the second time, and for the second time they won. After trying every trick in the book to continue poisoning the British population, the government will now have to take action." Fat chance, this is Britain we're talking about. (TheGuardian.com)
"All fossil-fuel vehicles will vanish in 8 years in twin 'death spiral' for big oil and big autos, says study that's shocking the industries"

Things are moving right along, certainly, but I don't think 8 years is realistic. And, of course, electric cars are still cars. (FinancialPost.com)

About Carfree Times
Next Issue
The next issue of Carfree Times should be published in late summer.
Subscribe to Carfree Times
Carfree Times is published quarterly at Carfree.com. To receive e-mail notices of new issues, please visit the subscription page or send e-mail with the word "Subscribe" in the subject line. We do not share our mailing list.




Back to Carfree.com
Carfree Times Home
Back to Carfree Times Issue 85
Forward to Carfree Times Issue 87

E-mail
carfree.com
Text and illustrations, except for guest content, placed in the public domain