Issue Contents
Photo Essay:
An Introduction to Haarlem
Now that I'm living in Haarlem, the Netherlands, I thought it might be useful to familiarize readers of Carfree Times with this lovely city, one that is really an excellent model for carfree cities. It is only about two-thirds as dense as the Reference Design, which translates in practice roughly to a maximum six-minute walk to the central transport halt instead of the five minutes on which the Reference Design is predicated. I think most people could live with that.

Click on an image to open a high-resolution version in a new tab.
Ctrl+w will close the new tab and return you to Carfree Times.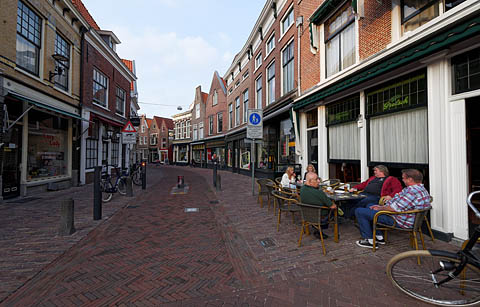 This is Haarlem in a single photograph. Notice the narrow, curving street with 2-3 story buildings, neighborhood café, local shops, bikes, and measures to keep out cars. These things taken together make for a city with an exceptionally high quality of life. All that's missing here are the abundant plants that are indeed found in most residential streets.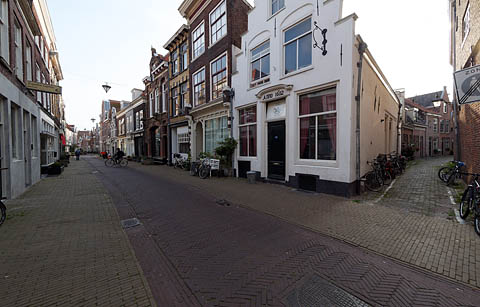 Haarlem is an old city. It lies just 20 km (12 miles) west of Amsterdam and actually received its city charter a few years earlier. The white building brags that it was built in 1602, although it has obviously been restored, probably several times.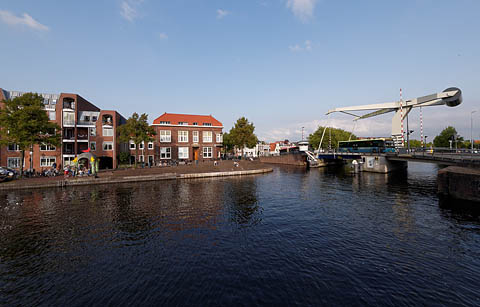 In the same way that, several centuries later, the Hudson River made possible the founding of Nieuw Amsterdam (today's New York City), Haarlem was founded on the Spaarne River where it passed through an area of comparatively high ground. The Spaarne is navigable for its 10-kilometer length but is today of only minor commercial importance. It once drained the Haarlemmermeer, a large lake that is today the site of Schiphol airport.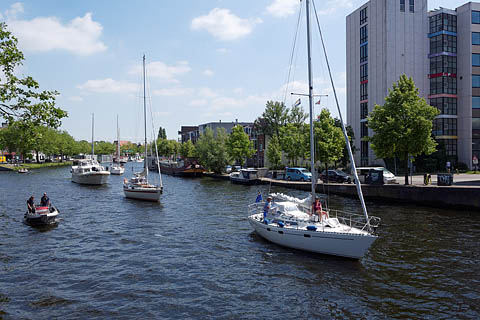 The river carries quite a lot of pleasure traffic in the warmer months. It's fairly quick to get from the Spaarne out into the North Sea, and there are some boatyards along the southern reaches of the river.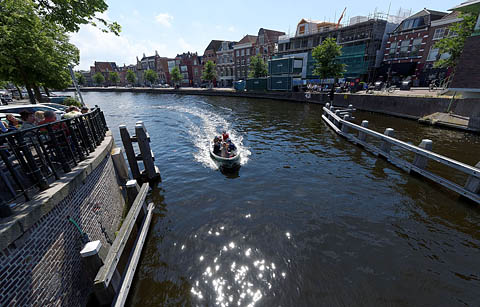 In recent years, the century-old iron skiffs with single-cylinder, hand-cranked diesels have almost entirely disappeared, to be replaced with sleek, overpowered launches that cost a small fortune.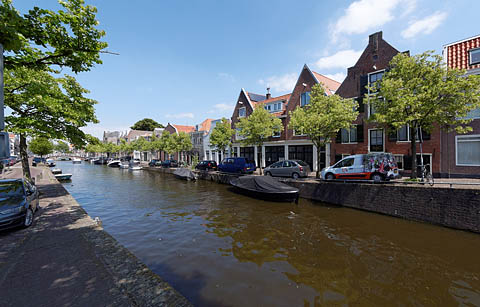 The old city had largely taken its shape by 1550, as shown in the map at the top of the page. (Do be sure to click through to the detailed map, which has north at the top.) As was universal in cities at that time, Haarlem was built with narrow streets, but it differed from many cities by the addition of narrow canals.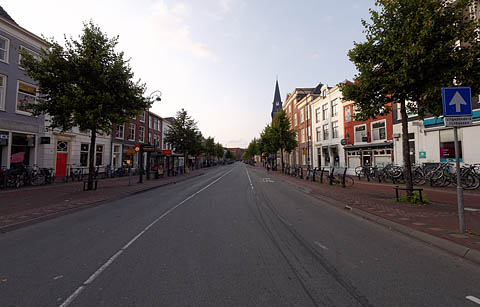 The Gedempte Oude Gracht, seen here, was a canal that was filled in a century or more ago and is today the widest street of any length in central Haarlem. Some of it is limited to bus traffic and bikes.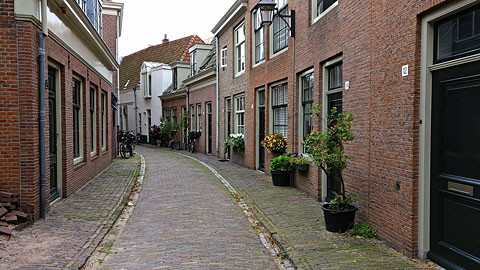 Haarlem has a lot of streets similar to this one. They are so narrow that cars barely fit or simply don't fit at all. In nearly all streets, cyclists are allowed to ride in either direction whereas vehicles may be limited to a single direction. Curiously, many streets are slightly curved, which doesn't actually appear to have been strictly necessary in most cases.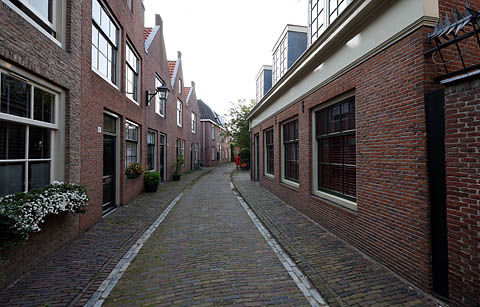 I have long argued that straight streets are a boring Cartesian imperative. Maybe the Haarlemers, a century before the age of Descartes, agreed.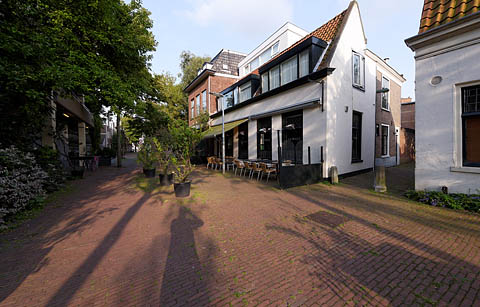 Haarlem is relatively typical of Dutch cities that did not suffer major war damage. (Rotterdam was largely destroyed and rebuilt as an auto-centric city.) The street patterns in the old city centers are thus, for the most part, centuries old. They would have been made wide enough for some wagon traffic, but the streets had many purposes, and transport was not necessarily even the most important. Until the 1960s, Dutch kids played routinely in the streets. In some ways, the global anti-car movement began in Amsterdam with some pamphlets (e.g., De zelfzuchtig personenauto, 1953) and actions by children in the Pijp district starting around 1967. The kids were not happy about having to give up the streets to cars, and they actually exerted successful pressure on the city government.
Squares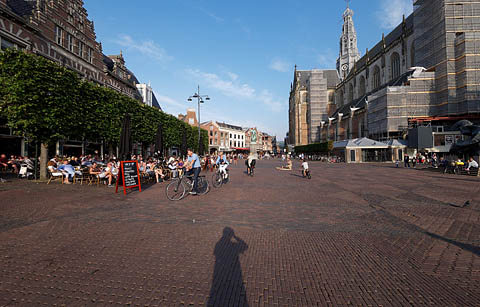 Haarlem has just one really large square, the Grote Markt, which surrounds the Grote Kerk (above) on two sides. The Grote Kerk is a truly enormous structure, larger than many churches that are considered cathedrals. Haarlem does, in fact, have its own cathedral, but it is appreciably smaller than the "Big Church." (There is a fair-sized square in front of the train station, but it's really just a bus station these days; it is not used for other purposes.)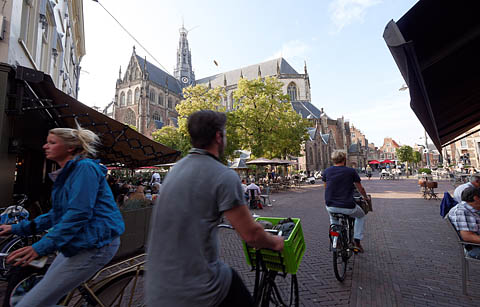 This is another view of the Grote Kerk taken from the other side. As Camillo Sitte notes, some churches actually form several squares when they are situated near the center of a large open space. This is the case here. Depending on how you count, this church creates three or four interconnected squares.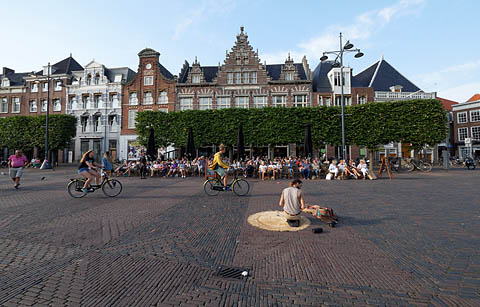 One of the major purposes of many squares is to provide large amounts of retail frontage in a compact area that draws a great many pedestrians (and thus shoppers). The photograph above shows the north side of the Grote Markt and the good but unprepossessing building that form the edge. Of course, the regular markets held in the square itself would has been a huge draw for centuries. Today, the markets are mainly limited to Saturdays but still fill the square with stalls and draw a large public.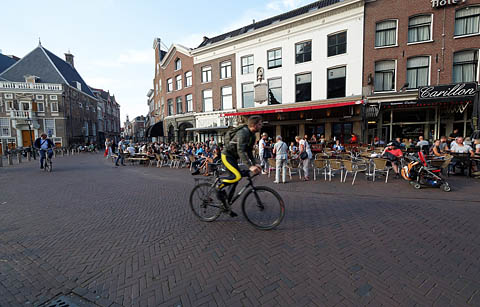 The view above adjoins the area shown just above (the same building appears in both photographs). The curving entrance street complicates the geometry of this space. Since it was designed for pedestrians and not car drivers, this complexity is no drawback whatever and serves to make the space more interesting. This bend is, in fact, one of the favored locations for cafés because it receives ample late afternoon sun.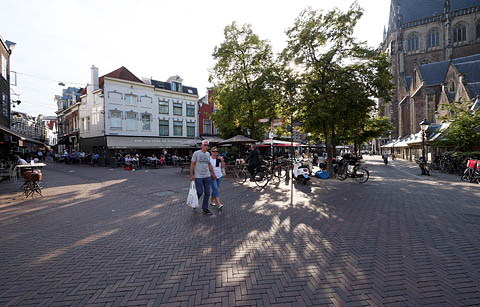 As Sitte also mentions, small commercial buildings were once commonly constructed under the skirts of churches, as can still be seen here on the right.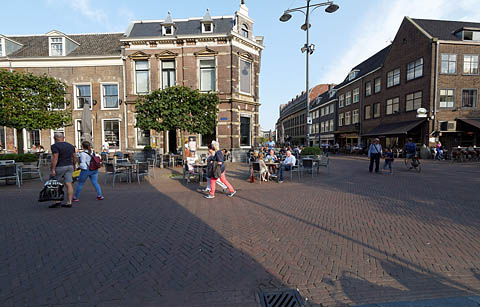 The church is at my back. The squares around the church are home to a vast array of cafés and restaurants. On a warm summer evening (there were only a few this summer) every table is taken. At other times, people sit at whichever café may be in the sun.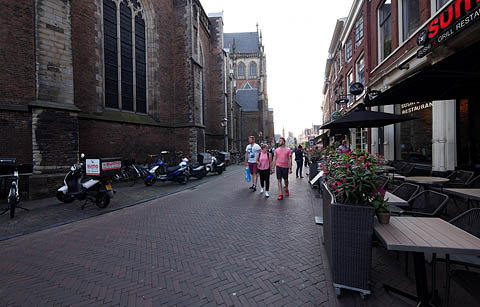 The rather narrow street on the north side of the church is perhaps the least attractive side of the church, but it nonetheless hosts a couple of cafés and bars.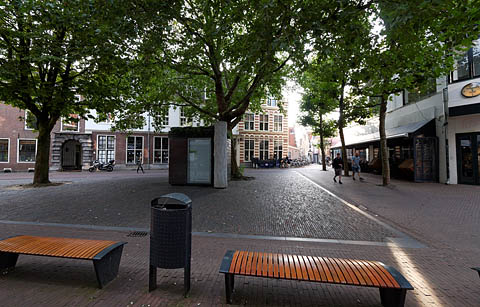 Squares are in principle square, yet most of them are actually rectangles. Less common are circular squares and the even more unusual triangular squares, such as the one seen above and in the two photographs below.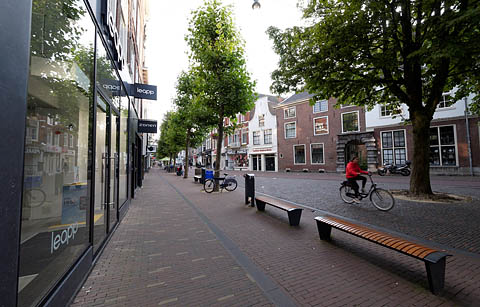 The triangular square is in fact extremely useful. It can have nearly the same perimeter as a rectangular square but occupies just half the land. We should make liberal use of them as they solve some tedious problems when attempting to lead streets to the center of the district by the shortest possible route.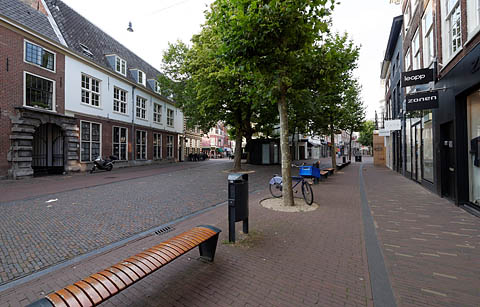 This is the same square from the thin end. The utility shed in the middle of the square really spoils its appearance and was an unfortunate addition.

We will continue to examine the delightful city that is Haarlem in the next issue.



Announcements
Quote of the Quarter
"If given just one word to describe climate change, then 'unfairness' would be a good candidate. Raised levels of carbon dioxide in the atmosphere are expected to cause deadly heatwaves for much of South Asia. Yet many of those living there will have contributed little to climate change."

The Books
Carfree Cities and Carfree Design Manual are widely available from booksellers in Europe and North America.

News Bits
The links below will open in a new browser window or tab, depending on your browser; (Ctrl+click) may behave differently:

Urban Planning and Design
"Where is the world's most walkable city?"

"Founded in the 9th century, [Fes al Bali] is believed to be the world's biggest car-free zone, and its medieval streets are so narrow that rubbish is still collected by donkey. The beauty of the city, in terms of walkability, is its density: 156,000 residents live in an area just 3.5km sq. As a result, almost all trips are by foot - and children can play on the streets." (TheGuardian.com)

Fes is a truly wonderful place, and I'm hoping to go back there soon. Some of the photographs I took during two afternoons there have been among the most useful I have ever shot.
"Have Smartphones Destroyed a Generation?"

"More comfortable online than out partying, post-Millennials are safer, physically, than adolescents have ever been. But they're on the brink of a mental-health crisis." I'd strongly suggest reading the original article. (TheAtlantic.com)

I think the epicenter of this problem is the USA, but I can see that it's affecting kids everywhere I go, even in Nepal. The inflection point appears to have been the release of the first iPhone. The problem is that social media give the appearance of social contact without the substance. I have recently closed my social media accounts. They seemed to be a time sponge that gave nothing back when squeezed.

This is one more reason that the quality of our public spaces matters more now than ever. We need to pull people out from behind their screens and into the street. Decades ago, the shopping mall replaced real streets as spaces for teens to socialize, and this was at least a physical place. This mess needs fixing, and quickly.
"Loneliness Epidemic Growing into Biggest Threat to Public Health"

"Loneliness and social isolation could be a greater public health hazard than obesity, and their impact will continue to grow, according to research presented at the 125th annual convention of the American Psychological Association." (PsychCentral.com)

It's basically an epidemic, and auto-centric cities are the disease agent. It strikes all age groups but especially the young and the old.
"The Solution to Our Housing Crisis Is to Let Communities Own Property"

"In the face of rampant financial deregulation, austerity-driven social disinvestment, and vast income inequality, working-class New York families are often priced out of both the rental and mortgage markets, while gentrification eclipses blighted blocks with empty luxury towers. But now housing-justice activists want to seed the city with a new kind of urban homesteading: Community Land Trusts - a model of collective ownership of housing on community-owned land." (TheNation.com)

Sounds delightfully like socialism to me.
"Tearing down old buildings won't make our cities more affordable or inviting. It's time to make better use of the buildings and spaces we already have." (CityLab.com)

Then there is this silver lining: tearing down urban highways gives us lots of space to redevelop using traditional, carfree forms.
"The Uncanny Power of a City Without Cars"

The title is really all you need. (CityLab.com)
"Oslo's car ban sounded simple enough. Then the backlash began"

Who ever thought this was going to be easy? Now the real question: will the city have the guts to see this difficult but important change through to completion? (TheGuardian.com)
"Pionieren met straten zonder auto's" [Pioneers of streets without cars]

"The idea came out of Ghent: cars out, playing children in. This summer, the Concordiastraat in Utrecht is a street for living in." (NRC.nl)
"Superblocks: How Barcelona is taking city streets back from cars" [plays YouTube video]

It's a fairly timid step but one that has large, favorable impacts and can be implemented without upsetting too many people too much.
"The hidden ways that architecture affects how you feel"

"There are some really good guidelines out there" on how to design user-friendly buildings, says Ruth Dalton. "A lot of architects choose to ignore them. Why is that?" (BBC.com)

We now have sufficient reason to take architecture away from the architects. The root cause of the problem is that architects believe that architecture is an art form. It is not: it is the most useful of the crafts.
"A Before-and-After Photo Archive of the World's Best Street Designs"

A possibly useful resource. Don't forget this technique, either. (CityLab.com)
"Specialized releases stunning film on how cycling can tackle ADHD"

This feels a bit like a commercial for Specialized, but the message is one everyone should get: biking (and almost certainly other ways of getting out there and moving around) is good for kids with ADHD, and probably all other kids, too. (BikeBiz.com)
"Car-free living better for combatting climate change than home improvements, says study"

"Living car-free, avoiding airplane travel (especially overseas flights), and switching to a plant-based diet were three top solutions that weren't heavily marketed as low-emissions solutions, yet carried the greatest impact. 'These actions have much greater potential to reduce emissions than commonly promoted strategies like comprehensive recycling (four times less effective than a plant-based diet) or changing household lightbulbs (eight times less).'" (Curbed.com)

That's before any discussion of the huge improvements in quality of life that result.

Transport, Pollution, etc.
"Dieselauto's blijken op de weg stuk meer te vervuilen" [Diesel cars apparently pollute more on the highway]

In normal use, Euro-6 diesel cars emit on average 4.5 times as much NOx as the norms prescribe. In extensive road tests with 145 models, only one in 10 diesels is actually as clean as the lab test results. The International Council on Clean Transportation, which first broke the Dieselgate scandal, also performed this more recent round of tests. (Trouw.nl)

It's difficult to express how angry I am about this. As I've said before, I think this is sufficient basis for the governments of Europe to seize the entire assets of Volkswagen as partial reparations for the thousands of people they have killed by their entirely deliberate cheating. Air quality in Europe remains a very serious problem, and little action is really being taken. Since Volkswagen appears to be the most egregious offender, I think the company should be liquidated. This might get the attention of other auto makes, many of whom are also cheating, perhaps to a lesser extent.
"The car has a chokehold on Britain. It's time to free ourselves"

"Our insanely inefficient transport system is in thrall to the metal god. Electric vehicles are not the answer." (TheGuardian.com)

George Monbiot at his fact-based, no-holds-barred best.
"City Planning, Transportation Policy, Sustainable Life"

Nice-looking blog that is full of interesting content. Mark R. Brown is a city planner and complete streets designer based in Dallas. He asked me to promote his blog, and it's a pleasure to do so. (CarfreeAmerica.net)
"Pollution levels in Bolivia plummet on nationwide car-free day"

Not only is the air much cleaner: "Families love it. Jesus Romero, who lives on the northern edge of Cochabamba, said: 'We really enjoy that it is so quiet and peaceful without any cars around, and that's there's space in the streets for the kids to play.'" (TheGuardian.com)
"1.2 million adolescents' deaths mostly preventable, report says"

"More than 1.2 million adolescents die every year around the world from causes that are largely preventable, according to a new report from the World Health Organization.

"The leading cause of death among 10- to 19-year-olds globally in 2015 was road injury, which killed more than 115,000 people, followed by lower respiratory infections and self-harm." (CNN.com)

See also:

"Where is the world's most dangerous country for young people?"


"Violence, preventable diseases and traffic accidents are to blame for a widening of the youth mortality gap between the developed and developing world, according to a new Guardian analysis of the most recent World Health Organisation (WHO) data." (TheGuardian.com)

Of course, a lot of those lower respiratory infections are caused by polluted air. I would not be quick to assume that deaths by self-harm are unrelated to the "junkscapes" that result from motorization, either.

The figure for drowning is also shockingly high, in fifth place. Here in the Netherlands, we put kids in the pool and teach them to swim when they're very young.
"Bikes squeezed out in the Netherlands, cars still rule the roads"

"Bikes may be very popular in the Netherlands but in reality they are given precious little space, a report by environmental organisation Milieudefensie shows. According to the report, which looked at the division of space in the 20 largest cities in the Netherlands, some 55% of the available square meters goes to cars while around a third is taken up by pedestrians. Cyclists are left with only 12%." (DutchNews.nl)

Generally speaking, the Dutch talk a better game than they play regarding traffic and the environment. The air here in Haarlem is often quite polluted, although it does appear that ships in the North Sea are a significant contributor. Still, it's a lot better to be a cyclist here than anywhere else I know. The current policy error is not to take away street parking spaces unless a parking garage is made available. That's the approach favored by big business.
"Effect van luchtvervuiling op fietsers onderschat" [Effect of air pollution on cyclists underestimated]

Cyclists are more sensitive to bad air than pedestrians because they are breathing harder. In the Netherlands, motor scooters are allowed to fly past cyclists on the bike paths, belching their toxic fumes as they go. It's estimated that 25% of the pollution on urban bike paths comes from these scooters. (Parool.nl)
"If You Build It, the Dutch Will Pedal"

The Dutch have gotten really serious about building the world's best bike infrastructure. Surprisingly large sums are committed to building bike infrastructure. Underground parking garages for bikes are probably the leading expenditure. (NYTimes.com)
"'Verban de benzinescooter uit Amsterdam'" [Ban the petrol scooter from Amsterdam]

This opinion piece calls for what has become almost unavoidable. Yes, Dutch cities are not so plagued with car traffic as most, and the room cars are granted has been dialled back in the past 50 years. (Even so, it's a serious problem.) What has become a major nuisance is the flood of cheap motor scooters taking over both the streets and the bike paths. They are among the most polluting vehicles on the road (even though the old two-stroke oil-and-gas horrors are nearly gone). Their danger to cyclists is finally garnering some attention. (Parool.nl)
"How to Clean Up the Dirtiest Vehicles on the Road"

"Personal cars get most of the attention, but trucks and buses are long overdue for an efficiency upgrade." (CityLab.com)

The truly efficient way to move freight (and passengers as well) is over electrified rail systems. Given that the road-rail playing field is tilted strongly in the direction of road by huge subsidies, the sensible action is to remove these subsidies, which come mostly in the form of cheap access to the highways and undertaxed diesel fuel, whereas the railroads not only have to buy, build, and maintain their rights of way, they also have to pay real estate taxes on them in most jurisdictions. Trucks almost entirely avoid this cost. Rail freight is in any case intrinsically more energy efficient than truck freight.
"It's Electric: LA First Major US City to Pledge Full Bus Fleet Conversion"

"As Trump administration rolls back environmental regulations, Los Angeles sets example for transitioning public transportation" (CommonDreams.org)

Now all we have to do is turn the "loser cruiser" into the "winnermobile."
"UK taxpayers face multi-billion burden for dismantling of North Sea rigs"

"Oil and Gas Authority predicts overall bill of £60bn and says challenge is to save industry and the taxpayer money and achieve safe decommissioning" (TheGuardian.com)

The huge companies that have made a fortune in the North Sea will pay only half the cost. Time to end those subsidies for nuclear and fossil power!
"How Donald Trump and Elaine Chao Sold Off Flood-Control Policy to the Highest Bidders"

"This is climate science denial at its most dangerous," said Sierra Club Executive Director Michael Brune in mid-August. He stressed that the administration's moves were "putting vulnerable communities, federal employees, and families at risk by throwing out any guarantee that our infrastructure will be safe." (TheNation.com)

Like so many of Trump's actions, this is really transferring debts from rich people to poor people.
"Lightrail springt in gat 'waar ov nu niet zoveel te bieden heeft'" [Light rail covers the gap 'where public transport doesn't have much to offer']

I have long been an advocate of light rail service for any situation where there isn't enough traffic for heavy rail systems. In really large cities there is simply no substitute for a decent underground metro system. On the edges of these cities and in nearly all smaller cities, light rail is nearly essential to a good public transport network.

It is crucial to recall that, until the Road Gang crushed public transport in the USA, streetcars went almost everywhere. There are no longer so many people alive who can recall this, but even my current city of Haarlem had streetcars until around the time I was born. They stopped in front of the main train station, which is today a bus station.

Light rail trains are normally operated with a crew of one, whereas heavy rail almost always requires at least two. Speeds are slower, but right-of-way requirements can be met by the simple expedient of laying track in the street, where it almost always was. I think that anywhere that supports bus service more than once an hour is a candidate for street-running light rail. Modern vehicles don't even require the ugly and expensive overhead power supply. (NOS.nl)

Climate Change
"Climate change to cause humid heatwaves that will kill even healthy people"

"If warming is not tackled, levels of humid heat that can kill within hours will affect millions across south Asia within decades, analysis finds." (TheGuardian.com)

This is the acid test of Western morality. If we don't care, and don't do something effective to prevent this, then we have no moral legitimacy. None.
"Weather disasters to impact 2 out of 3 Europeans by 2100, study says"

Weather-related deaths might increase 50-fold in Europe. (CNN.com)

This is one reason to think that the disasters in south Asia might be avoided: if we in the West fail to address this problem then we're basically committing suicide.
"Planet has just 5% chance of reaching Paris climate goal, study says"

"Researchers find that economic, emissions, and population trends point to very small chance Earth will avoid warming more than 2°C by century's end." (TheGuardian.com)

This is so sad, and so unnecessary. We can fix this and also live happier, more fulfilling lives. What's holding us back are the giant corporations that are profiting by destroying the globe.
"Loss of Arctic sea ice impacting Atlantic Ocean water circulation system"

"Scientists at Yale University and the University of Southampton say the ongoing Arctic ice loss can play an active role in altering one of the planet's largest water circulation systems: the Atlantic Meridional Overturning Circulation (AMOC)." (ScienceDaily.com)

If that happens, the damage simply can't be reckoned in money. The present value of this damage is infinite.
"Could a £400bn plan to refreeze the Arctic before the ice melts really work?"

Well, maybe, but can you believe that we are actually having a serious discussion about this? (TheGuardian.com)
"That Federal Climate Change Report May Not Be New, But It Is Startling"

"Over the next two decades alone, global temperatures could increase between 0.5 and 1.3 degrees Fahrenheit [0.28~0.72 degrees C]." (HuffingtonPost.com)

Remember, that's just two decades. What comes later will probably be even worse.
"Scientists discover 91 volcanoes below Antarctic ice sheet"

We used to think of these problems in isolation, but now it's becoming apparent that climate change is likely to change plate tectonics due to the unloading of the earth below ice sheets. This in turn might lead to increased volcanism, in a positive feedback loop. The consequences of a major Antarctic eruption are fearsome. (TheGuardian.com)

About Carfree Times
Next Issue
The next issue of Carfree Times is scheduled for late 2017.
Subscribe to Carfree Times
Carfree Times is published quarterly at Carfree.com. To receive e-mail notices of new issues, please visit the subscription page or send e-mail with the word "Subscribe" in the subject line. We do not share our mailing list, except for whatever the spooks may be siphoning off.




Back to Carfree.com
Carfree Times Home
Back to Carfree Times Issue 86

E-mail
carfree.com
Text and illustrations, except for guest content, placed in the public domain