Carfree Cities Alliance
WCN Reborn
With help from Justin Hyatt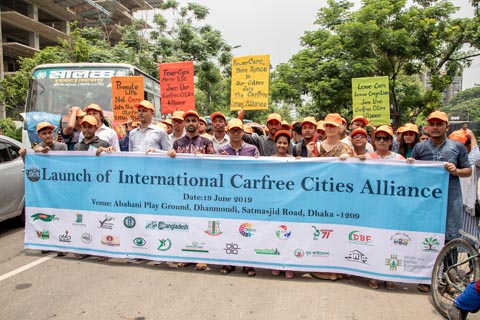 CCA Launch, Dhaka
Carfree Cities Alliance was launched in Amsterdam, Dhaka, and Kathmandu on 19 June 2019. It is to take over the role of the former World Carfree Network (WCN), which ceased most operations some years ago.
WCN became widely associated with World Carfree Day, held on September 22nd, when cities everywhere celebrate reclaiming space from the usual traffic madness. European Mobility Weed (including the carfree day) was adopted as an initiative of the EU, which gradually reduced its involvement even as the celebration became more widespread.
In April 2019, a group of founders met for several days in Dhaka to discuss taking up the work of WCN. The meeting was hosted by Debra Efroymson, longtime advocate of carfree cities, at the Institute of Wellbeing.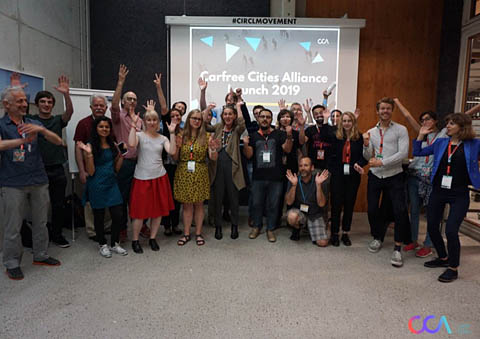 CCA Launch, Amsterdam
June's launch event aimed to draw new interest in carfree cities and to build relations with like-minded organizations. Active groups are located in Amsterdam/Rotterdam, Dhaka, Kathmandu, and Bangalore. I was able to attend the Amsterdam event, and it was a pleasure to run into some of the folks from the WCN days.
The launch event in Amsterdam was a break-out session of the "We Make the City" festival that is spread out across the city for a week. The carfree session included over 10 speakers who presented their ideas and hopes. Short video messages from the South Asian events were shown.
In Dhaka, young activists organized a colorful demonstration and rally with skating, cycling, and decorated rickshaws. Several speakers discussed the need for carfree cities to solve many of our pressing problems. The event gained significant media attention including TV and newspapers.
The Carfree Cities Alliance Bangladesh is focused on carfree cities as a response to the climate crisis and regularly holds events at local universities, organizes seminars, makes videos (available at the Institute of Wellbeing YouTube channel), and trains youth on the manifold benefits of carfree cities.
CCA seeks to connect like-minded people within cities as well as globally. CCA plans in the near future to support campaigns, provide technical assistance, and otherwise help people achieve carfree areas or carfree cities. There are also internship possibilities in Dhaka with Debra. Please email Debra at if you are interested.
Get Involved!
To join CCA send mail to launch2019@carfreealliance.org.

The CCA Website is in draft form at press time.
Dedication
This issue is dedicated to Greta Thunberg, who recently made a very fast westward passage of the Atlantic by racing sailboat. As someone who did it in the other (downwind) direction on a much slower boat, I have some appreciation of how rough a trip she must have had. No wonder she was a little woozy on arriving in New York. Go, Greta, go!

3D View of the Carfree Reference District
With thanks once again to B4place, we have detailed 3D views of a slightly modified Reference District. I've been wanting these for decades, so it's nice to have them for the final issue of Carfree Times. See their Property Experiment page for a more detailed write-up and more images.

B4place creates new historic urbanism and explores the effect that proximity has on economic, social, and environmental success. They champion countryside conservation and engineer ultra-compact, enduring places.

Here's what B4place has to say about their work:
In our 3D model of the Carfree Reference District, we've taken the liberty of distorting it a bit and detailing out some of the specific building and space uses.

First, we added just a few taller buildings in the center of the district to give a sense of scale. They would be used as a hotel and a vertical library/university.

We also demarcated apartment arcades, schools, public spaces, a senior-citizen-oriented neighborhood, and other structure types within the fabric of the district, using brightly colored building shades. (See key below.)

Also, all buildings in the district are mixed-use, which includes the ability to have ground-floor workshops, studios, offices, and retail. The blue shopping arcades include upper-floor office and residential units over a number of ground-floor retail shops, including food halls.

The schools are magenta in the image. The numerous small ones are creches and elementary schools. There are three junior-high schools near the district peripheries. Lastly, there's a high school with its own quad, overlooking the large public green near the center of the district. The light green-colored areas are the private back gardens and public green spaces. The bright green areas show the school-adjacent outdoor spaces.

In the real world, these designs would be used as guides to the interplay between the district's structures and spaces.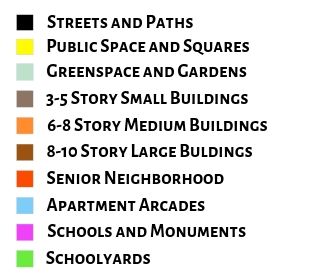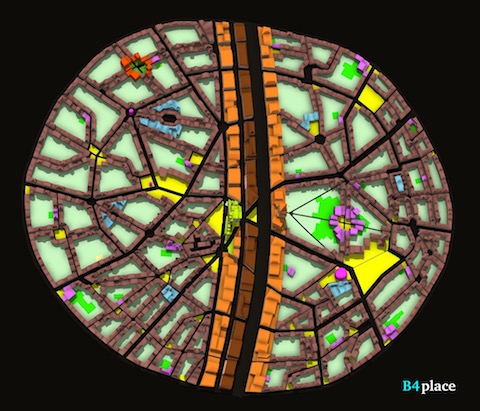 The slightly reshaped Reference District used as a basis for extrusion.
(Click through for a higher-resolution versions.)
Images ©2019 B4place.com.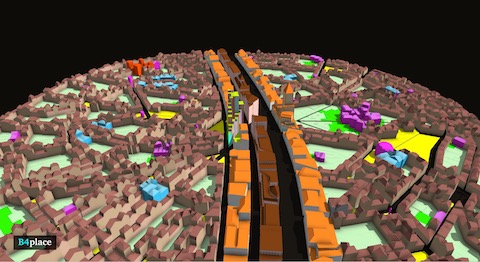 The Reference District as extruded in 3D.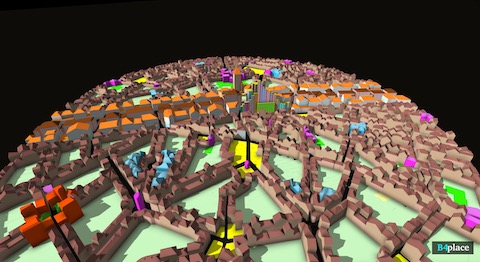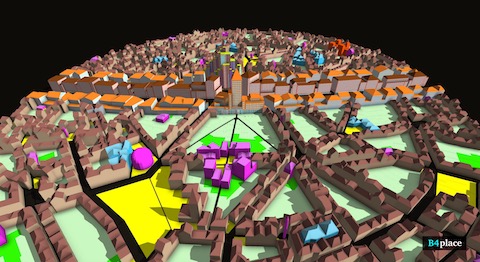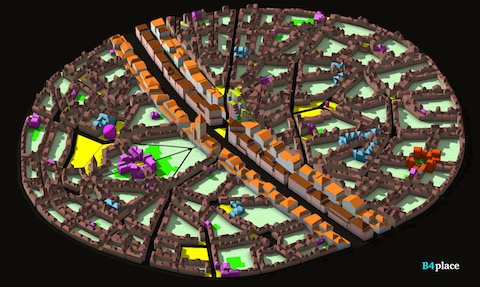 Carfree.com
Carfree Times: Final Issue
I have decided to suspend my online creative efforts indefinitely. This will probably be the last Carfree Times. I don't plan to shoot stills or video except incidentally, and there will probably be few or no new videos.

In a sense, what I'm doing is giving up virtual presence in favor of actual presence. I am looking at screens far too much. I enjoy face-to-face interaction, particularly with an audience. I am available for these kinds of events within railing distance of Amsterdam.

We are going to have carfree cities, one way or another, I'm pretty sure. Money, ecology, and happiness all optimize at one and the same point: carfree cities. There is no cheaper way to build decent cities. No other urban form has smaller environmental impacts. Urban quality of life is always improved by removing cars.

Unless it comes to planning one of those carfree cities, I'll be mostly out of the loop. I'm usually available by email if you need me for something. When the books eventually go out of print, I'll try to upload PDFs.

I will attempt to keep Carfree.com on line indefinitely, but technical, regulatory, or economic issues might force me to take it down. For now, however, the 35,000 files will remain accessible, most of them through the Design Library section. There are dozens of videos at YouTube and Vimeo. Nearly all the content is now public domain, but I have no model releases - these are journalistic uses, not commercial. You are invited to download the entire site.

I don't think the declining traffic at Carfree.com represents a loss of interest in the idea. Quite the contrary, in fact. At one time, Carfree.com was nearly the only source of information and news about carfree cities. Now, of course, there are many, starting with the Wikipedia entry.

In the past 20 years, the carfree idea has been taken up by many planners, and carfree and car-lite projects are springing up all over Europe, with a few in North America. Adoption in other parts of the world has been slow, but leaders are facing the familiar traffic congestion crisis. Europe, with its old cities and their narrow streets, was first to confront the intrinsic limitations of auto-centric cities and hence first to reduce car use.

It goes without saying that I wish the new Carfree Cities Alliance every success in building support for carfree cities.

The subscriber mailing list will be archived to a machine that is not networked.
Thanks
I would like to thank the many people who helped keep Carfree.com and Carfree Times going for 23 years. I won't name them for fear of forgetting someone, but you know who you are. I could never have done this without your help.
Seminar or Internship in Haarlem?
J.H. Crawford would like to hear from people within easy travel distance of Haarlem, the Netherlands, who would like to participate in something that might loosely be called a seminar. Some sort of internship is also possible, perhaps for someone learning videography. Please send mail if you are interested.
The Books
New copies of Carfree Cities and Carfree Design Manual are still being sold, although some digging may be required. Used copies are available, occasionally at exorbitant prices.

Carfree Cities was acquired by many libraries and may be available by inter-library loan. Fewer libraries bought Carfree Design Manual.

News Bits
The links below will open in a new browser window or tab, depending on your browser; (Ctrl+click) may behave differently:
"Carmageddon: it's killing urban life. We must reclaim our cities before it's too late" (TheGuardian.com)

Land Rover's latest ads would have us believe that gas guzzlers contribute to urban culture. They do exactly the opposite
Land Rover's claim would be laughable if it weren't so dire.
"How Seville transformed itself into the cycling capital of southern Europe" (TheGuardian.com)

Spain remains far from a paradise for bikes - yet cycling has increased 11-fold in Seville in the space of a few years. Is this proof that any city can get lots of people riding by building an ambitious network of connected, segregated bike lanes?
Seville is not an ideal location for cycling, mainly because it gets extremely hot during the summer. When I was there last year, there was noticeable bike use, but not on the same scale as in the Netherlands. Still, this article makes clear that "provide it and they will use it" is pretty much on target in most places, even including parts of the USA.
"Barcelona's car-free 'superblocks' could save hundreds of lives" (TheGuardian.com)

Barcelona could save hundreds of lives and cut air pollution by a quarter if it fully implements its radical superblocks scheme to reduce traffic....
Your city would almost certain experience similar improvements if it significantly reduced car traffic. What are you waiting for?
"Big box stores are costing our cities far more than we ever imagined." (StrongTowns.org)

Drive a little ways out from the center of any town and you're likely to find several big box stores - Target, Home Depot, Piggly Wiggly, you name it. They're everywhere. If you took a helicopter or a drone above these parts of town, you'd likely see a vast amount of land taken up with just a handful of stores and their accompanying parking lots. The houses and small businesses around them would be dwarfed in comparison. Not only do they use up a ton of land, but as a result, big box stores also demand miles of public infrastructure like pipes and roads to serve them.

But here's the crazy part: Those enormous stores are paying a negligible amount in taxes. For their size, they are contributing hardly anything while meanwhile demanding new electric lines and frontage roads and signalized intersections (among other things). In most cases, their taxes are not nearly enough to pay for the maintenance of these basic services, let alone the many other functions of our local governments that we expect taxes to pay for, like schools and fire protection.
In one example, the per-acre property taxes are 100-fold higher downtown than out on the strip mall. Then, of course, there are the sweetheart deals some of these companies got when they proposed to come into town.
"How the world's dirtiest industries have learned to pollute our politics" (George Monbiot in TheGuardian.com)

The tragedy of our times is that the gathering collapse of our life support systems has coincided with the age of public disservice. Just as we need to rise above self-interest and short-termism, governments around the world now represent the meanest and dirtiest of special interests. In the United Kingdom, the US, Brazil, Australia and many other nations, pollutocrats rule.
I just call them oligarchs, the people who own nearly everything and think it is their right to govern as a consequence. Before real progress can be made, these people need to be stripped of their power. This mainly involves taxing away most of their money. The last time they were in power, the US got its income tax, which set them back on their heels for a while.
"Norway's electric car miracle is a smug national fraud built on subsidizing rich people with Teslas" (RT.com)

The government in Oslo spending billions of oil export dollars to help the affluent buy an electric second car they wouldn't otherwise want is European environmentalism at its phoniest and most hare-brained.
You'll have to at least skim this one if you want to know just how bad it is. EVs may be a partial solution to sustainable transport in rural areas, but please keep them, along with other vehicles, out of the city. Oh, and Norway gets huge amounts of money for the oil it pumps out of the North Sea.
"Americans Shouldn't Have to Drive, but the Law Insists on It" (TheAtlantic.com)

Over the course of several generations lawmakers rewrote the rules of American life to conform to the interests of Big Oil, the auto barons, and the car-loving 1 percenters of the Roaring Twenties. They gave legal force to a mind-set - let's call it automobile supremacy - that kills 40,000 Americans a year and seriously injures more than 4 million more. Include all those harmed by emissions and climate change, and the damage is even greater.
Let's not forget the impact of the Road Gang in all of this. It's just one more example of your oligarchy at work, running things and, of course, making huge profits.
"Footloose: Walkable Neighborhoods Attracting Investments While Burbs Die" (StreetsBlog.org)

Cities with walkable neighborhoods like New York, Denver, and Boston, are attracting more office space and housing while suburbs are losing their value, a new report says.
Walkability is finally emerging as a yardstick for cities after a century of focusing on drivability.
"San Francisco finalizes plans to close Market Street to cars" (abc7news.com)

The City of San Francisco is finalizing plans to close Market Street to private cars. The project will place an emphasis on making Market Street more attractive to pedestrians and bicyclists, and reducing the number of injury-accidents.
A raft of other vehicles, including buses, commercial vehicles, and taxis would still be allowed to use Market. The actual impacts will thus be limited. Still, it's progress in an American city, which is news in itself.
"New car-free school in Leeds will have no parking spaces" (Road.cc)

A new 420-place primary school in Leeds will have no parking spaces for staff or visitors if it is approved by planners this autumn. The project is part of a new zero-carbon neighbourhood called the Climate Innovation District that is already under development by the River Aire.
Parking is terribly expensive. Many cities are in the midst of a housing shortage. That has a lot to do with providing housing for cars instead of people.
"Ten common myths about bike lanes - and why they're wrong" (TheGuardian.com)

This is, in effect, the message of the critics: not this, not now - let's try to get away with unambitious schemes without proper infrastructure, which will never change much.

You could write a whole column - even a book - about why this is absurd, but it's always worth stressing this point to the cycling naysayers: OK, what's your solution to gridlock, pollution, a climate emergency; to cities that are noisy, dangerous and unjust? They will not respond, because there is no answer.
Bookmark this article. I'm sure you'll need it, sooner or later.
"From lizarding to lingering: how we really behave in public spaces" (TheGuardian.com)

The researchers behind The Field Guide to Urban Plazas decided to study the public behaviour of human beings in New York City, an update on William H Whyte's pioneering work from 1980, The Social Life of Small Urban Spaces. From "roosting" to "schooling," here are the patterns they found.
Nothing profound here; Whyte covered this ground pretty thoroughly. However, it's nicely illustrated and makes a good beginning for thinking about a particular space.
"Electric scooters aren't as eco-friendly as they seem, study finds" (TheGuardian.com)

Nothing is ever simple. There are secondary sources of pollution associated with scooter use, including manufacturing, collecting for charging, and redistributing scooters afterwards. I suppose this could be better managed and that scooter use is generally an improvement. They are certainly less intrusive than cars.
"How is China able to provide enough food to feed its population of over 1 billion people? Do they import food or are they self-sustainable?" (Quora.com)

China is able to provide enough food more than just plain rice or wheat. The variety of food offered on the Chinese table is much more diverse and cheaper than most developed places in the world. This applies to "poor people" as well. This is based on my personal experiences and observations after traveling from many countries in Europe, the US, and Japan.
However, my comment from years ago, that the Chinese had a choice between eating and driving, is still a valid concern. Too much land is being urbanized (i.e., paved, for the most part) at the cost of arable land.

This is a very long, well-illustrated post. I read the whole thing and suggest you might too - there are a lot of insights into modern China.
"Will cities of the future be car-free?" (News.Yahoo.com)


Videos
Don't forget the YouTube videos from Carfree.com. You can also watch them on Vimeo's Carfree channel. You really should watch Recovering from Disruption. Four years on it remains a succinct proposal regarding the climate mess. If you watch a video, please Like it.




About Carfree Times
Statement of Ownership
In this day of oligarchic media, Carfree.com declares its ownership and sources of support at the end of each year.

Carfree.com is wholly owned by Joel Crawford, the legal name of author J.H. Crawford. Its operation is financed by J.H. Crawford. It generates no revenue.

The views expressed at Carfree.com are those of J.H. Crawford, except for articles, letters, editorials, photographs, and films that carry the names of other authors. The inclusion of these signed texts is at the sole discretion of J.H. Crawford, who does not necessarily agree with the views expressed. All other content, except quoted material, is written by J.H. Crawford.

Traffic on Carfree.com as a whole had declined in August 2019 to 35,000 page views and 3 GB. At its peak 10-15 years ago it was several times as much.




Back to Carfree.com
Carfree Times Home
Back to Carfree Times Issue 94

E-mail
carfree.com
Text and illustrations, except for guest content, placed in the public domain