Some Notes on Photography
I have periodically held forth on the topic of urban documentary photography. My advice has changed radically, as has the technology. This is what I'm doing now.

I shoot both RW2 and JPG on a Panasonic GH5 that I also use to shoot 4k video. I think I have settled on the Lumix 7-14mm f/4 [14-28mm equivalent in 35mm], which is an excellent lens wide-open due in part to the in-camera corrections applied to JPG output. It is also the widest lens I have ever used.

I also have the Laowa 7.5mm that I used to shoot 4k video in Seville last winter. This fully-manual f/2 lens delivers excellent sharpness at f/2.8. It is wonderful for night work, but the GH5 does not apply in-camera corrections. Fortunately, the lens is remarkably well corrected and has only mild barrel distortion and a little color. Corners are rather dark at f/2, which I don't correct. Except for the barrel distortion, most of the aberrations are hardly visible in the final JPGs.

The zoom is bigger and heavier, but also has the 14mm end, which I am enjoying (it seems almost telephoto after so many years of 7mm use). Since 2001, I have rarely shot longer than 20mm-equivalent. However, I cut my photographic teeth on a Nikon F with a 35mm f/2. I last shot with it in Morocco in 2002, some 35 years after I bought it. I love the perspective, and the 28mm-equivalent at the long end of the Panasonic lens is not so far from the old 35. Whether it's close enough or not is the open question. I might decide I want a 17mm prime, but probably it's good enough. I almost never crop images; otherwise, I could simply crop the 14mm images down to 17mm without noticeable quality loss.

The camera is set up to produce near-final files of much higher resolution than will actually be used. Contrast, sharpening, and saturation are set to near-neutral values in-camera (noise reduction is off). The resultant 8MB JPGs are gorgeous when viewed at 100% in Fast Picture Viewer, which I also use to edit down to the keepers. If used at full size, these images would want modest sharpening in post.

The JPGs are so good that I am simply using them as digital originals and so far not bothering to develop the RW2 files. The JPGs are over 5000 pixels wide, and I reduce them to 1080 x 1620. This is a return to the 3:2 crop of 35mm still film, which I have used for most of my life and prefer to all others. (16:9 is just fine for video.)

I feed the camera JPGs through DxO but only make minor tweaks to contrast, saturation, and exposure. DxO then outputs web-sized JPGs that are given slight sharpening after resizing. I am very glad to be away from Photoshop, which was a great program . . . 20 years ago.

I find that I rarely print photographs any more.
Credo: Why I Shoot
I owe a tremendous debt of gratitude to photographers who have gone before me. I used many of their images, all pre-1920, in Carfree Design Manual. Without those images, I wouldn't have had a book.

For some time now, I have put my own work, excepting the two books, in the public domain. Please do respect articles by others in Carfree Times that carry author copyrights.

And why do I shoot? There is an immense amount of interesting, important information and history in the record of what now must be a trillion street photographs. In the age of the selfie, this is continuously updated.

I look at cities a particular way, as you probably know by now. I like to share a curated viewpoint with others in the hopes of swaying more people to support carfree cities.
Photography as Intrusion
Street photography is, to some degree, an intrusion on people. When it is done as part of news reporting, it's generally legally protected, but everybody is subject to almost continuous photography (and video surveillance as well) in today's security-conscious world.

My view, when I am photographing, is that at least you can see who is taking your photograph, which is in distinct contrast to the men and women who sit behind dozens of screens observing and recording their fellow citizens from a bunker somewhere. In practice, if somebody doesn't want to be photographed by me, they aren't. Sometimes this takes the form of editing out images in which people are clearly not happy about my photography. If I see this in the viewfinder, I'll usually wait until they have passed to shoot. In a few cases I have been asked to delete photographs, a wish I always respect without further discussion.

On balance, I think the importance of documenting our societies is important enough that some degree of discomfort can be tolerated. I am less happy about 24/7, 360° routine surveillance with face recognition and cell phone tracking.

Photo Essay: A Walk in Hoorn
Although North America had a very rough winter, it was relatively mild in northwestern Europe, and we had a run of warm weather as early as February, which was simply unknown 20 years ago. We have had plenty of nice spells this spring, and I took my camera to Hoorn on a pleasant April day. This is a small, old city about 30 kilometers north of Amsterdam.

It would satisfy me to report that Hoorn is a carfree mecca, but alas it is not. Hoorn feels to me like it's been given over to cars.

As it typical of the old parts of smaller Dutch cities, Hoorn is built an average of three stories tall; the bigger cities are mostly four stories. You will notice that the streets feel more open in Hoorn than Amsterdam. Mostly this has to do with the taller buildings; I think the streets are roughly the same width. There is also a little more open space in Hoorn, with a couple of small parks that, in busier cities, would probably be squares.

There are plenty of people who prefer the quieter nature of the smaller cities. I have certainly enjoyed living in Haarlem, which is closer to Hoorn than Amsterdam in its arrangement. As Amsterdam has been overrun by drunken tourists, it's become a place I mostly no longer go.




Clicking an image opens a 1080 x 1620 pixel version in a new tab.
Ctrl+w closes the new tab and returns you to Carfree Times.
Full screen works best, F11 on most browsers.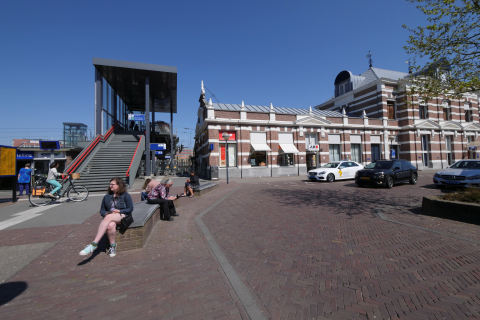 The old train station and the huge new crossover.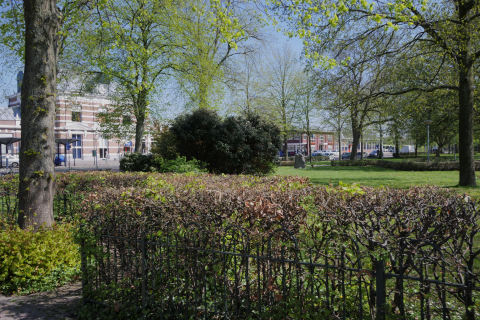 This lovely little park is curiously located right in front of the station.


The main street into the center is mostly car parking.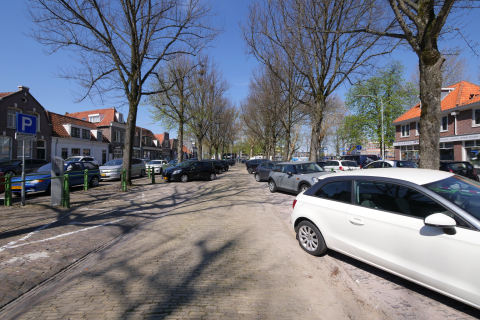 Ditto.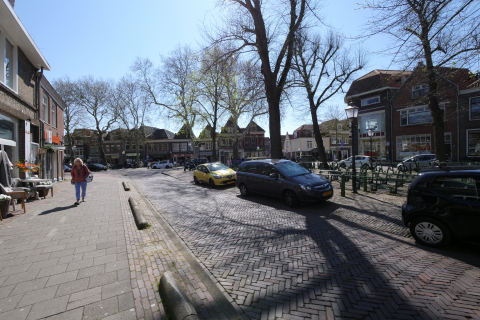 Entering the city center. Notice that the central strip is reserved for bike parking as you approach the center. It actually does not appear to get a lot of use. In Haarlem, it's commonly a minor chore to find a place to park your bike.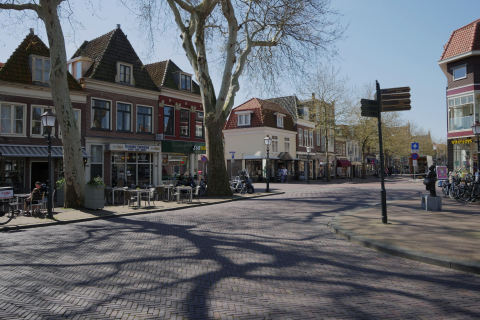 This is small-town Holland, built only about three stories high on the main street.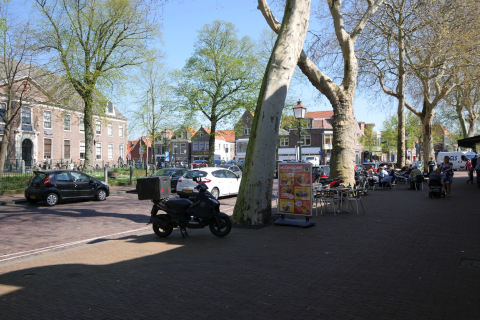 A small park is found near the town center.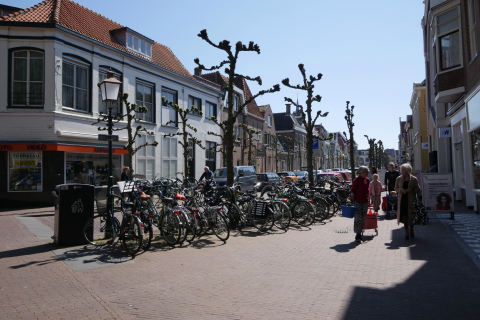 Despite the pervasive cars, bike use is quite extensive here, as it is everywhere in the Netherlands. Still, there are an awful lot of parked cars in this scene (zoom in).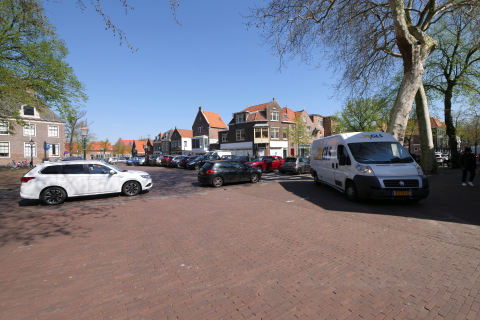 Notice that the density here is just barely urban. Notice also all the car parking.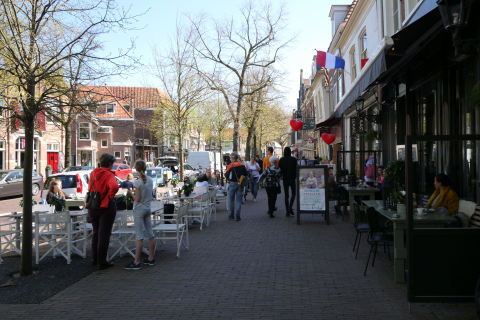 One of many cafes.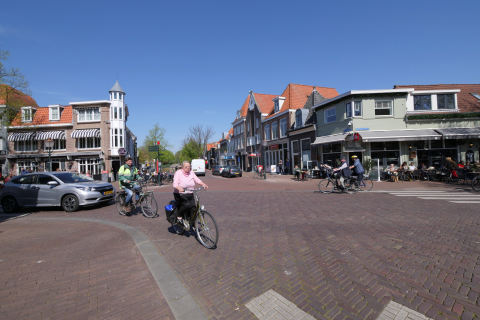 Notice how much wider the streets in Hoorn tend to run compared to Haarlem. Characteristics like this can have a huge effect on outcomes. Haarlem accepted cars for a while, as did almost all of the Netherlands, but started to push them out decades ago. In Haarlem, much more progress has been made than in Hoorn. It should be noted that cars probably work tolerably well in Hoorn, thanks to lots of room given to them and the comparatively small population.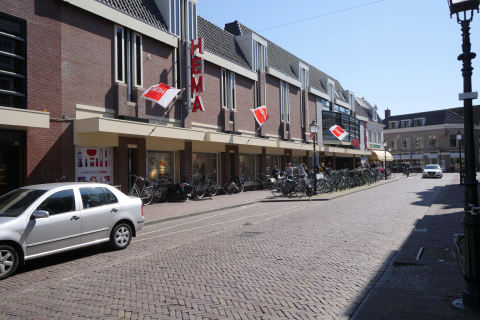 Notice the ample bike parking (zoom) in front of the HEMA, an old-time Dutch chain that still marches on. Good value for money, and even the rich buy their trash bags here.


A busy intersection with competing modes.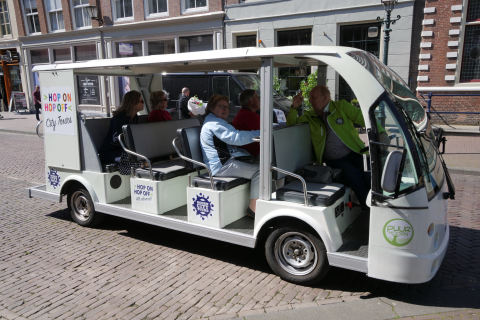 Ah, jitneys, come to the Netherlands! Jitneys are a major discussion in themselves. They can be a vital link in a transport network, but they are pretty labor-intensive. I have not so far heard that they have been automated except under controlled conditions, such as airport parking lots.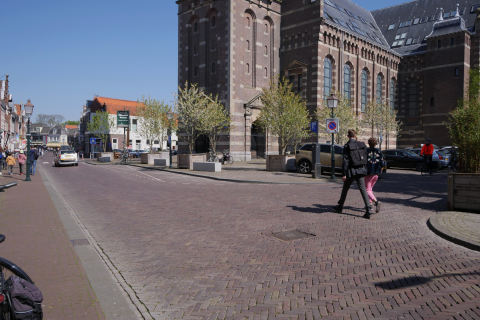 Like most Dutch cities, Hoorn has an impressive church. As is typical in the stone‑poor, clay-rich Netherlands, it's mainly of brick.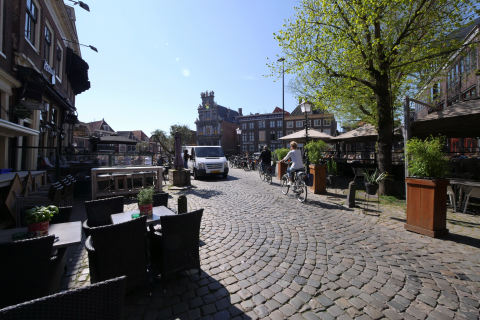 This is the Roode Steen, the main square in Hoorn, and it's a fairly grand affair, although even it is not carfree.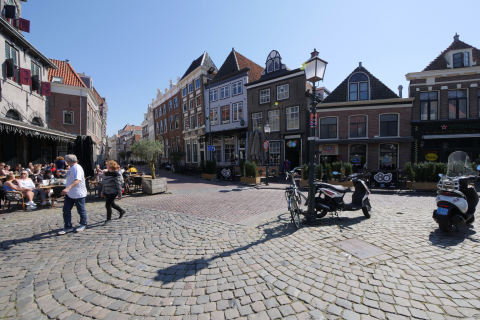 Scooters, how I hate 'em! Electric bikes could become almost as bad (but at least minus the toxic stink).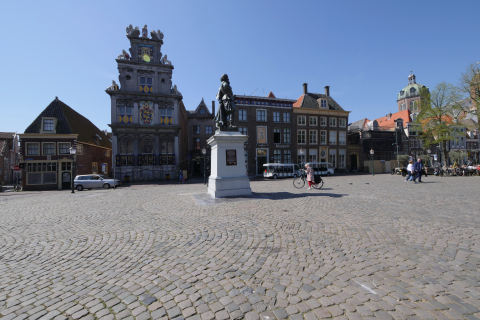 Another view of the square.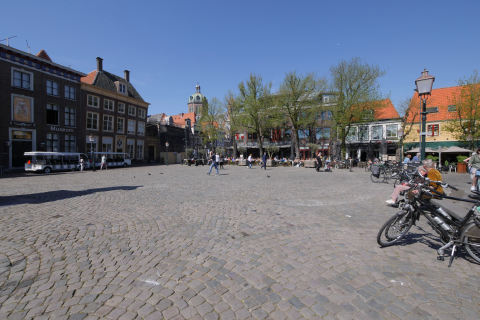 And another. Notice the tourist jitneys in the background.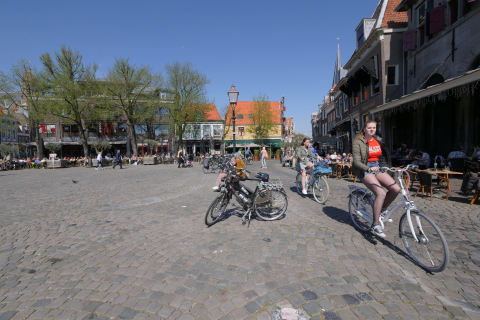 A final look back.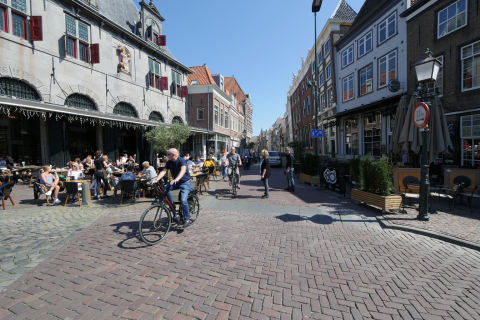 This is an interesting tapered street coming off the square. It's a good way to bring a street into a square. The actual taper can be less than seen here and still ease the transition.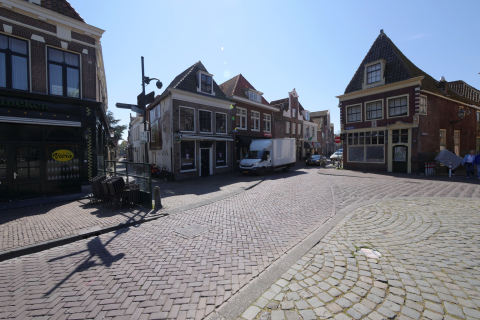 Remarkably small-scale buildings right on the main square.


Lots of ground is given over to car parking.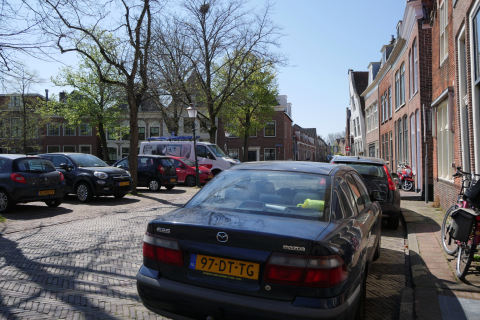 A pet peeve of mine: you really can't see much of this place for all the cars.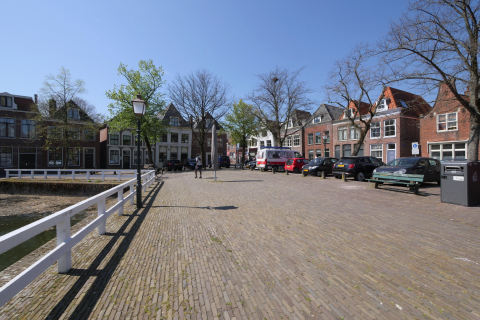 A different view looks better – the cars do not completely dominate the streetscape.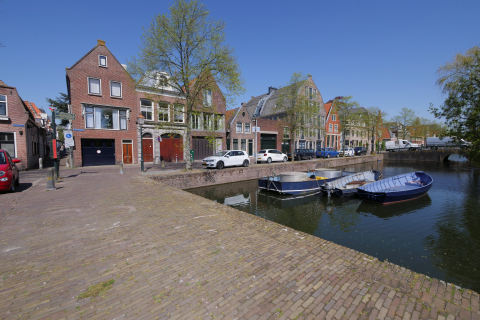 There are many waterways here, as in most of this low, flat country. We have the distinction, with Bangladesh, of suffering early and massively from climate change. It is well for a country below sea level to recall that dike-building is a square-law function: building a dike twice as high takes four times as much work. It quickly becomes impractical.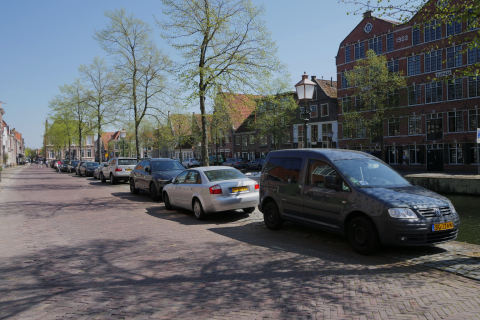 This canal can barely be seen for all the cars.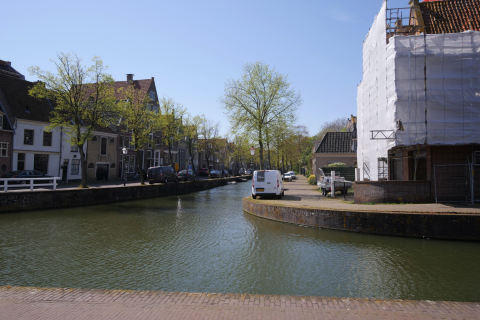 Finally, some lovely water.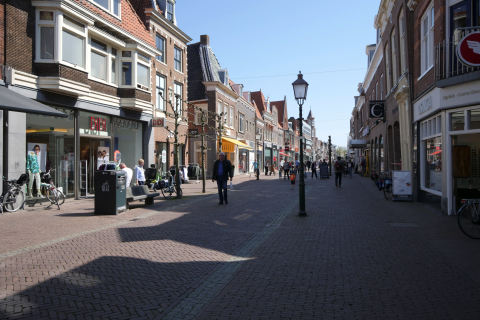 The most important shopping street in Hoorn is carfree. This is common in Dutch and Spanish cities. Most of Europe has now accepted that the most heavily-used urban areas need to be carfree, or close to it. Pedestrian areas are steadily being expanded across the continent.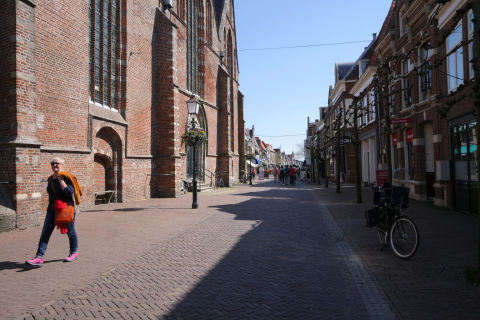 The carfree bit extends past the church.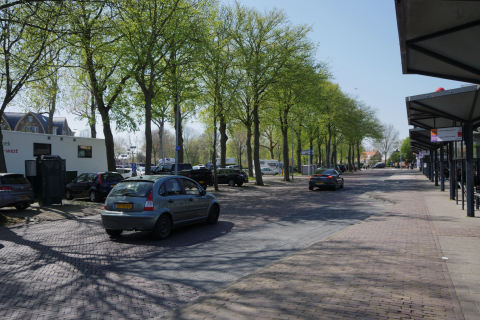 Once again, back at the station, with lots of cars. At least there are trees.



Carfree.com Announcements
Carfree Cities Alliance Launch
The Carfree Cities Alliance (CCA) will be officially launched on 19 June 2019 at events in Amsterdam, Dhaka, and elsewhere. This organization is intended to fill the gap left when World Carfree Network shut down some years ago. We are supporting CCA and wish the new organization well.
Seminar
J.H. Crawford would like to hear from people within easy travel distance of Haarlem, the Netherlands, who would like to participate in something that might loosely be called a seminar. The shape of it would depend mostly on the needs and interests of participants. The term is open ended. Please send mail if you are interested.
The Books
Carfree Cities and Carfree Design Manual are difficult to buy at the moment. The publisher still has stock, but the distribution channel broke down. We think this will be fixed soon.

New copies are available from a few sellers, and the used market can supply books. Be wary; I have found used paperbacks selling for far more than the original cover price, in one case €175! You should be able to find them at or below the new price.

Carfree Cities was acquired by many libraries and may be available by inter-library loan. Fewer libraries acquired Carfree Design Manual.
Degrowth Picnic
"International Degrowth Picnic Day"

The global picnic for degrowth idea came out of the second conference on degrowth and social justice in Barcelona in March 2010. This will be the seventh year. In past years, it has taken place in over 70 cities around the world!
Our friends in the Degrowth movement are expanding their movement, and what better way than a picnic?

Quote of the Quarter
"I'm struck by the amazing variety of ways in which cars have ruined our lives."

He wants to cut car use by 90% in a decade. We are on board with this and ready to help!

3D View of the Carfree Reference District
Finally, thanks to B4place, we have a 3D view of a (very slightly reshaped) Reference District.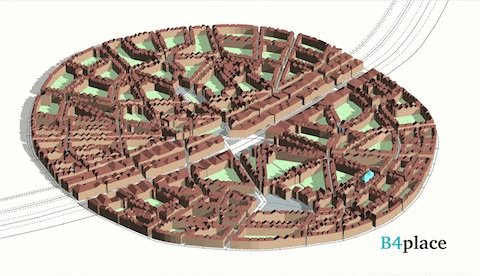 The Reference District as extruded in 3D by B4place.
Click through for a higher-resolution version.
Images ©2019 B4place.com.
B4place wrote:
Ultra-compact places are some of the most well-loved, enduring forms of community in the world. And with its focus on narrow streets, multi-story town houses, and courtyard gardens, the Reference District (page 142 in Carfree Cities) is an excellent archetype for making such places today.

We were curious to see what it would look like in 3D, so we created this preliminary model. We like how rendering the buildings and the spaces between them in this way better shows how the parts relate to the whole. While this is just a preliminary glimpse, we look forward to sharing more as we flesh out the model for the next issue of Carfree Times.
We're much obliged for this view, which took 20 years to achieve after I knew it was needed.
Why the Dutch Rail System Is the Real Heart of the Nation
"We are lonesome in part because we avoid meeting strangers in public places."
Glimpses of bright-yellow Dutch trains can be had from all over the nation. The network covers pretty much all towns of significant size. It's possible to get from one end of the country to the other in about six hours. Most destinations are much closer, and from Amsterdam you can be anywhere in the nation in about three hours.
The appellation "Randstad" (ring city) approximately describes the relationships among the four major cities, Amsterdam (official capital), Utrecht (rail center), Rotterdam (EU's biggest port), and The Hague (political capital). To these big cities are added some smaller ones: my own Haarlem, Alkmaar, Leiden, Delft, Gouda, and so on.
In the middle of this ring lie mainly cow pastures and the big airport. Encroachment on this "green heart" is always strenuously resisted, but everything makes way for the almighty airport, seen as the kingpin of the Dutch economy. (There is not a little truth to this notion.)
Except for the now long-gone leisurely liner crossings of the Atlantic, the train is the most social long-haul transport mode. There's plenty of room, it's fairly quiet, and seats often face one another in groups of four. It's an open invitation to talk to strangers, and it's often accepted.
This is also a social space that nearly all Dutch people share at least occasionally. There is a shared sense of how one behaves on a train, which is not to say that it is always respected. People who annoy other passengers are likely to be asked by fellow passengers to lower their voices or whatever is needed. Kids are kids and get cut some slack. Mostly the environment is pleasant.
Train use is habitual among most of the Dutch, even though it's pretty expensive (but everybody has a discount card). Kids can travel almost for free with an adult. University students are lured into the train by passes that give them lots of free travel. The railroad naturally hopes that they will become loyal customers later on. Many do.
Shared and well-known social events are important to glue a society together. King's Day, for instance, is a major national holiday and a good excuse for a binge. There are open markets where people can sell off their junk for a trifle, and there will be performances all over the city. The canals will be crowded with boats full of celebrants. In a far more subtle way, but every day, the Dutch trains are also part of that glue. I imagine that the Japanese rail system plays a similar role there.
News Bits
The links below will open in a new browser window or tab, depending on your browser; (Ctrl+click) may behave differently:
"Cars are killing us. Within 10 years, we must phase them out" (TheGuardian.com)

Driving is ruining our lives, and triggering environmental disasters. Only drastic action will kick our dependency
Monbiot's crystal-clear statement about cars prompted me to send him both books.
"In the city of the future there is no room for cars ["In de stad van de toekomst passen geen auto's"] (HaarlemsDagblad.nl)

In the city of the future, there is hardly room for cars. Governments would do well to anticipate this change.
This is a fairly typical local newspaper that's usually full of the latest car crashes. It's instructive that the carfree initiative has become a staple of the local press.
"Oslo Is (Almost) Car-Free – And Likes It That Way" (CleanTechnica.com)

As cities worldwide continue to implement bans on old diesel vehicles and cars generally, there's been lots of resistance. But it's important to consider what a joy a car-free city can be. Let's embrace the change. According to Marcussen, "That is also the experience from other cities internationally that have implemented car-free areas; they usually become some of the most attractive parts of the city."
That pretty much sums it up.
"Madrid set to become first European city to scrap low-emissions zone" (TheGuardian.com)

Isabel Diaz Ayuso, who is expected to become the new Popular party president of the Madrid region, believes night-time congestion makes the city special and has pledged to reverse a project known as Madrid Central, which has dramatically cut urban pollution.
Can't win 'em all! I'll be avoiding Madrid, you can be sure.
"Freiburg im Breisgau, Germany: Creating a livable city through ecomobility" (EcoMobility.org)

Freiburg is a city that should be familiar to many readers. The old city is not carfree but quite car lite. Then there is the Vauban new-build quarter that is essentially carfree and connected to downtown by a new tram line. That's why this charming small city in southwestern Germany is so often in the news.
"The Art of Medieval Sustainable Urban Design: The case of Toledo" [PDF!] (irbnet.de)

The paper is based upon a quantified analysis of the built and empty spaces configuration and composition, shapes and patterns, in Toledo with a comparison with Turin and with the modernist prototype of City of 3 Million inhabitants by Le Corbusier. The paper compares the 3 cities morphology with an approach based on urban metrics, street patterns analysis and fractal complexity.Toledo is a good example of bioclimatic urbanism with a skillful use of narrow and high winding streets as well as inner courtyards.
This looks like a useful study of urban form. It's long and technical, so be forewarned.
"The only metric of success that really matters is the one we ignore" (Qz.com)

This was community. And what I would come to learn, slowly, is that community is about a series of small choices and everyday actions: how to spend a Saturday, what to do when a neighbor falls ill, how to make time when there is none. Knowing others and being known; investing in somewhere instead of trying to be everywhere. Communities are built, like Legos, one brick at a time. There's no hack.
Building community is hard work. The results are worth it.
"The Streets Were Never Free. Congestion Pricing Finally Makes That Plain." (NYTimes.com)

Congestion pricing has the potential to significantly change how traffic flows through Manhattan streets, how commuters get around the city, how companies like Uber and Lyft operate.

But most radically, if the policy spreads it could challenge a deeply embedded cultural idea, requiring people to pay for something Americans have long demanded – and largely believe they've gotten &ndash free of charge.
The Times has it right: if New York adopts congestion charging without mayhem, most other American cities will at least consider it, if only because they are so strapped for revenue. Of course, if it's truly successful, that extra revenue will decline because people will tend to stop driving. This will save cities so much money (directly and indirectly) as to improve their general financial position anyway.
"How Driving is Encouraged and Subsidized – By Law" (StreetsBlog.org)

Driving is so hard-wired into American culture, life and institutions, that it's hard to account for all the ways it is subsidized, preferenced, or otherwise favored. But Greg Shill, a law professor at University of Iowa, attempted it anyway.
This is old news. Unfortunately, it hasn't had much impact on American politics yet.
"Parking Has Eaten American Cities" (CityLab.com)

Parking eats up an incredible amount of space and costs America's cities an extraordinary amount of money.
Just how much is difficult to believe. In Jackson, Wyoming, it comes to $192,138 per capita. New York City spent just $6,570 per capital on its parking. To say that parking has "eaten" American cities is really not far wrong, saving aside a few older US cities. This is Richard Florida's work. He joins Donald Shoup in blowing the whistle on the cost and land consumption of parking. Saving aside Jim Kunstler, people don't talk so much about how ugly it is. But really, it's ugly. Never mind how much it costs, we don't want it.
"What can we learn from this thriving, car-free German neighborhood? Get rid of parking spaces" (FastCompany.com)

In Freiburg, Germany, a neighborhood called Vauban made it unnecessary to own a car–and very difficult to do it even if you wanted to. After 20 years of success, it could be a model for how we design future walkable neighborhoods.
"A Modest Proposal to Eliminate 11,000 Urban Parking Spots" (CityLab.com)

Amsterdam plans to systematically strip its center of parking spaces in the coming years, making way for bike lanes, sidewalks, and more trees.
More than 25 years ago, a referendum in Amsterdam called for sharp cuts in car use. It was substantially ignored until recent times.
"Cut city traffic speeds to 30 kph, says car industry lobby group" (DutchNews.nl)

The maximum speed limit in Dutch cities should be reduced from 50 kph to 30 kph, according to car industry lobby group RAI.
The claims are true, but it's astounding that the auto lobby is calling for lower speed limits in cities.
"Mapped: historical public transit systems v their modern equivalents" (TheGuardian.com)

The maps show the before-and-after conditions in several large North American cities. Drag the scroll bar left and right to see the past and present lines. The map for Philadelphia does not show the vast network of trams that blanketed the city in the first half of the 20th century as the "before" map is only from 1974. It's all pretty pathetic. European tram systems have also decayed but not so badly.
"How public transport actually turns a profit in Hong Kong" (TheGuardian.com)

The Hong Kong MTR's 'rail plus property' model keeps fares cheap and makes the company completely self-sustaining. Could loss-making metro systems in other cities learn lessons?
Public transport service adds value to an area. The question is who gets to keep the added value. Under Thatcherism, it's private enterprise. There are other models that have the advantage of paying indirectly for public transport services by recovering some of the added value they create. This is difficult to accomplish within the current Western paradigm.

It's interesting to compare this situation with the USA about a century ago. It was then common for owners of large suburban tracts to build a tram line from the city center to their land in expectation of so greatly increasing its value as to pay for the construction costs and usually some of the operating costs for at least a period of time. Nearly all of these systems were later replaced by municipal bus systems that provided such poor service that almost everyone bought a car. The nearly-empty buses still lumber along once or twice an hour.
"How an emerging African megacity cut commutes by two hours a day" (TheGuardian.com)

According to the article, a billion dollars would build 86km of BRT, 22km of light rail, and just 9km of metro. However, a move to self-powered trams would eliminate the need for the overhead power system that is a substantial part of the construction cost. And you have to have the metro in really big cities; there is simply no way to move enough people without it. China has been building staggering mileage of metros in its big cities for good reason. Rail infrastructure is expensive but lasts decades longer than buses.
Videos
Don't forget the YouTube videos from Carfree.com. You can also watch them on Vimeo's Carfree channel. If you watch a video, please Like it.

The most recent video is of Sevilla, in Andalusia, Spain, which I shot a year ago. This one is in astounding 4K, if you have the gear to view it, but it plays on any device.

The videos below will open in a new browser window or tab, depending on your browser; (Ctrl+click) may behave differently:

"Car-Lite Seville Observed" (3 minutes)



This is a very short cut of the many hours I shot in Seville in early 2018. It shows both the good (pedestrian and cycle) side of the city, and the not-so-good (intrusive motorized vehicles).
"Recovering from Disruption" (54 minutes)

We made this film almost four years ago, but it has aged well despite its modest production values. If anyone has a spare million bucks to make a better version of this film, please let me know.
"Urban Design Techniques. Part 1. Creating a basic urban design structure." (6 minutes)

Anyone interested in the techniques of urban design should watch this short film. This isn't carfree, but the basic approaches support the methods proposed in Carfree Design Manual.
"FutureBuilt 2016 - Car-free city - Global overview" (26 minutes)

Philippe Crist, Economist and Administrator at the International Transport Forum, holds forth on our future. The best take-away: "We should make it as easy to live in our cities without a car as with a car." Christ does not argue that cars have to completely disappear from cities, but that cars can no longer be permitted to dominate them. He considers briefly the value of carfree days in exposing citizens to the benefits of carfree living. He also mentions a very difficult problem, which is the matter of sparsely-settled areas on the city's periphery. These areas major changes to enable their residents to live well without a car.
"Cities for people: A lecture by Jan Gehl" (one hour)

Danish architect Jan Gehl discusses his new book, Cities for People, his long experience of urban development, and the connections between urban form and human behavior. Gehl is a carfree pioneer.
Briefly Noted
Old Man on a Green Bike: Chronicles of a Self-Serving Environmentalist
Mark Cramer
This short memoir by a long-standing cycling promoter who practices what he preaches may be an instructive read for young folks. It's the story of a long love affair with biking and the great benefits it brings for both society and the cyclist. Print edition expected soon.




About Carfree Times
Next Issue
The next issue of Carfree Times is scheduled for September 2019.
Subscribe to Carfree Times
Carfree Times is published quarterly at Carfree.com. To receive e-mail notices of new issues, please visit the subscription page or send e-mail with the word "Subscribe" in the subject line. We do not share our mailing list, nor is it stored on line.




Back to Carfree.com
Carfree Times Home
Back to Carfree Times Issue 93
Forward to Carfree Times Issue 95

E-mail
carfree.com
Text and illustrations, except for guest content, placed in the public domain