Photo Essay: Climate Strike NL 2019
I joined an energetic group of mostly school-age kids at the 7 February 2019 climate strike held in The Hague, the capital of the Netherlands. The "strike" part means that they cut classes in order to attend to business they believe to be more important than sitting in school. Far more people attended than had been expected, and the trains were mobbed. I promoted the carfree solution on the platforms until I was finally able to squeeze onto a train. The weather cooperated most agreeably, although this is arguably not good news.
This was a very good-natured crowd, and, as far as I am aware, there were no incidents. There will be more of these actions, if the "go back to school and study - we have this under control" emissions from government ministers are any indication. Like nearly all other governments, the Dutch government has not yet discovered that it is not actually doing everything it can. Greta Thunberg has energized and activated a whole generation, all by herself. Well done, Greta!
Clicking an image opens a high-res version in a new tab.
Ctrl+w closes the new tab and returns you to Carfree Times.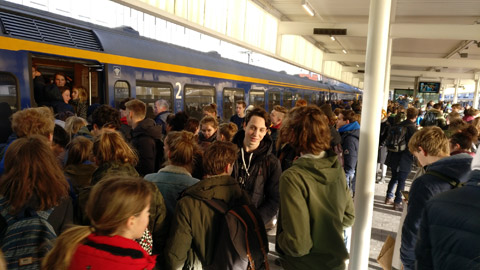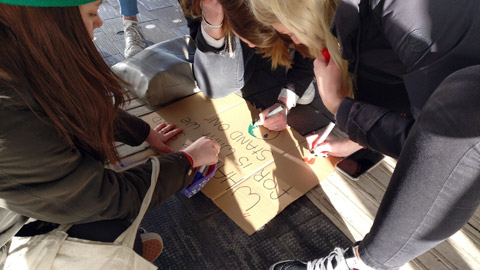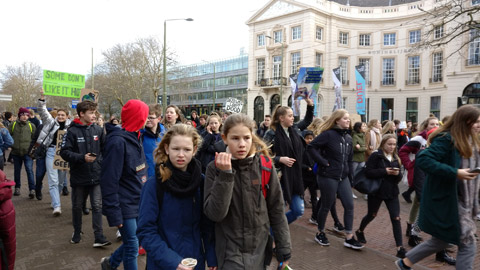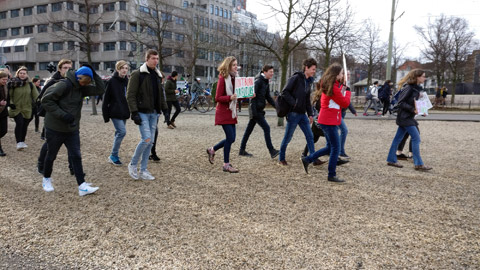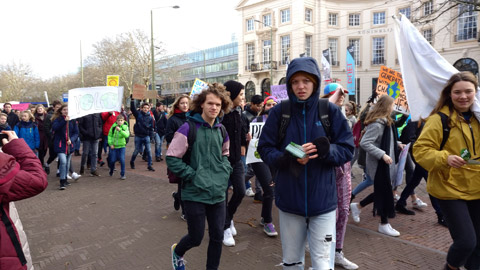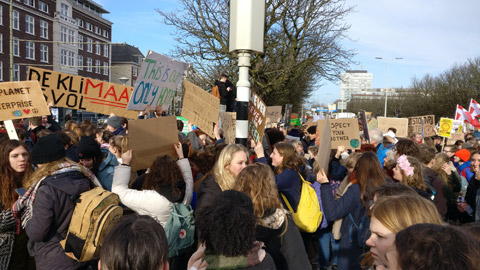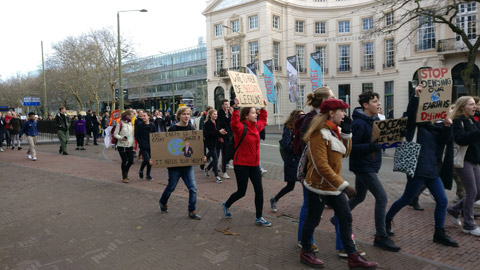 Carfree.com Announcements
The Books
Carfree Cities and Carfree Design Manual are difficult to buy at the moment. The publisher still has considerable stock, but the distribution channel broke down. We think this will be fixed soon.

New copies are available from a few sellers, and the used market can supply books, but I have found used paperbacks selling for far more than the original cover price, in one case €175! You should be able to find them below the new price.

Carfree Cities was acquired by many libraries and may be available by interlibrary loan. Fewer libraries acquired Carfree Design Manual.

Quote of the Quarter
"I want you to act as you would in a crisis. I want you to act as if our house is on fire. Because it is."

Thunberg, 16, the Swedish school strike activist, roasted the billionaires at Davos in a short but powerful speech. Don't forget that billionaires are human, and they really don't like the idea of being remembered as evildoers.

News Bits
The links below will open in a new browser window or tab, depending on your browser; (Ctrl+click) may behave differently:
"The children skipping school aren't ruining the planet - you are" (TheGuardian.com)

Stop criticising pupils striking about climate change. The so-called adults are the ones leading us into a catastrophe
"Adult" politicians have by and large had pathetic responses to these strikes.
"Ten Thousand Students March in Berlin as Global #ClimateStrike Movement Rises" (CommonDreams.org)

"The general problem is not that there's a lack of knowledge, but of action," said one student demonstrator.
Young people are the ones with skin in this game. They know it, and I don't think they're going to stop protesting until governments take effective action. Words no longer matter much. I'm trying to provide suggestions to students regarding effective approaches, including, of course, carfree cities and our hour-long film, Recovering from Disruption.
"Can they save us? Meet the climate kids fighting to fix the planet" (TheGuardian.com)

Young Americans have not appeared so prominently in the climate change movement, but they are there and digging in for a long struggle. Please join them and support them. They need you.
"The Climate Kids Are Coming" (TheNation.com)

With a Green New Deal and Student Strikes For Climate, will young people save us yet?
Certainly nobody else is going to save us, or them.
"'We need more people to go by bike': meet Amsterdam's nine-year-old junior cycle mayor" (TheGuardian.com)

As the world's first junior cycle mayor, Lotta Crok wants to draw attention to the obstacles kids on bikes face - and inspire other children to cycle
"From free bikes to steering wheel spikes: how to boost urban cycling" (TheGuardian.com)

Car-free days, filtered permeability and lower speed limits are just some of the ways that cities around the world are trying to encourage cycling
This is all well-proven stuff, and it's finally being applied on a large scale. This article is a good overview.
"We Can't Stop Global Warming Without Reducing Driving" (StreetsBlog.org)

Electric vehicles aren't going to cut it, emissions-wise. That's one alarming finding in a new report from Intergovernmental Panel on Climate Change.
Really, this should have been evident from the outset. Even if they run on sustainable electricity, the energy and resources that go into making any kind of car really can't be sustained.
"Study: Uber and Lyft Caused U.S. Transit Decline" (StreetsBlog.org)

Uber and Lyft are still crushing transit across the U.S, according to new study examining the effects in 22 cities.
A really fundamental point is being missed here. Public transport flourished in cities everywhere, led by US cities starting around 1890. Once car traffic began both to hinder public transport and poach off large numbers of passengers, this formerly profit-making utility was doomed. This was also first seen in the USA.
Taxi and ride-share passengers should pay a tax to support public transit. Of course, private car drivers should also pay. Public transport is essential in cities. It's often the only way poor folks have to get to work.
"Boeing VTOL air vehicle prototype makes first flight" (NewAtlas.com)

Upbeat music is the only sound track in any version I have found. I suspect that Boeing recorded this, stripped out the (doubtless horrible) noise, added an upbeat music track, and then flogged this to the media. The clip does not even mention noise. We do not want these things in our cities any more than we want helicopters. Sorry, Boeing.
"A U.S. Transit Atlas That Ranks the Best (and Worst) Cities for Bus and Rail" (CityLab.com)

Christof Spieler's Trains, Buses, People: An Opinionated Atlas of U.S. Transit reveals which cities' bus and rail systems work, and which don't.
Short answer: New York works, somewhat, as does Boston. Pretty much forget the rest. Old, dense systems in old, dense cities work. Everybody working in public transport understands this.
"Luxembourg to become first country to make all public transport free" (TheGuardian.com)

Government seeks to prioritise environment and end some of world's worst traffic congestion. [who knew?]
This is part of the government's commitment to improve the environment. I really am a little surprised to learn that they will include the small nation's equally small intercity rail network.
"How Cities Design Themselves" (CityLab.com)

Urban planner Alain Bertaud's new book, Order Without Design: How Markets Shape Cities, argues that cities are really shaped by market forces, not visionaries.
This seems quite interesting. He did on-site design, such as I advocate, in Yemen (and it seemed to work pretty well). However, he seems to overlook the enormous influence of security considerations city on design until recent times.
He goes on to say:
In Indonesia, they have small urban enclaves, called kampungs, where local residents set minimum standards for housing. The city doesn't interfere - they just connect up the infrastructure. In practice, most kampungs allow for a lot of small units, giving more people choice in terms of housing size and proximity to employment centers.
and
When thinking of Paris, you think of the downtown historical city, which is well served by a dense subway network. The subway serves 2.5 million people. The Paris metropolitan area is 11 million people. Nearly three-quarters of the trips in this metropolitan area are from suburbs to suburbs. The suburban subway and rail system do not serve these populations - most people who work there are obliged to use a car to access their job.
This is an important force behind the Yellow Vest movements in France, Belgium, and the Netherlands.
"Native American routes: the ancient trails hidden in Chicago's grid system" (TheGuardian.com)

"The whole idea of imposing a grid on this land is from one point of view kind of laughable," said Henry Binford, a professor of urban history at Northwestern University. "The indigenous trail network made a lot more sense, at least in the beginning."
I have long been interested in the formation of streets as cities expand. This article is a useful addition to the discussion.
"Moshe Safdie on his iconic Habitat 67" (Vimeo.com)

I visited Habitat 67 more than 50 years ago. I didn't much like it then, and my opinion has not changed a great deal since then. I'll repeat: there's plenty of room in our cities if we recover the space consumed by automobiles. Still, Safdie's vision is interesting and valuable. It seems to have worn well.
"Why Technology Hasn't Fixed the Housing Crisis" (NYTimes.com)

A lot of start-ups have promising ideas, but the fundamental problem of affordability seems beyond their reach.
They are ignoring first principles: urban land is very valuable (and correspondingly expensive), and it's foolish to waste it on provisions for cars.
"Spain Wants to Ban Cars in Dozens of Cities, and the Public's on Board" (CityLab.com)

As Madrid bans cars in the city center, the national government plans to do the same in more than 100 other places. A new survey suggests broad support across the country.
The situation in Spain is already one of the best in the world. I am delighted to see that people understand what's at stake and are committed to moving the carfree/car-lite agenda forward in Spain.
"13 cities that are starting to ban cars" (BusinessInsider.com)

Starting in November, Madrid will bar non-resident vehicles from driving anywhere in the city center. The only cars that will be allowed downtown will be those that belong to locals, zero-emissions delivery vehicles, taxis, and public transit like buses.
More than any other city in Spain, Madrid needs help. It is a comparatively modern city that struggled even to feed itself until railroads were built to link it to the hinterlands and their farms (Madrid is very dry). Of all the Spanish cities that I have visited, I like it the least, even though it did yield the cover photograph for Carfree Design Manual. As the title suggests, the article outlines what a further dozen cities are doing to seriously limit car usage, almost always starting in the oldest parts of town.
"No traffic in Addis Ababa as Ethiopia marks Car Free Day" (BBC.com)

Addis Ababa and other cities across Ethiopia are observing the country's third Car Free Day.
It's significant that carfree ideas are gaining a toehold in Africa, because the continent is set to urbanize at a blistering pace, and the results so far are dismal.
"Drivers resist low-emission scheme as London struggles to clean up its air" (TheGuardian.com)

Aim to reclaim polluted streets from traffic has been met with "hate and anger" from some.
Try to be sympathetic to people whose lives are disrupted by changes in transport policy. They have often built their lives around the assumption that they can always drive anywhere. Change is often difficult for these folks, and it's better to ease them out of their cars rather than mandate it. Steadily rising user fees will at least prepare folks for the changes ahead, and the fees can be rebated to taxpayers generally. UPS adapted by shifting to electric delivery vans that at least do not contribute so much to local air pollution (but never forget tire dust!). Other people will make similar changes once an economic disincentive to vehicle use is in place.
"Plummeting insect numbers 'threaten collapse of nature'" (TheGuardian.com)

The world's insects are hurtling down the path to extinction, threatening a "catastrophic collapse of nature's ecosystems," according to the first global scientific review.
What is really frightening is that nobody seems to know why this is happening. Certainly my own experience suggests that insect numbers are indeed plummeting. I'm hardly ever bothered by mosquitoes anymore. A massive die-off of insects has grave consequences for all life on earth.
"Concrete: the most destructive material on Earth" (TheGuardian.com)

After water, concrete is the most widely used substance on the planet. But its benefits mask enormous dangers to the planet, to human health - and to culture itself
Of course, an awful lot of that concrete goes to road building. Building construction is also a major consumer.

A further disadvantage of modern steel-reinforced concrete is its rather short lifespan. Some of Frank Lloyd Wright's iconic buildings have required major repairs after just a few decades. Monumental buildings ought to last for centuries.
"Americans' climate change concerns surge to record levels, poll shows" (TheGuardian.com)

Total of 72% polled now say global warming is personally important to them, Yale said, as 73% accept it is happening.
US presidential candidates who ignore these numbers will lose. This also applies to Trump.
Videos
Don't forget the YouTube videos from Carfree.com. If you prefer, you can watch them on Vimeo's Carfree channel.

The most recent short video is of Sevilla, in Andalusia, Spain, which I shot last year. This one is in astounding 4K, if you have the gear to view it, but it plays on any device.

If you watch a video, please Like it.

The videos below will open in a new browser window or tab, depending on your browser; (Ctrl+click) may behave differently:

"1972 Namens de kinderen van De Pijp" [In the name of the children of De Pijp] (40 minutes, Dutch language, YouTube.com)

It's worth recalling that, almost 50 years ago, it was Dutch kids who first took effective action against cars. In 1972, the children of an Amsterdam neighborhood, De Pijp, began to protest how cars had taken over their rather crowded neighborhood, leaving them nowhere to play. Some things did change as a result, but there still isn't much street space for kids in De Pijp.
"How to Make an Attractive City" (14 minutes, YouTu.be)

The goal of building should be to put up things that don't leave us regretting the nature that's been lost.
Nicely put and worth watching.
"Residential streets are too wide. Here's why." (6 minutes, YouTu.be)

In many places in the United States, residential streets were as wide as busy city streets. I understand why urban streets might need to be wide - parking, buses, traffic, and bike lanes all need the room. But why do quiet residential streets need to be so wide? Why do they need parking when all of the houses on the streets have garages and driveways?
A good, brief treatment of an important subject.
"Are there really too many bikes in Amsterdam?" (4 minutes, YouTube.com)

The Beltway is trying to put together this message saying that you don't want to aspire to be like Amsterdam - more bikes are not necessarily a good thing for people to go around on.
Yes, there are a lot of bikes in Amsterdam. Yes, sometimes they are a nuisance. Consider, however, what the city would be like if cars replaced bikes.

Consider also that Amsterdam and Copenhagen, the two cities with the world's highest rates of bike usage, have the world's highest quality of urban life. It's no coincidence.

About Carfree Times
Next Issue
The next issue of Carfree Times is scheduled for May/June 2019.
Subscribe to Carfree Times
Carfree Times is published quarterly at Carfree.com. To receive e-mail notices of new issues, please visit the subscription page or send e-mail with the word "Subscribe" in the subject line. We do not share our mailing list, nor is it stored on line.




Back to Carfree.com
Carfree Times Home
Back to Carfree Times Issue 92
Forward to Carfree Times Issue 94

E-mail
carfree.com
Text and illustrations, except for guest content, placed in the public domain