Feature Article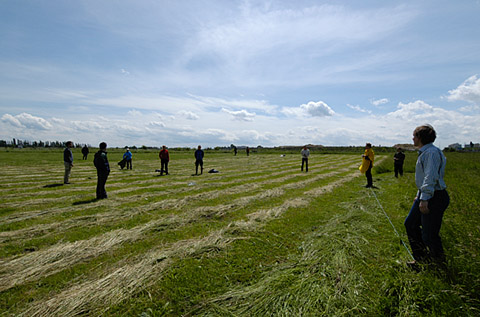 Laying Out a Small Square
Letnany, Prague
©2006 J.Crawford
Prague Field Test of User Design
J.H. Crawford
Last summer in Budapest at the Towards Carfree Cities V conference we built a maquette of a carfree district using ordinary potter's clay. This exercise was intended to test the feasibility of morphogenic design and dabble in participatory design. People were quite absorbed by the process, and the results were interesting and rewarding.

Following this year's Network Training Meeting at Tábor, we conducted a full-scale test of user design in the field. On Sunday 28 May 2006, a dozen people gathered with me on a site in Prague to test some of the principles I am developing for the next book. Rain and wind appear to have held down attendance, which we had hoped would be closer to 30 or 40 people, but the people who did come were tireless and devoted to the process, which was more frustrating than I had anticipated.

We used string and stakes to lay out a carfree neighborhood on grassland site in the shape of a right triangle about 300m (1000') long and 200m (660') wide. We assumed that the point of the triangle would be at the center of a much larger carfree district. We were attempting to lay out about ten blocks housing 900 people on three hectares of land. Each person was assumed to have the right to 2m (6.6') of street frontage in a building four stories tall, giving relatively comfortable space allocations for living and working. Densities would be roughly the same as in the Reference District presented in Carfree Cities.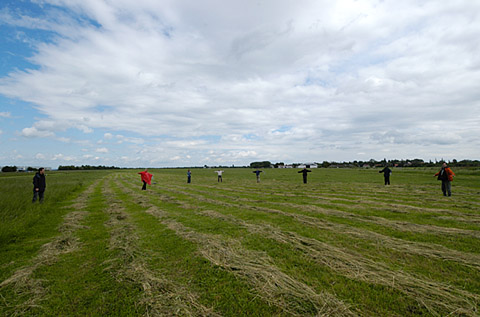 Buildings Around the Perimeter of a Small Block
©2006 J.Crawford


The original intention had been to create groups of four people, each group representing one of the ten blocks to be arranged. It proved impossible to do this with so few people, but we did cut some long lengths of string and tied them into loops. Each loop represented the perimeter of one block and was held at waist height by four people representing that block. The lengths of these strings varied between 100m and 170m (330' and 560'), giving blocks of reasonable size. We were able to attempt the layout of three blocks simultaneously, but it has to be admitted that this did not go very well. Clearly, many more people are required to make this part of the process work. The lack of a sense of scale when so few people are involved gives a poor sense of how big the blocks are or how they relate to other blocks near by.

People felt that decisions during this part of the process were rather arbitrary. I agree with this assessment. In this case, the problem was exacerbated by the absence of features on the site that would influence design (notice how the site affects the design of Obidos, above in this issue). It also became clear that the "urban villages" that I have proposed in the book really are not optional. Each urban village would comprise one block. It is now evident that we must first assemble people into intentional villages, then ask these groups to find areas of the site that they like, and only then begin design of the various villages/blocks on the site in a way that suits the needs of all.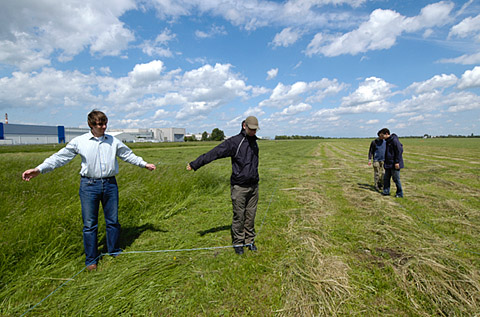 Defining a Small Square
©2006 J.Crawford


When the process focused on smaller-scale areas such as squares and the buildings surrounding them, things flowed much more smoothly. People were able to understand immediately how the buildings would fit together and the way in which the shape and size of the spaces affected how they feel. We sat down and had lunch in the square we made, and people agreed that they liked it. Participants even went so far as to decide where certain functions, such as the bakery, ought to be located.

Two things somewhat surprised me. First of all, people were willing and even eager to make very narrow streets, down to 2m (6.6') wide. Streets this narrow exist in old cities in large numbers but are almost never laid out today. Car traffic has much to do with this, of course, but emergency access is a more stubborn problem. Japan has coped with this by devising fire engines of a size that can penetrate into the narrowest alleyways, and there really is no reason that this approach could not be adopted in other places. The yearning for narrow streets with non-parallel sides and complex geometry surprised and pleased me.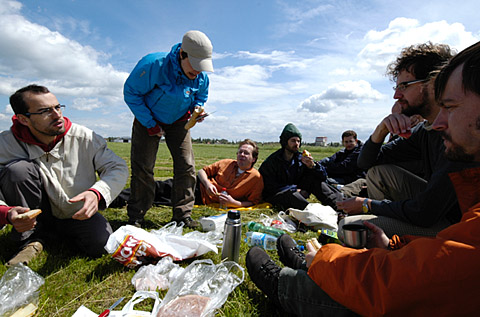 Lunch in the Square
©2006 J.Crawford


The second interesting point was that people were immediately willing to make passages through the interior courtyards that would make them open to the public. In Venice, such a passage is known as a "sottoportego" and is nothing more than a ground-level tunnel through a building into the space behind it. I have tended to assume that people would generally prefer to keep the courtyards closed and private, but, in this group, there was a ready willingness to make three openings into the courtyard at the center of a block. (It should be noted that such arrangements are found in old parts of Prague.)
Conclusions
People like medieval areas. I have known this for some time, based simply on the fact that a remarkable number of popular tourist areas are in fact the oldest parts of their cities. Newer areas with wide, straight streets, dating mainly from the 17th century onwards, are rarely so popular a destination. People are quite ready to create more areas that resemble the medieval districts they like so much, and there seems to be an intrinsic understanding that small, intimate buildings, streets, and squares are essential to this process.

People enjoyed the process itself. They thought that it would tend to start the process of building social cohesion in a new neighborhood. The process was carried out in a spirit of cooperation, although some conflicts must be expected when the process is first applied to a real site, with real streets and buildings at stake.

The urban village must become the foundation of user design. It is too much to expect a group of thousands of strangers to assemble into meaningful groups on the same day that a carfree district is laid out. Months of preparation will be required for this. Since the definition of blocks first requires an identification of their residents, it is difficult to see how field design by users can proceed until they have decided how to group themselves after a long process involving careful consideration and probably the striking of compromises.

The placement of blocks with respect to one another also requires considerable thought. The temptation will be to do this using at least crude sketches on paper. I would prefer to avoid the use of paper entirely, except once design is complete, and only then to record the results. Perhaps the process of urban village formation should take place on the site itself, with villages gravitating towards areas of the site they like best and which are most suited to their needs and desires.

The feasibility of in-the-field design at a smaller scale than the full block does seem to have been demonstrated by this exercise. People understood the issues immediately, and there were no difficulties with scope or scale. I am only concerned that more thought might be needed regarding changes in the feeling of space as comparatively tall buildings are erected alongside quite narrow streets. People might then decide that they wanted their streets a little wider after all. I will be addressing this issue.

I will revise Part IV of the book quite extensively to reflect the results of this test. In particular, more stress will be laid on the formation of urban villages.
Thanks
I would like to thank Ed Beale, Petra Beyerova, Patrick Collins, Linda Drevikovska, Simon Field, Randy Ghent, Markus Heller, Michal Krivohlavek, Petr Kurfurst, Martin Nawrath, Steve von Pohl, and Jakub Smolik for their participation. It was a cool, windy day with occasional hard rain, which makes me all the more grateful for the help.

I would also like to thank Jakub Sklenka and Jan Jelinek of CODECO Real Estate Development for making the site available and for assistance in obtaining municipal permission for the exercise.